5:25: Well, it's almost half an hour into the All-Star proceedings, I've been assigned to do a quick reaction to celebrate DeMar DeRozan's first appearance in the NBA's Sunday showcase, and I still don't have an idea for a column. "Do I do a running diary?" runs briefly through my mind. "No!" screams subconscious Garrett number 2, "you can think of something better than that. Plus it's no like Pharrell's going to bring out a super-fat Busta Rhymes as a guest or…"
5:26: Welp, guess I'm doing a running diary.
5:28: It's now half an hour past the program's scheduled start time and we've only announced the Eastern Conference. Pharrell has been rapping for approximately 10 minutes at this point. The Nelly and Busta cameos were fun, but c'mon now.
5:30: Snoop a loop! Never mind. I'm back in.
5:35: The West are finally been introduced. Dirk does not look impressed with the proceedings. Kobe looks dapper in his Sunday best.
5:40: It's over. It's finally over. The whole thing peaked at the end, where we got to see Diddy, Nelly, fat Busta, and Snoop doing an odd choreographed jazz-hands dance to Pharrell's "hit" "Happy" from "Despicable Me 2." It's been a weird 20 minutes.
5:42: Serena Ryder kills Oh Canada, of course. Camera cuts to Drake mouthing the words. #Patriotism
5:45: The U.S. anthem is over. It's finally time to play basketball. Crossing fingers.
5:52: Marv, Reggie Miller, and Steve Kerr are your crew for tonight. Ah well, 2 for 3 ain't bad. Miller calls Paul George the "second best player in the game besides LeBron." Kevin Durant just cackles. Chris Webber and Grant Hill will be sitting on the end of each team's bench. Grant Hill makes a joke about getting in the game if the East goes up 30, Frank Vogel immediately checks if he can make him eligible.
5:52: The Bunk!
5:53: Violet Palmer is part of the reffing crew. In related news, Kyle Lowry's not in the game and has already been whistled for 3 personal fouls and a tech. Also, does ANYONE out there like the T-shirt jerseys? Anyone? Can you explain why? I'm not trying to be judgmental, I'm honestly curious.
5:56: 20 seconds after tipoff. LeBron's dunk count sits at 1.
5:56: 52 seconds after tipoff. LeBron's dunk count now at 2.
6:00: James Harden picks up the first steal of the All-Star game, cementing tonight's performance as an "above average" defensive effort for him.
6:02: Now 5 minutes into the game. LeBron's total of "dunks that would have won the dunk contest" now sits at 1. My god.
6:04: The organist dives into a cover of "Mrs. Jackson" by Outkast. Only at the All-Star Game. Also I'd like to say that we've already seen a plethora of spectacular dunks, mostly from LeBron and Blake Griffin. Like double digits. And it's been 7 minutes of game time.
6:05: They announce that Blake Griffin is 7 for 7, with 7 dunks. I honestly thought it was more.
6:08: LeBron just missed an alley-oop because he hit the backboard with his elbow. You can't make this stuff up. He's not human.
6:12: Griffin and Roy Hibbert have now both bricked 3s. Sign that it's time to get the benches in, perhaps. Although Griffin is now up to 9 dunks. In the first quarter.
6:19: End of the first, with the West up 44-42. THIS is what the freestyle round of the dunk contest should have been. The NBA just showed a crowd reaction montage that included what appeared to be a puking Drake.
6:19: Also, Joe Johnson enters the game before DeMar, to the chagrin of everyone who actually gives a sh*t about these things.
6:22: Griffin's shot chart makes me smile.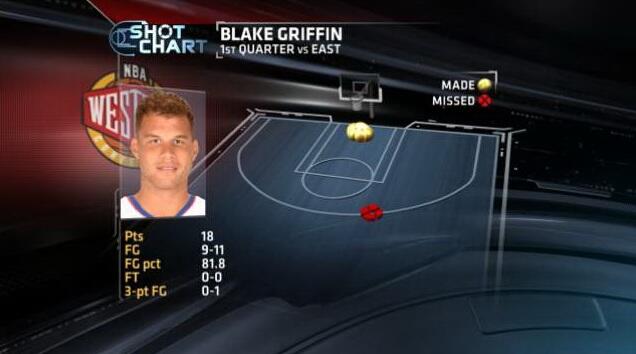 6:23: They show the crowd singing "Happy Birthday" to Dwight Howard, and then everyone congratulates Bill Russell on his birthday, as well. As if Dwight needed another reason to put himself on that plane. Nice moment with all the NBA stars showing some genuine reverence for Russell, though.
6:25: DeRozan's in! He's in! His first bucket opens the second quarter, and is a lay-in of a botched alley-oop. Ah, well. Hopefully next time someone other than Joakim Noah will be doing the passing.
6:26: Joakim Noah never takes a play off. In case you forgot.
6:27: DeMar hits a long two. Stay in your comfort zone, bud!
6:28: Another bucket for DeMar! Keep getting those points, son.
6:30: The decision is made in the house to attempt a bacon-infused guacamole at halftime. I'm cautiously optimistic.
6:33: Kobe gets asked about getting left off the "NBA Mount Rushmore" for LeBron. He is not impressed. At all.
6:36: East coach Frank Vogel calls timeout after Chris Paul and Anthony Davis shred the East bench. This is playing true to form to this point – defence optional, West much deeper. Also, Kobe's split-screen interview is finally over. Next up on the split screen: Kobe grocery shopping!
6:42: Carmelo's leading the East with 18 points. In a related contest, Magic Johnson, Busta, and Yao Ming are all neck-and-neck-and-neck in the race for the celebrity cameo "Glazed Donut Ass Face" award.
6:44: Melo fouls Blake Griffin to prevent another massive jam. The reffing crew takes a 10-minute time out to determine if it's a "clear path" foul.
6:46: Realized that fine line between "satire" and "that legitimately probably happened" was crossed in that last line. So just to clarify, no clear-path foul review. Yet.
6:47: Anybody think that after Stephen Curry went on the intercom to get the entire school to come play some basketball for his "NBA Fit" commercial that there was just one asshole teacher who kept his kids in the classroom?
"Nope, I don't care who it is. You're doing a math quiz, and you'll sit there until you've finished your math quiz."
6:50: KD just dunked so hard he made Chris Bosh cover his face in fear. The two teams have already broken an All-Star record for combined points in a half. This is way less fun than it sounds on paper.
6:51: Halftime. 89-76, West. Melo and Griffin with 20, Durant with 22. I'm assuming the halftime show will be short seeing as Pharrell already did it before the game. I'm going to shower, then make some bacon guacamole.
7:19: I'm back. The bacon guacamole is so-so, which, being bacon guacamole, qualifies it as a disappointment. Word to the wise: when you're making bacon guacamole, don't use a pre-made guacamole mix. Fresh ingredients, every time. I should know this by now.
7:25: The organ player has moved on to "All of the Lights." This might be the only change of All-Star weekend that I whole-heartedly support.
7:29: Blake Griffin is officially unstoppable in the A–Star format. Also, Kevin Druant just blocked a 'Melo shot attempt. Defence alert! Game-wise, the score is 115-101, West, which I'd imagine LeBron could probably get back in about 15 minutes, if he felt like it.
7:33: Chris Webber looks teeny in between LaMarcus Aldridge and Dwight Howard.
7:38: Durant just walked past LeBron defensively. Clearly, he's decided KD's "one on one" challenge is either suited for the fourth quarter, the parking lot, or a one-hour special on ESPN hosted by Jim Gray.
7:42: DeRozan alert! He's back in the game with the East down 12.
7:43: Joe Johnson just hit a 3. Don't forget you guys, he's "clutch." Also, the East has put together a really quick run to cut the lead down to 4.
7:44: Dwight Howard just got called out on his ridiculously teeny All-Star sleeves by Reggie Miller, then bricked a 3. Not a great minute for Dwight Howard.
7:47: DeRozan for 3!
7:49: End of the third, and an 18-3 run by the East has brought the score to 126-123. Guys, we might see some defence yet.
7:52: The number of 3-point attempts made by each team tonight stands at 72. Interestingly, that's also the number of different diseases the players' "guests" brought back to the players' hotel last night.
7:53: Reggie Miller just explained that he often gets mistaken for Barack Obama. Can you imagine that speech? "Well, Marv, I don't know about you, but if you're America, you've gotta be happy right now. You have a choice between if you can or if you can't, and these guys think they can. And more importantly, the use of the word 'yes' before 'we can' really shows the way these things make themselves out. Also, Sarah Palin's attempted 3 shots in the paint and that's not going to cut it."
8:00: Blake Griffin is now 6 points away from tying Wilt Chamberlain's 52-year old All Star record. I'm all for any attempt to get ol' Wilt one less record, but if Wilt's records are Game of Thrones characters, that one's Hodor.
8:04: 6 minutes left in the game and Chris Paul just drew a charge. Things might get awesome.
8:07: Looks like DeMar's 3 has been retroactively changed to a 2. Who pays attention to these things?
8:08: With 5 minutes left in the game, the West goes with Durant/Love/Griffin/Paul/Curry, while the East goes with James/George/Irving/Anthony/Noah. Joakim Noah the surprise there, I guess, seeing as Vogel's own Roy Hibbert is sitting on the bench.
8:12: James Harden is back in for Curry, and the West leads by 2 with 3 minutes to go. LeBron is doing everything out there – and I mean everything, passing, rebounding, running the point, finishing – Carmelo may lead the East in points when it's all said and done, but let's not forget who the best player in the world is.
8:15: I have to say, I'm hoping the fans vote Joe Johnson as the All-Star MVP. That or Kobe. Or Jeremy Lin.
8:16: Kyrie Irving is CRUSHING it tonight. He's got 28 and 12 with 2 minutes left, and is getting some MVP love from Marv, Reggie, and Steve.
8:16: Up 2, James Harden fouls Paul George while he shoots a 3, completing the most James Harden All-Star defensive possession ever. George hits all 3, East back up a point.
8:19: MELO FOR 3 OFF A KYRIE OFFENSIVE REBOUND THE EAST LEADS BY 4 ONIONS BABY ONIONS. Also, this game has gotten exciting all of a sudden.
8:20: Shout out to TSN's "Drive with Dave Naylor" – is there any more boring tagline for a sports talk show than "it's radio, on TV"? That's the best they could come up with?
8:22: Durant and Harden both brick 3s, and the East has taken over, up 6 with 27 second to go and the fouling game commences. The lesson here, is never underestimate the power of actually wanting to win a game like this – one team's bench is up for the whole second half, the other's didn't look like they wanted to be there, by the end.
8:23: Game over. East 163, West 155. DeRozan finishes with 8 points on 4 of 7 shooting, 3 rebounds, and 2 assists, and didn't look out of place out there at all. Good showing. Kyrie Irving should be MVP (well, LeBron probably SHOULD be MVP), but Carmelo will probably win it due to the New York fan vote (nevermind, Irving won and I'm an idiot). TSN's cut to Sportscentre and I have an appointment to make so I'm out of here! Hope everyone had a great All-Star weekend – if you're like me, you can't wait to get back to the NBA's regularly scheduled programming.