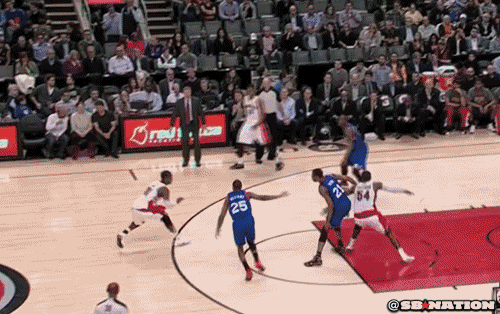 Raptors play no defence in win over 76ers | Toronto Sun
With Kyle Lowry back in the lineup and playing like an all-star, with Jonas Valanciunas having a career scoring night and enough complementary pieces making plays on either end of the floor, the Raptors were able to defeat the Philadelphia 76ers, 125-114. Way too many points were surrendered and not enough stops made, too may blow-bys, vulnerable on the perimeter, areas the Raptors need to somehow address by the time the playoffs arrive next weekend or face the real possibility of a one-and-done post-season. With four games left in the regular season, home court is a definite possibility, a mere formality with Brooklyn dropping its game to the host Magic. Toronto's magic number to clinch the Atlantic and earn home court is now one, a title the franchise can earn for the second time in franchise history by as early as Friday when the desperate Knicks come to town.
Jonas Valanciunas guides Toronto Raptors to win over lowly Philadelphia 76ers | National Post
"It's been a rough couple of days, but I find power, find my energy to come out, fight," Valanciunas said. "I felt really good [because of the] fan support, thank you to them. That felt great, because everybody supported me. I say sorry and [am] learning … to be better." Irrespective of the incident, Valanciunas has been playing with the most confidence of his career, at least offensively. He has scored 65 points over the last three games, missing just 12 of his 39 field-goal attempts. "Much more aggressive. Much more hungry. He wants the ball," Lowry, who returned with a 29-point performance after missing three games because of a bruised knee, said. "Tonight he was literally yelling at me to give him the ball. And I've got to do nothing but give him the ball, because he's our big fella."
Rapid Recap: Raptors take high scoring affair over Sixers 125-114 | Raptors HQ
Looking at the box score, you have some shiny offensive numbers from Lowry, JV, and Patterson among others. But the real story today was the defence — or lack thereof. Dwane Casey definitely won't be thrilled with the way his team looked in this game. The Sixers shot 51% from the field in this one, and all time greats like James Anderson and Henry Sims had their way against the Raptors all night. Toronto got off to a fast start and held a 34-28 lead at the end of the first quarter. Every time Philly would make a run, the Raps would stretch that margin out back up to 6 to 10 points. The Raptors' penchant for not putting teams away kept Philly interested throughout. After taking a 68-60 lead at halftime, and a 98-89 lead after 3 quarters, the Raptors stretched this out of ream once and for all when it was 116-110 Toronto. A couple of rare, good defensive sequences, combined with some shotmaking from Kyle Lowry had the Raptors winning this one comfortably 125-114.
Sixers Lose Close Game Against Raptors | Hoop 76
A dude in an Iverson jersey right next to press row got a cup of Coke poured over his head by the Raptors mascot. Thought that was a little aggressive.
Raptors 125, Sixers 114: A Moral Victory | Liberty Ballers
Maybe the Sixers aren't the worst team in the history of the NBA. Not only have they gone 2-4 since their regrettable record-tying losing streak, they've looked pretty good in a couple losses, including tonight's defeat to Toronto. It wasn't all great–Thaddeus Young missed his first six shots and finished the night 7-for-16 from the floor for 16 points with only two rebounds, one assist and one steal. Jarvis Varnado got posterized twice by two different white guys, and Jonas Valanciunas pretty well ran riot, taking a 26-point, 12-rebound upper decker on Varnado, Young and Henry Sims. James Anderson hit three three-pointers early and spent the rest of the game taking heat check shots, only to find that his heat was not there. Kyle Lowry dropped 29 on the Sixers to lead all scorers.
Raptors centre Jonas Valanciunas leads team to victory, days after DUI arrest | Toronto Sun
Head coach Dwane Casey did not back down when challenged before the game about the optics of playing an individual who had just been charged with a DUI. "We sent a message," Casey said. "We sent a clear message that we don't condone it. We're disappointed. By playing him, it's not saying we're condoning it. I think the organization — Masai (Ujiri), myself, Tim Leiweke, Larry Tanenbaum — sent a clear message that we don't condone it. "He's innocent until proven guilty — until the process goes through the legal system. He's still a member of the team in good standing."
Lewenberg: Valanciunas' career night comes in wake of arrest | TSN
"It's a tough situation for him to handle, to be going through," Lowry added, "but this is our sanctuary: basketball. We get a chance to be away from everything. Basketball is like our space, our secret spot and that's where guys can release a lot of energy and intensity." Scoring the first four points of the game, Valanciunas came out with a fire, a purpose and an air of confidence. He has been playing some of the best basketball of his career and those off-court distractions could not derail him. Leading the team with 23 double-doubles after recording just eight a year ago, Valanciunas has played 30 or more minutes and scored in double figures in eight straight games, matching a season-high. The biggest difference has been his comfort level and self-assurance, according to his teammates. The game has slowed down for him, he's playing with patience and most importantly he's not getting down on himself. "[He's] much more aggressive, much hungrier," said Lowry.
These Raptors sure know their roles | Toronto Sun
"I've been on some selfish teams and some unselfish teams," Hayes said. "It's a great thing when you get on an unselfish team. It's a great working environment but when there is selfishness involved, things can get ugly." But that has not happened in Toronto this year. If guys have been unhappy with the minutes allotted them they have done a pretty solid job of keeping it to themselves. "In today's NBA, young is where it is at," Salmons said. "Veteran guys tend to sit more and more on the bench, but I've had teammates who were vets and sat and some took it well and some didn't. It just depends on the character of the guy and we have high character guys here and it shows." Hayes himself is getting more minutes these days than he did when he first arrived. It had to be tough watching Salmons and Patrick Patterson and Vasquez, three guys he came over with from Sacramento in the Rudy Gay trade, log minutes almost immediately while he sat waiting his turn.
Raptors Step Up To Hold Onto Third, Patrick Patterson | Pro Bball Report
"We all have our roles and certain rotation that we play," Patterson explained. "Every time I come off the bench, I am backing up Amir (Johnson), certain times we play together and certain times we don't, so I know my role and if I have to start, it is pretty much the same thing, the same opportunities, setting screens, popping, running in transition, rebounding shooting open shots, so it is pretty much the same thing. We all play alongside each other over the course of a game, so whenever one of our numbers is called, everyone is comfortable and everyone believes in one another."
From Feel-Good to Fearsome: A Threat Looms in Toronto | Baller Mind Frame – Baller Mind Frame
If Toronto can in fact dispatch Washington in round one, their chances of success in the next series are largely contingent upon who they face: the Miami Heat or the Indiana Pacers. As things currently stand, Indiana is the second seed and the Raptors are more than likely salivating. Why? Mostly because Toronto's sturdy 'D' presents problems for the Pacers' anemic offense and because Valanciunas is a big body who can legitimately bang with Roy Hibbert and disrupt his game. Considering Hibbert was a distinct advantage for Indy last year versus Miami, curtailing his production could be instrumental in a Raptors upset. Lastly, the midrange shots Indiana famously foists upon its opponents are actually a staple crop in Toronto's offense. DeRozan in particular loves the 16′-23′ shot, while Lowry pulls the trigger when necessary and hits at a decent 34.4 percent clip (per Basketball-Reference). No matter what happens, the Raptors are a fun team that plays good basketball.
Raptors' magic number now one | Toronto Sun
"It's not a goal whatsoever. I haven't even thought about it," Casey said of getting to 47 wins. "It's not important. My whole goal right now is to get better defensively going into the next few weeks. … It's going to be a short ride if we continue to play defence the way that we are now. "My thing is us. We've got to take care of our business. We've got to continue to work and improve in different areas to get better. Those things are good. It's not a have-to goal. A have-to goal is containing the ball on the perimeter and keeping people in front of us."
Raptors one game away from division title after win over 76ers | Toronto Star
"Collectively, our defence has to step up. We can't expect to outscore people 125-114 and have a game like that," he said. "It's a mindset. You can't look at their records, whoever we play. New York (Toronto's next opponent) will be a little different but the other teams (minnows Detroit and Milwaukee also remain on the Raptors schedule) that are not in the playoffs, we can't look at that. We have to play our game and look to improve." Casey's protestations aside, the chance to equal franchise history is palpable. The win over Philadelphia coupled with Brooklyn's loss in Orlando put Toronto's magic number to win the Atlantic Division at one. And the victory, combined with Chicago's win over Minnesota, kept the Raptors ahead of the Bulls in the race for third overall in the East. An Atlantic title would give Toronto the tiebreaker with the Bulls. To further complicate matters, the Charlotte Bobcats beat the Washington Wizards in overtime on Wednesday to take over sixth in the East,
Leafs' pain could be Raptors' gain when it comes to fan passion | Toronto Star
"If they hadn't made the playoffs this year, there wouldn't be as much excitement heading into next season and, if anything, people would view the 20th anniversary season as 20 years of mostly inept play." The Raptors fan base grew in 2006-07 when they won the Atlantic Division for the first time and the Leafs failed to make the post-season. But poor performances season after season whittled away fans until the Raptors were dismissed as almost an afterthought on the Toronto sports scene. This year, the team has already started building up its fan base by performing when expectations were low, said Richard Power, a professor at the University of Toronto's Rotman School of Management.
Raptors handling of Valanciunas now, Camby 17 years ago reflects social change: Kelly | Toronto Star
This time there was no declaration of innocence for public consumption. In statements, the Raptors chided their man, calling themselves "disappointed." They released a statement from the player, apologizing for "any negativity" the incident has created. The implication was that the facts, as expressed in a banal OPP press release, weren't in doubt.