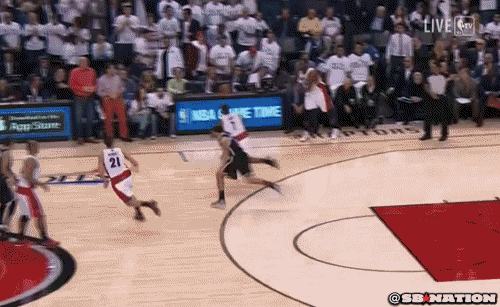 Toronto Raptors hang on to beat Brooklyn Nets after blowing 26-point lead in dramatic Game 5 | National Post
However, when you play as sloppily as the Raptors played, nothing was guaranteed. Johnson handed a pass away to Deron Williams. Head coach Dwane Casey used some odd lineups. The Raptors started fouling jump-shooters habitually. The offence started to use up all of the 24 seconds in the shot clock, showing no urgency. "We just didn't play smart," Casey said. "They're a very veteran team. They're going to take advantage of the mistakes you make. And we wrote a book on … mistakes in the fourth quarter." "Fourty-four points? Some [teams] can't get that in a half," reserve forward Chuck Hayes said of the Nets' fourth-quarter total. "For them to do that in 12 minutes … we're happy we got the win, but that's a bad habit to get in. "We were kind of just stalling, trying to waste time. We stopped being aggressive. Joe Johnson got hot." It could have been a complete meltdown.
Raptors in driver's seat after nail-biting win over Nets: Arthur | Toronto Star
We are running out of things to say about Kyle Lowry. What can you say? He has talked in the past about how he has trouble trusting people, and at every NBA stop he found somebody to fight with, someone to be supplanted by, some way to leave. There was always a problem. There used to be a problem here. You can say that about Kyle Lowry. But that's not enough. It's not. The Toronto Raptors played their biggest game in 13 years on Wednesday night and for 37 minutes it was amazing. For 37 minutes Toronto blew Brooklyn's rusted doors off and they were faster and younger and unafraid and Rob Ford was headed to rehab and the wet, cold, bellowing kids in Maple Leaf Square — named for the guys who are now scattered at cottages and beaches and golf courses across the world — were losing their damned minds. It was some kind of night in this city.
Lewenberg: Raptors escape with narrow Game 5 victory | TSN
Buzzer sounds and the Raptors win. The Raptors win? They had mucked it up in just about every way you could imagine, like a greatest hits of Raptor blunders, but they pulled it out. If that seems out of character with what we've come to expect from this franchise, so be it. Isn't that just the perfect representation of a season, an improbably playoff run that defies all semblance of logic? "We made some boneheaded mistakes," Johnson admitted, "but we finished off the game and that's all that really matters." This is a different team producing different results and a point guard who has a lot to do with that change in fortune. "Honestly, he's a hell of player, man," DeMar DeRozan said of Kyle Lowry, who scored 36 points, a playoff career-high, also matching the most he's ever scored in an NBA game. "He's just a dog. He makes you want to bring your A-game every single night because you know he's going to lay it out there with them."
Raptors avoid epic collapse, push Nets to the brink of elimination | Toronto Sun
It was a mixture of disappointment and even a little anger from Casey after the game. He kept referencing the 44 points his team gave up in the fourth quarter, the same number of points his defence allowed — total — in the first half. "That's why it's hard to win in this league without veteran players," Casey said. "They used their veteran experience to get back into the game … We've got to learn and tonight was a learning experience in a playoff atmosphere and that's a hard place to learn." In the locker room, there was more relief than anger, but still plenty of disappointment to go around. "You know what, we have been in so many of these things, both ways," veteran big man Chuck Hayes said. "If we're down 20, we'll come back, and if we're up 20, they'll find a way to come back. I can't remember the last comfortable win we had." That, in a nutshell, has been the Raps this season. No deficit is too large to overcome. No lead is too safe.
Toronto: A post-season force to be reckoned with. | Sportsnet.ca
"I have been around the this game a long time in every hostile arena – back in Sacramento with the cow bells, Portland where the noise is unbelievable … but it doesn't come close to our arena," Casey said. Can they take it home on Friday? Or back here for Game 7 on Sunday? For obvious reasons the Raptors don't want to come out and say it, but privately they were coming around to possibility that that the Nets aren't really all that good; or at least as not as good as them. Brooklyn faces an elimination game at Barclays Centre, which comes off like a Tuesday night in Orlando compared to the ear-splitting mayhem that has become the trademark at the ACC this spring. Individually they might know how to manage it, but as a team? The Nets are proving unproven. But the seeds for last night were sewn in Brooklyn on the weekend. The Raptors only came home with a split but what happened in the fourth quarters of each game was telling. With the game on the line, it was the Nets who spit the bit.
So Close And So Far: Raptors 115, Nets 113 (GAME GRADES) | The Brooklyn Game
Seriously, what the hell am I supposed to say? That was single-handedly the most incredible comeback I've ever seen in person. We're talking a complete fourth-quarter takeover. We're talking three potential four-point plays in the final 12 minutes, the last when the game actually seemed out of reach. We're talking Joe Jesus to Dray Live to A Squared. We're talking what could have been the greatest comeback in NBA playoff history with Paul Pierce and Kevin Garnett on the bench. This game wasn't a game. It was an experience. It was a cinematic masterpiece at the height of first-round playoff tension. It's a shame that it ended in a loss, because that might be it for the Nets.
Nets furious comeback falls short by two points; Final score: Raptors 115, Nets 113 | NetsDaily
The Nets continued to fight, but two huge buckets from Kyle Lowry in the last minute of the game were killing the Nets chances. After Blatche hit a reverse layup, they were down 111-108 with just 27 seconds remaining. Joe Johnson took the ball hard to the hole, but missed bad, leading to two free throws from the Raptors. The Raptors held a five point lead with 17 seconds, but Alan Anderson nailed a four point play, keeping the Nets alive. They just wouldn't go away, down 113-112 with 10 seconds remaining, DeMar DeRozan headed to the line. DeRozan knocked down both free throws, putting the Raptors up three with six seconds remaining. Jason Kidd reluctantly had a 20 second timeout remaining, enabling him to draw up a play for the 'clutchest' player in the league: Joe Johnson. The plan was to get Johnson the ball, but the Raptors fouled Andray Blatche, who missed the second free throw — got the offensive rebound — but threw the pass backcourt in attempt to feed a wide open Deron Williams! The game was over, and the Nets incredible comeback fell just short.
Difficult for Raptors to celebrate win over Nets | Toronto Sun
"Trust me, we understand his disappointment," Hayes said of head coach Dwane Casey, who didn't look remotely like celebrating. "We were just as disappointed. But man we're kind of wiping our foreheads with this one. We for sure built up the suspense in this one." Up 26 with four minutes to go in the third, the Raptors gave all of it back in exactly 12 minutes and 41 seconds. Asked what Casey's message was after the game, Hayes kept it simple. "We can't give up 44 points in a quarter," Hayes said of the message. "That's too much, which I completely agree with. Forty-four points? Some teams don't do that in a half. For them to do it in 12 minutes … we're happy we got the win but that's a bad habit we don't want to have." You can be sure Casey will have plenty of conversations both in a group and man-to-man with his team before they take the court Friday night in Brooklyn.
Nets rally from 26-point deficit, but Andray Blatche throws away final possession in Game 5 loss to Raptors  | NY Daily News
When the Nets needed a big stop in the final minute, Jason Kidd never summoned Garnett. When they needed a big shot, Pierce never took off his warmup shirt. The result was a 115-113 loss in Game 5 for the Nets, in a roller-coaster of a game that ended when Andray Blatche threw a pass way off target for a turnover with one second remaining. The Nets, the most expensive team in NBA history, plunged to the brink of elimination with that pass and with most of their playoff experience on the bench, falling into a 3-2 deficit in the first-round series heading into Friday's Game 6 in Brooklyn. "I thought the guys on the floor were fighting and they got us back in the game," Kidd said. "I asked if they were tired and those guys said they weren't tired, they wanted to continue to keep playing. So it was more of a rhythm. The guys were knocking down shots."
Toronto fans can breathe again after Raptors avert near-disaster | Toronto Sun
Years ago, I covered a heavyweight title fight between young Michael Moorer and old George Foreman. It reminded me of Wednesday night's playoff game. Moorer threw jab after jab at Foreman, who seemingly had no answer. Moorer was totally in command for nine rounds. And then Foreman hit him once. And it was over. There can be no knockout punches in basketball, but in every conceivable way, the Nets took the Raptors apart in the fourth quarter and when they weren't doing it, the Raptors were doing it to themselves.
Kyle Lowry lifts Raptors past Nets in Game 5 thriller | Toronto Star
If there were mistakes to be made, the Raptors made them. "So many learning experiences from tonight's game: handling the lead, withstanding prosperity, embracing pressure, we've got to do that from top to bottom," said Casey. "We can't live that way and I've said that all year. Our history has been pretty good in the fourth quarter but for whatever reason, they flipped the script." Still, the Raptors are within a game of winning a playoff series for only the second time in franchise history. They were, at times, brilliant in building their lead and they managed to make enough plays down the stretch to survive. Lowry was astonishing, with a career-best 36 points, DeRozan made four vital foul shots in the dying seconds and for all their foibles they still ended the night with a win, which sure beats the alternative. "That's why it's hard to win in this league without veteran players and they used their veteran experience to get back in the game," said Casey. "Every mistake you could think about, we made in the fourth quarter.
Terrence Ross gets something to smile about in Raptors' wild win | National Post
"Felt good," Ross said. "Just trying to get a little bit of rhythm back. Every little bit helps." Ross hadn't hit more than one field goal in Games 1 through 4 and was notably held off the scoresheet in limited action in Sunday's 87-79 victory in Brooklyn. On Wednesday, Kyle Lowry, who had a career best playoff game in this win, settled Ross's nerves. His advice wasn't complicated. "'Keep shooting, they're gonna fall,' " Lowry said of his talk with Ross. "'We need you to keep shooting.' Tonight was probably one of his better games. He shot 3-for-9 but his activity, his running the floor, he made two threes when we needed them. His effort tonight was unbelievable."
VIDEO: The horrifying Blatche pass that ended the game | The Brooklyn Game
"It definitely hurt," Blatche added. "We were down 20 in the fourth, we fought all the way back to give ourselves a chance. That's important. We never hung our head down and just gave up. It's just unfortunate, that pass I made, was too strong."
Nets have a rough night in Game 5 against Raptors | Toronto Sun
The only thing that could have gone worse for the Brooklyn Nets in Game 5's second quarter? News that the team was moving back to Jersey. That didn't happen, of course, but for once in Toronto, the wheels didn't come skidding off of a local franchise at the ACC, but rather, the highest-paid team in NBA history — at least for a while. Down just three entering the second, the Nets let Toronto, led by Kyle Lowry, do whatever it wanted to offensively. Lowry scored 14 points in the frame, the team committed just a solitary turnover and held Brooklyn to 37% shooting. It got so bad that Brooklyn's own Twitter account called out the unimpressive fans at Barclays Center. "Nets fans take note- this is what a playoff crowd sounds like..set your DVD and take notes," read the tweet. Ouch. It got worse from there, with Jonas Valanciunas finding his game, Lowry sinking a ridiculous three-point buzzer-beater and even Terrence Ross making an appearance for a rare time this series with a three.
Brooklyn Nets vs. Toronto Raptors – Recap – April 30, 2014 | ESPN
The Nets, meanwhile, are facing elimination after consecutive losses. "We've just got to play with a sense of urgency," Williams said. "We have to now. If we lose, we're done." Game 7, if necessary, would be Sunday in Toronto. "I think we'll play better on Friday at home and we'll see them back here Sunday," Nets forward Paul Pierce said.
Kyle Lowry punishes Nets as Raptors take first series lead in 13 years | ProBasketballTalk
If Lowry sought revenge on Johnson, his pleasant postgame comments certainly didn't indicate it. This is a calmer Lowry, one who also had six assists and only one turnover in 38 minutes. To whatever extent his level-headedness flows over to the floor, it hasn't interrupted his competitive fire, though. Asked at halftime about his buzzer beater, Lowry answered a question not posed. "Yeah, we've got to keep it up," Lowry said, breathing heavily. To better understand Lowry and the Raptors he leads, dial back a couple possessions from that moment. Lowry drove and finished through contact, getting knocked to the ground in the paint. He burst up as the Nets went the other way and closely guarded Williams, guiding the point guard into a charge drawn by Chuck Hayes. That's the only reason Toronto even got that final first-half possession. Wednesday, Lowry made all the big plays and a lot of small ones, and now his Raptors lead a playoff series. It's an accomplishment worth celebrating. But the Raptors also must now know these teams are too evenly matched to rest on their laurels. Press on like Lowry, though, and they'll be headed to the second round for just the second time ever.
Raptors Learn At Nets Expense In A Big Game Five Win | Pro Bball Report
"I was on the court when it slipped away," Amir Johnson said. "We (allowed) 44 points in the fourth quarter which is tough. Brooklyn switched up their guys. They set their starters down and came with their bench players and they came out hot shooting the ball. Joe Johnson came out hot. It is always like one quarter for us where we have a bad quarter and we can't do that. "You got to keep your head. You got to keep playing. You got to regroup and I think we did that. We stayed poised. We made some bonehead mistakes, but we finished off the game and that's all that really matters."
Can Paul Pierce and Kevin Garnett Save Brooklyn Nets from Elimination? | Bleacher Report
That wasn't how the story was supposed to go. The former Boston Celtics were ostensibly brought in to play the important minutes and hit the big shots. Instead, it was Alan Anderson scoring a four-point play in the clutch. And it was Joe Johnson leading the way for much of Wednesday night. He scored a team-high 30 points compared to 14 combined points from the Truth and KG. As the series becomes increasingly defined by size and athleticism, it's only fair to ask whether Brooklyn's elder statesmen have what it takes to stave off elimination. Perhaps it's even fair to ask how long they'll actually be on the court in Game 6. We do know this much. They have confidence.
Wednesday NBA grades: Kyle Lowry, Tiago Splitter just too good. | ProBasketballTalk
Kyle Lowry, Toronto Raptors. Somebody is earning a big payday this summer. Lowry was simply the best player on the court and the reason the Raptors are up 3-2 on Brooklyn — 36 points on 11-of-19 shooting plus he had six assists. He did a lot of his damage from deep, going 6-of-9 from three, a few of those were taken from roughly Hamilton. Just a brilliant performance.
Kyle Lowry, Raptors hang on late to top Nets in Game 5 | USA Today
The Raptors made it difficult on themselves multiple times. With Toronto up 113-108, Amir Johnson fouled Alan Anderson on a three-point attempt, and Anderson made the basket and the free throw. Every time it looked like the Raptors had the game in control, they let Nets back in. DeMar DeRozan, who had 23 points, made two throws with 6.5 seconds to play, securing the win. "Everything started on the defensive end — our attention to detail not being what it was supposed to be, falling asleep, fouling three-point shooters," Raptors coach Dwane Casey said. "Again, you can write a book about every mistake in the fourth quarter. "That's something you've got to learn from, but again, how do you know? We're here. We're excited about being in the playoffs, somewhere we haven't been before – a young team … expecting mistakes. You have to learn from it, and this is a hell of a time to start learning going into Game 6 of the playoffs."
If you've made it this far down, why don't you send me your Raptors-related links as well? [email protected]