I can't wait for the draft to come.
Remember when I opined about the lack of news on the Raptors front? Well, ain't a thing changed, and I'm now regretting expending three ideas for one single column. The summer months are a constant struggle with attrition.
Which brings us to here. Once again, I have three semi-formed thoughts to fill these pages. Two of them aren't Raptors related, but that's how these days are going.
Tim Duncan, ageless and elite
The major overarching narrative from the Spurs' victory over the Heat is the supposed triumph of teamwork over individuals. That's not inaccurate, as the Spurs were undoubtedly the deeper team, but the narrative outdoes itself when it denounces their stars — most notably Tim Duncan — as not elite to accent the story.
It's silly to have to defend a now five-time NBA champion with two MVPs and 17-straight seasons of 50+ wins to his name. Even at the advanced age of 38, Duncan is still, at worst, a top-20 player in the NBA.
A variety of contextual factors work in his favor. First off, Duncan's Spurs just won yet another championship with a team built around his skills. As always, he's the defensive anchor in San Antonio, but unlike the early 2000's, Duncan is no longer limited to elite shot-blocking and post-defense. He's defied age and adapted his defense to the modern game, somehow maintaining enough mobility to cover bigs on both the perimeter, while being able to effectively snuff out the pick-and-roll.
There's also his offense. His screen-setting remains elite, and although he can no longer sustain a day-to-day dominance, he can still dominate in the post. He demands a double-team, a highly rare skill given the proliferation of pick-and-roll oriented bigs in the current era. Speaking of pick-and-rolls, Duncan is quite good at that too.
The only two factors working against Duncan, by my estimation, are lackluster counting statistics and age. The first argument is silly, because a cursory look at Duncan's per-minute stats show that he's as productive as ever.
And second, his age is just that — it's a number. He's still incredibly effective. His team is still winning at the highest level because of him. The Spurs' superior team triumphed over the best player in the world, but they didn't do so without an elite player. That would be a discredit to an all-time great in Tim Duncan.
The Raptors and the draft
I know nothing about the draft. I really don't. College basketball is hard to watch because zone defenses and 35-second shot clocks make me ache for Milwaukee Bucks basketball. Seriously, Khris Middleton would absolutely dominate the NCAA. It's just a lower quality of basketball in my eyes.
Having said that, the hottest topic around these parts is the draft, so I figured I'd contribute by rounding up the prospects they've worked out, and linking to their profiles. The Raptors hold three picks in the upcoming draft (20th, 37th, 59th).
Potential first-round draft picks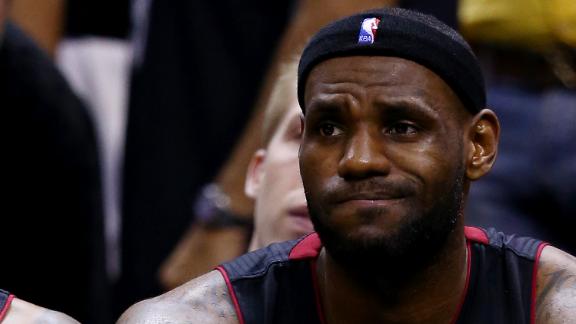 How the dissolution of the Heat's "Big 3" could affect the Raptors
Although it's fun to wish on a world without superstar teams, take a moment to ponder what's more likely — a four-time Finals team disbanding in the hopes of finding more success elsewhere, or they reload and give it another shot? Right. With Bosh already wanting to stay, and Wade's place in Heat lore cemented, the only decision that's remotely in question is LeBron's.
There is always the chance that LeBron leaves, but it's rather slim. At this point, winning championships is his top priority. Unless a massive migration of talent changes coasts, staying in the pathetically weak Eastern conference gives him his best chance at capturing a third championship.
If James stays in the East, the question becomes which team offers him the best chance at another Finals appearance. Miami has Bosh and what remains of Wade, but have little cap room to speak of. Also, many key free-agents are likely to retire or leave in free-agency. If the Bulls amnesty Boozer and work out a sign-and-trade, they become an intriguing destination with Rose, Noah, Butler and Gibson forming a solid cast around James. However, James would invite incessant comparisons to Jordan, but that wouldn't be anything new for him. James is effectively out of options.
But for the sake of argument, let's say he leaves the Heat and the Eastern conference. That would theoretically open up a sizable power vacuum, which could prompt the Raptors to expedite their plans to contend. If that is the case, the Raptors have to consider the option of selling some young assets to acquire an upgrade in addition to bringing back their free-agents.
A sign-and-trade to acquire Luol Deng would be one idea. Assuming Deng commands a salary in the range of $10 million per year, a sign-and-trade with Ross and Hayes for Deng makes financial sense. That should allow for the Raptors to also stock up another weapon — likely a back-up center — with their mid-level exception. Provided that they draft a wing with their first-rounder, that should put the Raptors two-deep at every position.
The worry there, of course, is that it would lock the Raptors into a Nuggets-like trajectory. Without a true star to lead them, a band of very good players would top out at being a good, but not great team. Would a team of DeRozan, Lowry, Deng and whomever be enough to topple a healthy Bulls squad or what remains of the Pacers? I doubt it. They would be more on-par with the Hawks, who have quietly built a contender from spare parts.
Therefore, unless a trade for a superstar presents itself (…Kevin Love?), their best bet is to continue building, and wait for cap room to open up in 2015 to make their move. The East will continue to be weak a year from now.