The Toronto Raptors are going for it.

Kyle Lowry made a statement after the latest Raptors collapse and two days later, Masai Ujiri pulled the trigger on one of the biggest trades in Raptors history. Acquiring Serge Ibaka addresses the team's biggest need for a relatively low price tag.
Given his success with the Oklahoma City Thunder, Ibaka has a reputation among the average fans. He led the league in blocks per game in 2012-13 with 3.03 a contest but the numbers have fallen since then. In exchange, Ibaka has grown as an offensive option. I want to break down some of his strengths and weaknesses, as well as provide some visual context to the common traits discussed.
One of the major caveats to this evaluation is the team Ibaka was playing for this season. The Orlando Magic are awful. Their front court options limits Ibaka's operating room on the floor. If Ibaka played with Nikola Vucevic, he was stuck to theperimeter to create space for the post-up specialist. When paired with Bismack Biyombo, teams would bail on the former Raptor and force Ibaka to give up the ball. Defensively, the influx of stretch-fours took Ibaka further away from the rim, which compounds Ibaka's diminished athleticism.
Strength – efficient offensive game
Gone are the days closing one eye when a Raptor power forward tries to take anything but an open three. Ibaka can finish around the rim and beyond the arc at an efficient clip. He's not going to drive from distance and finish at the rim a ton, but Ibaka can pump fake, dribble and take a pull-up.
In his first season with the Orlando Magic, Ibaka's usage climbed to 21.0% — a career-high. His numbers around the rim improved to 72.5% and he's hitting a career-high 38.8%. All of this comes despite a fewer percent of his two-point field goals being assisted. Essentially, Ibaka improved on offence when all signs point to a decline.
Weakness – decline in athleticism
Ibaka is definitely an upgrade over the current options at power forward but no one should expect him to reach the same heights he did when he was a defensive player of the year candidate.
Like a number of his stats, Ibaka's blocks have been on a decline over the past three seasons. A calf injury in the 2014 playoffs seems to have robbed the 27-year-old of a lot of his explosiveness. As ESPN's Tom Haberstroh noted in the Feb. 14 TrueHoop podcast, Ibaka ranks as the 10th worst rim protector by opponent FG% in the league. An important note to this: the Magic don't offer much perimeter defence and it's difficult to stop guys who are flying to the rim full speed.
In 2015-16, Ibaka ranked as one of the best rim protectors as opponents shot 43.3% with Ibaka at the rim. It's more likely Ibaka falls somewhere in the middle for rim protection when he has a better team around him. The flying blocks may be gone, he still has quick hands and good IQ.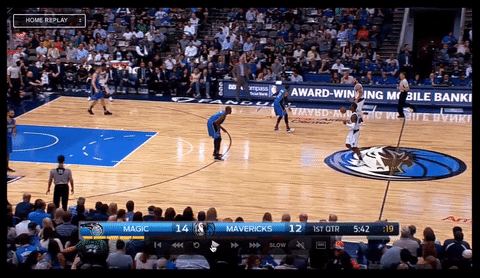 On the TrueHoop podcast, ESPN's Tim McMahon said he watched Ibaka play against the Mavericks and Ibaka looks as old as Dirk. There was a hint of sarcasm in the comment, sure, but it piqued my interest. Here's an example of a play where Ibaka looks old, though not from that game specifically: 
But how much of that is effort? You have to think Ibaka will play with more urgency for a team that made the Eastern Conference Finals than he did for Orlando. There are hints of it last year, though.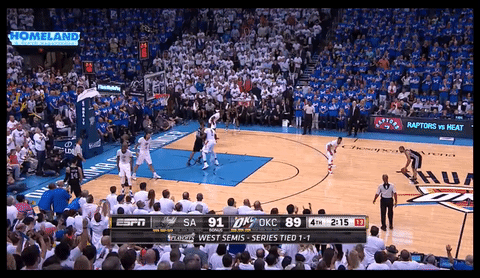 The early containment is good, but he looks so slow when trying to relocate Lamarcus Aldridge.
Strength – excellent pick and pop threat to compliment Lowry and DeRozan
Toronto's All-Star backcourt feasts in the pick and roll. Ibaka is not a threat as a roll-man, as Sportsnet producer Chris Black notes in his post: "of 35 players with 100 possessions as the roll man in a pick & roll, Ibaka's 0.95 points per possession ranks 25th."
This is fine because Ibaka is still a capable screener and an excellent pop threat. According to NBA.com/Stats, he's shooting 39.8% on above the break threes. Teams absolutely cannot leave him to help on the Lowry or DeRozan drive because he will make them pay. That should create even more space for the NBA's greatest bromance to get buckets.
Currently, Toronto doesn't have a big that offers that kind of shooting. Patrick Patterson shoots 34.2% on above the break threes.
I'm not a masochist, so I don't watch Magic games. But when I was looking at Ibaka's made above-the-break threes, it seems that a lot of his makes come on kick-outs vs. pick and pops. By my count, four of his 20 threes in this reel were from pick and pop, and the rest came on kick outs by guys like Elfrid Payton or Evan Fournier. Replace those two with Lowry and DeRozan and you're taking an already-great offence and adding another lethal layer.
Weakness – not aggressive on offence
Ibaka isn't going to get to the free throw line very often. He averages less than two free throws a game and his free throw rate speaks volumes to what kind of player he is. He has one of the lowest free throw rates at 12.9% among NBA players and the other players around Ibaka's mark are mostly catch-and-shoot specialists. It's not unusual to see Ibaka pull up for a jumper in transition or take a jumper over a guard in the post. Ibaka is efficient, but still, free throws set your defence so a couple more trips to the charity stripe is never a bad thing.
Strength – can contain on the perimeter
The Thunder held a 3-1 lead on the Warriors last playoffs and their super-switchy defence was a staple of their strategy. Ibaka was a big part of that, capable of switching as needed even though he's not as athletic as he was before.
I'm curious to see how Dwane Casey employs Ibaka in pick and roll defence. When watching film from this season and last, Ibaka was asked to hedge fairly often. ESPN's Brian Windhorst said that Ibaka was not comfortable playing in Orlando and was not comfortable with the defence.
If Toronto wants to switch more with him, that could be an interesting look. Though this isn't an initial switch, the defence on Harrison Barnes is an impressive example of his footwork: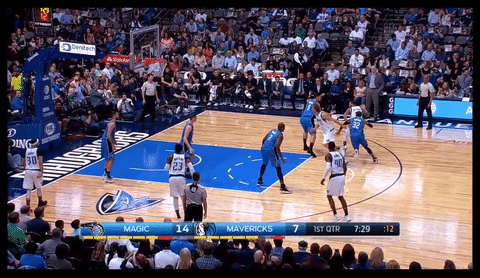 Ibaka gives Toronto a second frontcourt player who is capable of a variety of different defensive looks. As others have written, an Ibaka-Patterson frontcourt gives Toronto a ton of flexibility and would address the Channing Frye-LeBron James pick and pop that's killed the Raptors ove the past two season.
**
Ibaka's move will be a net-positive, yet there are a few areas of intrigue for Raptors fans to watch for. How Toronto uses Ibaka on both ends will be fascinating to watch over the next couple months and into the playoffs. He's a piece that the Raptors have coveted for years. Let the experiment begin.