Alrighty, first things first: I'm here to put myself at the feet of the RR faithful for missing my scheduled quick reaction post yesterday. The quick and dirty explanation: I've been away from the site for the last couple months while I finish my thesis, which was presented last week. The Pistons game was supposed to be my glorious reintroduction to RR to help bolster the rotation come playoff time.
Instead, my sleep-deprived, graduate school-addled brain convinced me that the game started at 3:30 Pacific time, instead of 3:30 Eastern. When I sat down to watch the game, I found myself looking at TV listings filled with Masters coverage and highlight shows, but nary a Raptor game to be seen. I then found an e-mail from Zarar asking where the hell I was.
To make matters worse, I couldn't even pop on the site myself, as I'd somehow broken my computer charger the evening before.
In any case, the blame is mine, and it's my bad. I'm sorry.
Now, enough of my rambling. Let's get to the game, which was a pretty pivotal one once the Bulls lost the Knicks later in the day, as it not only tied a Raptor franchise record for wins but also pulled them back into pole position for the 3rd spot in the conference.
---
Game Recap
It's hard to describe how dominant the Raptors looked at the start of this one. They came out of the gates like a house on fire, and offensively, everything (and everyone) was clicking. The Raptors' strategy to begin the game seemed to be to feed Jonas and a much more spry looking (at least on offence) Amir Johnson as much as possible, with the intention of getting Detroit's imposing Greg Monroe/Andre Drummond front line in foul trouble. The strategy worked, and both players had some nice buckets inside as Monroe and Drummond found themselves both on the bench less than halfway through the quarter.
More from RR:
In the end, that turned out to be more of a premonition than a great thing for the Raptors (holy crap, were there a lot of fouls called in this game), but in the first, it was a thing of beauty. With the lane wide open, it seemed like the entire Raptors team was either scoring at will or getting to the line (and, in multiple instances, both). The score quickly ballooned to 20-5 and you kind of felt like this thing was over before it had even started.
Side note here: Detroit is a super-talented team, but they're a bit of a mess mentally. It seems like all of their stars ride a roller coaster all game in regards to effort. Like a big roller coaster, with loops and stuff, not the kiddy one that takes you around the perimeter of the park – one quarter, Greg Monroe is grabbing every board in sight, the next, he looks like he's not sure what sport he's playing. The weird thing is that their players don't even ride the same roller coaster – they all peak at totally different times. It's quite odd (and reassuring, if you're a fan of the opposing team). But anyways.
The Pistons managed to claw back a tad thanks to some sloppy Raptor defence, which was a bit of a theme tonight, as you'll see, but the Raptors ended the quarter up 42-26 – setting a new season-best for points in the first, and, quite likely having Casey and his coaching staff feeling like all that was needed for a win was three more quarters of coasting. This was evident in his lineups, which were far more evenly spaced in regards to minutes than they have been in games previous (though, again, this is partly due to the ridiculous amount of fouls we saw on both sides).
The second quarter began with a bench + DeMar unit that had the Pistons quickly keying on number ten every time the ball came near him. He hit a lot of tough shots today – including a four-point play in the quarter – but it's tough to stay ahead while the number two option on the floor appears to be Tyler Hansbrough. Andre Drummond, obviously, dominated the matchup with Hansbrough – he dominated most of the game against everyone, honestly, and helped the Pistons out to a huge rebounding advantage, particularly on the offensive end, that allowed them to claw back in the game.
Seeing this disparity grow (offensive rebounding was at 20-4 Pistons at one point, and ended at 21-8), particularly with their vertically-challenged second forward unit, the Raptors seemed to try and make up the difference in possessions by gambling for steals. It was a strategy that paid dividends in some ways – the Raptor fast break was extremely effective – but also left perimeter players out of position regularly. Quite frankly, it looked lazy. The Pistons used the free space to cut the lead to 8 points with 30 seconds left in the half. That's where the title of the article comes in.
You see, sometimes things don't always work out your way on a team level. As a whole, you're a step slow defensively, or your three-pointers aren't falling. Your secondary scoring options are having up and down games. You're getting horribly, horribly outrebounded. It's a game that by all accounts, you should lose.
Yet for good teams, with legitimate stars, they often find a way to win, thanks to just sheer will and effectiveness of their top players. And, from a Raptor standpoint, this game turned into a two-part special: the Kyle Lowry show, followed by the DeMar DeRozan show.
With the Raptor offence struggling all over the court, Lowry took the opportunity to end the half with two huge spot-up three pointers that he sunk with a hand in his face, ballooning the lead to 14 just before the half and completely killing Detroit's momentum. He then started off the 3rd with another, and continued to look for his own all quarter with aplomb. Lowry ended the 3rd with 14 of the Raptors 24 points in the quarter.
This was important, because aside from him, the third quarter was a train wreck. Detroit, led by their twin towers of Monroe and Drummond, absolutely DEMOLISHED the Raptors in all facets. Jonas, in particular, had an extremely rough quarter, being rejected by Drummond a couple times before losing his confidence and bricking a few short hook shots. It seemed like Monroe and Drummond were catching every Detroit miss and putting it back up and in, a problem exacerbated with an ineffective Jonas, a still-hobbled and burdened by 5 fouls Amir and an injured Chuck Hayes (he left the game on a Monroe poster dunk and later returned). Hansbrough and Patterson as a duo are just far too small to effectively guard Monroe and Drummond, and if you weren't sure about that to begin the game, well, you sure as hell are now.
Somehow, someway though, the Raptors ended the quarter up 1. And by "somehow, someway," I mean "Kyle Lowry." This guy was absolutely everywhere, as usual – hitting spot-up threes, finishing tough buckets at the hoop, ripping rebounds away from Monroe, and just generally being a menace, a superman, KLOE. The Detroit broadcast team called him a star and said "we'd be hearing a lot more about Kyle Lowry over the next few years." I'm fully convinced that if the Raptors were more popular, any semblance of the debate regarding Kyle Lowry staying in the city next year would be completely over. The guy should be the most popular athlete in Canada.
With Lowry taking a blow to start the fourth, the Raptors looked to DeMar DeRozan to continue Lowry's path of singular destruction. Sometimes, it's easy to forget that DeMar was an all-star this season – his shot selection can still be questionable at times, particularly in the fourth when he attempts to take matters into his own hands.
When they start going down, though, wow, is it fun to watch. And man, does he ever look like an All-Star. With the larger Kyle Singler spending the entire quarter more or less draped all over him, DeMar hit a litany of tough shots from all over the court, ballooning the Raptor lead to 10 points and essentially sealing it with a massive dunk of Singler with a couple minutes left. His alpha dog status assured, DeRozan's dominance seemed to have significant emotional impacts on the Pistons players, too – Monroe and Drummond became visibly more timid around the rim, and Jonas was able to repeat his early effectiveness to help finish the game off and at least make the rebounding disparity respectable. Even when Lowry fouled out with 5 minutes left, it didn't feel like Detroit had any chance. That's the superman effect. And it's fun when not one, but two guys on your team can do it on the same night.
Was this a perfect win? No, not even close. The team defence as a whole was sloppy and the rebounding was abysmal at times. Was it a big win? You bet. And for your big players, sometimes big is a bit more of an incentive than perfect.
---
Breaking it Down
Because I missed the original airing of the game, I ended up watching it on NBA.tv (thanks, Zarar), which allowed me to pull some gifs. So let's take a look at a few specific plays from the game:
1st quarter
This first clip is a good example of the Raptors' early mindset, which seemed to be to feed Jonas and Amir as often as possible. It's also a great example of how Terrence Ross has come along this season with his decision-making in the lane.
 1. Lowry moves the ball to a slashing Ross, who is picked up on a switch by Kyle Singler.
2. Noticing the switch, Amir Johnson (who looked far, far more mobile yesterday on offence, anyway), immediately breaks for the hoop. He's picked up, belatedly, by Jonas Jerebko.
3. With Ross rolling hard to the basket, Greg Monroe stays back, both to put a body on Jonas and to avoid being taken out by a falling Singler, who's overcommitted to helping on Ross.
4. Amir finishes the hoop and is fouled for a nice and-one. It's plays like this that allowed the Raptor bigs to be effective. When the wings are creative in finding looks, the size disparity faced by Toronto against a team like Detroit isn't nearly as pronounced.
This next play is another example of some creative work by the Raptors to free up space around the rim (as well as an example of great passing/athleticism).
1. Patrick Patterson sets a high screen on DeMar's man (Singler).
2. Patterson pops and calls for the ball. Seeing his man open, Patterson's check (Tony Mitchell), doesn't hedge on DeRozan's screen, and Kyle Lowry's man sags.
3. DeRozan rises over a frantically recovering Singler, who is late returning to his check thanks to Patterson's excellent screen and his own teammate Mitchell's immobility during the play. Lowry delivers a perfect dime, the Raptors go up 28-12 (yes, the start of this game was super fun).
2nd quarter
As I said in my recap, things started to break down in the second as the Raptors started gambling for steals. Here, we see Nando de Colo and Amir Jonson making poor individual decisions that lead to an easy Piston bucket:
1. De Colo leaves his man (Kentavious Caldwell-Pope, in the far left corner) to attempt to pick off a pass out to Monroe, who is standing near the three point line. Spoiler alert: Monroe doesn't score from there. Ever. The ball is nearly stolen by de Colo and recovered by Detroit.
2. With de Colo out of position, Grevis Vasquez rotates in to help, finding himself checking Monroe. Once Monroe begins to rotate to the basket, Vasquez leaves him for Hayes, finding himself in no-man's land.
3. Amir, who was guarding Monroe, rotates out to the line to guard a now wide-open Caldwell-Pope, who's man (de Colo), is now standing on the free throw line. In his haste, he dives out to cover, biting on what can be described as a pre-pump fake. Caldwell-Pope shakes Amir and is left wide open for an easy basket.
4th quarter
In the fourth, some defensive issues continued, particularly when the duo of Patterson and Hansbrough was charged with guarding Monroe and Drummond:
1. De Colo, guarding Peyton Siva, is picked near the three point line by Monroe.
2. Hansbrough sags hard on Siva, leaving Monroe alone near the 3-point line. Patterson steps up to cover the rolling Monroe.
3. Hansbrough fully commits to the driving Siva as de Colo proves unable to get back into position. Monroe begins his move to the basket, and Patterson responds by pushing Monroe on the back, allowing Monroe lane position and an easy dunk on the heels of the Siva miss.
And this one is here for obvious reasons:
1. DeMar DeRozan over everything.
2. Superman effect.
---
Odds and Ends
1. Amir Johnson looked better than he did against the Knicks, but still not at 100 per cent. It was particularly clear that he still has a ways to go on the defensive side of the ball, where he was a step slow and ended up committing five fouls in just seventeen minutes.
2. It was the Pistons' home finale, and yet you could hear fans chanting "let's go Raptors" and "MVP" for Lowry when he stepped to the line. Pretty cool stuff.
3. The win puts the Raptors' destiny back in their own hands. Two wins to close out the season, and the third seed is ours. Of course, that may not be what Raptor fans want in the end, depending on how the Miami/Indiana dogfight shakes out.
4. With the win, the 2013/2014 Raptors tie the team record for wins in a season, with two games to go – one against the lowly Bucks, and one against the Knicks. I realize that in the larger picture, it's just a number, but it'd be great to see this group of Raptors own the record. They've worked extremely hard this season and been an absolute pleasure to watch, and, if nothing else, it would be a great way to commemorate the season that was in the annals of club history.
Morning Coffee – Mon, Apr 14
Raptors fend off Pistons to tie franchise win mark | Toronto Sun
Sunday was another example of the Raptors getting pushed around in the paint. The Pistons outrebounded them 55-40, with a 21-8 edge in the offensive-boards department. A healthy and mobile Amir Johnson would go a long way to addressing that need and Casey knows it. "We definitely do," he said when asked how desperately they need a healthy Johnson back. "Any time anybody gets 21 offensive boards tells all of our bigs there's a need. It's timing, it's grit, it's anticipation and a lot of those things that we didn't have. They basically manhandled us in the paint and we've got to better than that." Coming into the game it was the defensive slippage that was of most concern and while the Raptors held Detroit to just 41.7% shooting, the Pistons also scored 107 points which is way too many for a team that has struggled as much as Detroit. Casey, though, was most concerned with the beating his team took on the glass.
Rapid Recap: Raptors Fight Off Pistons to Tie Franchise Win Mark | Raptors HQ
Most fans will look back on this game as a bit of a disappointment. Once again, the Raptors played down to a level that shouldn't be acceptable for a club that just laid claim to the Atlantic Division title. With that said, we witnessed yet another clutch performance from DeRozan who looks to be in top form just in time for the playoffs. In addition, we saw this team react to the loss of Lowry and not miss a beat. Detroit or not – a win, is a win, is a win.
Lewenberg: Raptors fans head south to watch record-tying win | TSN
Nearing the end of their magical, out-of-nowhere campaign, the Raptors continue to enjoy the fruits of their labour. Two days after clinching their second ever division title, they tied the team's all-time win mark – previously set in 2000-01 and then again in 2006-07 – and have a chance to top it on Monday when they host the Bucks or in Wednesday's finale against New York. "We talked about it as a team," Casey said. "It wasn't our goal going into the year but it's good for this group. It's something they should be proud of. They worked at it and it's all their doing." "Why not break it?" "It definitely means a lot, man," said DeRozan, who scored 14 of his game-high 30 points in the final quarter Sunday. "When you look at it, if you really sit down and look at it, man, that's big. To be tied with the franchise record and have a chance to break it. We came a long way. A lot of people wouldn't have counted [on] us to be in this position that we're in now."
Raptors bounce Pistons, match franchise win mark | Toronto Star
There will be a banner-raising ceremony to mark the team's second Atlantic Division title before the game as DeRozan and the Raptors chase win No. 48 on the year. Victory No. 47 was far from pretty but with so much on the line in such an unexpected season, DeRozan's 14-point fourth quarter sealed a 116-107 win over the Detroit Pistons and kept Toronto on pace for a record-breaking year.
Toronto Raptors Tie Franchise Record With 47th Win | Pro Bball Report
The play in this game became sloppy and inconsistent and even the referees seemed to have trouble concentrating. Kyle Lowry was fouled out on successive lazy calls by the referees who couldn't bother to pay attention long enough to get it right. Lowry was fouled out when Drummond tripped over his own feet all by himself. No one on either team had touched him, he just lost his balance. If the referee had of been actually watching the play instead of not paying attention, he would have gotten the non-call, nothing happened situation, right. It must be almost the end of the regular season and some of the referees – along with any number of the players – have one foot on the plane heading out on vacation already.
Toronto Raptors Beat Detroit Pistons to Tie Franchise Record of 47 Wins | Bleacher Report
NBA Preview – Milwaukee Bucks at Toronto Raptors – Apr 14, 2014 | CBSSports.com
"We definitely want to pass that record," forward Amir Johnson said. "We're still playing hard, we're still working on our game for the playoffs so we're still playing for something."
Preview: Bucks at Raptors | Journal Sentinel
Send me your Raptors-related articles; I can't keep track of them all rapsfan [at] raptorsrepublic [dot] com
Raptors Weekly Podcast, April 13 – Undertow
Andrew and I jump right back into the thick of things on a Sunday afternoon:
Part 1:
JV situation – we hear from JV
Knicks loss – issues guarding 'Melo and Stoudemire
Dwane Casey explains the defensive problems we've having
Statistical drop-off in defense in April
ESPN's new +/- stat and its Raptors application
Part 2:
Barkley supports the Raps, Kenny doesn't – we get the audio
Early analysis of potential Nets matchup – Shaun Livingston is the topic
Are the Nets a bunch of old guys who were All-Stars, or a force to be reckoned with
Best advantage vs the Nets
Worst disadvantage vs the Nets
Experience counter
Part 3:
Listener questions – Amir's hair, bench play, doubling JJ
Aaron Gray vs Dwight Buycks – heated, emotional debate
Look ahead to the final two games
Grab the iTunes feed or check us out on Stitcher on Android. There is also the plain old feed. You can also download the file (39:21, 47 MB). Or just listen below:
[GIF] Demar DeRozan Reduces Kyle Singler To a Pile of Leaves
Sources have confirmed that there was a two-car collision on the corner of Palace and Auburn Hills on Sunday afternoon. The victim, identified as one Kyle Singler, came into direct contact with a freight truck driven by one DeMar DeRozan. Singler, according to witnesses, chose to deliberately cross paths with the freight truck, much to his physical disadvantage and dismay. The below CCTV footage was released by the Detroit Police Department as a way of caution to others who might consider crossing paths with indestructible vehicles (video).


More from RR:
Late Reaction: Raptors 116, Pistons 107 – The Apologies Edition
Amir Johnson, PF Shot Chart

17 MIN | 3-3 FG | 2-3 FT | 2 REB | 1 AST | 2 STL | 2 BLK | 0 TO | 8 PTS | +2

What a God-send, can we give this guy a contract extension already? Seriously, if he was any more consistent he'd be a brick wall.

Terrence Ross, SF Shot Chart

23 MIN | 2-4 FG | 1-1 FT | 4 REB | 4 AST | 2 STL | 1 BLK | 2 TO | 6 PTS | +17

Is there a stat like 1/2 triple doubles, because he almost nailed that with a 6/4/4 line. Sick player, sicker condo.

Jonas Valanciunas, C Shot Chart

30 MIN | 5-12 FG | 8-9 FT | 8 REB | 1 AST | 1 STL | 0 BLK | 0 TO | 18 PTS | +9

I want to be friends with this guy so bad. He'd totally let me crash at his place, bum a smoke, and playfully throw the XBOX controller at me after I crush him in FIFA.

Kyle Lowry, PG Shot Chart

34 MIN | 9-18 FG | 6-8 FT | 2 REB | 7 AST | 2 STL | 0 BLK | 2 TO | 28 PTS | +8

Are you watching Joe Johnson? Are you watching? This is what an All-Star looks like you over-paid, under-worked mushroom head of a human being.

DeMar DeRozan, SG Shot Chart

38 MIN | 10-19 FG | 8-10 FT | 1 REB | 3 AST | 0 STL | 0 BLK | 0 TO | 30 PTS | +7

Hah, if you caught the pod posted today I chose not to talk about him because he wasn't doing much all week. Well, tonight he did something. Like a lot and got a tweet from Lillard appreciating the work.

Tyler Hansbrough, PF Shot Chart

11 MIN | 0-0 FG | 2-2 FT | 3 REB | 0 AST | 1 STL | 0 BLK | 0 TO | 2 PTS | +3

It doesn't matter what he does in the regular season, as long as he knees Garnett in the groin reducing the thug to a pile of leaves, I'm all good.

Patrick Patterson, PF Shot Chart

25 MIN | 2-5 FG | 0-0 FT | 8 REB | 1 AST | 0 STL | 3 BLK | 1 TO | 4 PTS | +6

Back to the bench, back to being a playa. I've ordered my gold-hemmed Patrick Patterson jersey and should be here in time for the playoffs. I'll be at the ACC, just look for the guy getting the mad pu$$y. Three blocks tonight and they said he don't play D.

Chuck Hayes, PF Shot Chart

14 MIN | 1-3 FG | 0-0 FT | 10 REB | 0 AST | 0 STL | 0 BLK | 0 TO | 2 PTS | -2

Playa, meet Balla. Solid rebounding game against a frontline some call formidable. Chuck Hayes calls them a bunch of pansies.

John Salmons, SF Shot Chart

16 MIN | 0-3 FG | 0-0 FT | 1 REB | 1 AST | 0 STL | 0 BLK | 0 TO | 0 PTS | -5

Jesus man, even in a post where I'm giving everyone mad love, I can't figure what to write for this guy. I presume he's bored of the regular season and just waiting for the playoffs.

Greivis Vasquez, PG Shot Chart

19 MIN | 5-9 FG | 2-2 FT | 0 REB | 2 AST | 0 STL | 0 BLK | 3 TO | 14 PTS | +3

Sixth man of the second half of the post All-Star game period.

Nando de Colo, PG Shot Chart

15 MIN | 2-5 FG | 0-0 FT | 1 REB | 2 AST | 0 STL | 0 BLK | 1 TO | 4 PTS | -3

Someone needs to pull up his average distance run/minute stat. I bet it's sky high.

Dwane Casey




Coach of the Year? Probably not, but definitely an extension.
Raptors Fantasy Forecast, April 13 – The Finish Line
Ed's Note: Glen Hogarth will be guiding you through the ins and outs of fantasy basketball from a Raptors and NBA perspective.
Time flies when you're having fun and after today there's only two games left in the regular season. On Monday the Raptors have their last regular season home game against the Milwaukee Bucks, who rank 6th from the bottom in points allowed this season at 103.4, which increases to 105.7 on the road and also allow 8.44 threes per game as well. On Wednesday the team will have an opportunity to take revenge for the lacklustre performance they gave last week against the New York Knicks and finish up strong as they head into the postseason. The Knicks are giving up 99.6 points per game on the season, which is good enough for 11th on the season, however allow 8.7 made three's per game, making them the third worst team at guarding the perimeter.
I'm sure the Raptors are going to use these last two games to make adjustments to their defensive game which has slipped over the last month after being one of the few elite defensive teams of the year. If they can find that intensity and consistent effort that earned them that moniker earlier in the year, they have a shot at doing some real damage in the postseason. With many believing that 4th is locked up, we may see coach Casey decide to tinker with lineups and give needed rest or run to different players to get them ready entering the postseason. If so, it could make an impact to the end of your fantasy finals.
Gotta Have Em!
DeMar DeRozan – Season player rating drops from 35th down to 39th and is owned by 100% of the leagues at ESPN. Over the last week, DeMar's shooting percentage has been less than desirable, going 5.7/17.0 (.333 FG%) over the last 7 days. Despite that, he has averaged 22.0 PTS and hitting 0.7 three-pointers, with 4.0 REB, 5.0 AST and 0.3 STL per game. His points have largely come from his free throws, going to the line and hitting 10.0/11.0 (.909) helping to make up for his disappointing FG%.As long as DeRozan stays aggressive he will continue to find the charity stripe, which is often the way top players deal with shooting issues when they arise. He's been very successful at finding open teammates as well, just another example of how DeMar has grown this year and has been able to stay effective.
Kyle Lowry – Season player rating drops from 13th down to 14th and is owned by 100% of the leagues at ESPN. After it looked like Kyle may be out all week, he jumped back into the line-up and started where he left off, as the Bulldog of Bay Street. After only missing three games, Kyle came back and averaged 27.0 PTS off .500 FG% while hitting 3.0 three-pointers, with 3.5 REB, and 5.0 AST per game. He's also brought up his free throw attempts, taking 9.0 per game since returning and shooting .889 FT%. The rest seemed to do wonders for Lowry, though he admitted that the while the week was great to help feel better, he joked it would take at least two months to recover from the long schedule of the regular season in the NBA. Well Kyle, we hope you recharged your battery, because we fans don't want to see you start that two month recoup until July.
Jonas Valanciunas – Season player rating bumps upwards again from 82nd to 81st and is owned by 97.3% of the leagues at ESPN. The 2.7% of the leagues that haven't picked up the man should be ashamed of themselves. Over the last week JV went into full beast mode to help erase his past transgressions off the court on their day off. Well it worked, over the last seven days he has averaged 19.0 PTS off .564 FG%, with a whopping 15.3 REB, 1.3 AST, 0.3 STL and 1.3 BLK per game. He's getting to the free throw line 6.7 times as well, but is hitting at only .650 FT%, below his season average of .751 FT%. I'm sure his dip in FT% is due to rushing his attempts some and exerting extra energy on both ends of the floor. He'll quickly figure out to take a few extra moments to gain composure before his attempts and be right back on pace soon enough. Regardless, with the added production everywhere else, I'm sure fantasy owners are quite happy to see him continue to do exactly what he's doing now. Dominating.
Keep An Eye On
Terrence Ross – Season player rating dips again from 116th down to 117th and is owned by 31.6% of the leagues at ESPN. Over the last seven days T.Ross has struggled from the floor, shooting .368 FG%. Despite that he's averaging 12.0 PTS and hitting 3.0 three-pointers, with 2.0 REB, 2.0 AST, 0.5 STL and 0.5 BLK per game. Still an effective option for any fantasy owner needing to add threes to their game, they must take into consideration his shooting nearly 9.5 shots, while only knocking down 3.5 per game. This is enough to affect your FG%, so if you're in a close race in that category you may need to be weary of using his threes at the moment. With that said, Ross has been a solid percentage shooter throughout most of the season so it's a gamblers option.
Patrick Patterson – Season player rating holds at 168th and owned by 0.4% of the leagues at ESPN. Patterson continues to get himself back into game shape and over the past seven days has begun to round himself back into the 2Pat we knew. He averaged 8.7 PTS off .466 FG% and adding nearly 1 three-pointer per game, with 5.2 REB, 1.2 AST, 0.8 STL and 0.5 BLK per game. If you did not stay in foul trouble during the New York game these numbers were sure to increase. You should consider that if Amir struggles to feel healthy again Patterson could be the perfect option on Monday's contest against Milwaukee. I expect him to stretch the floor in both games and bring the level of defensive intensity that Casey expects from his entire team leaving him on the floor provided he stays out of foul trouble.
Amir Johnson – Season player rating drops from 59th down to 68th and is owned by 55.6% of the leagues at ESPN. Amir's first game back left to be desired and still looked as though he could use some more time to recuperate. Failing to score any points he pulled down three rebounds, made two assists and had a block in 17 min. of action. This afternoon we will see if he is able to give more, and will be a good indication of what Amir Johnson we can expect in the last two games coming up. Hopefully with some added rest he'll be ready to rock 'n roll. Personally, I look to see him getting back to his season average of 29 min. per night by the time they go back up against New York on Wednesday.
They Try and Try
Greivis Vasquez – Season player rating drops from 152nd down to 155th and is owned by 43.4% of the leagues at ESPN. Since Kyle's return GV's numbers have clearly regressed. With Lowry out, Vasquez was averaging 36.6 minutes, however since his return he is only getting 16.0 per game most likely due to the return of 2Pat as well. In the last seven days he's averaged 7.0 PTS off .444 FG%, with 1.0 REB, 2.5 AST, and 1.0 BLK. He has managed to hit 2.0 three-pointers per game during that time keeping him a possible option from behind the arc if you're in desperate need.
Game Day: Raptors @ Pistons – April 13
Toronto entered Friday's game with three items on their check list: clinch the Atlantic Division, tie a franchise record for wins and retain their position as the East's third seed. Despite the loss, Toronto managed to clinch the division due to Brooklyn's loss.
On Friday, six of the seven confirmed Eastern playoff teams swapped positions. Saturday the top two seeds switched back and the final seed (Atlanta) was confirmed. Seven of the eight teams have yet to cement their seeding, and aren't likely to until the last games are played Wednesday.
This afternoon the Raptors will look to get back in the win column in Detroit before returning home to play Milwaukee tomorrow and finish the season Wednesday in New York.
Chicago, having supplanted Toronto as the third seed will be in New York in their own back-to back series with the back end at home vs. Orlando and they'll finish in Charlotte. Unfortunately, the Knicks who came into Toronto desperate have since been eliminated and will have no motivation to play the Bulls with the same intensity and will likely rest injured star Anthony.
If Toronto wants to regain the third seed they need to take care of business by winning their final 3 games and hope Chicago loses one of theirs. The difference between Toronto and Chicago in March and April is Chicago has one additional win.  
With so much jockeying back and forth within the standings it's hard for the Raptors to pick a preference of position. Ultimately Toronto's best bet is to do what they've done all year and rebound following a loss with a series of wins. That starts today in Detroit, so let's examine the match-up.
Before we break it down, JM Poulard of ESPN True Hoop Network and writer for Piston Powered was kind enough to answer a few questions.
While Toronto is in a dog fight with Chicago to capture the 3-seed, Detroit had a completely different focus of maintaining their position in 23rd (or 8th in the draft lottery). Charlotte had the rights to the Pistons pick, however it was draft protected to 8.  One could assume the front office probably mandated Coach Loyer to make sure they didn't climb higher and the team delivered on this promise. Since Chicago won Friday it guaranteed the Pistons will retain their lottery pick.  With this objective resolved, do you think Loyer pushes the squad to play spoiler versus Toronto and OKC to close out the season on a high note? 
Honestly, it's really tough to tell. It's not like the Pistons were actually winning a multitude of games when they were trying to do so. Detroit "boasts" a bottom-third league defense, and they are the proud owners of the second-worst clutch rating in the league per NBA.com.
Detroit's warts have an amazing knack for showing up in late-game situations. Thus, if the Pistons want to play the role of spoilers, it might basically not matter.
This past summer Joe Dumars acquired free agents Brandon Jennings (3 years/$24 million) and Josh Smith (4 years/$53 million). On paper the signings looked to be upgrades, however I posted it had the potential for disaster given the caustic nature of both players. Sure enough they are both having terrible seasons: many of Jennings stats have digressed and Smith has put up the most 3-point shots of his career (265) hitting on only 26% and has the lowest FG% of his career. Is this simply a chemistry issue and what can be done moving forward so these two players live up to their salaries?  
Here's the dirty little secret about Brandon Jennings: this is who he's always been. Jennings is a low-percentage shooter that enjoys taking difficult shots off the dribble. Placing him alongside players that need the ball in their hands to be effective was never going to work out well. Still, Detroit's offensive rebounding prowess certainly goes hand in hand with Jennings' insistence to take odd shots.
As it pertains to Josh Smith, his evolution is somewhat understandable. He's a power forward that occasionally drifts to the perimeter and settles for long jumpers. And yet, the Pistons have opted to play him at small forward without actually thinking through the consequences.
Smith is an underrated passer and solid defensive player when engaged, but Pistons fans will find that hard to believe since they've only seen that player sporadically. I don't expect any change from Jennings going forward, but Smith can certainly be salvageable depending on the team's philosophy and scheme next season.
On the subject of Dumars I'm surprised owner Tom Gores didn't fire him after the debacle that brought Charlie Villanueva and Ben Gordon to the Pistons. To that end, several media outlets report he will resign at the end of the season and there is speculation he may already have a position in Cleveland. His tenure includes several highlights (2004 championship) and lowlights (overpaying athletes, firing a succession of coaches and missing the playoffs the past 5 seasons). What are your personal highs and lows of the Dumars reign? 
Joe Dumars pulled off one of the best and worst moves in Pistons history in less than a year. Dumars drafted Darko Milicic while the likes of Carmelo Anthony, Dwyane Wade and Chris Bosh were all still on the board.
His best move though? Trading for Rasheed Wallace. That move turned the Pistons into a title team. Dumars had a great read on the pulse of the 2003-04 team, and that allowed him to turn it into a title contender. An argument could be made that he has never had a better feel for any of his teams.
As for tonight's match-up, aside from containing Detroit's impressive front court what do the Raptors need to do to shut down the Pistons?
The Raptors need to be ready to defend the paint. The Pistons take a lot of shots in the restricted area via drives, post-ups and offensive rebounds. Toronto has done a good job this season of thwarting Detroit at the basket with their interior players, which explains why the Pistons have only converted 41.5 percent of their field goals versus Toronto.
As long as the Raptors protect the basket area with the same fervor, they should get an opportunity to win the game.
Injuries:
Josh Smith: patella tendinitis, listed as doubtful
Will Bynum, right foot,  listed as doubtful
Positional Match-ups
Back Court — Lowery and DeRozan have been stellar all season especially following a loss. What more needs to be said.
As per JM, Jennings loves to take difficult shots and forget about his wealth of talent in the front court. Add in the added incentive of showing off for fellow Californian and friend DeRozan and we could see some real crazy shots from him today.  Stuckey replaces the injured Bynum as a starter. Last time out Stuckey had just 3 assists and 1 rebound to show for his 26-minutes on court.
Advantage — Toronto will dominate
Front Court —The marquee match-up of the day will be between Valanciunas and Drummond who have both been on a tear (see below). Johnson is still rusty after so much time off, however given how important today's game is and the fact he always gets up for his old team it should translate into a big afternoon. Ross was not happy with the whistle or the difficult task of guarding Melo Friday so we'll hopefully see a rebound game from him today.
Drummond is a beast and Monroe is equally talented, however they both leave a lot to be desired on the defensive end. Singler replaces Smith at the Small Forward.
Last 3 games:
Valanciunas: 19 points, 15.3 rebounds
Drummond: 18.6 points, 19 rebounds
Advantage — As per JM, Detroit love to score in the paint so taking away the paint and grabbing rebounds will be the Raptors emphasis today. Drummond will get his, but Toronto will take the category by game's end. 
Bench — Patterson appears back in form and will create nightmares for whoever guards him.  Vasquez will have to guard Rookie Siva who has been getting more minutes due to injuries and had some good moments but it's the type of contest GV thrives on. Bottom line without Smith or Bynum the Piston's bench is pretty slim and with Toronto back to full health it should provide a big advantage for the Raptors.
Advantage — Raptors
Team Rating:
Toronto: 46-33  – offense- 10th, defense- 8th
Detroit: 29-51 – offense- 19th, defense- 25th
Other notables:
A win today will tie Raptor franchise record for most wins in a season (47).
Toronto is 7-3 in last 10 while Detroit is 3-7.
Since February 10th, Toronto has only lost 2 consecutive games once.
Two previous games versus Detroit at ACC were won by 21 and 14 points
Vegas Says: As of post time the Raptors favored by 6.5, over/under: 206 with public favoring Raptors by 56%
Tamberlyn Says — Expect the Raptors to come out focused and pounce on the Pistons. Look for a full 48-minute effort especially on the defensive end. In fairness, the defensive slippage had a lot to do with Patterson, Johnson and Lowry all missing games due to injury so they'll want to get back on track starting today.
Toronto will sweep season series and win by 10+ points.
Not Exactly a Banner Effort
For anyone watching this game at home, you should have had the opportunity to fill out your entire New York Knicks viewing bingo card. JR Smith unnecessarily jacking up double-digit 3-point attempts? Check. Carmelo Anthony taking a series of well-contested isolation turn-around or fadeaway jumpers from the baseline and somehow hitting all of them? Check. Amare Stoudemire hitting the deck and staying down with an apparent "injury?" Check. Tyson Chandler making a cartoonish stink-face and walking around with his arms held out in a "what did I do?" motion after every single foul call? Check. And finally, a complete defensive breakdown leading to yet another embarrassing loss for the Knicks? Che…oh wait. One short of the Knicks bingo on that one, and one win short of the Atlantic division title too (for like 20 minutes until Brooklyn hooked us up, but still).
This game was entertaining and close from the opening tip until the start of the 4th quarter, when the Knicks played like a team that needed to win to have any playoff chances, and the Raptors played like a team that just needed to keep playing because there were like 15 000 people there watching and it would have been really awkward if they'd just kinda walked out, which is what they probably would rather have done.
Iman Shumpert may only be in his third season, but his hair-cut has been in the league since 1987, and that veteran savvy really comes through on the defensive end. Shumpert was credited with 2 steals, but he was responsible for breaking up what felt like four or five offensive possessions in a row for the Raptors in the 4th quarter that helped the Knicks pull away.
Amare Stoudemire looked fantastic. He scored at will in the low post, nailed an early jumper when the Raptors dared him to shoot instead of drive, he slammed home a pair of dunks on cuts to the basket amidst the Raptors' defensive breakdowns and played well in the pick and roll whenever the Knicks decided to take a slight reprieve from iso-ball. The Raptors simply couldn't keep Amare out of the paint. He was able to establish position early and seal either Patrick Patterson or Chuck Hayes almost underneath the basket before he even caught the ball. The bulk of his points came as easy points in the low post where he simply bullied those two. Amare may not have demonstrated the dynamic explosiveness that once made him the best pick'n'roll scoring big man in the NBA with Steve Nash and on the 2010-11 Knicks. Perhaps his uninsurable knees have relegated that man to memory. But he was dominant as a scorer nonetheless, and Amare Stoudemire-if-he-can-stay-healthy could spell some trouble for an opponent looking to cruise to a first round playoff win.
Now, having praised Amare for his offensive talents, it's worth noting that his defensive shortcomings, in particular his disinterest in boxing out for rebounds, were also on apparent display. Valanciunas jumped on the opportunity and put up a positively Mozgovian stat line of 14 points and 21 rebounds. He had 8 offensive boards and he took Tyson Chandler, who could not contain his driving hook shot without fouling, completely out of the game with early foul trouble. JV was +5 on the night, compared to a negative plus/minus rating for the rest of the starters (not including Amir Johnson, who played a productive 17 first half minutes coming back from injury but did not return to play). I'm not a large proponent of NBA plus/minus numbers, but in this case they back up what looked apparent on the court (As an aside, an exception to this rule is adjusted or real plus/minus, like the delightfully insightful new system that ESPN launched this week. I completely support any kind of advanced metrics that tell that Amir Johnson has the 12th biggest impact on the court of any player in the NBA.). The problem came with filing the power forward minutes when Amir couldn't go in the second half, and even more so with plugging in any of the bench big men at Valanciunas' spot whenever he needed a breather. Casey ran a lineup to start the 4th quarter that featured the 6'6 Chuck Hayes as the only nominal big man on the court. It did not bode well. The aforementioned Amare Stoudemire manhandled anybody not named Valanciunas (He shot 10 of 14 and easily could have had 34 instead of 24 if the Knicks had simply gone to him more) and anytime the Knicks dribbled past their defender on the perimeter there was absolutely nobody to challenge the shot at the rim.
With the exception of Kyle Lowry's impressively smothering defense on Prigioni in the Raptors noble final 3-minute comeback attempt, it was a bad defensive game from everyone. Offence wasn't the problem, as the matador defenders of the Knicks allowed the Raptors to score at a rate of 114.5 points per 100 possessions, which is about 3 points better than the league leading LA Clippers offense averages. The problem was defense, where the Raps gave up a whopping 123.6 points per 100 possessions to the New York basketball shorts, a full 13 points worse than the Milwaukee Bucks average with the league's most woeful defense.
The Bad News:
With the Raptor's loss and Chicago win, the Bulls leapfrogged the Dino's for the 3rd overall spot. Chicago closes the season out @Knicks, home for Orlando, and then @Charlotte, whom they may then likely face in the first round. Not a cakewalk, but not a rogue's gallery of opponents either.
The Good News:
Who needs to win when your opponents lose without you! Brooklyn lost last night too, causing the three greatest words in the English language to apply to the Raptors pursuit of the Atlantic division title: won by default! WOOHOO! Its banner time everybody! Which is good, because the rafters of the ACC are shameful. The Raptors have one division banner in their history, which hangs beside an 'inaugural season' banner. When we hang the 2013-2014 Atlantic division champions banner, can we please take down the embarrassing inaugural season banner? It's a joke. It's like your parents keeping a participant ribbon pinned on the family fridge for a decade after you lost the consolation t-ball final in the 2nd grade. That banner is not an achievement; it's an embarrassment that screams that we've never won anything. And that sentiment is echoed by the fact that the only banner to be raised in the ACC the last 7 years says "Bon Jovi" on it, because I have absolutely no idea why. Really? Come on MLSE, can you not see how you're inflaming what's already a problematic sports-fan inferiority complex in Toronto?
Morning Coffee – Sat, Apr 12
Raptors lose game but win Atlantic Division title | Toronto Star
The fact they will open at home regardless has to be of some solace. "It does, because we're a young team and whoever we play . . . is going to be more of an experienced team, so being at home will help," said Casey. "But it's not the answer, it's not the cure-all, it's not going to win the game for you. We still have to go out and compete and do the things we have to do to win." What matters, however, is how the Raptors are playing far more than who they will face. They were good for stretches against the Knicks on Friday but not for long enough and, uncharacteristically, they faded in the fourth quarter.
Lewenberg: Bittersweet celebration as Raptors clinch division | TSN
Toronto's defeat, at the hands of a desperate Knicks teams fighting for their playoff lives, exposed a series of lingering concerns for Dwane Casey and his club. Meanwhile, with Chicago coming back from an 18-point deficit to knock off the Pistons, the Raptors fell out of the Eastern Conference's third seed. Do they care who they'll face in the opening round of the postseason, beginning next weekend, on Apr. 19 or 20? "No, not at all," Lowry stated. "We've proved we can play with anybody in this league," DeRozan added. "We understand that, so it really doesn't matter to us." He was not alone. The consensus in the room was just that, no, they're not stressing over their first-round opponent, or so they say. In the grand scheme of things it could be the difference between the team's second ever series victory or an early vacation, a reality they all seem to grasp, given their expressions of discontent upon learning that Chicago had won.
Knicks 108, Raptors 100: "This team, man." | Posting and Toasting
Melo's only consistent sidekick, save for spurts of help from his guards, was Amar'e Stoudemire, who had one of his finest games in by far his longest spin of the season. Amar'e waited on the weak side, caught passes out of good ball movement, and finished. Amar'e backed his man down, gained separation with a spin, and finished. Amar'e got touches in transition and out of the pick-and-roll and finished. The Raptors have decent interior defenders, and Amar'e jammed jams on all of them. Melo and the guards helped Amar'e out, too, by not just force-feeding him the ball but actually working around fronts and offering him bail-outs when help came. And he responded well, staying active off the ball and passing out a couple times when he was crowded. The begoggled one just had an especially lovely bounce for all his 40 minutes, and it even carried over to a weirdly productive stretch on the glass (11 boards in the first, 0 in the second half) and some spots of defense. Like maybe one or two defenses. A lot of fun to watch.
Rapid Recap: Raptors Capture Atlantic Division Title Despite 108 – 100 Loss to Knicks | Raptors HQ
Not quite how fans imagined things going down. Unfortunately, the Raptors put on a pretty sad display of basketball this evening and fans were left with no choice but to wait and see what the outcome of the Nets/Hawks game was. Luckily, the Hawks prevailed and Toronto nabs only its second division title in franchise history. However overshadowing the division title clinching was tonight's game, another showcase of some suddenly porous Raptors' defense. The New York Knicks shot 56 per cent in the first quarter and jumped out to a decent lead, and turned up the juice again to start the third quarter, dropping 33 points on Toronto and never really looking back.
No celebrations for Raptors after clinching division | Toronto Sun
DeMar DeRozan and Amir Johnson, the longest-serving Raptors, adamantly stated at the beginning of October that they were fed up with all of the losing and the playoffs weren't just a goal, but rather a certainty. In a quiet 1-on-1 moment, Johnson managed a wide smile and admitted it did indeed feel quite sweet to finally be division champs after so many years of being fodder for other, better teams. While DeRozan said "it sucks" to lose, he also at least said it was a proud moment. "It sucks that we lost the game, especially with us trying to hold the third spot, but it feels great to win the division. I don't think anybody would have picked us to win it. That's definitely a great accomplishment," DeRozan said. Kyle Lowry echoed those thoughts. "It's sweet and sour. It's very sweet that we won the division but it sucks that we didn't win it by a win. But we'll take the division champs any day."
Raptors defence looks inept in loss to Knicks | Toronto Sun
"I'm more concerned about getting better,'' head coach Dwane Casey said when apprised of his team capturing the division. "It's great for the fans, believe me. I'm excited for the fans, but I'm concerned about 30% (shooting) inside the three-point line (Toronto's percentage against the Knicks). "This franchise has had a lot of ups and downs. It's funny how the expectations change. We go from developing and now all at once we lose to Carmelo Anthony and a team like this. Believe me, we still have growing to do. "We just want to be ready to go into the playoffs with some momentum and not let a game like (Friday night define the unit). I tip my hat (to the Knicks). Sometimes someone just kicks your butt."
Toronto Raptors outmuscled by New York Knicks, but manage to clinch Atlantic Division with Brooklyn Nets loss | National Post
In a vacuum, this was not a good day for the Raptors. The Bulls came back to beat Detroit, passing the Raptors for third place in the conference. If those seeds hold — and that is far from certain — the Raptors will play the Nets in the first round as opposed to the less experienced Wizards or Bobcats. It could also potentially put them on the same side of the bracket as the Heat as opposed to the struggling Pacers. Those are first world problems compared to where the Raptors started the year, but they represent the new reality. Both Lowry and DeMar DeRozan expressed a complete apathy about the identity of their first-round opponent. "We're still anxious," DeRozan said. "We still want more. We're not satisfied with nothing [yet]. We understand we have much more basketball to play and a long road to go and we want to take advantage of it. Not just get there and say we got there, where people doubted us. We definitely feel like we can go in and make some noise."
Is Terrence Ross Ready to Make the Playoff Leap? | Grantland
Reaction: Raptors 100, Knicks 108
Raptors die a slow and painful death at the hands of the New York Knickerbockers.
Amir Johnson, PF Shot Chart

17 MIN | 0-1 FG | 0-0 FT | 3 REB | 2 AST | 0 STL | 1 BLK | 0 TO | 0 PTS | +7

Looks like Dwane Casey didn't have faith in his health, because he basically didn't play at all in the second half. Let's hope he comes back soon, because the Raptors defense absolutely stinks without him. Also, DeRozan's effectiveness is also stunted without the ability to play freestyle two-man game with Johnson.
Terrence Ross, SF Shot Chart

28 MIN | 4-12 FG | 2-2 FT | 2 REB | 0 AST | 0 STL | 0 BLK | 2 TO | 13 PTS | -15

Picked up five fouls because Melo's superstar status must be protected at all costs. Every single one of his three-point attempts were open, and he didn't sink enough to make the Knicks pay. Get ready for the playoffs when he's guarding LeBron/George/Pierce's superstardom.
Jonas Valanciunas, C Shot Chart

37 MIN | 5-14 FG | 4-7 FT | 21 REB | 0 AST | 1 STL | 1 BLK | 1 TO | 14 PTS | +7

Dominated the Knicks in the second quarter, so naturally, his wings didn't give him the ball at all in the second half, because that only would have made way too much sense. Beasted on the boards as he continued his recent run of dominance in the post. Struggled to guard Amar'e Stoudemire, who apparently took a time machine back to 2009.
Kyle Lowry, PG Shot Chart

39 MIN | 7-13 FG | 7-9 FT | 2 REB | 2 AST | 0 STL | 0 BLK | 3 TO | 25 PTS | -8

He tried. He really did. With the Knicks trapping so hard in the pick-and-roll, he couldn't generate enough offense, although his assist totals would be much higher had DeRozan and Ross sunk some of their open looks. Found success when he called his own number.
DeMar DeRozan, SG Shot Chart

43 MIN | 6-18 FG | 12-13 FT | 5 REB | 5 AST | 0 STL | 0 BLK | 4 TO | 26 PTS | -14

Lots of shots, not enough points. Struggled whenever the Knicks trapped him. He either needed to split the double, or swing the ball before the trap was fully set. You can tell the difference in the efficacy of his sets without Amir in the lineup. His defense wasn't so hot either. Didn't look all too interested in the fourth quarter.
Tyler Hansbrough, PF Shot Chart

8 MIN | 0-0 FG | 0-0 FT | 1 REB | 1 AST | 1 STL | 1 BLK | 0 TO | 0 PTS | +1

Take it away, netw3rk: Tyler Hansbrough always comes in off the bench like a guy inside an IHOP who just saw some dude lean on his car.
Patrick Patterson, PF Shot Chart

16 MIN | 2-3 FG | 0-0 FT | 2 REB | 1 AST | 0 STL | 0 BLK | 2 TO | 6 PTS | -18

Found himself in early foul trouble thanks to the refs falling for every Knicks flop. Hit his open threes, but didn't see more shots because his wings couldn't effectively deal with traps, which meant the Raptors couldn't capitalize on finding him while he was open. Basically, he played a Steve Novak game.
Chuck Hayes, PF Shot Chart

7 MIN | 0-0 FG | 0-0 FT | 1 REB | 0 AST | 0 STL | 0 BLK | 0 TO | 0 PTS | -5

He played? If you say so, boxscore.
John Salmons, SF Shot Chart

23 MIN | 4-7 FG | 0-0 FT | 2 REB | 2 AST | 0 STL | 0 BLK | 0 TO | 10 PTS | +6

Sunk his fair share of shots, but did nothing to deter Carmelo Anthony. Luckily, he's the Raptors' defender de jour on the wing. I have a feeling that Salmons will find himself in the Gay/Turkoglu/Bargnani purgatory for Raptors fans, provided he lands a roster spot next season.
Steve Novak, SF Shot Chart

3 MIN | 0-2 FG | 0-0 FT | 1 REB | 0 AST | 0 STL | 0 BLK | 0 TO | 0 PTS | +9

He came in and missed a triple. Cool beans.
Greivis Vasquez, PG Shot Chart

19 MIN | 2-6 FG | 0-0 FT | 2 REB | 3 AST | 0 STL | 1 BLK | 2 TO | 6 PTS | -1

Horrible effort for Vasquez, who looked extremely slow on the court. Again, yet another Raptor perimeter player who couldn't deal with double-teams, except he fared the worst. Couldn't even generate any offense in the two-PG line-up. A forgettable day for YOLO.

Dwane Casey


You know, sometimes I wonder about Dwane Casey. I also wonder why Jonas was denied touches in the second half. I also wonder why every play coming out of timeouts were drawn up for DeRozan. I also wonder why he didn't prioritize attacking Amar'e in the pick-and-roll. I also wonder why he went small with just Hayes as his lone-big at one point.
Six(!) Things We Saw
Carmelo Anthony got the benefit of the whistle all night. I understand the existence of superstar calls, but Ross literally picked up 5 personal fouls for intruding on Melo's shadow. That's not cool, refs.
Jonas Valanciunas didn't see very many touches in the second half, which is odd, given that he destroyed the Knicks' front-line in the second quarter. Just another questionable decision on a night chalked full of them.
Why did the Raptors shoot so many triples? Because the Knicks trapped hard on the pick-and-roll, packed the paint on every drive, and were willing to concede open threes. There's no problem with trading contested layups for open threes.
The Raptors need to get Amir Johnson back if they even want to sniff a top-10 defense again. For the reasons why, read Blake Murphy's excellent piece on Amir's integral role in the Raptors' defensive schemes.
Before everyone freaks out, it's one bad game. Take a deep breath, go for a walk, contemplate life, and then come back to the comment section. It's not the end of the world.
Extra note: Raptors clinch the Atlantic Division crown thanks to the Hawks, who defeated the Nets by a score of 93-88.
[GIF] Lip Reading with Kyle Lowry
Charles Barkley Says Raptors Are A Dangerous Team
So last night on "Inside the NBA" Chuck said the Raps are going to win a round in the playoffs and cause a little trouble for either the Pacers or Heat. Thoughts?
MLSE Raises Toronto Raptors Season Ticket Prices
Boom. Boom. Boom. Half a good season is enough for the ticket prices to be raised by about 9%, with the Lower Bowl Fanzone being hit hardest at 13%, and Balcony Prime 1 escaping with a 6.5% hike. I suppose if there's a time to do it financially, now would be it. It just feels like a kick in the teeth because fans have supported this club through some rather, how do we say it, threadbare and pressing times, and this is how you get rewarded for it.
| Area | 2013-14 | 2014-15 | % Increase |
| --- | --- | --- | --- |
| Courtside A | $40,376.00 | $44,489.00 | 10.19% |
| Courtside B | $17,304.00 | $18,668.00 | 7.88% |
| Courtside C | $12,687.00 | $13,705.00 | 8.02% |
| Side Prime | $7,936.00 | $8,571.00 | 8.00% |
| Side 1 | $5,998.00 | $6,487.00 | 8.15% |
| Side 2 | $5,535.00 | $5,991.00 | 8.24% |
| Side 3 | $4,152.00 | $4,491.00 | 8.16% |
| Baseline Prime | $4,844.00 | $5,236.00 | 8.09% |
| Corner | $3,690.00 | $4,005.00 | 8.54% |
| Baseline | $3,460.00 | $3,686.00 | 6.53% |
| Endzones | $2,768.00 | $2,962.00 | 7.01% |
| Lower Bowl Fanzone | $2,261.00 | $2,559.00 | 13.18% |
| Balcony Prime 1 | $1,938.00 | $2,064.00 | 6.50% |
| Balcony Prime 2 | $1,661.00 | $1,774.00 | 6.80% |
| Balcony 1 | $1,200.00 | $1,286.00 | 7.17% |
| Balcony 2 | $1,061.00 | $1,140.00 | 7.45% |
| Balcony Endzone | $1,154.00 | $1,238.00 | 7.28% |
| Upper Bowl Fanzone | $562.50 | $635.00 | 12.89% |
[GIF] One fan's hope for the next two games against the Knicks
Gameday: Knicks @ Raptors, April 11
The 46-32 Toronto Raptors host the 33-45 New York Knicks at 7 p.m. on Friday on TSN 2, with a chance to put a sizeable nail in the Knicks' playoff-hope coffin.
The only relevant news items are that Andrea Bargnani is out, Kenyon Martin is almost certainly out, and Amir Johnson seems probable despite the questionable tag on the latest injury report. The Raptors are 2-0 against the Knicks this year from a Christmas-time back-to-back, and they also beat them twice in the preseason which obviously doesn't matter, but it'd be cool to go 6-0 against the Knicks just because. The two teams square off again on Wednesday at The Mecca to wrap up the season.
To help us set the stage, we enlisted the help of Gus Crawford of Knickerblogger, who was so helpful and thorough with his answers that he saved me from writing much, since this will already push 2,000 words.
–
1. With the Knicks sitting two games out of the playoffs with just four to play, the Raptors can push the Knicks to near-certain lottery status (without the pick) on Friday. What would be worse – that, the Raptors waiting to officially end the Knicks season on April 16, or having saddled the Knicks with Andrea Bargnani? (#TakeThatMasaiUjiri)
Can I take "option four," some combination of all of the above? As if being the New York Knicks wasn't spicy enough, someone in the Knicks' brass/CAA family managed to find something appetizing in the man once affectionately known as "Primo Pasta." Had you not mentioned Andrea Bargnani in the phrasing of the question, I may well have entirely forgotten that he existed — you know, because he hasn't suited up for a game since January 22. To answer your question, few things have been as frustrating for Knicks fans as the hypnotic hold that Masai seems to exert over the organization's chief decision-makers. It would be somewhat poetic if Bargnani were to return for the April 16 matchup, and that proved to be the game that explicitly eliminated the Knicks from playoff contention, as some have suggested. 


While it would be nice to sneak into the playoffs, the cost of this underwhelming season does not amount to the excess baggage that comes with the aforementioned Italian stallion, and his egregious contract. Rumour has it that one mere glimpse at the gruesome details of Bargnani's deal can have an affect not dissimilar to that of staring blankly at a solar eclipse, searing one's eyes in an irreparable manner. It's okay, though, at least they didn't give up anything substantial in the tango with Masai Ujiri. Oh? I present, without any additional comments, Marc Berman's summary of the transaction from July 2013:


"Because they were willing to absorb the final two years and $22.25 million of Bargnani's contract, along with a 1.5 percent trade kicker, the Knicks weren't asked to give up a big asset. They would part with two players with undesirable contracts in Novak and Camby. The Knicks don't have a 2014 first-rounder, so they are not permitted to trade a pick until 2016."


I think I'll let R Kelly take this one.
2. Tyson Chandler's defensive impact seems far smaller this season than in previous years. In fact, the Knicks' D-Rating hardly changes with or without Chandler, though ESPN's new Real Plus-Minus metric still ranks him 21st defensively. Has Chandler lost a step, possibly due to his early-season leg injury, is it a motivational issue, or simply a matter of him not being able to make up the difference for a pretty bad cast of teammates?
A search party was sent out for "2012 Tyson Chandler" quite some time ago, but the results haven't been too promising. Chandler earned the league's premier individual defensive honour in 2011-12 by single-handedly vaulting a less-than-mediocre cast of sieves to a defensive rating of 98.4 across the lockout-shortened 66 games. His distaste for Mike Woodson's defensive preferences has been apparent at least since his startling post-game remarks (saying the Knicks were "out-schemed" by Brooklyn) in late January and, realistically, even before that. Here is what he had to say with regards to the coaching staff's penchant for persistent switching:


"I don't want to switch. I personally don't like it. You come with a defensive plan and then every guy kind of mans up and takes his responsibility. I think switching should always be your last resort. That's me, personally."


Clearly, it doesn't help Chandler's cause that he has surrounded by such a ragtag crew of disinterested and/or inept defensive identities, yet the vibes surrounding his efforts have not been great. If it is any consolation, his individual defensive efficiency incrementally improved month by month, from January (108.0) to February (107.6) to March (105.7). There's still plenty of room to move on that front, though. Aside from the opposition's ability to light up the Knicks even with Chandler on the floor, perhaps the most damning metric on his continued slide is one that reflects his waning interior D. Chandler ranks just 37th in the league for opponents' FG% at the rim (min. 50 games played and 5.0 attempts contest per game), allowing a very shaky 52.1% when within five feet of the basket. 


It's a far cry from a player who was once — and very recently — unquestionably placed in the category of the league's elite rim protectors, and one that (I guess) is best attributed to the unkind recipe of losing a step or two, growing tired of his teammates' play, and feeling isolated in the constant switching scenarios.
3. Who wins in a game of 1-on-1, Chris Smith or Inflatable Raptor?
"You know the sad thing about betrayal?" Ominously, once again you have managed to illuminate a vestige of a bygone Knicks-ian era (albeit earlier this season) where "Chris Smith, #0, New York Knicks" was a thing in real life. I was in attendance at the ACC after Christmas where Chris Smith received 36 seconds of his 1:57 of burn in the orange and blue. All it took was a Kyle Lowry triple double and the Knicks to be utterly decimated to bring that moment to pass. I can never un-see those thirty-six seconds. 


I've seen Inflatable Raptor's dance moves — he may not have the largest wingspan or upside, but he's agile, has decent hops, and has assembled a solid internship underneath The Raptor and Stripes over the years. I'd set the line at Inflatable Raptor, -4.5.
4. The fact that Carmelo Anthony isn't a great defender sometimes seems to push to far. That is, the gap between "excellent" and "mediocre" on offense is greater than that same difference on defense, so his shortcomings aren't quite as impactful as what he does well. With another season in the books, where would you rank Anthony, overall, among the NBA's top players?
I feel like Anthony's stardom is the perfect sample of the ways of the "eye test." If you allow yourself to sit back, ignore the white noise, and simply watch him effortlessly pour in perimeter shots and adeptly net his patented mid-range leaners, you'd think his game is almost unparalleled. And in many ways, it is. The "flavour of the month"/stat du jour for Melo is his season average — 27.5 points and 8.2 rebounds per game — the first such combination to be amassed since none other than Shaq in the 2000-01 season. The refinement of his rebounding craft has been championed throughout the season, and perhaps not even enough. His defensive rebounding percentage has spiked up to 19.6% (a career-high), fuelling his per-36 average of 5.8 defensive 'bounds. A case of "bounding and astounding," as Clyde might say.
There is a strong, strong argument that could be made that 2013-14 has been Melo's best individual season. Here are the categories where he has raised the bar and set a new personal best: 3P%, FT%, turnovers per-36, TS%, offensive win shares, total win shares. That list, in congruence with his typical offensive excellence, is the framework of the argument, and constitutes the bulk of the disappointment behind his teammates letting him down this season. All of that in a season where he has been ridden into the ground and nearing a stage where he may break down the 3000-minute barrier. 


The process of ranking players can be exhaustive, a little hollow (due to the difficulties of positional overlaps), and feel a tad arbitrary. Based on the above, I'll try to accurately gauge his status with the among the league's elite. He ranks 9th in PER this season (and 7th among players with at least 60 games played), and I'd fix him somewhere in the 9-12 range on the list of the NBA's best.
5. Despite many jokes to the contrary, the Knicks aren't egregiously bad, simply "bad," with a point differential indicative of a 36-42 team. Their defense, though, leaves plenty to be desired. Specifically, they allow a ton of threes – is this a system issue, a personnel issue or a mixture of both, and what kind of action can the Raptors use to exploit it?
The Knicks are 12-7 since March 1, the 14th best record in that window, and yet they have managed that standing while allowing opponents to register 107.1 points per 100 possessions — 22nd in the L. Notice the disparity? The defense has been repugnant for the majority of the season, permitting precipitous perimeter shooting (as you mention), and conceding an opponent FG% of 61.5% in the restricted area. Not a great combination there. 


They have been blitzed by opposing backcourts all season long — including Kyle Lowry and DeMar DeRozan — and have failed to even remotely address high pick-and-roll situations. It is almost as if each and every guard has targeted Raymond Felton (as is the Knicks' fortune) and licked their lips at the opportunity to blow by New York's hapless defensive setup. What's more, Mike Woodson's recent weapon of choice — a Felton-Smith-Anthony-Stoudemire-Chandler starting lineup — owns a 111.6 defensive rating through 254 total minutes of shared court time, and 119.4 (!!!) in their past ten game appearances together. 


The formula for Toronto is pretty simple. Involve Amar'e Stoudemire as much as possible, attack Felton off the dribble, run the high screen-and-roll, and look to cause damage from beyond the arc. The Raps are on a streak of four games with 10+ made three-point field goals, and I wouldn't expect that to end against the sketchy 'Bockers D.
–
Vegas says: Raptors -5 with nearly a dead-even money split so far. 72 percent favor the over at 192.5 which is moderately surprising given that these two play at well-below-average paces. Then again, they're above-average offenses, and what do I know?
Hollinger says: Raptors -7
Big L says: You don't know me, just say whatsup, gimme a pound, that's it
Blake says:

Morning Coffee – Fri, Apr 11
Raptors playing dumbbell defence these days | Toronto Sun
No matter how many wins this Raptors group produces in the season's final four, regardless of opponent in the NBA's opening round, nothing will be gained if stops aren't made, if rotations aren't executed, if a mind-set does not change. "If we haven't taught defence by now, we shouldn't be coaching,'' began Casey on Thursday following his team's workout. "It's a mind-set right now, it's a focus." Casey has been around the NBA block long enough to know how players and teams go about their business this time of the basketball calendar, a time when ballers are playing for contracts, when teams heading to the draft lottery are auditioning players for next year. Only the few elite sustain their level of play, playing a championship-calibre defence devoid of slippages.
Lewenberg: Raptors aim to plug late-season defensive holes | TSN
Thanks in large part to a soft schedule and their improved efficiency on offence, they are finding ways to pull out games that they have probably deserved to lose. In that way, progress has been made, as Raptor teams of the past would universally find creative and increasingly frustrating ways to squander winnable games. The red flag is routed in their recent slippage on defence, Dwane Casey's bread and butter. With the postseason around the corner, Casey knows that mental and physical toughness is about to become more important than ever. He can't help but be concerned with what he's seen. "If we haven't taught defence by now we shouldn't be coaching," he said following a Thursday afternoon practice session. "It's a mindset right now, it's a focus. It's this time of year throughout the league, it's an epidemic."
Toronto Raptors coach Dwane Casey has his players' ears, and John Salmons would know | National Post
The Raptors have yearned for that type of stability for years now. June 2004 was the last time a general manager and coach ascended to their positions at roughly the same time for the Raptors, when Rob Babcock and Sam Mitchell landed those jobs, respectively. Last year, it was clear that general manager Bryan Colangelo and Casey, the Raptors' coach, disagreed on some rather essential points. This year, it seemed like a lock for that pattern to continue. Colangelo was removed as general manager, replaced by Masai Ujiri, who was emboldened with a five-year contract. Ujiri retained Casey, but did not extend his contract, which ends after this season. The situation still looked like a petri dish capable of growing more organizational dysfunction. Yet, there was Casey on Wednesday, punctuating a four-game winning streak by harping on the Raptors' diminished defence. He has continued to coach to his beliefs, and the players have not sensed any interference from above.
Raptors' Amir Johnson gives back to 'the greatest fans in the world' | Toronto Star
Johnson proved yet again Thursday night just how much he loves the fans who support him and his teammates, by throwing 70 of them a party at knight-themed dinner show Medieval Times. "It's just a token of appreciation for my fans because we have the greatest fans in the world," Johnson said before the show began, a black velvet cape trimmed with gold threads and sparkles draped around his hulking frame. "The fans are what makes our team." It's not the first time Johnson's given back to his fans. This is the fourth year in a row that he's thrown his "I Roll with Amir" party. And last September, he handed out free copies of Drake's newest album to fans at Yonge and Dundas. He picked Medieval Times for this year's party because he has fond memories of coming to the show as a child. "It looked a lot bigger when I was a kid," said Johnson, now six-foot-nine.
Video: Raptors' Kyle Lowry warned for flop against Sixers | The Point Forward – SI.com
The NBA issued Raptors guard Kyle Lowry a warning for flopping on Thursday. Lowry's flop occurred in the second quarter of Toronto's 125-114 home victory over Philadelphia on April 9. With a little under six minutes remaining before halftime and Toronto leading 50-45, Lowry fell backwards to the court while attempting to take a charge. Elliot Williams pushed the ball up in transition and Lowry prepared himself for contact outside the protected circle. Instead of being run down, though, Lowry slowly drifted backwards to the court because the collision never took place. Williams was able to twist his way around Lowry before laying off a pass to Thaddeus Young. No foul was called on the play.
New York Knicks: Revisiting the Failed Kyle Lowry Trade | Buckets Over Broadway
Hypothetical situations — like how a team would perform with Player X on them — are nearly impossible to predict, but it's clear Lowry could have helped the Knicks. How much? They'd be playing meaningful games right now, likely with a playoff seed sewn up. Perhaps they could have even found their point guard for the next few years if Lowry re-signed this summer. Would a very good point guard and a playoff spot convince Carmelo Anthony to stay in New York? Would it be worth giving up a pick and a young wing player? All tough questions to answer, but nonetheless interesting to hypothesize when looking at how this season turned out.
Breaking it Down: Coach Nick and Seth Partnow Details the Raptors Offense
Two outsiders broke down the Raptors offense better than I ever could.
If you don't already, follow Coach Nick and Seth Partnow on Twitter, watch Nick on SBNation, and read Seth on Where Offense Happens. I guarantee you'll learn a little something about the game of basketball.
Raptors' Defense Struggling without Amir Johnson
I felt like writing about two things today: How much I miss Amir Johnson being in the Toronto Raptors' lineup, and how disappointed I've been with the Raptors' play of late, despite the fact that they've won four straight, seven of eight and nine of 12, with shorthanded wins against Houston and Indiana in that span. Turns out, Johnon's absence and the team playing below standards are related.
Now, I fully realize that complaining about a team's play during a winning stretch – especially at the tail end of one of the franchise's best regular seasons ever – may seem overreactive. It's the basketball version of First World Problems or some other offensive hashtag trending to shame us all for whining about generally meaningless problems. Still, there are concering signs right now, and with the focus changing from appreciating the season that's been to how it can become the postseason that was, it's worth worrying about.
We'll focus on the last nine games, in particular, narrowing in on the last four games. Prior to this nine-game stretch, the Raptors had a solid win against the Hawks, a double-overtime loss to the Thunder, and a mediocre three-game stretch against the Suns, Hawks and Pelicans. The four-game stretch also leaves out the Miami loss and focuses only on wins. That is, this isn't a cutoff selected simply to highlight a point, because the team wasn't exactly peaking to that point (they weren't struggling either, but they're also not struggling now).
Have a look at how the performance has changed:
| Raptors | Since Dec. 8, All Games | Last Nine | Last Four |
| --- | --- | --- | --- |
| Record | 40-20 | 7-2 | 4-0 |
| O-Rating | 107.1 | 109.8 | 114.7 |
| D-Rating | 102 | 107.2 | 106.3 |
| Net Rating | 5.1 | 2.7 | 8.4 |
| Home/Road | 30/30 | 5/4 | 1/3 |
| Strength of Opp. | 0.48 | 0.41 | 0.44 |
While the wins have still been coming, the nine-game stretch shows they've been far less impressive, with the team's victory margins shrinking against a relatively weak stretch of schedule. The offense has still been humming, which is impressive considering that Kyle Lowry missed time and Indiana was on the slate.
But the defense, woof. They gave up 103 points to a Rockets team without Dwight Howard and Patrick Beverley and mostly without Terrence Jones, gave up 94 to a struggling Pacers offense, and then gave up 98 and 114 to the league's two worst teams, Milwaukee and Philadelphia, respectively. Pace plays a part in there, sure, but the team's defensive rating – which accounts for pace – has dropped from a top-eight mark overall to a bottom-five mark over the last nine games. And again, look at the strength of schedule in that time, and keep in mind that it's likely inflated given the realities facing Houston and Indiana when the Raptors matched up with them.
Part of this struggle could simply be late-season malaise. The team is assured of a playoff spot, they're fairly likely to have home-court advantage, and their top players have endured quite a workload. It's completely possible they've noticed the incredibly easy stretch to end the season – once looked at as a possible advantage – and taken their foot off the gas. That wouldn't be an issue if this were, say, Miami, who have shown an ability to "flip the switch" when necessary. But the risk right now is that the Raptors could be entering the postseason playing somewhere below their best basketball.
But they've also played some of these games without Kyle Lowry and Amir Johnson, two of their three best players, maybe even their two best players, full stop. Lowry has gotten plenty of love for how well he's played this year, and deservedly so, but it seems as if Johnson has once again slid into being underrated, at least by some.
He's averaging a career-high 10.7 points on 56.2 percent shooting, which is obviously great, but many have pointed to how banged-up he's looked at times (which is why I've suggested over and over the team give him as much time to rest his ankle as necessary). His rebounding and shot-blocking rates are down, his player efficnecy rating is only slightly above-average, and the emergence of Patrick Patterson has led some to broach the idea that maybe 2-Pat should be starting at the four (Tyler Hansbrough started over Johnson for four games earlier in the season, too).
Not to further my reputation as an unabashed Amir apologist, but don't let that last paragraph fool you: he has been very good, banged up or not, and continues to be one of the team's most important pieces. The role he plays is not one that stands out with conventional numbers, as most are surely aware by now – setting some of the best screens in the NBA, providing help defense, the ability to switch out onto guards in the pick-and-roll or handle the opposing team's best non-guard, these are all immensely valuable but generally immeasurable.
There are some numbers that can help show his impact, though they can get complicated or messy. To wit:
*Of all Raptors lineups that have played at least 10 minutes together, Johnson appears in four of the top five in terms of net rating. If that time constraint is upped to 20 minutes, Johnson appears in three of the top five and six of the top eight.
*When Johnson is on the floor, the Raptors outscore opponents by 4.3 points per 100 possessions (PPC), compared to 2.8 when he's off the floor. That continues a trend that's been apparent for Johnson's entire career, as his teams have performed 2.6 PPC better with him on the floor.
*Using ESPN's new Real Plus-Minus statistic (don't be scared, the math is difficult but it matches up fairly well with conventional wisdom/the eye-test), Johnson has been the league's 12th most valuable player per possession this season, adding 4.84 PPC over a replacement player. The fact that he's played slightly fewer minutes than other top names pushes him all the way down to 17th in total value, showing him as worth 9.19 wins over a replacement player.
*Like with on/off-court numbers, this extends back years – Regularized Adjusted Plus-Minus (RAPM) over 14 years shows that Johnson has been the league's eighth-best player since 2001 in terms of impact on his teams, ranking 79th in offensive impact and 13th in defensive impact, improving his teams by 5.8 PPC (over 40,722 possessions, which is pretty crazy, though if you think that's a lot, consider that Dirk Nowitzki has played 143,773 possessions in that time).
I get that numbers aren't everyone's thing, and some will just snark in the comments at nerds loving Johnson and why that doesn't match up with real life. That's fine, you're welcome to do that.
But it's also not really a surprise, if you've been watching, that the Raptors are surrendering 32.8 looks a game in the restrcited area over the past four outings (Johnson played just three minutes in that stretch), compared to 26.3 before Johnson went down. The teams they played in those games? They rank first, fourth, 20th and 27th in restricted area shots, so it's not just a case of sample bias. Opponents shoot just 47.8 percent at the rim when Johnson is guarding them, per NBA.com/stats, 19th best among qualified players, the same mark Howard allows.
There's a great volume of evidence building that shows that Johnson is one of the most valuable assets in the NBA. Just because he's not the traditional scoring four that some want, or a beast on the glass, doesn't mean he's not very, very good. Many Raptor fans already know an embrace this, others don't.
Johnson's return isn't, on its own, enough to make me think the recent blip on the defensive end will just disappear, but he's a really important part of what the team does on that end for about 30 minutes a night, and he's definitely going to help a great deal. He allows guards to be more aggressive with their primary coverage, gives Dwane Casey more freedom in determining who and when to switch on pick-and-rolls, and, by being the primary rim protector, can lessen the defensive load on Jonas Valanciunas (which is suddenly important given how well he's played offensively).
The team has to hope he returns at 100 percent, and that his presence helps push the defense back to being firmly a top-10 unit with Johnson as the anchor. Even at less than 100 percent, though, as he's been for most of the year, Johnson brings immense value.
The Doctor Is In Podcast, April 10 – 4 Guys Talking Hoops
This week on The Doctor is In with Phdsteve, I have called in the boys from the world wide roundtable to talk ball and we have a discussion about all the action in NBA and NCAA while continually tying it back to the Raptors!  Joined by my brother Mike (who knows college basketball), Greg Mason (the prophet), and Blair Miller from The Fifth Quarter Blog we discuss:
The Jonas "situation"
Why Raptors fans deserve better than Sportsnet Connected
The Raps over the last 7 days
What this team can do come the playoffs
Remembering Colangelo
and players from the NCAA whom the Raptors may have an interest in drafting
We get a bit silly this week and the pod is much more like 4 friends talking hoops than 4 reporters covering big stories.  Can you tell we are a bit excited about this team?  We hope you enjoy the pod and all the good vibes in the T-dot as we head back to the playoffs!
Don't forget to visit Blair's site The Fifth Quarter Blog and follow him on Twitter @TFQuarter
You can follow Greg on Twitter @votaryofhoops and check out his work on the NBA drafts top prospects with my brother MIke at ESPN True Hoop Affiliate Bucksketball.com
Grab the iTunes feed or check us out on Stitcher on Android. There is also the plain old feed. You can also download the file (42:02, 40 MB). Or just listen below:
'We all go through things…we all learn from them'
The Raptors played little-to-no defense, but the Sixers are historically bad.
All roads lead to Rome
I tend to get sentimental on account of the Raptors. It's a weakness of mine.
For most of my life, the Raptors were little more than the laughing stock of the NBA. It's sad, but it's true. I experienced every season like a lucid dream. I bought into the hype, and I willingly suspended my rightful cynicism, but ultimately come April, I'd inevitably wake up, and find myself cheering for the likes of Sonny Weems and Solomon Alabi. It's an all-too familiar routine.
In an desperate attempt to break the habit, many fans turned to the strategy of tanking. The idea of yet another season of hoping in hope was repulsive. Sometimes, things are so bad, change for the sake of change onto itself is good.
That's the very same position that the Sixers found themselves in last off-season. Philadelphia's distended run of treadmill trudging wasn't nearly as long as ours, but they faced the same predicament. Jrue Holiday, Thaddeus Young, Evan Turner and Spencer Hawes all held promise, but as a collective, that team wasn't going anywhere. When New Orleans offered a pair of picks, and a ticket off the carousel, GM Sam Hinkie happily forked over Holiday, and settled into a holding pattern for a tank-job of epic proportion.
As we know, Masai Ujiri chose a different direction for the Raptors. Rather than tearing down the walls, and strip-mining his team, he opted for optimality instead. He capitalized on a CAA-pimped Knicks, and shipped off Bargnani. He pulled a similar trick on the Kings.
Altogether, the moves paved the way for DeRozan and Lowry to take the reins, which has allowed the team to flourish. Instead of precious possessions wasted on line-drive bricks from Bargnani, or long-two iso-heaves from Gay, the Raptors ran pin-downs and pick-and-rolls. The difference has bore fruit on both sides of the ball.
But along the way, a sneaky side-effect reared its head — the absence of Gay and Bargnani freed up swaths of playing time for sophomores Jonas Valanciunas and Terrence Ross, and both players blossomed. Much like Hinkie, Ujiri managed to till the soil and sow the seeds, only Ross and Valanciunas were given veteran stakes upon which to guide their growth.
Rather than letting Ross running wild on the perimeter without a leash — similar to that of MCW — he was taught the subtle skill of curling around screens, and finding opponents' blind-spots for open spot-ups. Rather than having Jonas run aimlessly, crashing the board at random like that of the Sixers' Henry Sims, Valanciunas learned the principle of verticality, and developed a post-game.
And although the Sixers' process is less father along, the difference in results is already apparent.
Take last night for example. Yes, the Raptors' defense was bad, but the game was never in question. For the most part, the Raptors led from start to finish. The Raptors couldn't resist the temptation of playing up-tempo, which played right into the hands of the Sixers, but even though they were out of their element, the Raptors were still able to out-execute the opponent.
Consider the differences in their play. What's the difference in the Suns '7 Seconds or Less' offense, and the Spurs' meticulously orchestrated present-day attack? Randomness. Sometimes, NBA teams prioritize randomness, especially if they're up against a superior opponent. More randomness means less place for order, of which favors the favored. The Raptors elected to run specific plays to get Jonas Valanciunas in the post, or have Lowry drive into the paint, draw extra defenders, and kick-out to find the open man on the perimeter. Conversely, the Sixers simply pushed the ball whenever they had the chance, and let the chips fall where they may.
And that's not to say that Philadelphia's play style was inferior. The results speak for themselves. When the benches matched up against each other, the Sixers ran circles around the Raptors' snail-paced squad. My point is that eventually, when the Sixers intend to actually win NBA games, what purpose did this exercise serve for Carter-Williams? How did it serve Thaddeus Young, a disciplined defender in previous years, who was forced to repeatedly bail out his teammates on defensive miscues.
The truth, it doesn't, at least not in a meaningful sense. Perhaps I'm wrong, and the Sixers — armed with a highly-touted prospect borne as the lone prize of a miserable and humiliating season — tread in the footsteps of the Thunder, and the Raptors' bubble eventually bursts. If and when that day happens, I'll gladly eat my words, and hope for the Raptors embark on a similar strip-down process of rebuilding. But until that day comes, I'm more than thrilled with the results of the present-day Raptors, who currently sit third in the East, in-line for a new franchise-high in wins.
It seems, at last, that the Raptors finally stepped off the treadmill, and they didn't need to become the Sixers to do it. I, for one, am thankful for it.
AP Photo/The Canadian Press, Peter Power
Jonas Valanciunas' redemption
As you're undoubtedly aware, Jonas has been mired in a controversy surrounding a DUI charge. While I'm happy the Raptors have finally arisen to the top of the Canadian sports story-stack, I'm disappointed that it was Jonas' legal troubles, rather than his team's success, that captivated audiences across the Great White North.
Lowry on Jonas: "Much more aggressive. Much more hungry. He wants the ball. Tonight he was literally yelling at me to give him the ball. And I've got to do nothing but give him the ball, because he's our big fella".
DeRozan: "I hope everybody leave him alone. He understands we need him. We all go through things, especially at a young age and we all learn from them"
Personally, I think Jonas made a stupid and irresponsible decision, but by no means should it define his character, nor his career. Perhaps we're ashamed to admit it, or to be fully truthful, but the incidence of driving under the influence is far more prevalent than that on legal censuses. As long as people understand the irresponsibility of their decisions, and seek to change their practice, they should be rewarded the luxury of forgiveness.
And, let's be real here — Jonas is 21 years old. He and I were born in the same year, and I can personally (ron) attest: 21-year-olds are incredibly irresponsible. Maybe we don't all get booked for DUIs, but we're also not in a foreign country, constantly in the spot-light, and offered an open invitation to every party and opportunity to slip up wherever we go. His age doesn't excuse him from his decision, but it should afford him some leeway in the matter.
Last night, Jonas made a concerted effort to redeem himself. Of course, succeeding or failing on a basketball court doesn't tip the scales of morality one way or the other, but it was a relief to see his relief. As explained by Lowry, "basketball is like our space, our secret spot and that's where guys can release a lot of energy and intensity". Jonas came to play with a purpose, and thoroughly dominated the Sixers frontline. He executed a litany of beautiful drop-steps, he crashed the boards hard, and threw down a nasty jam over some dude named Jarvis Varnado.
He finished the night with a career high 26 points on 10-of-14 shooting from the field, and grabbed 12 rebounds. He also breathed a sigh of relief for the first time in three days. That's a good thing for both he and the Raptors.
Ron Turenne/NBAE via Getty Images
It's as if he were never gone
Matt Devlin, as is his wont, had a hilarious slip-up on the broadcast. As per his "Ask Matt" section, he was asked for his picks for the Raptors' most-improved, defensive player of the year, MVP, etc etc. He named Lowry as the defensive player of the year, he named Lowry the co-MVP (along with DeRozan), and stopped himself short of an answer for most-improved, presumably because one could connect the dots.
But here's the thing: he's right! Lowry is all of the above, and more to this team. He's the facilitator, he's the primary ball-handler, he shuts down the pick-and-roll, he takes charges, he fights through injuries, and most of all, he's the closest thing this team has to a closer. With the game tight down the stretch, Lowry scored on four consecutive possessions to secure the win for his team. That's what a leader does.
Assorted game notes
Patrick Patterson's defense on Thaddeus Young was very impressive. He bodied him in the post, and he shadowed him step-for-step on the perimeter. Young hit a string of difficult shots in the fourth quarter, which inflated his numbers, but that doesn't detract from Patman's defensive effort.
Hey! John Salmons was a net positive on the court! It couldn't possibly been because he got sufficient rest in-between games, right?
The Raptors' bench unit coughed up the lead in the second quarter because they physically couldn't keep up in transition. Also, it made little sense to run Novak out there against a small-ball lineup. He's effective when he's pulling bigs out of the paint, not when he's tasked with closing out on threes, or defending in the post.
If you need a late-season boost in points and rebounds for your fantasy team, go pick up Henry Sims. He's quick, mobile, and looks like he can effectively roll on pick-and-rolls.
If you haven't already seen this turn-around three from Ross, you should. It's kinda crazy.
There goes any hope of Lowry getting back to full health. In his words, one or two weeks won't make a difference. He needs a full two months off before he's 100%, which means he'll be good to go in time for the Finals.
Cover photo credit: AP Photo, The Canadian Press, Peter Power
Morning Coffee – Thu, Apr 10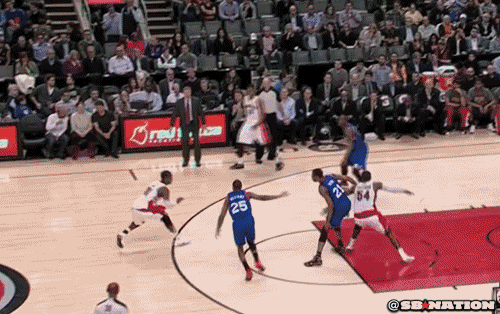 Raptors play no defence in win over 76ers | Toronto Sun
With Kyle Lowry back in the lineup and playing like an all-star, with Jonas Valanciunas having a career scoring night and enough complementary pieces making plays on either end of the floor, the Raptors were able to defeat the Philadelphia 76ers, 125-114. Way too many points were surrendered and not enough stops made, too may blow-bys, vulnerable on the perimeter, areas the Raptors need to somehow address by the time the playoffs arrive next weekend or face the real possibility of a one-and-done post-season. With four games left in the regular season, home court is a definite possibility, a mere formality with Brooklyn dropping its game to the host Magic. Toronto's magic number to clinch the Atlantic and earn home court is now one, a title the franchise can earn for the second time in franchise history by as early as Friday when the desperate Knicks come to town.
Jonas Valanciunas guides Toronto Raptors to win over lowly Philadelphia 76ers | National Post
"It's been a rough couple of days, but I find power, find my energy to come out, fight," Valanciunas said. "I felt really good [because of the] fan support, thank you to them. That felt great, because everybody supported me. I say sorry and [am] learning … to be better." Irrespective of the incident, Valanciunas has been playing with the most confidence of his career, at least offensively. He has scored 65 points over the last three games, missing just 12 of his 39 field-goal attempts. "Much more aggressive. Much more hungry. He wants the ball," Lowry, who returned with a 29-point performance after missing three games because of a bruised knee, said. "Tonight he was literally yelling at me to give him the ball. And I've got to do nothing but give him the ball, because he's our big fella."
Rapid Recap: Raptors take high scoring affair over Sixers 125-114 | Raptors HQ
Looking at the box score, you have some shiny offensive numbers from Lowry, JV, and Patterson among others. But the real story today was the defence — or lack thereof. Dwane Casey definitely won't be thrilled with the way his team looked in this game. The Sixers shot 51% from the field in this one, and all time greats like James Anderson and Henry Sims had their way against the Raptors all night. Toronto got off to a fast start and held a 34-28 lead at the end of the first quarter. Every time Philly would make a run, the Raps would stretch that margin out back up to 6 to 10 points. The Raptors' penchant for not putting teams away kept Philly interested throughout. After taking a 68-60 lead at halftime, and a 98-89 lead after 3 quarters, the Raptors stretched this out of ream once and for all when it was 116-110 Toronto. A couple of rare, good defensive sequences, combined with some shotmaking from Kyle Lowry had the Raptors winning this one comfortably 125-114.
Sixers Lose Close Game Against Raptors | Hoop 76
A dude in an Iverson jersey right next to press row got a cup of Coke poured over his head by the Raptors mascot. Thought that was a little aggressive.
Raptors 125, Sixers 114: A Moral Victory | Liberty Ballers
Maybe the Sixers aren't the worst team in the history of the NBA. Not only have they gone 2-4 since their regrettable record-tying losing streak, they've looked pretty good in a couple losses, including tonight's defeat to Toronto. It wasn't all great–Thaddeus Young missed his first six shots and finished the night 7-for-16 from the floor for 16 points with only two rebounds, one assist and one steal. Jarvis Varnado got posterized twice by two different white guys, and Jonas Valanciunas pretty well ran riot, taking a 26-point, 12-rebound upper decker on Varnado, Young and Henry Sims. James Anderson hit three three-pointers early and spent the rest of the game taking heat check shots, only to find that his heat was not there. Kyle Lowry dropped 29 on the Sixers to lead all scorers.
Raptors centre Jonas Valanciunas leads team to victory, days after DUI arrest | Toronto Sun
Head coach Dwane Casey did not back down when challenged before the game about the optics of playing an individual who had just been charged with a DUI. "We sent a message," Casey said. "We sent a clear message that we don't condone it. We're disappointed. By playing him, it's not saying we're condoning it. I think the organization — Masai (Ujiri), myself, Tim Leiweke, Larry Tanenbaum — sent a clear message that we don't condone it. "He's innocent until proven guilty — until the process goes through the legal system. He's still a member of the team in good standing."
Lewenberg: Valanciunas' career night comes in wake of arrest | TSN
"It's a tough situation for him to handle, to be going through," Lowry added, "but this is our sanctuary: basketball. We get a chance to be away from everything. Basketball is like our space, our secret spot and that's where guys can release a lot of energy and intensity." Scoring the first four points of the game, Valanciunas came out with a fire, a purpose and an air of confidence. He has been playing some of the best basketball of his career and those off-court distractions could not derail him. Leading the team with 23 double-doubles after recording just eight a year ago, Valanciunas has played 30 or more minutes and scored in double figures in eight straight games, matching a season-high. The biggest difference has been his comfort level and self-assurance, according to his teammates. The game has slowed down for him, he's playing with patience and most importantly he's not getting down on himself. "[He's] much more aggressive, much hungrier," said Lowry.
These Raptors sure know their roles | Toronto Sun
"I've been on some selfish teams and some unselfish teams," Hayes said. "It's a great thing when you get on an unselfish team. It's a great working environment but when there is selfishness involved, things can get ugly." But that has not happened in Toronto this year. If guys have been unhappy with the minutes allotted them they have done a pretty solid job of keeping it to themselves. "In today's NBA, young is where it is at," Salmons said. "Veteran guys tend to sit more and more on the bench, but I've had teammates who were vets and sat and some took it well and some didn't. It just depends on the character of the guy and we have high character guys here and it shows." Hayes himself is getting more minutes these days than he did when he first arrived. It had to be tough watching Salmons and Patrick Patterson and Vasquez, three guys he came over with from Sacramento in the Rudy Gay trade, log minutes almost immediately while he sat waiting his turn.
Raptors Step Up To Hold Onto Third, Patrick Patterson | Pro Bball Report
"We all have our roles and certain rotation that we play," Patterson explained. "Every time I come off the bench, I am backing up Amir (Johnson), certain times we play together and certain times we don't, so I know my role and if I have to start, it is pretty much the same thing, the same opportunities, setting screens, popping, running in transition, rebounding shooting open shots, so it is pretty much the same thing. We all play alongside each other over the course of a game, so whenever one of our numbers is called, everyone is comfortable and everyone believes in one another."
From Feel-Good to Fearsome: A Threat Looms in Toronto | Baller Mind Frame – Baller Mind Frame
If Toronto can in fact dispatch Washington in round one, their chances of success in the next series are largely contingent upon who they face: the Miami Heat or the Indiana Pacers. As things currently stand, Indiana is the second seed and the Raptors are more than likely salivating. Why? Mostly because Toronto's sturdy 'D' presents problems for the Pacers' anemic offense and because Valanciunas is a big body who can legitimately bang with Roy Hibbert and disrupt his game. Considering Hibbert was a distinct advantage for Indy last year versus Miami, curtailing his production could be instrumental in a Raptors upset. Lastly, the midrange shots Indiana famously foists upon its opponents are actually a staple crop in Toronto's offense. DeRozan in particular loves the 16′-23′ shot, while Lowry pulls the trigger when necessary and hits at a decent 34.4 percent clip (per Basketball-Reference). No matter what happens, the Raptors are a fun team that plays good basketball.
Raptors' magic number now one | Toronto Sun
"It's not a goal whatsoever. I haven't even thought about it," Casey said of getting to 47 wins. "It's not important. My whole goal right now is to get better defensively going into the next few weeks. … It's going to be a short ride if we continue to play defence the way that we are now. "My thing is us. We've got to take care of our business. We've got to continue to work and improve in different areas to get better. Those things are good. It's not a have-to goal. A have-to goal is containing the ball on the perimeter and keeping people in front of us."
Raptors one game away from division title after win over 76ers | Toronto Star
"Collectively, our defence has to step up. We can't expect to outscore people 125-114 and have a game like that," he said. "It's a mindset. You can't look at their records, whoever we play. New York (Toronto's next opponent) will be a little different but the other teams (minnows Detroit and Milwaukee also remain on the Raptors schedule) that are not in the playoffs, we can't look at that. We have to play our game and look to improve." Casey's protestations aside, the chance to equal franchise history is palpable. The win over Philadelphia coupled with Brooklyn's loss in Orlando put Toronto's magic number to win the Atlantic Division at one. And the victory, combined with Chicago's win over Minnesota, kept the Raptors ahead of the Bulls in the race for third overall in the East. An Atlantic title would give Toronto the tiebreaker with the Bulls. To further complicate matters, the Charlotte Bobcats beat the Washington Wizards in overtime on Wednesday to take over sixth in the East,
Leafs' pain could be Raptors' gain when it comes to fan passion | Toronto Star
"If they hadn't made the playoffs this year, there wouldn't be as much excitement heading into next season and, if anything, people would view the 20th anniversary season as 20 years of mostly inept play." The Raptors fan base grew in 2006-07 when they won the Atlantic Division for the first time and the Leafs failed to make the post-season. But poor performances season after season whittled away fans until the Raptors were dismissed as almost an afterthought on the Toronto sports scene. This year, the team has already started building up its fan base by performing when expectations were low, said Richard Power, a professor at the University of Toronto's Rotman School of Management.
Raptors handling of Valanciunas now, Camby 17 years ago reflects social change: Kelly | Toronto Star
This time there was no declaration of innocence for public consumption. In statements, the Raptors chided their man, calling themselves "disappointed." They released a statement from the player, apologizing for "any negativity" the incident has created. The implication was that the facts, as expressed in a banal OPP press release, weren't in doubt.
[GIF] DeMar DeRozan: There Will Be Blood
[Video] Jonas Valanciunas: "I'm just trying to fix my mistakes"