In what is now the third of a three part series, I will detail what the Raptors should do after they tank. If you haven't done so already, you should reads parts one and two.
Note: There seems to be a lot of readers who are under the impression that the point of trading players like Rudy Gay and DeMar DeRozan is to cut payroll. That's not true. With the team rebuilding, taking back bad contracts isn't a problem because you won't need the financial flexibility for a few years, by which time the contracts will have expired. So if the Raptors need to take back a bad contract to get something half decent for Gay (prospect or draft pick), that's fine.
Also, there seems to be a belief that expiring contracts will somehow be incredibly valuable in the future. I highly doubt it. Not with the shorter contracts that exist now. It's been suggested that keeping Gay and Andrea Bargnani would allow the Raptors to be able to trade their expiring contracts for something of value.
But let's look at the numbers here.
The summer that their contracts will expire, there are only three teams projected to be even over the cap. Obviously that will change because of what happens before now and then, but the point is that if a team is going to try and be a player on the free agent market in the summer of 2015, they're going to be planning ahead, so will most likely not take on any cumbersome contracts they'll be desperate to unload a year and a half later.
Secondly, and more importantly, take a look at the OTHER expiring contracts of massively overpaid players that teams could trade: Amare Stoudemire ($23.4 million), Carlos Boozer ($16.8 million), Kendrick Perkins ($9.8 million), Tyrus Thomas ($9.4 million), Marcus Thornton ($8.6 million), and it goes on. And those are just the players whose value would basically just be their expiring contract.
The market will be a tad saturated for teams hoping to cash in on their expiring contracts.
But on to the subject of this article…
A Blueprint for Winning
Blowing the team up and stocking back up your roster with players that aren't going to help you win many games is only the start. You still need to plan for the long term, even if you don't know exactly who you'll be building the team around. You need a blueprint of how to win.
I think one of the biggest mistakes most teams make is that they lack a real blueprint of how to build a winning team. And it's a mistake Colangelo seems to constantly make. If there is a blueprint he has been trying to follow, it certainly hasn't been obvious. To me, it's seemed more like his moves were made without a lot of planning, and seemed more reactive than proactive. The alternative is simply that his plan was not a good one.
Now, obviously you're at the mercy of the level of talent you can acquire, but that's not what I mean. In the NBA, and basketball in general, there are basic things that help you win, and there are certain types of players that help with those things.
If you look at the teams that have won Championships, over the years, you'll see a lot of the same things. Especially the closer you look. Out of interest sake, I'll also take a look at how the Raptors do in these categories.
WORK ETHIC AND PROFESSIONALISM
Winning or even contending for a Championship is difficult enough. Add on having to motivate or babysit players that need extra attention, and you're asking for trouble. This is especially true for your main guys. The identity of the team trickles down from your top players. You look at the top teams over the years, and the vast majority of them have workaholic franchise players. The underachieving teams generally had guys who coasted on their talent. Case in point, Carmelo Anthony has been out of the first round once in 9 tries.
But it's not just your alpha dogs that need a good work ethic and professionalism. It may seem obvious, but then you look over the rosters of the mediocre and bad teams and they're full of guys who too often give an inconsistent effort. Those teams are often willing to gamble more than the better teams on high-risk high-potential players because they're desperate and need a big payoff, but it's a vicious cycle. Those gambles rarely work out, especially on bad teams.
Colangelo doesn't do well in this category. He's drafted, signed or traded for Andrea Bargnani, Hedo Turkoglu, Rudy Gay, Kyle Lowry and James Johnson, all of whom had either known motivational/consistency issues or checkered backgrounds.
While Gay is supremely talented, his lack of improvement over his career, plus the inconsistent effort he gives on both ends of the court trickles down. And we're seeing that with the inconsistent play of the entire team.
BASKETBALL IQ
Take a look around the front offices and coaching staffs of the league, and you'll see an inordinate number of ex-players who were on Championship teams. Many of the best coaches over the years won Championships as players. Of the eighteen coaches that have won Coach of the Year, in the last 20 years, seven won Championships as players.
And right now, of the six current GMs that have won Championships as GM, four won Championships as players.
It's not just that those players learned everything by being on a Championship team. It's that the organizations that won those Championships targeted high IQ players, which is one big reason they won Championships.
The Boston Celtics team that won the 1986 Championship had 5 guys on the team that would go on to become either head coach or GM. Larry Bird won Coach of the Year and Executive of the Year, Danny Ainge won Executive of the Year and a title in Boston, and Rick Carlisle won Coach of the Year and a title in Dallas.
One franchise that seems to have figured this out are the San Antonio Spurs. Take a look at their rosters, over the last fifteen years, or so, and you'll see very few guys who didn't have high basketball IQs. It shouldn't be a surprise that the Spurs have been the most successful NBA team over the last 15 years when they always have smart players on the floor.
The only current Raptor I can see achieving success in coaching or the front office is Landry Fields. This Raptor team does not have a high basketball IQ, and not just because they are young.
DON'T OVERVALUE ATHLETICISM
On the flip side, too many teams overvalue how athletic a player is. Elite athleticism is nice, but only when in combination with other skills. And it's not really necessary for a productive NBA career. As long as a player has the minimum amount of athleticism he needs to defend his position, then, chances are, I'd rather take a more skilled player over a more athletic one.
I'm not suggesting avoiding players with elite athleticism, especially when it comes to acquiring your franchise player, but if you look at most NBA Champions, there are generally very few elite athletes. The Spurs currently have the second best record in the league and might have the best chance of beating the Heat in the Finals, and they have only two or three.
That's one way they end up drafting so well. They forego the athletic, "high-upside" guy in favour of the skilled role players that fit their system. Of course, when you already have a core of Tim Duncan, Tony Parker and Manu Ginobili, you can afford not to gamble on players with potential.
The 2006 drafted represented a great cross section of why you don't overvalue athleticism, but why you can't undervalue it, either. On one hand, you've got Tyrus Thomas and Patrick O'Bryant, both elite athletes for their position but both of whom have been major disappointments. On the other hand, you've got Adam Morrison and Sheldon Williams, neither of whom had the minimum amount of athletic ability to make any impact in the league.
With athleticism, it's a balancing act. Brandon Roy wasn't thought to have the elite athleticism to be an elite player in the league, but if it weren't for his knees, he would have been.
Lastly, too many times people connect athleticism with defense. DeRozan was thought to have great defensive potential because of his athleticism, but he's never been even an average defender. On the other hand, players with average athleticism (or worse) have gone on to become superb defenders, like Shane Battier, Bruce Bowen and Ron Artest (when he was Artest).
The best two perimeter defenders on the Raptors are Landry Fields and Allen Anderson, two of the least athletic players on the roster.
I think one reason so many elite athletes don't become the type of defenders people expect is that they have been able to rely on athleticism, rather than smarts and instincts, to defend players. Unless they have some excellent coaching in their background, which fewer and fewer players seem to have, they come into the NBA with poor defensive instincts.
DEFENSE, DEFENSE, DEFENSE
Speaking of defense, I don't understand coaches like Mike D'Antoni. There hasn't been one Championship team that hasn't been, at least, above average defensively. Ever. It's pretty much a necessity that you need to be a good defensive team if you have ANY hope of winning a title. Yet defense seems to be an afterthought for D'Antoni.
It's not just the coach that needs to be good defensively, but the players.
Quick, name the last NBA Champion that did not have, at least, one player who either had been, or would in the next year, make the All Defensive First or Second team.
I'll give you a clue. You can't, because there hasn't been one.
Good defense allows you to stay in games when your shot isn't falling, which will happen. It will allow you to make stops when you need to at the end of close games.
Dwane Casey certainly preaches defense, but the current roster is not one that plays it consistently. And if you're not doing it consistently, you're not doing it.
One issue I have is that Colangelo has never seemed to put a priority on defense. He's seemed to always believe he can simply plug in a few good defensive players into the rotation and that's good enough. And we've seen enough evidence to realize that's simply not true.
BIG MEN WHO DEFEND AND REBOUND
While it's important for the vast majority of the roster to play good defense, it's EXTREMELY important for your big men to not only defend, but be able to grab boards, because that's part of defense.
Again, looking at the past NBA Champions, you won't see a whole lot of big men who can't defend and rebound. Dirk Nowitzki is often brought up, but he was actually a decent team defender who wasn't a liability on that end of the floor. Even so, Dallas often underachieved in the playoffs. In between their two Finals appearances, they lost in the first round 3 out of 4 times, once after winning a league best 67 games.
Even if you've got a great defensive center, a power forward that isn't good defensively or on the boards will hurt you, often at the worst times. The NBA doesn't allow your center to stand in the paint the whole time. Both big men have to be able to protect the basket, or else teams are going to isolate them and take advantage of their weakness. And if they can't grab the defensive board, then it just gives the opposition another chance to score.
Obviously Raptor fans have seen enough of this to know this is true.
On a related note, I recently had a discussion with a couple of friends of mine, and brought up the fact that there are fewer and fewer big men who are both good scorers and defenders. In fact, if you look at the top scoring big men over the last two seasons, I count three under 30 who are very good on both ends of the floor. Dwight Howard, Andrew Bynum and Al Horford. And you could probably make a case for Chris Bosh, who is a better defender than most Raptor fans probably believed he was.
The two power forwards who have recently ascended to Superstardom, Blake Griffin and Kevin Love, are both below average defenders, something I think that will hurt both team's title chances. When Amare Stoudemire was on the Phoenix Suns, they could never get to the Finals, in part because Amare simply wasn't a good defender.
That's one area where the future is promising for the Raptors. I'd much rather have a front line of Jonas Valanciunas and Amir Johnson than the front line of a good majority of teams in the league.
POST SCORING
I know the recent trend is to have stretch big men who can step outside and draw out the defense, but teams that have historically done well have had a low post threat that can create double teams, score inside and be a guy who can get you a good look down low when the game slows down or the jumpshots stop falling.
That doesn't necessarily have to be one of your big men. LeBron James is the main post-up threat for Miami. And it wasn't until LeBron moved into the post, that he won a Championship. Michael Jordan's Bulls won their last three titles with him as the team's only real post scorer.
Having a good post player is especially important in the playoffs, when the game slows down. In the half court, you don't get the easy looks you do in the regular season. The defense is stingier and the lane shuts down. Having a guy in the post you can throw it into does several things. Obviously there's the ability to get a high percentage shot close to the basket, but it also makes the defense react, which allow more open looks for teammates.
The lack of legitimate low post scorer (and Russell Westbrook's decision making) might be Oklahoma's biggest achilles heal and what keeps them from winning a Championship until they get one. I think they made two mistakes at the start of the season. First, I think they should have kept James Harden and traded Westbrook. Secondly, I think they should have dealt him for a low post scorer.
The best low post scorer the Raptors ever had was probably Jermaine O'Neal, who played less than half a season. Chris Bosh has always been more of a high post scorer, probably due to his slight build, and saying Hakeem Olajuwon was a shadow of his former self, while a Raptor, is probably an insult to shadows.
In the last couple of weeks, Jonas Valanciunas has shown the makings of a potentially excellent low post scorer. He has pretty good footwork, great hands and a knack for getting the ball in the basket. In his last ten games, he's shooting 68%, while scoring 15.9 ppg, and a fair number of those shots are either off post ups or jumpshots. This isn't DeAndre Jordan getting half a dozen lobs at the rim a game.
And he's been extremely physical, which was an area of concern when he was drafted because he LOOKED like a 19 year old kid with not a whole lot of muscle. In less than two years, he's filled out so much you have to wonder if he's spent a little time with Barry Bonds. Really, though, he simply looks like a man now, as opposed to the boy the Raptors drafted two years ago.
He still needs to work on his footwork and get a lot better at seeing the floor (for teammates and help defense) when he's got the ball, but this is an area where the future is very bright for the Raptors.
EFFICIENT SCORING
The best statistic for offensive efficiency is True Shooting Percentage, which takes into consideration percentage for field goals, threes and free throws. This year, the top three teams are Miami, Oklahoma and San Antonio. Last year, Miami, the eventual Champion, was fourth. The year before, when Dallas won their Championship, they were fourth. A team's scoring efficiency really can't be downplayed.
Other than teams that had injuries during the regular season, you can go way back and you'll see the same results. The true contenders are efficient scorers.
There are two components to efficient scoring. The first is making sure your main scorers get to the line at a high rate, so that they can manufacture points even when the shots aren't falling. The more consistently your main scorers get to the line, the more consistently they will score, and that means fewer scoring droughts when they are on the floor.
But that's only part of it.
In basketball, the two best places to shoot is under the basket and behind the 3 point line. Obviously under the basket will give you the best chance to actually make the shot, but a three point gives you more bang for your buck. Shooting 33% from the three point line gives you basically the same points per shot as someone who shoots 50% from inside the arc. And if you take into consideration that three point shots lead to more offensive rebounds, it's obvious why Raptor's Director of Analytics, Alex Rucker, wants the Raptors to take more threes.
Now, unfortunately, just taking shots from those two areas isn't quite good enough. You need to actually make shots from those areas, too. Case in point, according to Hoopdata.com, of the ten teams that have the most attempts at the rim, seven are playoff teams, and only three are expected to win 50 games or more. Of the ten teams that shoot the highest field goal percentage at the rim, nine would make the playoffs, if it were held today, and that includes Miami, San Antonio, the Clippers and Oklahoma, so basically the four teams that have the best chance at getting to the Finals.
Of the ten teams that take the most 3 point shots, only two aren't playoff teams. And Miami, San Antonio and Oklahoma are all in the top five for 3 point percentage.
On the other hand, one of the least efficient shots is the long two. Players rarely shoot a very high percentage shooting them, and unlike the three point shot, they're not worth any more than a shot closer to the rim.
Miami, San Antonio and Oklahoma are all in the bottom ten for attempts from the 16-23 foot range.
Toronto has the eleventh most attempts from that range, largely due to both DeRozan and Gay taking a lot from there.
Things don't get any better when you look at shots at the rim, where the Raptors are fourth last in the league in attempts. Thankfully, they are 9th in the league in field goal percentage, at the rim. They just need to shoot a lot more shots there.
The opposite is true from 3 point range, where they take the tenth most attempts in the league, but are 6th last in percentage. So maybe the idea of the Raptors taking MORE threes isn't the best idea.
Knowing where your shots should come from and actually getting them there are two different things. Players will always go back to where they are most comfortable, so you need to have players that are comfortable scoring inside and can hit for a good percentage from outside.
The Raptors are currently 18th in the league in True Shooting percentage, and would be lower if Bargnani weren't injured, and Gay had been on the roster the whole season, meaning no Ed Davis or Jose Calderon. And this year, the top 3 scorers on the team have below average scoring efficiency, so you can't even argue that the team is constructed to be offensively efficient. They're not.
BALL MOVEMENT
The last one I will discuss is ball movement. If you watch the better teams in the league, most of them have great ball movement. Good ball movement makes the defense work harder, and leads to more open looks. Watch Miami and San Antonio, and you'll see teams that move the ball better than just about any other team in the league. And it has nothing to do with the fact they have such great players, because Denver also moves the ball extremely well.
What you need is unselfish players who aren't ball stoppers and make good decisions with the ball.
Once again, this isn't an area of strength for the Raptors. Both Gay and DeRozan tend to be ball stoppers, and Lowry will take too many quick shots early in the shot clock. Even Valanciunas has been guilty of grinding the offense to a halt when he gets the ball in the post, something he will have to work on.
SUMMARY
Now, the one thing I am leaving out is the elite talent that is necessary to truly contend in the NBA. But that's where the 2nd part of this series comes in.
And obviously a getting a good coach who will focus on those things is important, but the fact is you need to right pieces. And that's what this article is about.
This is about acquiring the right types of players that will help a team in these areas, which, in turn, helps the team win.
If you look at the areas I've listed, it might seem fairly obvious, but it's apparently not. One just has to look at Colangelo's moves during his tenure with the Raptors to see that. From drafting Bargnani, to the Hedo Turkoglu signing, all the way up to the Rudy Gay trade, he's consistently focused on traits in players that don't help you win.
Not coincidentally, the one roster he had that seemed to follow the above blueprint, to a large degree, was in 2006 when he first took the job. He had a good defensive team that had a lot of high IQ players (Anthony Parker, Jorge Garbajosa, Jose Calderon, Rasho Nesterovic) all of whom moved the ball well. They didn't over-rely on athletes, and they finished in the top ten for True Shooting Percentage.
The big downfall for that team was the low ceiling, but Colangelo at least seemed to have the right idea. Then he started making high risk-low payoff gambles that made the team worse.
Just looking at Colangelo's moves, I was tempted to add DON'T OVERPAY ROLE PLAYERS, but team's have certainly won while overpaying some role players. It does make it more difficult to improve your team, though. And it's a rule the San Antonio Spurs obsessively try and follow.
Speaking of the San Antonio, to me, they should be the model of how of how to build a team. Now, as I said before, having Tim Duncan, Tony Parker and Manu Ginobili certainly helps, but if you look at their rosters since Gregg Popovich took over the reigns of the team, in 1994, you'll see a plan that focuses on all the areas I talked above earlier.
In his first year, he signed Avery Johnson, who went on to coach the Dallas Mavericks to the Finals, Chuck Person, a well respected assistant coach with the Lakers, and Doc Rivers, who coached the Celtics to a Championship. Then the next year he traded for Monty Williams, currently the head coach of the New Orleans Pelicans Hornets.
He almost never took chances on risky players, acquired good defensive players and built the core of the team around true professionals who never took a night off and always worked hard.
It just seems to me that if you're going to build a team, you need to focus on the things that have worked year after year, and have won titles. Because that's the goal. Or at least it should be.
Raptors Bully the Wizards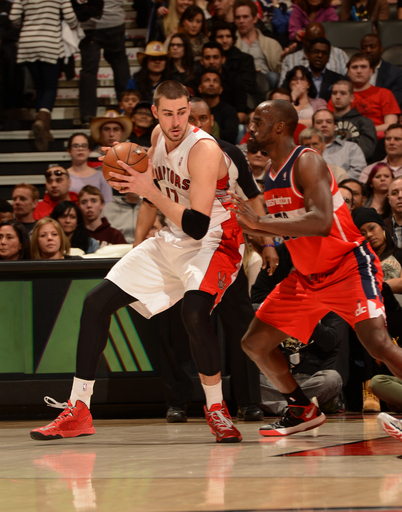 The Toronto Raptors gave the Washington Wizards the business last night.
Armed with a strong rebounding game and a relentless interior attack, Toronto completely exploited Washington inside the paint.
The box score reads the Raps scored a mere 32 points in the paint but don't let that fool you.
Jonas Valanciunas had a statement game. His production alone on this night warranted him getting more touches not only in the contest but possibly for the remainder of the season.
[Also read Reaction: Wizards 78, Raptors 88]
He isn't always the most aesthetic looking player, but he gets the job done. According to Synergy Sports, the big man came into last night's game converting 49.4 percent of his shots in post up situations.
Obviously, context is important in this setting. He doesn't necessarily score that well against every opposing big man, but last night was one of those nights. Valanciunas owned Emeka Okafor and Nene.
He had a few post ups as well as a couple of drives — always to his right! — that allowed him to score.
But JV's biggest contribution last night on offense was his toughness. Every time he was given an open shot in the paint, he pump faked himself (took him a few seconds to realize how open he was) and then used the landscape at his disposal to attack the basket.
Routinely he was met with resistance, but he kept drawing whistles. His aggressive and physical play resulted in a 16-of-18 free throw shooting night.
Valanciunas' scoring in the half-court helped the Raptors overcome a sloppy game. The majority of their 15 turnovers on this night were unforced. On a few occasions, players tried threading the needle with passes and instead coughed up the ball.
DeMar DeRozan was on his game in this contest. Dwane Casey's regular sets were favorable for Toronto's starting 2-guard on this evening.
One of the Raptors' pet plays has DeRozan curling off a screen on the left side of the floor for an open jumper. If the big man defending the action on DeRozan steps out to contest his jumper, the shooting guard can essentially drive past him and get into the paint.
DeMar mixed up his game by attacking the paint and nailing his midrange jumpers. According to Hoopdata, DeRozan converted 6-of-12 shots from 16-to-23 feet against the Wizards. He also got himself to the basket and into the paint where he put pressure on Washington.
His final tall by night's end was 25 points.
Valanciunas and DeRozan did a great job of taking whatever Washington offered them in this contest. But it can also be said that Toronto removed whatever available options the Wiz had, especially in the second half.
Indeed, Casey's group held the Wizards to 28 points on 7-for-35 shooting from the floor in the final two quarters of the game. They kept John Wall out on the perimeter and the few times he wandered into the paint, he was met with resistance.
He managed 12 points in the second half, but was 3-for-11 from the field.
With the team hitting the road for their three next games, winning at home prior to leaving the friendly confines of Toronto is always a good thing.
Morning Coffee: April 4th Edition
After receiving inconsistent minutes to start the year, rookie Jonas Valanciunas played 27 minutes per game in March, and that figure will rise in April. His fellow rookie Terrence Ross had his minutes nearly doubled in March, a trend that will likely continue as well. Beyond that, Quincy Acy has been called up from the D-League, and the Raptors would like to see how much the second-round draft pick has progressed since the beginning of the year. All of that is reasonable. If anything, Casey should have adopted that mindset earlier.
With their loss to the Pistons on Monday, the Raptors were assured of not making the playoffs for the fifth straight year. This is now the longest the Raptors have been out of the post-season. The franchise made the playoffs in their fifth season of existence, and then ended a four-year drought when they won the Atlantic Division in 2006-07. But the Raptors have not sniffed the post-season since being knocked out in the first round by Orlando in April 2008.
Luxury boxes are fun, but not for any viewing purposes. You end up hitting the open bar like men going into combat. Halfway through those games, I couldn't tell you the score. By the end, I'm iffy on the sport. A $4 ticket at a reseller like StubHub isn't really four dollars. There's a $5 service fee ("Here are your tickets") and a $4.95 delivery fee ("Here are your tickets: The Sequel"). Total cost for a $4 ticket: $13.95. These also weren't the cheapest tickets in the NBA on Wednesday. Mid-afternoon, some schlub was trying to unload a pair to see Denver (good team) in Utah for 89 cents a pop. If they sold the whole ACC at this price point, they'd make $80K. That's about two-thirds of what Andrea Bargnani was paid Wednesday for bogarting a courtside seat.
Two of the rookies more than earned their keep Wednesday night as Jonas Valanciunas had a season-high 24 points to go along with 10 rebounds and Quincy Acy contributed eight points and a bundle of energy in his 20-minute run. The most impressive part of Valanciunas's night was his 16-for-18 performance at the free throw line (both season highs) and the fact he had just four fouls in 41 minutes against two big, strong Wizard big men in Emeka Okafor and Nene.
While Toronto jumped out to a nice lead, the team decided to stop defending and suddenly the Wizards were ahead 50 to 39 at the half. The Dinos weren't even attempting to guard the Wiz at times and as the third quarter began, this looked to be loss number 48 on the season for TO. However Raptors' head coach Dwane Casey must have gotten through to his troops during halftime as a different version of the Dinos emerged from the locker room, one that was focused on D and getting stops. And that made all the difference.
After a tremendous game against Detroit, Rudy Gay appeared to be battling injuries. I would suspect his back was bothering him because Gay appeared very stiff, couldn't beat anyone off the dribble and had trouble getting down in his defensive stance. It's admirable that he continues to play through his injuries, but I wouldn't be opposed to him being shut down for the season. Rudy really struggled to score (2-8 FG, 2-4 FT) but he still hit the glass for 8 rebounds and picked up a couple steals. After the game, Dwane Casey said Gay was limited to 24 minutes due to a twisted ankle.
It was an offensive performance reminiscent of the November Wizards. With Wall's jumper not falling, Martell Webster's hot stroke fading and Bradley Beal on the sidelines, the Raptors packed the paint and dared the Wizards to beat them from the outside. Washington couldn't drive and kick for open threes, nor could they force double teams in the post. As a result, their offense consisted mostly of mid-range jumpers from Nene and Emeka Okafor, and that won't work. The worst part is that the Wizards looked to be in great shape in the first half. It was almost like a role reversal, actually.They had the defense that was stifling. They were grinding out hoops by working through all their half-court options and crashing the glass. They had the 15-point lead at one point. But that was before the third quarter that we will never speak of again.
"The physicality of the game doesn't bother him anymore," Casey said, "whereas before he would kind of disappear a little bit. Now he's huge at the end of a game. You can go to him. He can make free throws. He can pass the basketball but most of all he can defend without fouling. That's huge for him. That growth for him has been huge."
"That's just him playing hard and being aggressive," DeRozan said of Valanciunas, who shot an impressive 16-for-18 from the free-throw line during his career outing. "As a rookie when you get 20 points that's definitely big, especially when it's a double-double as well so that's going to go a long way." The 20-year-old from Lithuania has recorded a double-double in three of his last four games, scoring in double figures in 13 of 14.
"They were being aggressive and they just took control of the game," John Wall said. "They were more aggressive to start the second half and we needed to be that way to close out the game." Wizards head coach Randy Wittman agreed with his point guard. "We came out the second half and shot around 20 per cent," he said. "There was no pace to the game. We had no movement, which was disappointing. To be up 11 at the half and then go through the motions…we need that killer instinct and we have not shown it."
Reaction: Wizards 78, Raptors 88
Amir Johnson, PF

35 MIN | 4-8 FG | 1-1 FT | 7 REB | 1 AST | 2 STL | 2 BLK | 1 TO | 9 PTS | +6

Amir Johnson continues to be the most reliable player on this team, game in and game out. He may have the slowest release in the league on his jump shot, but he drilled two of the three that Washington let him wind up for tonight. If Amir can develop the kind of interior passing game he had with Ed Davis with Jonas Valanciunas, I promise never to miss another Raptor's game ever again.

Rudy Gay, SF

26 MIN | 2-8 FG | 2-4 FT | 8 REB | 2 AST | 2 STL | 0 BLK | 4 TO | 6 PTS | +7

I know that Rudy had some points tonight, but all that stands out in my mind are the turnovers. He had the opportunity to hit Ross with a fastbreak pass for an uncontested dunk with 6 minutes left in the 2nd. Instead he kept the ball, slowly dribbled in to traffic and turned the ball over. Gay looks open to the concept of passing the ball instead of constantly looking for his shot, he just doesn't look like he really knows how to go about doing it.

Jonas Valanciunas, C

41 MIN | 4-7 FG | 16-18 FT | 10 REB | 1 AST | 1 STL | 2 BLK | 3 TO | 24 PTS | +17

Jonas Valanciunas is the Raptors right now, and the announcers spent the entire first ten minutes of television coverage talking about him exclusively. Jonas was kind enough to validate Leo Rautin's enthusiasm with the best individual performance on the floor tonight.
His excitability on defense still has him biting on his man's second move and giving up the basket, but the patience to keep his feet and maintain position will come in time. In the meantime, that excitability and energy on offense is explosive, and Valanciunas is showing what an efficient weapon a centre who can actually hit free throws can be.

Kyle Lowry, PG

37 MIN | 2-8 FG | 4-6 FT | 8 REB | 13 AST | 0 STL | 0 BLK | 2 TO | 9 PTS | +13

Dear Kyle Lowry,
You are a starting-caliber NBA point guard. I watched you play games for the Rockets in the first half of last year where you threatened to be an all-star. I watched you play the first week of this season as an unquestioned all-star. I know you've often been on the court ever since, and you were even there for a couple of stretches tonight, but I'm still yet to see that Kyle Lowry on a game-to-game basis. Please advise as to current address, as I would like to be a fan.

DeMar DeRozan, SG

37 MIN | 11-21 FG | 3-5 FT | 1 REB | 1 AST | 1 STL | 1 BLK | 3 TO | 25 PTS | +20

With the weight of the team off of his shoulders, DeMar is really coming in to his own as a quality contributor. His willingness to drive to the rim continues to reap rewards on the free throw line. DeMar's mid-range game was solid tonight, as it often is. But there continues to be a collective wince whenever he puts one up from 3. I encourage you to read this fantastic piece by Dylan Murphy, and think about DeMar's aggressive leg kick on his 3 point shot. Fixing that could make him an elite player.

Quincy Acy, SF

20 MIN | 4-5 FG | 0-0 FT | 3 REB | 0 AST | 0 STL | 1 BLK | 2 TO | 8 PTS | -4

I was concerned when Quincy picked up a foul with a moving screen after checking in to the game, but before time had even started. After he fought hard for an offensive rebound and then sunk the put-back, I was positive that he was Reggie Evans. After all, he is wearing a pretty convincing Reggie Evans costume. I continued to think so until Acy hit a 19-foot jump shot in the second quarter. Then he hit another one proving that he was, in fact, definitely not Reggie Evans.

Landry Fields, SF

17 MIN | 1-1 FG | 1-2 FT | 3 REB | 0 AST | 0 STL | 0 BLK | 0 TO | 3 PTS | +12

I can appreciate how difficult it has to be to come off the bench after not playing in the entire first half and suddenly start guarding someone who has been playing all game. Fields has accepted his role on the team this year, stayed in his lane and worked hard to meet his responsibilities. It's an often unappreciated role, and Fields quietly went about doing it well against the Wiz', as he usually does. Landry seems to score at least one basket every game off a really intelligent cut to the basket, and Valanciunas found him for one with time winding down in a close game tonight.

Sebastian Telfair, PG

11 MIN | 1-5 FG | 0-0 FT | 2 REB | 3 AST | 0 STL | 0 BLK | 0 TO | 2 PTS | -3

Telfair posted another chapter in the long-standing Raptor's tradition of incredibly inefficient back-up point guard performances. There have been good nights for Telfair since he got here. Tonight was not one of them.

Alan Anderson, SG

8 MIN | 0-1 FG | 0-0 FT | 2 REB | 0 AST | 0 STL | 0 BLK | 0 TO | 0 PTS | -8

Keeps on chuckin'. Gunning his way to a contract next year on a team that doesn't value shot selection.

Terrence Ross, SG

8 MIN | 1-2 FG | 0-0 FT | 0 REB | 0 AST | 0 STL | 0 BLK | 0 TO | 2 PTS | -10

Not a lot of minutes tonight for Ross. While Valanciunas is showing his readiness and improvement now, Casey and the coaching staff are likely already looking to planning their summer league around the development of Ross' promising game.

Dwane Casey

It has to be frustrating to motivate your guys for a game that they know doesn't matter. Casey is getting the best out of his young players though, and even managed to squeeze a sporadic stretch of solid play out of Kyle Lowry. It's next to impossible to judge a coach for a defensive scheme that half of the guys on the court aren't even willing to play. In tonight's battle of who wants is less, Casey had his team play less apathetic than the Wizard's they duelled against.
Five Things We Saw
The Raptors came out in this game willing to make passes. From what I saw, it was because ball stoppers like Rudy Gay weren't taking the game so seriously. The result was a lot of very quick, very easy quality looks and layups. Imagine that.
Late season lottery-team matchups, where rebounding and transition defense are always optional. The Raptors second unit is officially done pretending to play defense for the season, as they've completely abandoned defending the 3-point line. Let it be known, if you are willing to stand behind the 3 point line against this squad, they are willing to let you shoot. REALLY glad you didn't play tonight, Bradley Beal.
Amir Johnson and Jonas Valanciunas are tireless. They are either running a constantly resetting series of high picks, screens and pin-downs or, more recently, isolation low post sets for Valanciunas. The result has not been elite team scoring on the offensive end. However, tonight was another example of how and where results may likely be seen next year. Nene was exhausted by the mid-way point of the 3rd quarter trying to follow the Raptors around in their busy part of the offence. So when Jonas and Johnson work hard on the offensive glass, they're finding success against opposing bigs who are just trying to catch their breath. This also takes the 4th quarter legs away from opposing bigs trying to guard the rim against the Rap's penetrating wing players. There is an advantage to having two players with size, athleticism and a whole lot of hustle play together, and what we saw tonight is hopefully a sign of things to see more regularly next season.
When Quincy Acy was sent down to the D-League, it was unclear if he would amount to more than the all-time leader in technical fouls per minutes played. But from the improvement we saw tonight, it seems clear that he seized the opportunity for minutes and development. Acy showed much better polish and, perhaps more importantly, much more confidence in his game. Great use of the D-League here, and kudos to Acy for embracing it as an opportunity instead of a punishment and growing as a result. Loved what he brought tonight.
It's great to see Valanciunas getting so many looks in the post. That experience is going to be key moving forward. DeMar has been much better against single-man coverage out of isolation in recent weeks as well, with Rudy Gay pulling away the double teams that had been challenging his shots. But with presumably the entire starting lineup returning for next season, it's disappointing to see Lowry and Gay relatively uninterested in developing sets of their own and something resembling a quality team offensive system. Oh well, here's to training camp!
12-Year Old Hits Half-Court Buzzer-Beater Shot at ACC
Gameday: Wizards @ Raptors, Apr. 3
The Washington Wizards have the stated goal of finishing ninth in the Eastern Conference. Cynically, I'd guess this is so that they can sell their fans on the fact that they narrowly missed the playoffs and showed great improvement in the second half of the season (the latter of which is actually true). The optimist in me, though, remembers the movie Mr. 3000 and how the stated team goal of finishing third instead of fifth actually galvanized Bernie Mac's Milwaukee Brewers (rest in peace).
The Wizards are now 28-46 but they're 16-11 since Feb. 4. Before that date, they had a 94.5 O-Rating and a 100.1 D-Rating. Since, their offense has improved to 103.4 points per 100 possessions while their defense has remained mainly the same at 100.2. That's a really stark improvement on the offensive end, and it can't possibly all be credited to John Wall, who made his return on Jan. 12.
This turn of strong play has included two wins over the Raptors and one Toronto victory. In those three games, two of which were in Washington, the Wizards have outscored the Raptors 287-272, indicating a relatively close match-up, though one that favors the Wiz.
To get to the core of this improvement, I asked Amin Vafa of Hardwood Paroxysm and Bullets Forever his take on what's made the offense so much more potent.
Blake: 16-11 after a 12-35 start. Simple question: what's changed?
Amin: Short answer: John Freaking Wall.
Long answer: The confidence of everyone on the team has grown steadily over the course of the year. When you've got a top-tier defense, veterans who can do something as simple as "make open shots," a rookie that's only gotten better offensively and defensively as the season has progressed, and the fastest point guard in the league… things tend to improve. But also, John Wall injected some serious life into this listless team, and in the 41 games since he's been back, they're 23-18. That's pretty damn good.
So what can the Raptors do to try and contain the Wizards? Well, Kyle Lowry better be amped up to play defense against John Wall, as Amir Johnson won't be able to over-help and leave Nene alone. The Raptors do have an advantage on the wings, but the SportVu-endorsed strategy of leaving corner shooters open can't be employed too heavily because Bradley Beal is back., joining Martell Webster and Trevor Ariza as long-range threats.
Offensively, it should be a tough night for Jonas Valanciunas, who has looked great of late but matches up with Emeka Okafor, still a great post defender when engaged. Webster and Ariza are also savvy defenders, while Beal is improving on that end.
I doubt the Raptors can take this one. The Wizards are hot and motivated, and the Raptors are neither of those things (4-15 over past 19 games, including said losses to Wall and Co.).
The Picks
Vegas: Raps -4.5
Hollinger: Raps -1.5
Blake: Wizards by 7
Sorry for the brevity, but it's Wiz-Raps in April. Go check out Tim's post from this morning if you somehow want more Raptor reading at this point in the season.
The game goes tonight at 7 p.m. on Sportsnet One.
What The Raptors SHOULD Do
First of all, I want to thank everyone for all the welcomes in the comments section for my premier article on the Raptors Republic. My goal is to create some good, intelligent conversations here, so I'll do my best to respond to as many comments as I can. Emphasis on "intelligent".
In my last article, I put forth the argument that the current path the Raptors are on was not one destined for anything but mediocrity and disappointment (so basically, the Raptors' status quo). Keeping Colangelo and the current roster is simply not a good option for anyone with Championship hopes for the team. And with the Raptors going 11-17 since the Rudy Gay trade, it's becoming more and more evident that staying the course might not even get the Raptors to the playoffs, in the near future. You can make all the excuses you want, but the fact remains this is a poorly constructed, massively overpriced team with too many "core" players who rarely play to their potential and have been too willing to roll over in games they should have competed.
Even PhdSteve changed his mind about staying the course on his latest podcast.
Of course, it's easy to criticize and not offer solutions, so in this article, I put forth my argument of what they SHOULD do.
Now, before people start assuming this is going to be an article about tanking, let me reassure it's not…completely.
Again, taking inspiration from PhdSteve, on one of his previous podcasts he talked about the myth of the Oklahoma model. That you couldn't copy it because of the luck involved in drafting guys like Russell Westbrook, James Harden and Serge Ibaka, as well as being able to land Kevin Durant. Well, it was certainly luck that they were able to land Durant with the second pick, but where I disagree completely is the luck he says was involved in drafting Westbrook, Harden and Ibaka, and especially when he talks about the Spurs drafting Tony Parker and Manu Ginobili. Oklahoma and San Antonio were able to draft their star players not due to luck, but because they have great GMs who make great decisions and have a great scouting department.
What both organizations have in common, apart from their excellent scouting, is good management. You can have great scouts, but ultimately, it's up to management who to draft. Now I already discussed in the last article that the Raptors need new management, but they also need something else that both Oklahoma and San Antonio have: Elite players.
I don't think anyone can seriously say that Rudy Gay is an elite player. Not with the mountain of evidence that says he's not. A word of advice for Bryan Colangelo. Making your announcers say over and over again that Gay is an elite player doesn't actually make it true, no matter what Joseph Goebbels says.
Again, it's not that Gay is a bad player by any means. I think he gives too inconsistent an effort on both ends of the court, which causes problems, but if he's your third guy, I think that's okay. But he's not getting paid like a third guy. Unfortunately, on the Raptors, he's the Raptors #1 option.
On my own blog, I've already written why the draft is the best way for a team like Toronto to acquire an elite player, so I won't go over it again here. I recycled enough of my old material in my last article.
Obviously, there has been a lot of talk among Raptor fans of wanting to try and get Andrew Wiggins, and rightly so. If he comes close to the potential that many are giving him, he'd be the saviour the Raptors have been desperately needing since Vince mentally left town. If you're a Raptors fan, and you don't know who Andrew Wiggins is, then I suggest watching this:
The problem, of course, is that you can't bank on landing the top pick in the draft, no matter how bad you are. Ask just about any of the last place teams that have missed out on winning the lottery and landing a franchise player. The best example of this is Boston, who had the best chance to land Tim Duncan in the 1997 draft, but got the third pick, and drafted Chauncey Billups (who went on to a Hall of Fame career, but that career didn't start for another 5 years in Detroit) instead. What followed were four more years in the lottery.
The 1997 draft was a one man show. After Tim Duncan was Keith Van Horn. I think you get the picture. That's not, however,  the case with the 2014 draft.
After Andrew Wiggins, the drop-off isn't nearly as big if the Raptors miss out on the top pick. In fact, the beauty of the 2014 draft is that it can be compared in a lot of ways to the 2003 draft, one of the best draft classes in the last 20 years. Now, I'm not suggesting that Wiggins is the next LeBron, so let's not jump to any unfounded conclusions.
But it wasn't just Cleveland that made out big in that draft. Miami got themselves the second best player in the draft, an All-NBA First Teamer and lead Miami to it's first Championship in 2006. Denver got a 4-time All-NBA player and Toronto got Chris Bosh.
Teams that miss out on Wiggins still have a chance at Jabari Parker, who has a similar game to Grant Hill (when he came out of Duke) and is even going to Hill's alma mater. Parker might end up being better than Wiggins, although Wiggins has more upside. If you miss out on those two, there's still Julius Randle, an athletic and strong power forward with NBA ready offensive skills and a willingness to compete on defense, and Andrew Harrison, a Russell Westbrook-clone who is a more natural PG. And Aaron Gordon, who has a Blake Griffin-like game and body, now is being looked at on the same level.
Now, some will argue that lots of guys have been high school phenoms and never made it big in the NBA. Felipe Lopez was one of the most highly recruited high school players in history, appearing on the cover of Sports Illustrated before playing one NCAA game. He played four years at Seton Hall St. John's before being drafted 24th in the 1998 draft and lasted only four years in the league.
The difference is that those five would probably go be the top five in the 2013 draft, if they could, and both Wiggins and Parker could probably start for most of the teams in the league right now. These guys aren't Kwame Brown. They have skills most NBA players don't have.
Basically you're looking at, at least, four to five potential elite players from this draft, and possibly more. If you're going to tank to get an elite player, next year is the time to do it. And that's exactly what I'd recommend the Raptors do.
I can understand the argument not to tank if there's only one franchise altering player in the draft, or if you've already got that player or your team is in a good situation. But the Raptors are a mess. They are a lottery team without an All Star, yet starting next season the team's top three scorers, and also three of the team's most inefficient scorers, will be making a combined $37.3 million. If the Raptors sign a player to the MLE this summer, it will put them into the luxury tax.
Of course, it's easy to gut your team and tank. The difficult part is figuring out how to do it well and what to do next.
Gutting the team obviously doesn't mean getting rid of everyone, because you still need players. And the idea is not to get clear salary, because that's pointless when you're rebuilding. So who stays and who goes?
THE UNTOUCHABLES
In part one, I said Jonas Valanciunas was the Raptor's most important player, and he's the only player who's in this category. Legit 2-way centers who can run the floor and play hard are such a rarity in this league that you'd have to be nuts to trade him away. While he's an untouchable, he's not good enough, at this point in his career, to make much of an impact in the win column and hurt your chances of getting a top pick.
LOW-COST BUILDING BLOCKS
A team trying to tank obviously is rebuilding, and rebuilding teams need young players. That means guys on their rookie contracts who still have decent potential. On the Raptors, there are just two of them, Terrence Ross and Quincy Acy. If you need to package them in a trade to get something done, it's not a big deal, but if possible you hold on to them.
LOCKER ROOM VETERANS
Just because you're tanking, doesn't mean you don't want your young guys to have good influences around them that can give you some minutes. They're good enough to play 15-20 mpg, but not good enough to make an impact in the win column. Plus, none of these guys have any trade value, so you might as well keep them. Aaron Gray and John Lucas are those guys for the Raptors. Both have contracts that go for one more season.
LOW VALUE-BIG CONTRACT
These are guys who are overpaid and who really aren't worth trying to trade. Landry Fields isn't worth his contract but would be perfect guy to start at small forward. He's the type of guy who is more valuable the more talent he has around him, and he's not going to have a lot of talent around him. But he could be a good role player down the road. Linas Kleiza may not ever player again, due to bad knees. His contract ends after next season, so it's not a problem.
HATE TO SEE YOU GO
Amir Johnson is a guy you love having on your team. He's a great teammate who will do anything to help the team and always makes a positive impact when he's on the floor. And his contract is actually pretty good, despite what early critics said (I was not one of them). Unfortunately, if you're trying to tank, he's the kind of player that will not help your cause. If I was the GM, I'd sit him down, lay my cards on the table and ask him what he wants. I think you owe a guy like Amir that. Most likely, he won't want to lose for another few years, and you find a playoff team who can send you a first rounder and/or young prospect for him. And then you see if you can sign him back when his contract is done.
HIGH VALUE-GOOD CONTRACT
These are guys who you don't want to keep, but should have good value. Unfortunately, about the only guy that describes on the Raptors is Kyle Lowry. I doubt you'd be able to get the same value for him that you gave up (lottery pick), because he's disappointed as a starter, but he's definitely an asset. You might also need him to move one of the Raptors more difficult to trade players.
HIGH VALUE-BAD CONTRACT
If Rudy Gay and DeMar DeRozan's contract were cut by a third, then they'd be good assets that you could probably get a lottery pick for. Unfortunately, their contracts make them difficult to move. Ironically, Gay is probably the more difficult player to move, despite him actually have a pretty good impact in the win column (decent, but not great). That impact makes him absolutely necessary to move for a team that wants to lose.
DeRozan has a negligible impact on the court, so it's not necessary to move him if it becomes to difficult to find a taker. Plus he's a hard worker, so that's good to have around the young players.
DON'T BOTHER WRITING
Andrea Bargnani has one of the worst valued contracts in the league and he's still owed $23 million after this season. Considering how little of a positive impact he makes, he could actually help a team that wants to lose. But with his history and how much of a dark cloud he is over the franchise, you have to cut ties with him. If you can't find a trade partner that won't make you take someone like Carlos Boozer back, then you bite the bullet and amnesty him.
What Now?
Now that you know who you're going to keep and who you're not, you need to figure out how you're going to do it and how you're going to fill back up the roster. While it might seem reasonable to suggest that if you want to tank, you should go out and get a bunch of bad players, that's not necessarily the best move, especially considering you don't want to create a toxic atmosphere for guys like Valanciunas, Ross and Acy.
Ideally, what you want is to find a good mixture of young, undervalued prospects who could be either good building blocks for the future, or assets whose value will go up, and semi-useful veterans who are good in the locker room and can give you some decent minutes, if need be. The trick is to not have too many veterans so that a coach will not play and develop the younger players, trying to win a few more games.
Now, it's been suggested by some that it would be very difficult to trade Gay and DeRozan because of their contracts. I believe that depends on what you expect back. Gay's contract is certainly cumbersome. But we've seen Atlanta trade Joe Johnson for expiring contracts and a couple of picks. And we do know that other teams were interested in trading for Gay before Colangelo swooped in and did it. Toronto might need to take back a long term contract or two, but since cap space is not the goal here, that's not a problem.
First up, target some of the young players who haven't developed as expected, and who may not be getting the chance they need. Players like Kendall Marshall, Terrence Jones, Derrick Williams, Alec Burks and even a guy like Evan Turner, who has been in the league a few years, but has never been in a system, or surrounded by players, that complimented him.
An example of a trade I would try would be trading DeRozan to Minnesota (who apparently has coveted him) for Derrick Williams and Like Ridnour. Now, I'm not suggesting Minnesota would accept this deal (I'm guessing they wouldn't, as is), but this is the type of deal I would be looking for.
As usual, I've gone a little long, so I will end it here and finish up in the next column, which will be posted later this afternoon. In that one, I'll discuss how the Raptors should try and rebuild.
AROUND THE LEAGUE
- Am I the only one who couldn't watch the Duke-Louisville game after Kevin Ware went down with one of the most gruesome sports injuries in television history? I remember seeing him lying on the side of the court, wondering why the announcers hadn't mentioned it, and then when it became evident the extent of the injury, I couldn't watch. I'm definitely not one of those who likes to watch injuries. I've had too many of my own and even a sprained ankle will cause me to turn my head, as if afraid to give my body any ideas.
I fast forwarded (I always DVR basketball games) until they started playing again but I couldn't stop thinking about it and I switched to watching the Raptors-Hawks game, an only slightly less gruesome experience.
- As someone who personally lived through the Vancouver Grizzlies years, saw first hand what he did to the organization and heard from an insider friend how he carried on while in charge of the Grizzlies, I think I'm quite qualified to warn every NBA team out there to stay as far away from Stu Jackson as possible, as he apparently becomes interested in moving back into a team's front office.
- Truth be told, the Spurs have been one of my favourite non-Canadian teams since before Tim Duncan was drafted. And this article on how the Spurs improved their defense this year is incredibly interesting, but not just to Spurs fans. One of the interesting things is how open Gregg Popovich is to changing his coaching strategy based on stats collected through analytics. Considering how reluctant coaches like Dwane Casey and Doug Collins are to use analytics, it really makes you appreciate how progressive Popovich is despite him being so old school.