Toronto Raptors ignore injuries for 'courageous' win over Brooklyn Nets | National Post
The Raptors put together what was probably their second-most unlikely win in franchise history — behind only the Game 5 clincher in Madison Square Garden in 2001. It was the Raptors' first post-season road win since May 2001, ending a 13-game losing streak. Lowry, who scored 22 points, was at the centre of it all. All year long, the Raptors have emulated their point guard's scowling mentality, having practically convinced themselves that the league is either: a) against them; or b) does not know they exist. Maybe both. "I'm pretty sure a lot of people haven't seen us play yet," reserve forward Chuck Hayes said. "Having it be a [nationally televised game in the United States] game, they've seen different things. They've seen the fast-pace, high-scoring in the first quarter, and then they've seen a gut-it-out type of win in the third and fourth quarter.
Raptors ride Lowry's heart, grit to inspirational road win: Arthur | Toronto Star
The Raptors had not won a playoff game on the road in 13 years, and for a long time it looked like they weren't starting now. Their fast start had evaporated. Nobody could stop the bleeding. The casualty list included Kyle Lowry's knee, Amir Johnson's knee and ankle, Patrick Patterson's knee, John Salmons' back, Landry Fields' back and Terrence Ross's nerves. Nothing was going right. "It was pretty much, keep battling," said Patterson. The Raptors were still tied going into the fourth quarter with their season more or less on the line, but it felt like it was sliding away. Lowry was in foul trouble, Johnson was in foul trouble, and they had scored 32 points in two quarters combined. We'd seen this movie before. But these aren't the same old Raptors. Greivis Vasquez, cold all night, made plays. Patterson, one game after missing two critical free throws, made a huge three. Valanciunas hit a sky hook, sure, okay. DeMar DeRozan took two charges, and Johnson took one.And Lowry, again, was the beating heart of this team.
Raptors motivated by Lowry's determination | Sportsnet.ca
So shaky was his reputation that when Lowry emerged this season as the closest thing the Raptors have to a true franchise player – or at least a co-star alongside DeMar DeRozan – there was some concern inside the team and outside that this was Lowry on his best behaviour, a free-agent-to-be scrubbing his image to make sure he can maximize his return this summer. But as things went along and Lowry kept sacrificing his body – he led the NBA in charges taken – and kept playing with a level of ferocity that he's been held out as a an example for MLSE's hockey team to follow, it became more and more apparent: This guy is what fans want, someone who simply plays until there is no gas left in the tank. Sunday night was just another example.
Raptors even series with Game 4 victory in Brooklyn | Toronto Sun
"We had eight stops (in a row) at the end of the game and we were mixing it up," said Raptors head coach Dwane Casey, who said this was the proudest he's been of his team all year. "Were on a mission … this team's got a lot of pride, a lot of veteran players who have been there before." Nets head coach Jason Kidd was left shaking his head at another fourth quarter letdown. "The last four minutes is usually where we feel very comfortable and we just got out of character," Kidd said. "We didn't score. We always thought in the last four minutes of the game that we can execute on both ends, offensively and defensively, and we didn't."
Raptors beat Nets to even series; heading back to Toronto | TSN
"(But) we're on a mission, it's a marathon," the coach added. "We can't get too excited about a win, can't get too down about a loss. That's what the playoffs are about."
Series tied 2-2 as Nets fall to Raptors, 87-79 | New York Post
Playing on their home court and having a vast edge in experience, the Nets had a one point lead with five minutes remaining, with a chance to take a decisive 3-1 series lead firmly within their grasp. But instead of seizing the opportunity against a younger, inexperienced team, the Nets folded, failing to make a field goal in the final 6:12 and allowing the Raptors to score the final nine points of the game as Toronto emerged with an 87-79 win in front of a sellout crowd of 17,732 inside Barclays Center Sunday night. The series now shifts back to Toronto Wednesday knotted up at two and completely up for grabs. "We held the ball in our hands," Deron Williams said, "and we dropped it."
Raptors win over Nets defies all logic | Toronto Sun
In the kind of game we haven't seen a lot of. In the kind of win that has defined this Dwane Casey team in a way few wins ever have. They won on a night when everything looked lost. They won without having a full team, a healthy team, while disappearing for two quarters offensively and still finding a way. "That's our team, man." said Lowry, who probably wasn't well enough to play, who came out huge in the first quarter, who had foul trouble and vision trouble, doing what he has done in this breakout season for the point guard and his team. Finding a way to get by. Making a shot when it mattered most. Winning on a night when the story almost certainly seemed to be about courage and drive — and everything Toronto loves about its pro athletes — and still everything added up to defeat. Except the Raptors didn't lose. They wouldn't allow themselves.
Lewenberg: Raptors empty the tank in gutsy Game 4 victory | TSN
"Everybody has something on their body that definitely hurts," said Johnson, who injured his knee in a failed attempt to draw a charge on the Nets' Paul Pierce, "but we keep playing, we keep fighting. It's not the time to hold back now. We've got to keep going." The Raptors held Brooklyn without a field goal for the final six minutes, without a point for the last five and in doing so they showed more character than they had at any point in this series. "That's just us, man," DeMar DeRozan said after scoring a team-high 24 points in the Raptors' scrappy 87-79 win on Sunday, tying their best-of-seven opening round series up at 2-2. "We're definitely resilient, we're not going to give up until the game's over. We're going to fight through."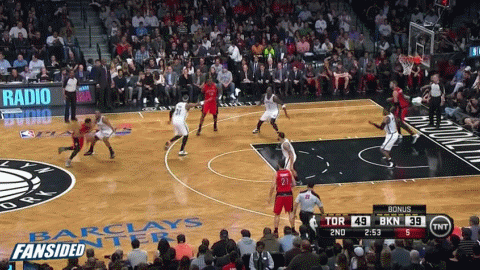 Lowry to Raptors: 'Let's be physical' | Toronto Sun
For a good part of the series, a handful of players have been lamenting how much time they have between games. The younger Raptors in particular were a little stir crazy with all the extra time. But with Lowry, Patterson, Amir Johnson all hobbled to some degree and countless other injuries throughout the locker room, these next two days before Wednesday's Game 5 will be huge. "It's part of it," Salmons said. "We just have to use thse next two days to get some treatment and go from there. Everybody is hurt right now." … For those that didn't catch it at home, Rihanna made it to Game 4 a little late. It could have been because she went back and put a bra on but there's no way we could know that .
Raptors Rapid Recap: Raptors Steal Back Home Court With 87-79 Win | Raptors HQ
Kyle Lowry: Lowry was there when the Raptors needed him most. Limping badly all game, in foul trouble, the team coming apart at the seams, Lowry did most of the dirty work to drag this game into Toronto's favour. He had 12 points in the second half (22 in total), along with 4 rebounds and a crucial steal on a Paul Pierce fast break with a minute left. Watching him will this team to victory on a bum knee will be an iconic image for me.
Raptors regain home court advantage with 87-79 victory in Brooklyn; Series tied 2-2 | NetsDaily
But, Toronto deserves the credit. They were the better team most of the night, and took game 4 in Brooklyn thanks to their gritty defensive game plan. The series is now tied 2-2 heading back to Toronto.
Nets, Raptors switch narratives, set up crucial Game 5 | The Brooklyn Game
Throughout the season, the Nets have leaned on their crunch-time scoring and ability to close games late. In the calendar year 2014, they went 16-8 in games defined as "close & late" by the NBA (within five points with under five minutes), fifth-best in the league, and an Eastern-Conference best 7-2 at home. Between Paul Pierce, Joe Johnson, and Deron Williams, they had a bevy of reliable weapons that could create a shot with the game on the line. But the final six minutes were akin to a performance piece of switched narratives: the Nets looked like the tense, inexperienced first-timers, and the Raptors the seasoned veterans with complete control. Brooklyn shot 0-6 in the final six minutes with four turnovers, three of them offensive fouls by veterans Joe Johnson, Kevin Garnett, and Paul Pierce, and the Raptors turned a four-point deficit into an eight-point victory behind four field goals from four different players and four free throws.
Kyle Lowry's hook serves as dagger for Nets | Newsday
The shot cemented the win and the win cemented the notion that this is going to be a long series. "We got guys who want to win as badly as [the Nets] want to win," Lowry said of the series, which is tied at 2-2 and headed to Toronto for Game 5 on Wednesday night.
Nets' veterans come up empty in horrible fourth quarter, let Raptors back into series | NY Daily News
They never were worse this series than in the final 12 minutes, when they simply had too many empty possessions while scoring all of 12 points, committing six turnovers and missing 14 of 17 shots. It seems almost impossible that a team with Deron Williams, Joe Johnson and Paul Pierce can't do better than a point a minute, but Johnson and Williams went scoreless in the fourth. Williams played his worst game of the series and Toronto took Johnson completely out of the offense. The killer was that the Nets still had a shot to win this game and take a 3-1 series lead, but the two battle-tested players they brought in from Boston to get them through these close playoff games were the ones who committed the biggest turnovers of the night.
NBA Recap – Toronto Raptors at Brooklyn Nets – Apr 27, 2014 | CBSSports.com
"That's just us, man," DeRozan said. "We're definitely resilient. We're never going to give up until the game's over."
Banged-up Lowry wills Raptors to win over Nets | The Globe and Mail
"It hurts," he said. "But ain't nothing can stop me from playing." However this playoff series ends, Lowry is in the midst of building a legend in Toronto, not as a tough guy by basketball standards, but as some sort of mythic force in the Bobby Baun sense.
Nets let it get away in baffling fourth-quarter letdown | Newsday
Give the Raptors credit for grit in winning a road playoff game for the first time since 2001 despite having several key players who were banged up and/or in foul trouble. But mostly give the Nets blame for a self-inflicted debacle that handed back home-court advantage to the Raptors, who will have three days to heal before Game 5 in Toronto.
Lucky Loonie Or Are The Raptors Just Getting Better? | Pro Bball Report
"We understand the situation that we are in," Kyle Lowry said. "It is a stepping stone for us – getting our feet wet. This man (DeMar DeRozan) is becoming a superstar in front of everyone's eyes. He is doing it on the defensive end and the offensive end. In the last 48 hours, we got better. We learned from the game on Friday, went to practice, got our little walk through on Saturday, came in tonight and won the game."
Have a tip for morning coffee? Send it to me: [email protected]