10 things from Raptors-Clippers (Feb. 3) – The Defeated
Sleepy: The Clippers didn't stand a chance playing in an afternoon game on the second night of a back-to-back. The Clippers ran out of gas by the second quarter and never tried to launch a comeback. Toronto cruised to one of their easiest wins of the season and not a single starter needed to log over 30 minutes.

Sharp: Kawhi Leonard responded to his worst game of the season against the Bucks with a crisp showing against the Clippers. Leonard was decisive with his offense, was money on the pull-up three, made the right passes when he was double teamed, and poor Avery Bradley looked like an empty purse dangling off Leonard's shoulders when Leonard drove to the rim.

Witness: Clippers chairman Steve Ballmer flew all the way north to finally catch a glimpse of Leonard, after the Raptors held Leonard out of their previous two visits to Los Angeles. The Clippers are rumored to be the frontrunners for Leonard's services when he hits free agency.

Active: Delon Wright stole the show while leading Toronto's second unit to one of their best performances of the season. Wright was clinical in transition, he showcased his crafty handles, he used his length to create turnovers, and overall, he played with the type of aggression that is too often missing from his game.

Local: The Clippers had an impressive point guard of their own in Shai Gilgeous-Alexander, who hails from nearby Hamilton, Ontario. SGA showed an uncommon calm to his game, and was able to use his size advantage to score easily over Fred VanVleet. SGA finished with 19 points to lead the Clippers in scoring.
Leonard scores 18, lifts Raptors to easy win over weary Clippers – Sportsnet.ca
The Clippers had played the previous night in Detroit, overcoming a 25-point deficit to beat the Pistons 111-101. Rivers wasn't thrilled with the quick turnaround.

"I don't complain a lot about scheduling, but this is ridiculous," Rivers said. "We knew it would be as soon as we saw it… 5 p.m. We started last night. I think the league forgets; it's not 24 hours from the time the game starts, it's 24 from when the game finishes.

"That puts us at like 18 hours ago that we were actually playing basketball — in another country. That makes it sound worse, I like that part. We don't mind the back to backs, but make sure the team we're playing is coming off a back-to-back as well so they don't get an unfair advantage. But I could guarantee Toronto could care less."

Rivers was right. The show-no-mercy Raptors enjoyed a double-digit advantage for much of the night, and led by as many as 19 points in the third quarter before taking a 97-80 lead into the fourth. Toronto's bench closed out the game, and when Miles connected on a three with five minutes to play, the bucket put the Raptors up by 23, and it was all but game over.

The Raptors are now 8-0 against teams playing the second game of back to backs.

Their victory came on the heels of an ugly 105-92 loss to Milwaukee on Thursday for first in the east.

"(The bounceback was) very important," Wright said. "I feel like we just dropped the ball. With us bouncing back, it gave us some good momentum for the next couple games."

VanVleet, who started for Lowry, said he had no idea if his fellow guard might be out for just the one game.

"Naw, I mind my business, it's none of my business," VanVleet said.
https://www.instagram.com/p/Btb7muqHIVU/
Raps take full advantage of road-weary Clippers squad | Toronto Sun
Having played the evening before in Detroit — a 5 p.m. start — the Clippers had the rare distinction of playing twice within a 24-hour period, or to hear head coach Doc Rivers tell it, twice in "two different countries."

Not even the pre-game surprise that Kyle Lowry would not be playing because of a cranky back was enough to even up things in a game the Raptors would win in near wire-to-wire fashion, 121-103.

"That was probably not the most intense game of basketball we've seen in this building for a while," said Raptors head coach Nick Nurse. "But we'll take one every once and a while in this long season."

Rivers, meanwhile, simply hoped his charges would find their spark as the game went along. It didn't happen.

"I just didn't think we had much to be honest," Rivers said. "I thought the first eight minutes, we had layup after layup. I mean we were point blank and you could just see everything was short. I tried to use minutes just to give guys rest.

"Before the game I felt like this probably is going to be a second half game for us. If we could keep it in striking distance and maybe steal it in the second half, but we just didn't have anything and that's why I just took guys out."

From the Raptors side of things, the dividends gained from the victory were tough to quantify, that is beyond the fact is was a bounce-back win they desperately needed after they "dropped the ball" in a loss to the Milwaukee Bucks on Thursday.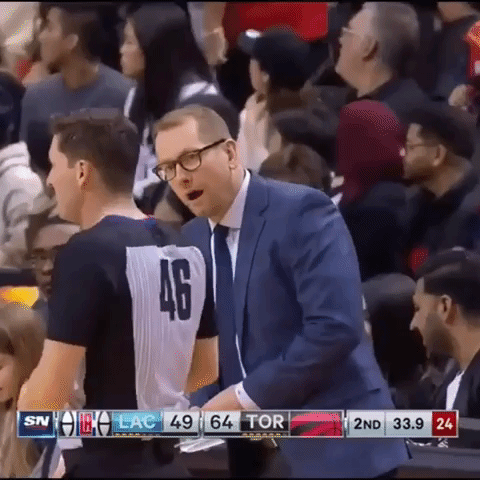 Clippers-Raptors Final Score: A strong night from Shai Gilgeous-Alexander was not enough for the Clippers in a blowout loss to the Raptors – Clips Nation
Shai Gilgeous-Alexander was the best player for LA in his first professional game in his hometown of Toronto. He received a nice ovation during the announcement of the starting lineups and continued his aggressive streak with 19 points to lead all scorers on 9-of-15 shooting. He was also strong defensively on Fred VanVleet, who was starting in place of the injured Kyle Lowry.

The Clippers came into the game on a rest deficit, one that Doc Rivers was not particularly thrilled about. It showed almost immediately. Tobias Harris started the game 1-of-7 from the field, still looking uncomfortable with his right shoulder injury. Even with Montrezl Harrell in place of Marcin Gortat in the starting lineup, the Clippers didn't have enough pace or scoring to keep up with the Raptors at the start of the game, trailing 23-11 in the first quarter.

The game turned when Boban Marjanovic made his entrance. This was a perfect opportunity to play Boban against Greg Monroe, a matchup that really plays to his strengths because of Monroe's inability to pick-and-pop. Monroe's size was completely neutralized, as Boban got two offensive rebounds and provided a strong deterrent in the paint, leading to a 12-0 run that tied the score at the end of the first quarter.

Credit to the Raptors, who made necessary adjustments to start the second. Their second unit, which has already been struggling and was down a man with Fred VanVleet starting in place of the injured Kyle Lowry, played with increased tempo to try to run Boban off the floor. They also ran more deliberate actions for C.J. Miles, knowing that the LA defense would be compromised trying to defend the 3-point line. That allowed Toronto open up another double-digit lead, one they did not relinquish for the remainder of the game.
Toronto Raptors: Is Wes Matthews the perfect buyout option?
Thus, once more, the buyout period is officially here. Teams looking to move on from players have until March 1 to waive them, before they're picked up in the open market. One such target is Wesley Matthews, now of the New York Knicks, following the blockbuster trade involving Kristaps Porzingis. Matthews is in the final year of his contract and is a potential buyout candidate for many teams.

But what can he bring to the Toronto Raptors?

Three-Point Shooting
One of the most valuable commodities in today's NBA, the art of the three-point shot. Something Wesley Matthews is accustomed too and something the Toronto Raptors are in dire need of.

The Raptors rank in the bottom ten for three-point percentage, despite ranking 11th for attempts per game. Something has to give for Toronto, as their lack of three-point prowess has hurt them multiple times this season, and heading into the playoffs, you don't want your shot to go missing. Think the Houston Rockets missing 27 straight three-pointers against the Golden State Warriors last season.

Wes Matthews gives the Raptors another competent shooter to roll out in significant situations, and as a career 36-percent shooter from three, there's definitely worse players to have in that spot.

Perimeter Defense
What is a three-and-D defense if you don't have the defense? Luckily, Wes Matthews is still a sturdy perimeter defender that will get the job done.

Matthews is now 32 and is getting up there in age, his defense has dipped a bit this season as a starter for the Mavericks, allowing 39-percent from three. It's likely that Matthews would often be matched up against some of the best three-point shooters in the league though, and joining a Raptors team with a plethora of lengthy wing defenders means that often wouldn't be the case.

Adding another quality wing defender would do a world of good for the Raptors, who already rank sixth in opponent three-point percentage. Rolling Matthews out with a bench unit that already possesses the likes of Norman Powell, Delon Wright, and OG Anunoby could be a valuable commodity once the playoff season sets in.
Kawhi said he will think about future, have meetings at appropriate time. Right now he's just all about this season. Same, consistent message we've heard from him.

— Ryan Wolstat (@WolstatSun) February 3, 2019
Raptors minus Lowry cruise past Clippers in Super Bowl mode | The Star
The blowout victory marked the seventh time this season that the Raptors have won a game by 18 points or more. The visitors never held more than a three-point lead.

Kawhi Leonard was the Raptors' high scorer with 18 points in front of a crowd that included Clippers owner Steve Ballmer sitting courtside, but it was the visitors' resident Canadian, Hamilton's Shai Gilgeous-Alexander, who led all scorers with 19 points in his professional debut on home soil since his sophomore year of high school.

Leonard was helped by Serge Ibaka, who finished with 15 points and 12 rebounds for a career-high sixth straight double-double, and double-digit scoring from Pascal Siakam, Delon Wright and C.J. Miles, who tied a season high with 15 points.

"I think it looked a little more organized and a little bit less on top of each other and less confusing," Nurse said.

While the game may have been easier than normal for the home side, the path forward may not be after Kyle Lowry sat out with back soreness.
Clippers owner takes in Leonard-led Raptors win — interesting | The Star
Maybe he wanted to be in Detroit to try to make amends with Blake Griffin on Saturday and just stuck around for the back-to-back.

Maybe the weather was too nice in southern California and he needed some February cold as an antidote.

Maybe any of those, right?

It certainly wouldn't have anything to do with getting his face — and visions of his big, fat wallet — in front of the Raptors' Kawhi Leonard any way he could, right?

It certainly wouldn't have anything to do with Leonard's anticipated free agency that's coming in July and Ballmer's Clippers being a presumed destination right?

Nah.

It wasn't like Ballmer stood up and waved a Clippers No. 2 jersey with "Leonard" on the back or anything, and the billionaire didn't have a suitcase full of cash at his feet.

So, tampering? Maybe not, but certainly some subliminal message sending, one could argue.
Clippers don't do much to impress Raptors' Kawhi Leonard during 121-103 loss – Los Angeles Times
It is no secret the Clippers covet Leonard, the Southern California native and Raptors' All-Star forward who will be a free agent following this season. The Clippers played the Raptors twice this season, the latest matchup Sunday's 121-103 defeat at Scotiabank Arena, yet team executives have appeared at various games along Toronto's schedule to make their presence known.

On Sunday, it was Clippers owner Steve Ballmer. The billionaire was in town on other business, but it did not go unnoticed that he watched the Clippers' third loss in their last four games from a courtside seat opposite his team's bench, where he had an up-close view of Leonard's 18-point, five-rebound performance.

Perhaps the only one who said he didn't see? Leonard.

"I don't really pay attention to who's at the game or anything like that," he said.

The Raptors, who traded for Leonard from San Antonio last summer, hope to bring Leonard back into the fold this summer for the same reasons as the Clippers. He is a rare kind of star, a force at both ends of the floor.

"Most players you game plan on one end," Clippers coach Doc Rivers said. "There are probably four guys in the entire league that you work on your end of the game stuff with him in mind defensively. It's hard because you know he's going to be on one of your good players, but you try to get him away from the action somehow and if you do that that means you're taking out one of your good players. He's just tough. He really is."
With his free agency looming, Raptors still don't know what they have in Delon Wright – The Athletic
In a perfect world, Wright would have helped the Raptors' reserves succeed and built his resumé as a capable solo point guard this year.

"They play a little bit better with each other, and that's understandable because the load's being shared," Raptors coach Nick Nurse said of Wright and VanVleet playing separately versus together before the Raptors stomped a tired Clippers team 121-103. "To say that they haven't had any success playing by their selves (isn't entirely true). … So, yeah, we'd like 'em to be able to carry it a little bit, but it's more burdensome when you're out there by your own, there's no doubt. You've got the team to run, you've got plays to call, you're probably involved in pick-and-roll defence a lot more when you're on your own, and things like that. It's a tougher job."

In other words, it is a starting point guard's job, the role VanVleet and Wright would like to fill at some point in their careers. It is a more interesting query for Wright since the Raptors are more likely to move on from him sooner due to his contract status. It could even happen before Thursday's trade deadline, although the smart money is always against a trade going down.

The Raptors were without Lowry on Sunday, so both VanVleet and Wright were going to need to run the show on their own at some point. Wright first got into the game late in the first quarter, and the bench-heavy unit did not score a single point for the final two minutes and 42 seconds of the quarter. It was like so many stretches of play Raptors fans have seen before — a lot of dribbling, a lot of Wright trying to use his shiftiness to get the defence to move around and a lot of tough shots at the end of possessions.
Valanciunas's looming return expected to boost Raptors, Ibaka – Sportsnet.ca
The Raptors' net rating has also suffered dramatically in Valanciunas's absence, dropping from 7.9 in the 30 games prior to 0.1 in the 23 games after. It's been felt at both ends, as the Raptors' offensive rating is down three points, while their defensive rating is up five. That can't all be due to missing one player, of course. It's much more correlation than causation. But being without Valanciunas plays its part.

Valanciunas is one of the team's best screen setters, and crucial to helping open up Lowry for good looks out of high screen-and-rolls. In Valanciunas's absence, the Raptors have tried to use Ibaka similarly with mixed results. In an effort to get Lowry going offensively, coach Nick Nurse has run plenty of plays that result in Ibaka screening for him, whether it's a quick dribble hand-off on an inbounds play or a more elaborate double staggered screen.

Ibaka's done his best, but he's much more of a pick-and-pop weapon as opposed to Valanciunas, who can cause real problems for defences when he rolls to the basket after setting screens. That only serves to make things more difficult for Lowry, as defenders can guard him closer without the threat of Valanciunas rolling to the rim.

"It puts pressure on the defence," Nurse said before Sunday's game. "The screener's hopefully freeing up the ball a little bit, and then the defence has to adjust to that. The roller's hopefully putting some pressure on the paint, and the defence has to adjust to that. And that should open up your reads from there. That's really the essence of a lot of what we do. I think a year ago we were number one in frequency of screen-and-roll in the league. So, it's a really important part of what we do."
Raptors' aspirations still dependant on Kyle Lowry's health – Sportsnet.ca
First things first: Raptors point guard Kyle Lowry was ruled out before the game due to a recurrence of back problems that cost him six games after the Christmas break, has already required injections for pain and anti-inflammation and may be a factor in Lowry's extended shooting struggles.

The Raptors clearly have huge potential in the Eastern Conference – even with a steady two-month drip of injuries and lineup shuffling. With the win over the Clippers, the Raptors improved their record to 38-16 ¬– second best in the East – and to a respectable 18-12 since Jonas Valanciunas (thumb) went down.

But there is no trade deadline deal or lineup shuffle that would be more important than Lowry returning to the high-volume, 40-per-cent three-point shooter that makes him such an effective weapon to initiate the Raptors offence.

Even when he's played, Lowry has struggled offensively – he's shooting just 30.6 per cent from deep over his past 11 games since his return – and the idea that Lowry's back can flare up at any time or prevent him from finding his form when healthy are difficult facts to put a positive spin on, or really do anything about.

Side-by-side with the Lowry worry was the presence of Ballmer courtside in what was believed to be his first visit to Scotiabank Arena. Now, it's not all that odd for an owner to accompany his team on a road trip but it's hardly a regular thing — particularly when Toronto is just recovering from the Polar Vortex, which seemed to miss L.A. again this winter.

One source suggested that Ballmer – who wants to build a new arena and practice facility so they no longer have to be tenants and second-class citizens to the Lakers at Staples Center – was touring the Raptors facilities on a fact-finding mission.