Jonas Valanciunas shines in debut with Memphis Grizzlies | NBA.com
Jonas Valanciunas didn't show any signs of rust in his debut with the Memphis Grizzlies, but it wasn't quite enough.

In a 108-107 loss to the San Antonio Spurs on Tuesday, Valanciunas gave the Grizzlies a huge boost off the bench with 23 points and 10 rebounds in 21 minutes of action. He did so efficiently, making nine of his 11 shot attempts and five of his eight free throw attempts.

In addition to it being the big man's first game with his new team, it was the first time Valanciunas has played since dislocating his left thumb in a win over the Golden State Warriors on Dec. 12.
The 76ers look like an Eastern Conference contender, but so far they haven't been able to hang with the best teams in the East. Philly is now 1-7 (.125) against the Bucks, Raptors and Celtics. The only East teams with worse records are the Bulls (0-7), Cavs (0-8) and Hawks (0-8).

— ESPN Stats & Info (@ESPNStatsInfo) February 13, 2019
Wednesday NBA preview: Washington Wizards at Toronto Raptors | The Star
NEED TO KNOW

Tuesday's snowstorm forced the Raptors to cancel practice, and thus might delay Marc Gasol's full integration into the squad. But the veteran centre's transition has unfolded smoothly so far. He came off the bench in Monday's win over Brooklyn and contributed 16 points, six boards and two assists in 22 minutes … A win Wednesday would give the Raptors a season sweep of the Wizards. When the teams squared off in Washington a month ago, Toronto earned a 140-138 win in double overtime.
Raptors Blog: Gasol's home debut was understated, but still something to behold | Toronto Sun
Those were some intriguing minutes from McCaw. He looked pretty comfortable handling the ball as an emergency point forward (Lin can't get here soon enough) going coast-to-coast at one point, got a couple of steals and even hit a three-pointer. It was the first time we saw flashes of what the Raptors liked about McCaw.

Anunoby twice did a Leonard impression – getting his big mitts into an opponent, resulting in steals and a dunk and a layup.

Brooklyn would be a tricky first-round playoff opponent for the Raptors. The Nets spread the floor like few others and have shooters everywhere. If they get hot, like on this night, they can be extremely dangerous. Plus they have big bodies who get after the ball and protect the paint. Not a walk in the park series by any means.

Brooklyn assisted on 10 of its first 11 baskets and on 33 of 46 overall. Kenny Atkinson runs a nice system, much like that of his mentor, Mike Budenholzer.

Actually, maybe getting a test run against the Nets wouldn't be the worst thing for the Raptors. It could serve as some good prep for a potential conference finals meeting with Budenholzer and the Milwaukee Bucks.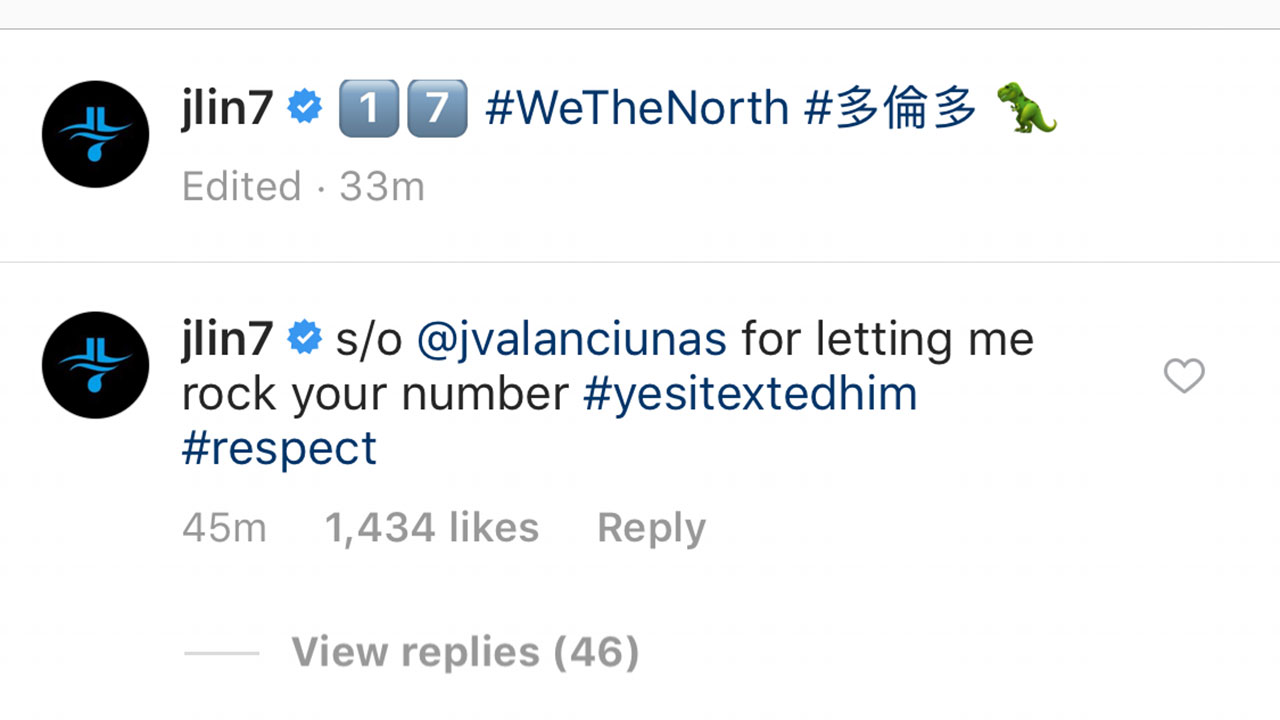 Chris Bosh Prepared To Retire | Hoops Rumors
Discussing his jersey retirement ceremony in Miami on March 26, Bosh acknowledged that he'll likely get emotional at that event since he knows "that part of my life is over."

"That has been a tough thing to deal with, but I'm good," Bosh said, adding that he was "still trying pretty adamantly" to get back into the NBA last year, particularly as he saw the success that stretch fives were having around the league. However, he's no longer continuing those efforts.

"That time has passed," Bosh said. "I've made the decision not to pursue it anymore."

According to Bosh, he plans to officially retire during that ceremony in Miami next month, two days after he turns 35. He joked to Simmons that he might be the first player to retire as a player on the same night that his most recent team raises his jersey to the rafters.

In 13 total seasons with the Raptors and Heat, Bosh averaged 19.2 PPG, 8.5 RPG, and 2.0 APG in 893 regular season contests, appearing in another 89 postseason games and earning a pair of titles with Miami. He also earned 11 All-Star nods and appeared on an All-NBA team in 2007.

While it's not clear yet what the next phase of Bosh's career will look like, he indicated that his health problems are under control and expressed some interest in a broadcasting job or an NBA front office role.
3 reasons signing Jeremy Lin was a perfect move for the Raptors
Toronto made a big splash at the trade deadline, acquiring Marc Gasol from the Memphis Grizzlies. However, in that deal, the Raptors traded C.J. Miles and Delon Wright, leaving them awfully thin in their backcourt.

Then, backup point guard Fred VanVleet suffered a thumb injury that will keep him out for several weeks. Toronto thought it had Ben McLemore all locked up, but complications with the CBA prevented the Raptors from signing the former Sacramento Kings guard to a 10-day contract.

So, basically, the Raptors' bench guards consisted of Norm Powell and…well…that's it.

But the, Toronto signed Lin, providing some insurance for Kyle Lowry and giving the Raptors a guy off the bench who can come into the game and create his own shot.

Don't underestimate how much that is going to help Toronto, especially with VanVleet now sidelined.

Lin is no world-beater, but the Raptors were literally left without a backup point guard after VanVleet went down. Now, Lin will give them a dependable veteran who can spell Lowry in spot minutes.
Marc Gasol Is Already Altering the Raptors' DNA – The Ringer
So when Nurse laughs almost giddily during postgame about Gasol's integration into the team dynamic, it's less about the here and now, and more about what the team might look like 10 or 15 games from now. It's been only two so far, but the Raptors are already seeing results. Gasol's influence is almost ambient—his identity is slowly permeating the rest of the team. Over the past two games, the Raptors are assisting on 71.1 percent of their field goals; Kawhi matched his season high in assists against the Knicks in Gasol's first game and then set a new one against the Nets. "And I just think that's kind of him, what [Gasol] brings," Nurse said. "He's not out of rhythm with us like you'd think he would be. … He makes a quick-hit [pass] and that guy moves it on, and sometimes there's three quick passes after his one quick pass."

Gasol's arrival has ushered in the kind of synaptic, read-and-react basketball that had long eluded the team. This season, the Spanish center has the ball in his hands for an average of 1.7 seconds per touch; only centers Chris Boucher (1.47 seconds, though he has played only 16 games) and center Serge Ibaka (1.63 seconds) make quicker decisions with the ball for the Raptors. But there is only one expectation for either Boucher or Ibaka: finish a play. Gasol, on the other hand, is initiating them. Maybe the best pass Gasol made on Monday was on an almost instantaneous read off a hard misdirection cut from Patrick McCaw on the left side of Gasol that freed Siakam for an easy cutting layup on the right.
Raptors Blog: Gasol's home debut was understated, but still something to behold | Edmonton Journal
The big man makes his presence felt when on the court, putting his stamp on the game. It might not have happened right away as he got used to things, but by the fourth quarter, Gasol had taken full control, show-casing the total package of his abilities, from deft passing (cut and you're getting a good look at the rim, as Patrick McCaw, Pascal Siakam and others quickly found out), confident outside shooting, and a rugged post game.

That was just the offence. On defence, Gasol acts as what Dwane Casey used to call "the radar." Like Tyson Chandler on the title-winning Dallas Mavericks, Gasol sees all, directs traffic and offers some stout deterrence toward would-be attackers. He also stays on the ground, using his bulk and long arms to make shots more difficult, while mostly avoiding fouling. He also has quick hands. If Gasol, Kawhi Leonard, Kyle Lowry, Siakam and OG Anunoby (or Danny Green) are ever out there at the same time, opponents are going to constantly be at risk of being stripped. That would not be an easy group to try to score against.

Gasol thrived with the reserves (and either Lowry or Green), but he also led a 10-2 run when he got a chance to play with the starting group.

We would start Gasol after the all-star break and bring Ibaka off of the bench as a primary scorer for that second group. His pick-and-pop game with Jeremy Lin should be good.

Brooklyn's Joe Harris deserves a mention. His shooting in the first half was bananas. Harris nailed five treys in the first quarter and shot 7-for-8 from beyond the arc in the half. Maybe bet on him at the three-point shootout (with apologies to Green, who will be representing the Raptors)?
The @Raptors cancelled practice today due to snowstorms in Toronto but @DGreen_14 still got his shots up as he prepared for @NBAAllStar #MTNDew3PT pic.twitter.com/QkHZM8sEqY

— Inside The Green Room (@GreenRoomInside) February 13, 2019
Which Playoff Contender Needs Markieff Morris the Most? – The Ringer
This would be the rich getting richer, sure. The Raptors just added Marc Gasol and Jeremy Lin to their bench—yes, Gasol is coming off the bench—and would use Morris to relieve a player who turned out to be the Eastern Conference's Most Pleasant Surprise, former bench player Pascal Siakam. Morris is a luxury, not a necessity. However, Toronto requires the constant reassurance of checking and double-checking all boxes. They're needy because they're scarred, and they're scarred because they've never had enough to make it out of the East. This might be Kawhi Leonard's only year in Toronto, and Morris could help make sure it counts.
Chris Bosh opens up about the incident that sealed his Raptors fate – Sportsnet.ca
During the interview, the 11-time All-Star chimed in on a variety of topics — including what the Anthony Davis saga says about the league today — but Toronto Raptors fans will want to tune in around the seven-minute mark, for an interesting discussion about Bosh's time up north.

While the Raptors' struggles to reach any kind of playoff success during Bosh's seven seasons with the club were well-documented, as was Bosh's departure to Miami in free agency in the summer of 2010, Bosh opened up to Simmons about a particular moment that made it abundantly clear his time in Toronto was coming to an end:

"I remember John Salmons was a free agent and it was between us and Chicago. So I'm like, 'Yeah, OK. Oh man, if we can get Johnny Salmons we'll be pretty good,'" Bosh told Simmons. "And I guess you would call it recruiting, trying to get in touch with him and stuff, and he took less money to go to Chicago. And that's kind of when I knew it was going to be a lot more difficult being in Toronto. So as soon as I could change my destiny and have an opportunity to explore other things, I was ready to do that."

(As it turned out, Salmons would eventually wind up in Toronto for part of a season at the end of his career, in 2013-14.)
Washington Wizards vs. Toronto Raptors Prediction, Preview, and Odds – 2-13-2019
Wiz trying to close out second half on positive note
It's been a tough first half for Washington. Not many teams have experienced losing their All-Star point guard to a heel injury for the season and a ruptured Achilles' tendon for the following season (likely). To make matters worse, John Wall is going to start a super-max deal next season worth $170 million for four seasons. They also lost center Dwight Howard for most of the season due to a back injury and after a horrendous start, which included a lot of dysfunction and in-fighting, the Wiz traded away Kelly Oubre Jr., Otto Porter Jr, Markieff Morris and Austin Rivers, adding Trevor Ariza, Jabari Parker, Wesley Johnson, Sam Dekker and Bobby Portis.

They've had mixed results with the additions. Washington is still one of the worst defensive teams in the NBA, allowing 116.7 points per game. After beating Cleveland (119-106) and Chicago (134-125) after the Porter for Portis/Parker deal, they lost at Detroit, 121-112 on Monday night. Some of the same issues were prevalent as they allowed the Pistons to shoot 41.7 percent from beyond the arc, 51.8 percent from the field and were outrebounded by 11. Brad Beal scored 32 points and dished otu10 assists to lead the Wiz, while Portis (24pts) and Arizona (23pts, 7reb, 5 ass.) both had strong games.

Washington was missing point guard Tomas Satoranksy (personal), who averages 8.0 points and 4.3 assists. Over his last 20 games, he's averaging 10.5 points and 6.8 assists. The Wiz don't lack scoring punch as they average 113.8 points per game (8th) on 47 percent shooting (9th) and 34.8 percent from 3-point range (19th). Rebounding is also a key issue as they are last in adjusted rebounding chance percentage and last in rebounds per game with 40.8.
Wizards take on Raptors before All-Star break | Washington Wizards
Success starts on defense

In the 10 games from January 1 to January 24, the Wizards were fourth in the NBA in defensive efficiency, only giving up 106.3 points per 100 possessions. Washington went 6-4 during that stretch, which included games against the Thunder, Sixers twice, Bucks, Raptors, and Warriors. However, in the 10 games since January 25, the Wizards are 26th in the NBA in defensive rating, allowing 117.3 points per 100 possessions. They may be 4-6 during that span because of their number eight offense, but Washington will only win in Toronto on Wednesday if the defense plays like it did during that January stretch.

Defending the Raptors will be no easy task; Toronto is seventh in offensive efficiency in the NBA. With Marc Gasol now in the fold, the Raptors can beat you in a variety of ways. Kawhi Leonard's isolation moves, the team's transition offense, and 3-point shooting are the Raptors' forte. When Gasol is not in the game, the Raptors typically play small with Serge Ibaka or Pascal Siakam at the '5' position. The Wizards like to play small as well, so this will likely be a face-paced game in the second half.

Last one before the break

It goes without saying that having the All-Star break so close can cause teams to play poorly in the final game before the week off. With the Wizards still pushing for a playoff spot, the team knows how big this win would be. The same focus goes for the Raptors; Toronto is only a game back of the Bucks for the top seed in the East and can't afford to drop this game at home to a sub-.500 team. Both head coaches will be preaching focus going into this one, and the Wizards will especially need to play together on both ends of the court to get the win. Washington has won the game before the break the past two seasons on the road, in Indiana and in New York.
https://www.instagram.com/p/Bty7dT4DEoo/
Gasol making immediate impact with Raptors – TSN.ca
It's been a hectic week. Gasol landed in Toronto on Thursday evening, mere hours after learning he had been dealt. He took his physical Friday morning and met his new team in New York, where he made his Raptors debut against the Knicks at Madison Square Garden on Saturday night. After a day to get settled – as settled as possible, given the circumstance – he played his first game in front of the home fans in Toronto on Monday.

"I try not to think about it too much," Gasol said, ahead of Monday's exciting 127-125 win over the Brooklyn Nets. "I go one day at a time and try to improve, take it step by step. I don't think about it like it's new to me, like, oh my God. This is great and I'm having a great time with it. That's how I'm approaching it. I'm approaching it with a lot of confidence, a lot of energy and learning approach."

Throughout most of the night, you could find – and hear – Gasol talking. He was talking to the coaches and to the support staff on the bench. He was talking to his teammates on the court. Whether he was in the game or on the sidelines, during play or in a timeout, he was talking.

This isn't that unusual for a new player looking to learn on the fly, but Gasol wasn't just playing catch-up. Even in his second game with his second NBA team, the 34-year-old was already directing traffic on defence, serving as a hub on offence and sharing his wealth of basketball knowledge.

"I was communicating what the other team is trying to do," the big Spaniard said. "Communicating to the bench what the other team is trying to run, tendencies, things I've picked up over the years. Just trying to help everyone."

"I communicate a lot with everyone and I believe that's important and an important part of winning. Communicating what you see, and obviously asking questions and sometimes giving answers, as well. It's a two-way street."

There are plenty of reasons why the Raptors jumped at the chance to land Gasol, many of which we've already seen glimpses of in his first two games with the team – his passing, his defence, his low-post savvy and ability to step out and hit the jump shot. But, as much as anything else, they acquired his mind.
Former teammates Davis, Carroll, think Gasol will give Raptors a huge boost | Toronto Sun
DeMarre Carroll, the Nets forward who started his career alongside Gasol in Memphis had similar thoughts.
"Biggest thing is IQ and winning, he got that winning experience," Carroll told Postmedia as he made his way out of the arena following the game.
"His IQ is amazing. He plays very unselfish, and I feel like he's going to bring a lot of those intangibles to the game. Those are things that you really can't find a lot of guys around the league that do those types of things. Of course he can score the ball and rebound the ball, do all those kinds of things, but I think his IQ and his winning ways are going to help (the Raptors) a lot," Caroll said.
Both Davis and Carroll think Toronto management has done some nice work in building a team that is clearly going for it this season.
"It's a lot of good, older veteran guys, with a sprinkle of a couple of young guys," Carroll said. "You just got to put it all together and see how it works and they're doing a good job."
"I think that Marc makes them better and they picked up Jeremy Lin, so I guess that makes up for losing Delon Wright and C.J. Miles," said Davis, who played with Lin for a season with the Los Angeles Lakers.
"Masai, he made some good moves, man. See if it pays off for him."
Why adding Jeremy Lin is a win-win for Raptors | The Star
Unless Dallas does something crazy, the Raptors will sign Lin Wednesday following his buyout from Atlanta. Lin is 30 now, coming off two injury-plagued seasons; Toronto will be his eighth team. The Raptors are loading up for a playoff chase. With everyone healthy, Lin will be Toronto's fourth guard, and will get a chance to help.
And he will be an icon. It's not something he asked for, but it's something he still carries.

"What he was able to do in just those two weeks — I will follow him wherever he goes," says Canadian actor Simu Liu, who stars on CBC's Kim's Convenience and whose parents brought him to Mississauga from China at the age of 5. "I've been a fan of every team he's ever been on. Until very recently, I was trying to keep up with the Atlanta Hawks, even though that was not a particularly fruitful pursuit.

"I see so much of myself in Jeremy not only because he's Asian, but because he's an underdog. He'd defined expectations that were put on him by everybody else. He said, I get to choose."

Lin is the NBA's first Asian-American player. He has carved out a respectable NBA career, and he unlocks some of the most powerful parts of the North American Asian experience: the stereotypes; the sense of perpetual foreigner syndrome; the lack of representation in a culture that never reflected them; the power when somebody does. So much is bound up in Jeremy Lin.

"One stereotype is we can be passive and timid, and … I see that a lot," says talented Toronto-based freelance writer Alex Wong. "There's some truth to that."