DeRozan relishing opportunity to be in comfort of old home – Raptors Republic
"There's a lot of things I miss about the city … I don't miss all the construction, I'll tell you that," DeRozan said. "But, my thing, just how different the city is. Living here, I always look at myself as the outsider, as an outcast. When you're here you kind of got that feeling of being in your own world. And that's one thing I definitely miss. You're part of the city. It just felt like a bubble when I was here, and I definitely miss that. And various things that the city has to offer: the restaurants, the great people, everywhere you go. I couldn't even get out of the elevator without a family saying such great things about me, and that gives a sense of comfort."

For nine years, cheering for DeRozan and cheering for the Raptors were synonymous, and such is his impact on the city and the franchise that both will happen on Friday. There will be a tribute and ovation in stark contrast to the receptions the Raptors' previous face-of-the-franchise stars have been showered with upon their first return. Mr. 'I am Toronto' dropping 50 while the Raptors pull away with a win will likely leave most of what will be a sold-out crowd at Scotiabank Arena leaving with all the feels. Some might even argue a loss wouldn't be all that bitter a pill to swallow. Something that, again, was the worst case scenario when the likes of Vince Carter and Tracy McGrady showed up in the enemy's jersey. It's something that he said he hasn't thought about, but wouldn't mind experiencing having been down the rabbit hole of YouTube player tributes.

"I watch certain shows and certain introductions for certain people and when they get that long standing ovation, I always thought that was the coolest thing in the world," DeRozan said. "I never received one so if it's one of them long standing ovations, it'd definitely be overwhelming because… it's crazy when people get on their feet showing their appreciation, so … I don't know, I'm looking forward to it, to feeling the love, just going out there competing and making it a good outing."

"Time does heal everything, but that doesn't mean it's going back to the same way that it was. You know?" DeRozan said. "I'm fine with that. I've moved on, I'm happy where I'm at. I root for every guy that I played with on that team, I root for them every single night. I talk to most of the guys. So that part ain't going to change, but I moved on."

He was clear in expressing he has no plans on speaking with Ujiri and that Kyle Lowry is the person he's most looking forward to seeing. He may not be hurt anymore, but there was damage done. He described the situation as expressing love for a girl and that the feeling doesn't go away just because she doesn't feel the same way, but also recognized that both parties seem happy with where they are now and that's all that matters in the present moment.

Oh, he'd also like to have a chat with Serge Ibaka about a bet on the Raptors centre's cooking show 'How Hungry Are You?' that he would drop 50 in his return and that he'd get him with his patented pump-fake. And that's what drives him heading into Friday. The chance to relive those moments where they went at each other every single day, chasing the same dream.

"I think the San Antonio game with me was just extremely fun, it was the most fun in the sense of you going against guys that kinda came under you and seen them evolve like Freddy [VanVleet], like Pascal [Siakam]," DeRozan said. "I remember when they were back and forth in the G League coming up playing, seeing them, competing against them, talking trash with Kyle, talking trash to Serge, that just brings out a different excitement of compete level because it takes me back to all them days in training camp beating up on each other, practice, shootaround, the ups and downs, so it kinda made it fun.
Twitter Pokes Fun at How Far Apart LaMarcus Aldridge and Kawhi Leonard are Standing In All-Star Photo | ArtSlut
If you were expecting any drama between LaMarcus Aldridge and Kawhi Leonard, we're sorry to disappoint you. But maybe you can join us in laughing at the two standing nearby each other in a photo of Team LeBron.

"Nearby" seems to apply here, since there's no way to claim the pair are standing next to each other.

We're not body language experts, but a lot of folks on Twitter are claiming to be after seeing the huge gap between Aldridge and Leonard, who played together on the Spurs for three seasons before Leonard's dramatic trade to the Toronto Raptors.
Top 100 quotes from the first half of the NBA season
"I used to enjoy a 40 once in awhile, back in the day. In a brown paper bag. Remember those?" – Jack Armstrong to Matt Devlin on a Raptors broadcast.
NBA Take Meter: The Stretch Run, Part 2 – The Ringer
Any Siakam-Leonard comparison should be heard out. Both came into the league advanced on defense and developed their offensive game over time. The postseason can easily startle a young player whose reputation is rooted in shooting or scoring—defenses are better, smarter, and more specifically catered to stop attacks. A defense-first mind-set isn't shaken as easily, because the player's mojo isn't reliant on field goal percentage. Siakam's lateral speed propels him around the court like he's in a pinball machine, and he hasn't lost that energy as his opportunities have increased (which explains his bursts to the rim when he is scoring—which, it should be said, he does quite well).
Dunks, Deflation and Devastation: 20 years of memorable moments at home with the Raptors – The Athletic
Twenty years ago Thursday, the Toronto Raptors and Vancouver Grizzlies played the first NBA game inside the then Air Canada Centre.

A lot has changed since then: The Raptors and the Grizzlies have both changed their uniforms, with the Raptors eschewing purple from their colour scheme and the Grizzlies getting rid of teal; the Grizzlies now play in Memphis, not Vancouver; Rod Black has gotten rid of his signature moustache, while Herbie Kuhn has gone from baby-faced to bearded; hell, most people reading this probably don't even know the song "Adam's Rib," a banger now, then and forever, by Melanie Doane, who sang the national anthem — singular. Even the name of the building has changed, from the Air Canada Centre to the Scotiabank Arena.

One thing has remained the same, though: When Vince Carter is inside those walls, he is the story. That was true in January, when Carter returned with the Atlanta Hawks, and it was true on Feb. 21, 1999, too.
DeRozan likely to receive warm welcome in Toronto return | FOX Sports
"If it's one of those long standing ovations, it's definitely going to be overwhelming," DeRozan said in a news conference at the Spurs' team hotel. "It's crazy when you get a whole arena on their feet just showing appreciation. I'm looking forward to it, to feeling the love."

Friday's game will be the first following the All-Star break for both teams. Toronto (43-16) has won six straight, and is is one game behind Milwaukee for top spot in the Eastern Conference. San Antonio (33-26) beat Memphis in its final game before the break to stop a four-game slide. The Spurs are seventh in the West, nine games behind leaders Golden State.

There wasn't much love on offer when the Raptors visited the Spurs in January. Toronto forward Kawhi Leonard endured chants of "Traitor! Traitor!" and "Quitter! Quitter!" from the capacity crowd that adored him during his seven seasons in San Antonio.

"It just felt like a road game, but more boos when I have the ball," Leonard said after the Raptors practiced Thursday. "Environments like that can only get us better, being able to have the fans up in their seats excited, wanting the team to lose, it just prepares us for the playoffs."

Leaving Toronto last summer was difficult for DeRozan. Still a teenager when he was drafted by Toronto in 2009, he turned into an All-Star by 2014, building his game year after year. He left town as the franchise leader in points (13,296), field goals (4,716), free throws (3,539), and games (675).

DeRozan compared the emotional wounds left by the end of his Raptors career to a breakup, albeit one with a happy ending.

"She moved on and I moved on," he joked. "Now we're both happy."

Toronto coach Nick Nurse worked with DeRozan for five years in his role as a Raptors assistant, and called him "the best dude ever."

"He was easy to coach," Nurse said. "He was easy to talk to. And he was a great performer."

DeRozan certainly performed when the Spurs routed the Raptors in January, recording 21 points, 14 rebounds and 11 assists for his first career triple-double. It was the first home triple-double by a Spurs player since Tim Duncan in 2003.

The visit to Toronto also gives DeRozan the opportunity to compete against former teammate and friend Kyle Lowry, who missed the game in Texas because of a sore back.

"I'm looking forward to playing against him," DeRozan said. "Kyle gave me a sense of a different side of understanding basketball. I learned so much from him being my point guard, being my best friend, just everything hat came with that."
Leonard remains focused amid hysteria of DeRozan's Toronto return – Sportsnet.ca
"That one had to sting a little bit," Nick Nurse said Thursday, sitting at a black table on a podium at the Toronto Raptors practice facility just off Lakeshore Blvd., eyeing a teal mug he'd placed to his left.

The head coach was, of course, talking about the last time his team played Friday's opponent, the San Antonio Spurs, back in early January — a frenetic, emotional, ruthlessly unwelcoming night for the Raptors in Texas.

It was an ambush. The Raptors entered lackadaisically, riding off a pair of easy mid-season home wins, and encountered a Spurs side — led by old friend DeMar DeRozan — with bad intentions. San Antonio was up 10 just four minutes in. They were up 20 six minutes later. Midway through the second quarter, as the Spurs ran their lead to 25, the game was essentially over.

It still stands as Toronto's second-most lopsided defeat of the season, one that hurt just a little bit more considering it was Kawhi Leonard's intensely built-up return to San Antonio, the city where he spent the first seven seasons of his career — winning a championship and NBA Finals MVP in 2014 — before he reportedly requested to play somewhere else last summer.

Leonard heard it from the crowd all night. They booed him in the lay-up line during warm-ups. They booed each of his 55 touches during the game. They booed him as he walked off the court with his dejected teammates after the embarrassing defeat. The fact that DeRozan went off for a triple-double, his first in 764 career NBA games, was a perfect piece of poetry to tie the entire experience together.

"I don't think that you have that many in an NBA season that you say, 'Oh, geez, last time we played Indiana, they got us.' And you're still mad about it a couple months later," Nurse said. "But that one stung a little bit. And hopefully our guys are going to go out there and play with that kind of attitude to erase some of that sting."
Leonard cool with DeRozan lovefest after rough return to San Antonio | The Star
He will hear the cheers for the visiting DeRozan just like he heard the thunderous boos on his return to San Antonio last month, and he will shrug and go about his business.

"(It's) just the journey that we're trying to accomplish of going out every night, no matter who we're playing," Leonard said Thursday, a day before DeRozan and the Spurs pay their only visit to Scotiabank Arena this season. "Trying to give 110 per cent effort and once playoffs come, hopefully we're the best team we can be and keep striving to our goal."

A sentimentalist, Leonard is not.

"He's a very even-keeled guy," Raptors coach Nick Nurse said. "He has done it and been to the highest level, a championship game, and won it and was the finals MVP. So I would imagine that once you get to those things that these regular-season games just don't move your meter as much.

"I don't think he has any personal agenda here. He didn't say 'trade me to Toronto.' He was just a guy who was moved to Toronto, and he's trying to have a great season with his team. He always talks about winning with his team. He's trying to have a great season professionally and continue to move on."
Raptors host DeRozan, Spurs as favourites on Friday NBA odds – Sportsnet.ca
That unevenness also extends to games in which the Raptors are pegged as big home favourites. Toronto is 27-3 SU in its past 30 regular-season contests while favoured by eight or more points on home hardwood, but has covered in just seven of its past 18.

The Spurs and former Raptor DeMar DeRozan arrive in Toronto mired in a slump, both on the floor and at the sports books. San Antonio returns from the All-Star break amid its longest road trip of the season, which it opened with four-straight outright losses. The team closed out the unofficial first half of the season with a narrow 108-107 win in Memphis as 7-point chalk, but has failed to pay out on the odds in eight-straight contests.

San Antonio's recent shaky play has left it precariously perched in a tie with the Utah Jazz for sixth place in the Western Conference standings, just one game up on the eighth-place Los Angeles Clippers.

And the Spurs' inconsistency has done little to boost their position on the NBA futures. San Antonio continues to trail at a distant +7000 on the NBA championship odds, and is pegged as a lengthy +3500 wager on the Western Conference championship odds.

In addition, the Spurs have struggled in recent dates with the Raptors, going 1-5 SU and ATS in their past six meetings, but posting SU wins in three of their last four visits to Toronto.
DeMar DeRozan all set for emotional return to Toronto
I think it will definitely be one for the ages," DeRozan said. 'It's something where you think you've experienced everything, but that will be an interesting moment."

In the first matchup between the Spurs and Raptors this season in January, DeRozan recorded his first career triple-double, scoring 21 points, grabbing 14 rebounds and handing out 11 assists.

Clearly he was fired up to face his former team, telling reporters as much after that game.

"You've got to love to play in that type of atmosphere, whether it's at home or on the road," he said. "It kind of fuels you, kind of gets you going.That's what made it so fun."

Raptors center Marc Gasol, who was traded to Toronto two weeks ago after spending 10 seasons with the Memphis Grizzlies, knows emotions will be running high.

"I don't know for him," Gasol said. "I can only imagine how many emotions, how weird it must feel to go pretty much into your own arena and go into the other locker room."

DeRzoan is scheduled to meet with reporters Thursday at a hotel in Toronto.
Understated Kawhi says tomorrow is just another game. No point to prove against Spurs. Expects juices to get going when the playoffs come. On new chemistry says players will have to figure out which sacrifices need to be made (to make it all work).

— Ryan Wolstat (@WolstatSun) February 21, 2019
One day the Raptors will honour their best. DeMar should be first | The Star
From the time DeRozan arrived in Toronto as a shy, quiet teenager taken ninth overall in the 2009 NBA draft until his departure as a grown man nine years later, he comported himself with dignity and a single-minded approach to make the Raptors a consistent winner.

He re-signed in Toronto not once but twice, and truly wanted to spend his entire career with the Raptors; he left every summer determined to come back a better player and he did, improving in some specific facet of the game each off-season.

He suffered through a dismal start to his career — Toronto was 22-60 in his rookie season — and left with the Raptors among the consistently strong Eastern Conference teams over the last half-decade.

But in every imaginable metric he is the kind of player a franchise would want to honour and to hold up as an example of what the team wants to be.

The question is, how do they do it?

It is possible to honour a player who still presumably has years left in his career and who might still reach greater heights.

Would it be fitting to hang a No. 10 jersey from the rafters knowing the forgettable Milt Palacio and Uros Slokar wore it before DeRozan? For that matter, what of Carter's No. 15 that's been worn by four players since he left: Greg Monroe this year, Anthony Bennett in an undistinguished half-season, and the equally loved Amir Johnson and Jorge Garbajosa?

The list could continue with others and would take some solid public relations work by the Raptors to separate one from another.

Maybe the answer is to do something like the Maple Leafs have done with their Legends Row of sculptures outside the arena, or what the Blue Jays have done with their Level of Excellence around the lip of the Rogers Centre.
Analyzing Toronto's starting lineup: Should the Raptors start Marc Gasol? – Raptors HQ
Leaving aside Valanciunas for the moment, the Raptors can't be happy with the effectiveness of their starting group. Last season, the Raptors were playing Ibaka at PF, a position many believed he was no longer suited for, had a rookie small forward starting on the wing, and had to deal with the twin effect of DeMar DeRozan's lacklustre perimeter defence and Valanciunas' lack of foot speed as a help defender.

And yet, after upgrading Anunoby to Danny Green (one of the best perimeter defenders in the league), and DeRozan to Kawhi Leonard (again, one of the best perimeter defenders in the league), sliding Ibaka to centre and making room for the breakout year of one Pascal Siakam, this year's starting lineup is posting worse numbers than last season's.

Some of that could be explained away by the rough return from injury Kyle Lowry had after missing a month of games with a bad back — looking only at data from before Lowry went down in December, the lineup's net rating rises to +11.1 — a better number, but hardly the significant upgrade on last season's +9.4 you'd expect. And still well short of the Valanciunas lineup.

Even then, though, the lineup has been buoyed all year by a hot start and has been plummeting in effectiveness ever since. Even looking at the assumption that Lowry's struggles returning from injury were a cause of the drop off doesn't hold up — in the past 5 games (all wins), Lowry has shot 46% from long range on nearly 9 attempts a game, a true return to form. And yet, over those 5 games (playing in three of them), the Ibaka starting lineup has managed only a +7.8 net rating. Still fine, but the team is not aiming for fine.
Bigger things on Raptors' minds than looming Spurs showdown – Sportsnet.ca
Adding new characters to an already-established storyline is a trademark of any great drama.

The Sopranos did it, introducing Steve Buscemi's Tony Blundetto four years into the show's run. It happened on The Wire, where the character Michael Lee, who would play a pivotal role in the show's narrative, wasn't brought on board until the penultimate season. Breaking Bad did it so well that one of its later additions, Saul Goodman, got his own spinoff.

The Toronto Raptors have introduced new characters to their own drama, too. And, like Tony, Michael, Saul and others before them, Marc Gasol and Jeremy Lin figure to be major parts of the Raptors' story from here on out.

On the heels of the NBA's all-star weekend, this is a busy and important week for the team, despite just one game on the schedule before the weekend. Of course, that game is a significant one: the return of DeMar DeRozan for the first and only time this season following the shocking trade that sent the lifelong Raptor to the San Antonio Spurs in exchange for Kawhi Leonard and Danny Green.

It began, officially, with a lively practice that ran for nearly two hours on Wednesday night.

Afterwards, the new guys — Gasol, Lin, former Raptors 905 standout Malcolm Miller, and recent signee Jodie Meeks — along with sophomore Chris Boucher stayed on the court, going through several plays in the team's halfcourt set.

Assistant coach Nate Bjorkgren was the quizmaster, calling out a series of play names and guiding the players through as they attempted, mostly successfully, to execute the various sets they've been working to memorize since joining the team — all in an attempt to get up to speed in time for the stretch run of the regular season.
Pascal Siakam Turns The Toronto Raptors Into T-Rexes
During his two years at New Mexico State, Pascal Siakam roamed the interior exclusively. He found great success in that role, and that effectiveness followed him to the NBA. The Raptors let Siakam work in the post where his endeavors prove fruitful. Although he lacks a vast array of moves, his footwork is stellar and his touch soft, especially when he's close to the basket. Additionally, Siakam has become quite adept at drawing fouls. His free throw attempts have rocketed up to 3.7, and he's shooting 79.0 percent from the line. Defenses can avoid getting torched by sending a double-team, but Siakam's becoming better at finding the open man. The Raptors, however, aren't a great three-point shooting team (34.6 percent), so that's a risk the defense could be willing to take.

According to NBA.com, 56.7 percent of Siakam's made shots are assisted. Even though he's a terrific player, defenses are going to hone in on Kawhi Leonard and Kyle Lowry regardless, but those two are excellent playmakers and routinely find Siakam in a myriad of ways. They have confidence in his shot making. And he has confidence in their passing. The attention they receive helps open up shots for everyone, and, as a result, Siakam has become more comfortable with his range.

In college, Siakam attempted 17 threes in 68 games. As a rookie, he shot seven triples in 55 contests. That amount ballooned to 132 last season. This year, he's averaging 2.4 threes per game, which is modest. However, he's shooting 34.1 percent, a 12.1 percent rise from last year. Nearly all of his attempts are catch-and-shoot, and he's buried 35.1 percent of them.
Newcomer Jeremy Lin said he accidentally put on Lowry's gear before practice today because he's used to wearing No. 7, was wondering why nothing fit right. "I was like, this is weird. Then I realized, oh, I'm not 7 anymore."

— Josh Lewenberg (@JLew1050) February 21, 2019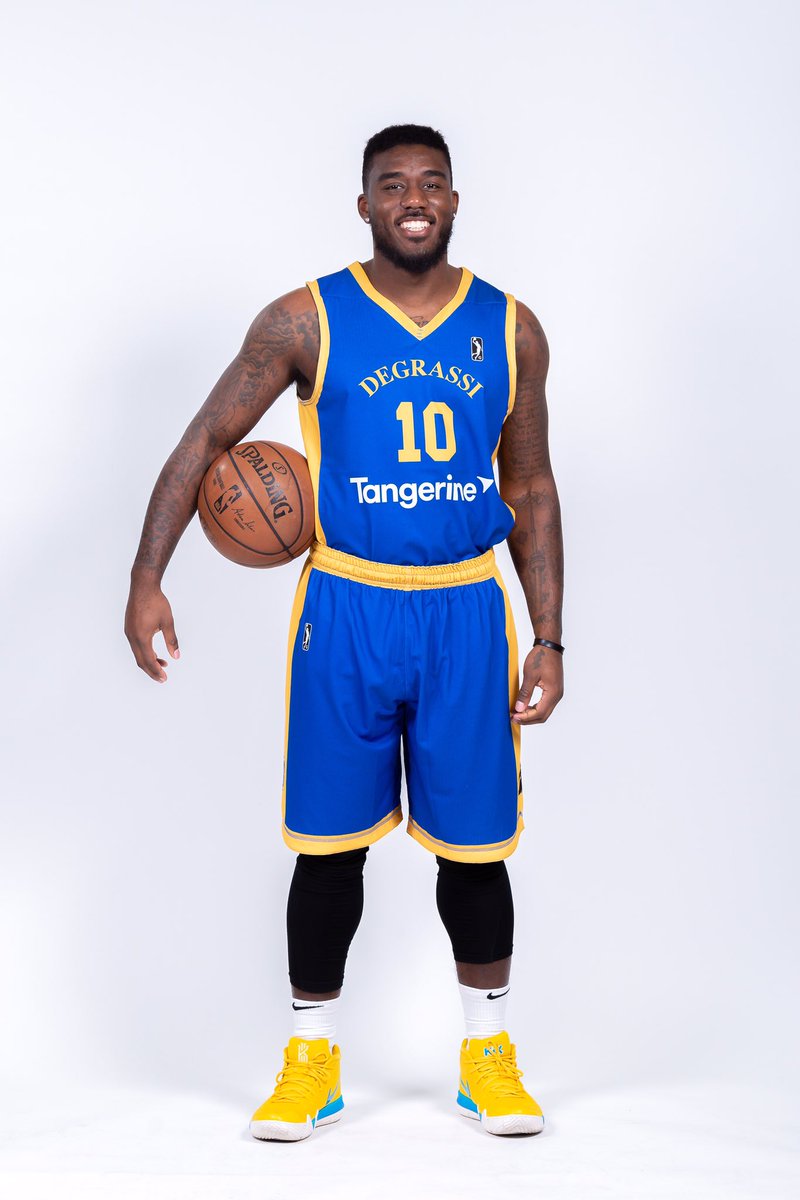 Raptors 905 wearing special Degrassi-themed jerseys this weekend | Daily Hive Toronto
The Toronto Raptors' G League affiliate in Mississauga will be donning blue and gold Degrassi jerseys on Saturday beginning at 2 pm ET, with a theme game that is sure to get a lot of attention.