After all that voting, after all that hoopla, Kyle Lowry made it.

He overtook Dwayne Wade and was second behind John Wall. Here's how Lowry, Wade and Wall matched up:



Rk        Player Age  G   MP  FG%  3P%  FT% TRB  AST STL BLK TOV  PTS

1     Kyle Lowry  28 42 34.8 .428 .329 .799 4.9  7.5 1.6 0.2 2.6 19.8

2    Dwyane Wade  33 32 32.5 .489 .319 .732 4.0  5.5 1.1 0.5 3.2 21.8

3      John Wall  24 43 35.5 .457 .311 .776 4.3 10.0 2.1 0.6 3.7 17.0


Congratulations to Kyle Lowry! Fully deserved! He's easily the most valuable player to his team amongst these three, and I'm glad he was able to overcome the Raptors recent slump. I'd say the fans more than righted the wrong of last season. He overcame a 100K deficit to catch Dwayne Wade since the last voting results were announced. Lowry finished with 805,290 votes to Wade's 789,839.
Side note: Jonas Valanciunas was 8th.
Here's the specific clip of the announcement and the TNT crew reaction:
Couple snippets from the NBA.com press release:
In the most recent results, announced two weeks ago, Lowry had leapfrogged Irving to move into third place but was still over 100,000 votes behind Wade, with 406,974 votes to Wade's 507,326 . But the Raptors campaigned hard for Lowry, with social media support from people like hip-hop star Drake and Canadian Prime Minister Stephen Harper, which apparently rallied enough support to push the 28-year-old Lowry, who has never been an All-Star, into the starting lineup. Lowry finished with 805,290 votes to Wade's 789,839.

Kyle Lowry, Raptors — In his ninth NBA season, for the last few seasons Lowry has been the Eastern Conference player probably most deserving of an All-Star nod that never came. This season, Lowry is averaging 19.8 ppg, 7.5 apg and 4.9 rpg, career highs across the board.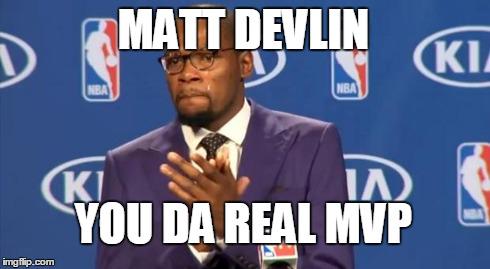 Statement by Lowry:
Thank you to the wonderful Raptors fans across the NBA, especially in Canada! I am amazed by your passion for our team and the support you have given me. When I re-signed here this summer I said one of the great things is being able to play for an entire country. This is further proof how really special that is.
Some pics via Instagram, Lowry's house before the announcement:
Lowry's house after:
Related: Justin Bieber Makes a Muck of Voting for Kyle Lowry