When Nick Nurse was hired as the Toronto Raptors' head coach last June following the firing of Dwane Casey, it was with the assumption that he would be an upgrade when it came to micro-level details, an area that Casey had, at times, struggled in. This confidence that Nurse would prove to be a minutiae master had stemmed from Toronto's successful incorporation of a new offense last season, one that had prioritized ball movement and off-ball action, and that had held up to the pains and strains of playoff pressure.
Now at the helm of the club and just over a quarter of the way through the 2018–19 season, Nurse has already had his fair share of ups and downs, a typical progression for anyone getting used to a new job. Luckily for the Raptors, the ups are slowly becoming more regular than the downs, especially recently, and as Nurse continues to get a feel for his roster, picking apart what works and what doesn't, it's looking more and more like Toronto made the right choice.
While Nurse is constantly honing both his micro and macro-level detail management skills, and ultimately working towards unleashing a maximized version of this Raptors squad, there are already clear indications that his reputation concerning minutiae is not unfounded. One such indication has been consistent since opening night, and has certainly helped push the Raptors into the upper echelon of the league: After-timeout plays.
In a vacuum, these plays may seem small or even insignificant, but take a step back and it's easy to see how much of an impact they can have on a game as a whole. Aside from the obvious (a sideline out of bounds play in the final few seconds for a game winning shot, for example), a successful play out of a timeout can expose an opponent's weakness, can give the team running the play a burst of confidence, and can spark runs that may shift the momentum of the contest entirely.
Nurse's Raptors, after exiting a huddle, play drawn up and ready to go, are one of the most lethal teams in the NBA, whether inbounding the ball from the sideline or baseline. Per pbpstats.com, Toronto scores 123.1 points per 100 possessions in these situations, second-best only to the Golden State Warriors, who score 124.1 points.
Interestingly enough, however, the Raptors also have a shot quality percentage of 45 on these looks, tied for third-worst in the league, per pbpstats.com. This isn't shocking, since the model pbpstats.com (a fantastic website) uses to assume shot quality prioritizes things that the Raptors have a proclivity not to do out of timeouts. For example, the model assumes that better shots will come the quicker they are generated in these situations, and the Raptors rank second in the league in seconds per possession (18.9), meaning that they tend to hang onto the ball until late in the clock.
So, then, if the Raptors are ignoring the majority of the sensible components that make up pbpstats.com's shot quality model, how is it that they are still managing to be so effective scoring coming out of timeouts? As one may surmise, it's because the Raptors are, in a fun, off-the-beaten-path-type way, quite good at things that the model does not prioritize, or does not include at all.
Like most teams, Toronto doesn't have a certain subset of plays they turn to when coming out of timeouts. Instead, plays are chosen situationally, which is part of the reason it's impressive when a coach can consistently pick and choose what will work best at any given moment. Despite the numerous sets being used on a game-by-game basis, however, there are still trends that develop due to things such as personnel specialities/limitations. For the Raptors, those trends have manifested themselves in the form of short midrange shots and corner threes.
While most of Toronto's shot attempts out of timeouts are spread evenly, from above-the-break threes (19th in the league) to shots at the rim (18th in the league), they are 10th in the league in attempts (22.9 per 100 possessions) from the short midrange. What makes the 4–14 foot zone special for them is that they're shooting 51.5 per cent from there, good for second-best in the NBA. That shouldn't be so surprising, with midrange snipers Kawhi Leonard and Serge Ibaka averaging the most field goal attempts per game on the team.
Here, the play is run to try and get Leonard a look, but it doesn't quite turn out that way. Instead, with only two seconds on the clock, Ibaka comes over to screen Danny Green's man, who rockets around the pick and catches the inbounds pass from Kyle Lowry. In the far corner Fred VanVleet is open, but time is limited, and there's enough space for a solid midrange look with the Magic worrying about Leonard and Ibaka hanging around near the top of the foul line. So, Green squares up, rises, fires. Cash.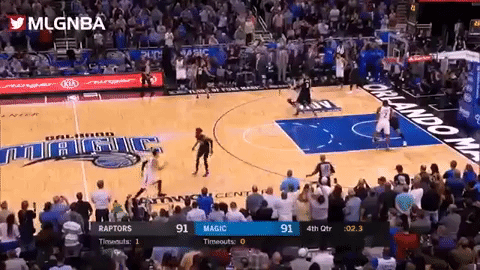 In a league that emphasizes three-pointers and shots at the rim, the Raptors seem out of place. And indeed they are: The league average percentage for makes in the short midrange out of timeouts is just 37.8 per cent, an attestation that shots from that location aren't generally looked upon as ideal. Even so, Toronto has made a comfortable home there, and with the success they've achieved thus far, it would be surprising to see them move away from those types of shots.
More in line with modern league norms, however, the Raptors take the fifth-most corner threes (10.6 per 100 possessions) in the NBA when coming out of timeouts. They shoot only 31.2 per cent on those looks, but that's actually a better percentage than three of the four teams (Houston, Phoenix, Milwaukee) that sit in front of them in terms of attempts. Other than a shot right at the rim, a corner triple is near-universally considered to be the next easiest shot in the game, and the Raptors have a plethora of guys (Leonard, Green, Lowry, Fred VanVleet, CJ Miles, etc.) who are likely to drain those looks.
In this example, Lowry puts the ball into play and then receives a screen from first OG Anunoby, and then Jonas Valanciunas. With the Wizards packing the paint in front of him, cutting off roll action and any chance he has to get to the rim, Lowry is able to spot Anunoby, who has since drifted to the corner, and makes a fantastic skip pass to hit him right in his shooting pocket. Anunoby pump-fakes once as his defender flies by, and then calmly rises and knocks down the triple.

If the Raptors don't score on their initial attempt out of a timeout (they usually do, as they're ranked second in the league in first chance points with 103.3 per 100 possessions), they'll simply snag the ball again and score on a put-back. The team manages 7.9 put-back points per 100 possessions, ranking them fourth in the league, somewhat unexpected for a team that otherwise isn't particularly aggressive on the offensive glass.
In this play, with Wright handling the ball again, both Miles and Ibaka come to the top of the arc to set screens. Miles then continues on down the weak side and screens Green's man in the corner, while Ibaka waits to screen Miles' man as the latter turns around. Green slips down towards the rim, and Miles pops back out to the three-point line to catch the ball. Without the proper space for a good look, however, he fires it back to Wright, who, after receiving an Ibaka screen, is unable to find his big man on the roll, so he instead kicks it over to Green, who by now has returned to his home along the three-point line. With the shot clock running low, Green decides to drive to the rim and put up a floater, which bounces off back iron before Ibaka, rising impressively over Nikola Jokic, snatches it and drops it gently back through the mesh.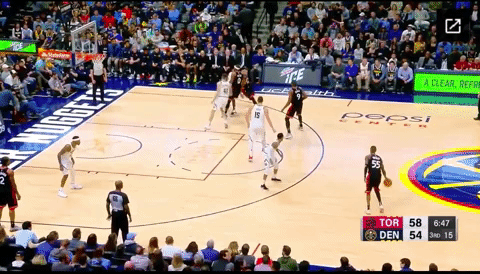 If opponents have managed to keep the Raptors from scoring right away or from racking up second-chance points, it will likely be because they have fouled them at some point along the line. Toronto leads the league in fouls drawn per 100 possessions (36.1), and they are fourth in both free throw attempts per 100 possessions (33.7) and free throw points per 100 possessions (26.4).
Here, Leonard receives the inbounds pass from Delon Wright, and Ibaka immediately comes up to set a screen. Leonard rejects the screen and barrels into the lane, stopping short with Meyers Leonard hanging around beneath the rim. Intelligently, Leonard then pulls back out and isolates on the big man, pleased with the mismatch, before driving hard past him and using his strength to get to the basket. He just misses, but manages to get fouled. This is a simple play, but when you have a superstar on your team, sometimes all that's needed is forcing a quick switch.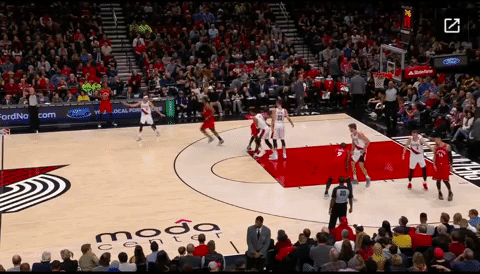 Simply stated: One way or another, the Raptors will put points on the board after a timeout.
Indeed, while the looks they generate may be considered more difficult because of their affinity for the short midrange, or because they hold onto the ball for a lengthy period before shooting, or because they don't prioritize threes and at the rim attempts as much as other teams, the Raptors have still found ways to not only be effective coming out of a huddle, but to be one of the most effective club in the league.
Nick Nurse is still new to his position, and no matter the experience he had prior to taking over as head coach, will continue to need time to learn and grow to fully realize his potential, just as players do, just as anyone does. But if one were starving for substance, longing for immediate evidence that the organization made the correct choice last summer, all they would have to do is watch and wait for a timeout to see that the seeds are planted.
The minutiae master is in there. One just needs to look closely.