It's not all that often I'm right. It's even less often that I get to gloat about it.
But…POINT STANIMAL, BABYYYY.
I was all up in that (I submit topic #3 as Exhibit A, Your Honour).
You love to see it – too little, too late, but whatever – not because it has any real impact for the Raptors, but because you always want your boys to get paid.
Stanley was a project. Still is. One outburst against a lazy-ass Chicago Bulls team (they deep, deep down know they're not gonna get that last Play-In spot – how Freudian) is no metamorphosis-moment, as Louis Zatzman reminded us in the recap.
The Raps know what he is and where he is in development. I mean, he scored more points in one meaningless game than he did in the last 9 games (12 if you include the DNPs) and half of those points came against Oklahoma City. So, like, measured excitement.
NONETHELESS.
Before I cramp your Friday optimism with such puritanism, it's a great sign for a lottery pick who stood at the precipice of Bust Abyss. He's slowly redeemed his value through scrappy, persistent defence and the odd "flash" of offensive capability (he was 6/13 from three last night…) over the last two years. It was not too long ago that Stan looked to be a completely useless signing. That's what I call progress!
Most importantly, for Stanley, it shows prospective signors that he's (A) developed and (B) developable. That'll save him from heading overseas; I am sure he's to get another NBA contract.
I'm not opposed to the Raps grabbing him at the right price either. With his power, versatility, court vision, and youth – an OG-lite-lite – Stanley's potential continues to ripen. The question is if will he'll ever fall off the tree. It helps that he's found some humility in the process:
(He said "MFer." I am not censoring him.)

— Blake Murphy (@BlakeMurphyODC) May 14, 2021
The Skinny
The end is nigh. T-2 'til we're outta Tampa (🤞 , 🙏  , "💰→⛲").
Until then, it's another Training Day – if only Denzel were on the sidelines barking at GTJ like he's Jesus Shuttlesworth, whoops, wrong movie.
More Stanimal time. More Aggro-Jalen time. More Birch-back-to-the-basket time. More Bembry-double-clutch-reverse-jams time. More…Baynes/Birch and Baynes/Gillespie 2-3 zone times 🤢 .
But, hey, that's what you get for seven years of Playoffs glory and then wanting a Lottery pick.
The Raptors are officially locked in with the 7th-best odds in the June 22nd draft lottery. They'll have a 7.5% chance of landing 1st pick and a 31.9% shot at moving into the top-4. Mathematically, the lowest they could fall is 11th but they're virtually guaranteed a top-10 pick.

— Josh Lewenberg (@JLew1050) May 14, 2021
THIS IS WHAT YOU WANTED.
You want a shot at Jalen(s) [not that we need another with Mr. Harris in the house, am I right or what!?]!? Well, then, you better damn well watch these last scrimmages like it's Clockwork Orange: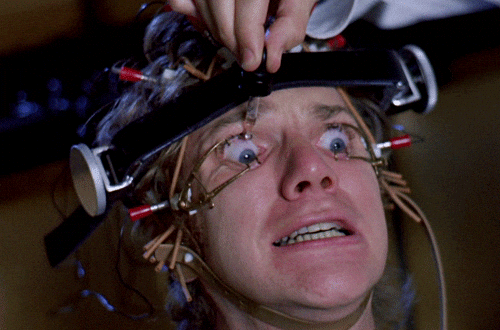 Ya, I know it's ugly. But if you want dessert? You gotta eat your boiled Brussels sprouts first. That's the deal.
No lottery speculation/fantasies until these last two games conclude. That's the penance we all must pay.
Now, I for one like Brussels sprouts – especially if you char those bad boys. These meaningless games are, indeed, a rarity for a successful franchise.
It's a treat to get to see the 12th guy on your team be the primary point of attack in an NBA game. No more sudden yanks by a contemptuous, dead-eyed, Nick Nurse. There's nothing to salvage; there's, conveniently, no one to replace them with either.
Instead, these guys get complete freedom to experiment and fail. This is how you learn. This is how you get better.
I love watching Flynn and Harris enact lessons learned from Coach Kyle and Fred – like the Bum-Seal™. I love watching Stanley assert himself and control [parts of] a game. I love watching Yuta try and be more than a one-millisecond drive and kick attacker. I love watching Aro…I love watching Deandre' Bembry find the balance between balla and baller.
We rarely get to see this kind of individual growth in-game. Young, deep roster dudes can go years without getting any real opportunity to play a legitimate NBA game. It's typically a slow, piecemeal congealing of spot minutes and garbage time. Players hone their game on the side, in practice, in the G-League. Then, suddenly, there they are playing real bench minutes – like FVV and Siakam and Boucher once achieved.
Without much of either, these last several games are a major silver lining for Raptors' development. Not only do they get to play, but they get to play against Playoff-aspirational teams throwing their best at them.
Oh, right, speaking of Playoff-aspirational teams, the game.
Well, for the Raptors, it's finally, finally, F-I-N-A-L-L-Y, the last back-to-back of the season.
The Raptors have the honour of possessing the worst back-to-back record in the league. They're 3-13 in those second games. Which is entirely irrelevant, now, anyway, but it's just a friendly reminder (I am your friend, remember) of our season-long suffering at the hands of this condensed, money-grabbing, COVID-plagued season.
So there's that.
For Dallas, it's a must-take-down. I outlined, in detail, the last four days of the NBA regular season and their implications for the Play-In and Playoffs. When I wrote that, 24 hours ago, Dallas and Portland were tied for 5th, each with two games remaining. Portland owning the tiebreaker.
No longer. Portland crapped away its advantage by blowing a three-point lead with 30 seconds left in the game to Phoenix last night. Truly, blew it, by fouling Devin Booker at the buzzer. Now, it's Dallas in control of 5th.
If they win tonight and beat the Wolves on Sunday, it's theirs and they play Denver in the first round. If they lose either, and Portland wins, they'll finish sixth and face the Los Angeles Clippers. If they lose both, and Lakers win both, they go to seventh. Eek.
Game Info
Tip-Off: 9pm EDT | TV: TSN1; TSN5; RDS; BSSW | Radio: TSN 1050
Raptors Lineup
Hard to say who's DNP-CD here. I am assuming the following based on the fact that there's no need for any of them to play: Kyle Lowry (rest), Fred VanVleet (hip), Pascal Siakam (shoulder), OG Anunoby (calf), and Chris Boucher (rest).
Paul Watson (knee) and Rodney Hood (hand) are legit out. I am guessing Yuta Watanabe (ankle) is questionable. More updates to come.
PG: Malachi Flynn, De'Andre Bembry
SG: Gary Trent Jr., Jalen Harris
SF: Stanley Johnson
PF: Freddie Gillespie
C: Khem Birch, Aron Baynes
Mavs Lineup
JJ Reddick (heel) is out.
PG: Luka Dončić, Jalen Brunson, Trey Burke, Tyrell Terry
SG: Josh Richardson, Tim Hardaway Jr., Josh Green, Nate Hinton
SF: Dorian Finney-Smith, Tyler Bey
PF: Maxi Kleber, Nicolò Melli
C: Kristaps Porziņģis, Dwight Powell, Willie Cauley-Stein, Boban Marjanović
The Line
The Mavs are 12-point favourites: They are NOT going to mess around here. There is no way they want to play the Clippers or fall into the Play-In. In the last fifteen games, Dallas has the top-rated offence and 12th-rated defence in the league. I expect heavy Texan hammers to smash tonight.
The over/under is 221.5: This whole idea of "where is the offence going to come from?" for the Raptors is still a legitimate query. I don'tttt really expect Stanimal to lay another 3-spot down.
Bet wisely, friends.