First, want more on Toronto Raptors players? Check out my colleagues' excellent 2021 Toronto Raptors' player evaluations – including one on Sir Siakam.
Second…
Just what exactly in Heat Dome Hell is going on here?
I take one four-week break to move my ass from Newfoundland to Vancouver Island, finally get settled, flip to Twitter, and what do I scroll through!?
A crowd of digital rabble-rousing Raptorites in Raptorville banging at Pascal Siakam's door with OVO Pitchforks™ and Trade Machine printouts yowling for his ousting. 
Truly, this trans-generational Maple Leaf misery has really poisoned minds – anyone checked that '67 Cup for lead? We have one funky, f'ed up, anomalous – kind of promising – failed season and we're already rabidly mad for heads to roll?
Where you all at? I have a bucket of Wayne Gretzky No. 99 Ice Wine with your name(s) on it.
This isn't the first time I've had to mollify the masses. And, here, I must go again (to get a true in-depth analysis of Siakam's 2021 season go read Oren Weisfeld's beautiful Player Review).
I get it. It's the Finals. We're seeing firsthand what it takes to win. A shit tonne of talent. A mega superstar. A closer. A Master of the Dive more vaudeville than the Italian Euro 2021 Football team.
It's natural to contrast champion contenders to our own team. It's human to want what we can't have. We're all guilty of it. 
But it's just as primitive to devalue what we do have. You can't go from "where's our Devin Booker!?" to willy-nillily insisting we shed parts like Goldmember's dead skin.  
Yet, here we are fiendishly peeling our finest flake of flesh.
I guess the ingredients are there.
Pascal's paid the most.
He's the oldest of the "core" (an ancient 27 years old).
He's the highest usage player on a draft lottery team. 
He's failed at the most decisive (and unfairly-judged) moments of games.
And, arguably, most of all, he's not all that exciting. Pascal doesn't drop jaws or widen eyes. He's plain. He's 1% yogurt; Mr. Sub; Luke Wilson; a Toyota Corolla. 
There's no captivating quality to keep ho-hum fans peeled to their screens or gobbling up Scotiabank Arena tickets. No obvious elegance. No implacable power. No certain clutch. No awing sexiness. 
So, if he can't win and he doesn't entertain us like Maximus Decimus Meridius or Donovan Mitchell or LaMelo Ball or, even, Zach Lavine, well, then, ship 'em on oudda heeyah. 
Perhaps, to the inattentive eye – or the impatient one – lazily awaiting something to strike their fancy, Pascal's 21/7/5 passes quietly through the night. 
But to those of us who care about playing winning basketball, that's damn good. 
You know how many guys average that or better in the NBA? Guess…
Twelve.
Only eleven other dudes put up numbers similar to Siakam. That's real damn good.
Granted, he's still not the most efficient player…yet; his 17.7 PER, according to ESPN, puts him in the same world as other lower-upper-class players like Malcolm Brogdon and Gordon Hayward (guys averaging similar minutes). He also has the 15th best net rating for players averaging at least 33 minutes a game with a 25% usage rate or more. 
I know, not astounding. But I'm not alleging Number One option here. I get that, as of now, he's not enough to heavy lift a team to the Finals. But (A) few are (B) his growth trajectory does not suggest "plateau" (a lot of his offensive hiccups, as Oren noted, have to do with his poor three-point shooting this year – something that is certainly improvable); and, (3) we're presuming there's no one else to lift alongside him (Blockbuster Movie 2022, OG Unleashed). 
Phoenix and Milwaukee are tri-headed. A Toronto Cerebus with Pascal as one of its chomping heads is fierce.
That's on offence. 
My outrage is the complete disregard for his defence.
Fans are so eager to package and "don't-return-to-sender" one of, what? Ten(?), Twelve(?) guys who can veritably guard positions 1 through 5 for chunks of a game. 
General Managers howl at the moon yearning for wing stoppers and switchables. And we want to cast one off into the night?
Besides, we've outgrown Winger-Winger Land, Peter Pan. It's a new era of versatile "bigs". Bam Adebayo, Jayson Tatum, LeBron James, Julius Randle, Domantas Sabonis, Anthony Davis, Kevin Durant, Giannis Antetokounmpo, Brandon Ingram, Kawhi Leonard…hold on, I can hear something booming…in the distance…my coffee mug…it's…vibrating on the table..it's…it's ZIONNN playing hopscotch two doors down! 
With dudes like that, defenders must be more than long and quick. They need height (and girth, but we're not gonna win that argument with Pascal, so disregard that) to counter backdowns, stifle forceful drives, and challenge high shot releases.
That kind of defender is rare. Pascal's 6'9" with a 7'3 wingspan. With his length, he can cover ground, space, time, dimensions, universes – a perfect Time Variance Authority henchman.
We already saw him tag-team the centre position with OG Anunoby this year once Nurse unmasked Aron Baynes and revealed his true identity as three mechanically functioning bags of concrete. 
Pascal guards scorers inside the three-point line and beyond comfortably and can seamlessly switch actions regardless of the positions involved. Have a good watch of Pascal's D (props to Alex Raptors on Youtube) on basically every dangerous scorer in the league and tell me you disagree. 
You don't find that kind of versatility, like, ever. He doesn't get the praise he should – nor OG for that matter – and some of that has to do with his inconsistency.
Pascal is disengaged at times, particularly on the team defence side of things. That's quite easily attributable to his load on the offensive end. He's buying rest time, is my guess. As he progresses, he'll adjust to the load-bearing on both ends and, hopefully, with more help on offence, not have to catch his breath elsewhere.
Can I just ask, do we know what the Hell the long game is here anyway?
This feels a bit: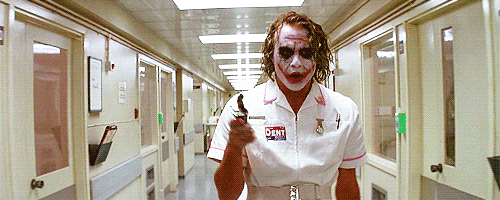 We talking total strip down here?
'Cause then that's not just about Pascal. If he goes, why the Hell do we have Chris Boucher and Fred VanVleet. Ship'em too. Anyone over 25 might as well just walk the trade plank. 
And if that's the case then what's the Plan? Build around OG, the #4 pick and, let's say, #7 pick, and James Wiseman?
Okay, cool, but what happens when, in three years, OG's averaging 21/7/5, we dropping his ass too for another favourable conversion rate? WHERE DOES IT END?
Blowing-it-up is a nice theoretical exercise and on an Excel sheet might make sense: "=TEAM(Youthful Roster + (Pascal Siakam/3 players&picks) + own draft pick + another 2nd round gem + resign Matt Thomas[jokes])". But the formula seldom comes to fruition. 
Yes, years of agglomerating picks worked for Phoenix – after a gajillion missed lottery picks – and Golden State and Denver, but so much luck is involved in unearthing Jokićs and Draymonds, it's unreasonable to say it'll all work out hunky-dory.
Ask Cleveland, Chicago, Orlando, Sacramento, Minnesota, and even Philadelphia fans how their "blow-up-and-rebuild" designs are going. Their managements' assurances are in delinquency.
I don't believe in the 'mediocrity treadmill' either. (We're two years off a championship for Christ's sake!). Teams good-not-great are only ever a few moves away from a deep Playoff push. 
Most successful teams – champions or close-to – bide their time, carefully and patiently building. Our Raptors, the Suns/Bucks, the Spurs, the Mavs, even Kobe's latter Los Angeles Lakers, and, yes, MJ's Bulls ascended after many years scouring for the right bibs and bobs until it all fell in place for an opportune run.
Few magically coalesce like the LeBron teams or Durant/Curry Warriors. They were planetary forces swallowing teams with their gravitational might. 
If you're scared of plateauing like Indiana or Portland, I understand. But both teams had their exciting moments and fell short (the quintessential mediocre team, the Pacers, nearly twice bounced LeBron teams in 2013 and 2018, and had a third ECF appearance in 2014). Don't tell me their fans lamented those runs and preferred a bunch of draft picks instead. 
Besides, the Clippers and Nets both demonstrated where not fully disbanding can lead: a feisty, winning, superstarless base primed for the acquisition of a superstar(s).
Look, I'm no optimist. I naysayed nearly the entire DeMar/Kyle era. They maximized their best players and the supporting cast and ran dry.
Kawhi's arrival staved off a tumultuous couple of transitional years and allowed the kids to mature. They're now at the launchpad ready to embark.
Why call off the mission now?
Let's see where this puppy can take us.