Fandom's a whirlwind. Two weeks ago, I was Gil Gunderson.
Now, I'm Ned Flanders.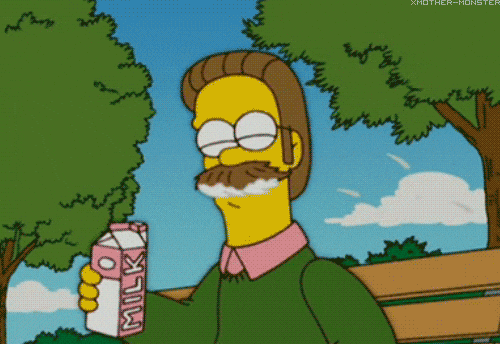 1. Aggro Toronto D: Devin Booker
2. Aggro Toronto D: Nikola Jokić
I may enjoy the odd bit of gambling time to time. I'm a sucker for putting something on the line. It's a wonderfully scary combination: the surging power of self-efficacy and the exhilarating knowledge of failure looming so uncomfortably close by. Woosh what a rush.
That's probably why I love watching the Raptors play defence so much. Nurse and Co. are gamblers. They have no interest in sitting back and waiting. They take control of their fate, regardless of the risk. Win or lose they're doing it their way.
Case in point: the triumphs over the Phoenix Suns and Denver Nuggets last week.
In the closing minutes of the 4th quarter, both games were close. It is in these "clutch moments" (defined as the last 5 minutes of an NBA game where the score is within 5 points or less), where players and teams distinguish themselves as performers or floppers.
Non-gamblers remain conservative. They punt on 4th down; they hack-a-Shaq; they rely on their "gameplan" and let the other teams make the mistake. Not the Raptors.
Phoenix and Denver both have superstars. Guys who've proven time and again that they not only execute in "the moment", they savour it. Those players are terrifying when the game's tight and the ball is in their hands. That's why the Raptors decided that neither Devin Booker nor Nikola Jokić were going to get the ball. Someone else less proven would have to win the game.
Spoiler: they didn't.
Against Phoenix, Toronto sent hyper-aggressive doubles at Devin Booker early and far, far away from the basket. Booker had scored 13 points in the 3rd quarter after having only 6 in the first half. He'd found his rhythm scoring in a myriad of off-ball and on-ball actions. He and Ayton were particularly devastating in the pick-and-roll.
In the 4th quarter, Booker finished 1/4 with 2 turnovers.
Toronto blitzed Booker. Instead of hedging or switching, Toronto sent the screener's defender [Birch] and Booker's defender hard at Booker forcing him to give up the ball.
Ayton slips the screen early, likely, anticipating Birch's imminent double. Freddy does a good job of limiting the passing angle. Instead, Booker makes an easy first pass to Mikal Bridges. You'll notice Scottie, Pascal, and Gary are almost in a backline zone, monitoring Ayton and 3 other Suns. Bridges attacks a poor close-out by Pascal and hits a tough fadeaway over Scottie.
Freddy and Khem double Booker as far out as possible. That's mission accomplished with (A) Cam Payne receiving the ball out of scoring position, enabling Gary Trent Jr. to easily close and (B) buying Khem time to retreat, which, in turn, enables Barnes to gamble(!) on a sloppy post-entry pass to Ayton and yoink it. (It definitely helped that Biyombo is not a scoring threat outside of 2 feet).
Ayton hits the jumper. The double doesn't always pay off, mostly because of a miscommunication between Gary and Khem. Doesn't matter. In gambling, sometimes you lose even when the odds are in your favour. You take the hit, knowing you'll win the majority of those situations. The Raptors will happily live and die with Ayton making decisions 10-15 feet away from the hoop than having Booker wreak havoc.
Besides, we all know how much Booker loves getting doubled.
https://twitter.com/ThePettiestLA/status/1417286343667851297?s=20&t=q6S2m6b1qrFEZzc1L275zA
Fronting is in, and of itself, a form of gambling. If the fronter isn't diligent or the helpside not perfectly placed between their man and the player being fronted, it's an easy post-entry, lob, or cross-court liner to the corner. Against the Nuggets, Toronto was fronting, squeezing, and sometimes triple-teaming Jokic at every turn.
This is how you play against the Joker pic.twitter.com/RGxX9M8yjh

— Raptors Republic 🇺🇦 (@raptorsrepublic) March 13, 2022
They continued their aggressive swallowing of Jokić well into the 4th quarter.
The Raps – or Killer B's as Devlin calls Boucher, Banton, Birch, and Barnes –  look like they're in a zone the way they're smushing Jokić. Jokić looked worn. After Banton fends off his initial post-up, Jokić concedes to the combined squeeze of Banton, Thad, and Birch. It pays off: Austin Rivers sits in the corner, allowing Thad to guard he and Jokić simultaneously. A Will Barton in iso against Boucher is better than anything with Jokić involved. A baseline cut by Rivers – a la Scottie B – is probably an easy 2 points. Their loss.
Scottie fronts Jokić nearly the entire possession. Talk about labourious. Scottie's job is to make a post entry impossible. Thad and Pascal's task is to take away the potential for a lob; they ebb and flow depending on where Jokić and Scottie are wrestling on the floor. First Thad drops, then Pascal inches over. By the time Jokić is open, the shot clock's ticking down and Jokić is pooched.
This is typically what happens when teams double the Joker. Boucher presses high up on the screen alongside Scottie, both hoping to obscure passing lanes – as they did against Booker. House wins.
Last one.
This final play exemplifies the Raptors' defensive vision: a treacherous net of arms. Scottie remains with Jokić for as long as he can (his length allows him to threaten Barton on the close-out). Thad helps a bit on Barton. Pascal's watching Boucher's fight down low. Scottie forces a softy pass from Barton, Boucher gets a hand, Pascal snags it. Game over.
3. Scottie the Irritant: Nikola Jokić
4. Scottie the Irritant: LeBron James
A sequel to the above. Scottie was a major part of neutralizing Booker and Jokić in the final minutes of those games.
Scottie's competitive. We all know that. Sometimes that leads to pesty. Not in a cheap or annoying way like, perhaps, Pat Beverley or Dennis Rodman, but in a relentless determined way that's offputting to players who maybe give one less iota of a shit during the regular season or are just having a bad day.
The Raptors face-guarded and fronted Jokić most of the evening; Barnes wasn't alone in getting up in his grill. Precious and Khem did a lot of the heavy lifting too. Perhaps, there's something about how Scottie does it though.
Not perhaps. Definitely. Watch the following short film I've titled Scottie the Irritant: Breadcrumbs of a Burgeoning Animosity and you'll see.
Scottie delivers a chest out, hands up bump with the look of complete innocence – note the hands going up again after the whistle is called. A bit of mockery.
Scottie throws an elbow-in-the-milk-gut screen and Jokić is none-too-pleased:
Jokić retaliates promptly with a screen-bow of his own:
At the very start of the clip, you can see Scottie lay a subtle "you ran into me" body check:
The Joker reciprocates with a sneaky elbow:
Scottie with a bit of arm drapery for some passive annoyance:
Scottie follows up with another classic pest move: the ol' 3 inches away from your face, I'm just faceguarding you, it's not my problem you can smell my breath defence.
All of those obvious and less obvious knocks, tussles, and aggravations culminated into Scottie's ultimate pest move: the get in the annoyed guy's path and let him run into/body check you and then fall/flop move:
This should never be called. Just ignore the falling player. pic.twitter.com/iveUhpluN7

— Russillo (@ryenarussillo) March 13, 2022
Jokić wasn't the only annoyed Superstar plagued by a dogged Scottie Barnes.
At first, it was innocuous. A hardworking rookie playing smothering defence on a superior player.
It was working so well, Scottie decided to turn the peskiness dial up:
LeBron was obviously frustrated by the game generally. His team was awful and he wasn't playing all that well either. Add Scottie's incessant defence and it all culminated into another irate superstar.
https://twitter.com/raptorsrepublic/status/1503581435474722819?s=20&t=CxWx72W_grf0G2R3-uD_rA
My take: Yes, you throw the ball as hard as you can to make sure the recipient doesn't catch or dodge the toss. Scottie is lying on the ground though. LeBron is one of the most accurate passers in the world, one of the strongest, and, that night, one of the angriest. Everything about his demeanour and actions before, during, and after the incident growled vengeance like Robert Pattinson's The Batman.
It was pragmatic and vitriolic simultaneously.
It also didn't stop there:
The pettiness on both sides persisted:
The worst part of a pesty, little pest is when they gaslight you and they play it off cool and make it seem like they have no idea what anyone is talking about.
Scottie Barnes: "I was on the floor and I just saw him loading up and I thought, oh man. So I just tried to cover myself so he didn't hit me in the face because he put a lot of power into it… I was like, damn." https://t.co/sf4Er2obxJ pic.twitter.com/jFW068QI9l

— Josh Lewenberg (@JLew1050) March 15, 2022
LeBron, on the other hand, was F-R-U-S-T-R-A-T-E-D.
LeBron James will not be speaking to reporters tonight after the game, according to the Lakers.

— Dave McMenamin (@mcten) March 15, 2022
5. Morale
I've followed a lot of sports teams over the years. The Raptors exude a love and joy that is hard to come by in professional sports.
Winning helps. I also think Kyle Lowry and DeMar DeRozan and Serge Ibaka paved the way for these guys to express themselves and visibly love one another.
I talked about Pascal's leadership last week (#2). His change in demeanour and joyful exuberance continues to amaze me.
Clapping P in LA 👏 2019 —-> 2022

Pascal Siakam is now 10-1 vs. the Lakers in his career pic.twitter.com/kKfKBpBxQ0

— Yahoo Sports Canada (@YahooCASports) March 15, 2022
It's not just Pascal. Everyone has embraced the embracing [keep an eye out for the iconic Nurse fist pump]:
Honourable Mention
Bis Love
Speaking of love. Bismack Biyombo continues to be in Raptors' hearts forever. Look at the joie between he and Pascal.
#FreeYuta
My campaign continues.
YUTA CHERRY ON TOP pic.twitter.com/soYLqekCeB

— Raptors Republic 🇺🇦 (@raptorsrepublic) March 13, 2022
Yuta has played 2:45 minutes in the last four games and is 2/2.
Yuta be free.