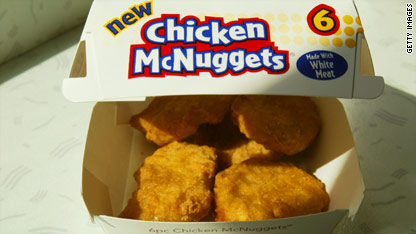 The Raptors opened up a six-piece of whoop-ass.
Raptors 105, Nuggets 96 –
Box
It's really a shame that Tank Nation is in full effect, as it means last night's game was a disappointment to some (especially the guy wearing the Camouflage "Tank Nation #1" jersey). In reality, it was a great basketball game to watch, and especially to be at. Of course, the only reason the crowd was hot down the stretch was because the Raptors hit 100 points early (pizza!) but I'll take a lively crowd any time I can get it.
It didn't look like it would turn out this way though. Late in the first half the Raptors slowed up defensively and got careless with the ball, allowing the Nuggets to storm back and grab a one point lead heading into the half. Or so it seemed, until Linas Kleiza came through with a huge momentum-swining half-court heave to send the Raps into the tunnel up a bucket.
When Kleiza nailed another triple to start the 2nd half (after Javale McGee's second defensive-three-seconds violation of the game), the crowd woke up for good. That, or the trio of pre-teen dance teams at halftime really did it for those in attendance, myself excluded. The Nuggets would tie the game by the end of the third, but a switch into a matchup zone confounded the Nuggets in the fourth (15% shooting), and the Raptors pulled away. Dwayne Casey deflected praise after the game, saying the success was more about confusion than execution (including confusion for an inexperienced Raptors squad with two rotation players on 10-day contracts), but their team defense certainly passed the eye test for the quarter.
The Raptors also won the possession battle, securing 17 offensive rebounds (49-43 advantage overall) and only turning the ball over 10 times. Somehow the Nuggets still managed 23 fast break points, including two on a ridiculous Epic Vale jam over Jose Calderon (seriously…get the F out of the way when McGee has that much time and space. RIP Jose Calderon's dignity.).
I can't recall exactly how many second chance points the Raptors managed, but it sure felt like a lot of those O-boards lead to easy looks, as is generally the case. It helped double-time since the entire team was on fire from long range, dropping 12-of-22 from beyond the arc and getting 3-ball contributions from 5 different players. Linas Kleiza hit the two big aforementioned triples plus another, Gary Forbes put his range on display yet again (he also had a double-double and continues to make his case for a secure rotation spot for next year), Jose went 3-of-4, and Alan Anderson chipped in with one.
Oh, and most importantly perhaps, Andrea Bargnani hit two degree-of-difficulty threes to go 2-of-4. He finished with 26-and-5, getting to the line 12 times, but his triples were huge in terms of momentum. One came late in the shot clock on a quick catch-and-release, and the other appeared to be a heat-check early in the clock, with Bargs neglecting to even lower his arms, catching it above his head and firing right away. This was, without question, the most comfortable he's looked since returning, and he looked aggressive from the onset. When Andrea is able to get his shot falling and be aggressive (in the same game, I mean), he is nearly unguardable. Sure, Kenneth Faried (quickly becoming one of my favorite players to watch) took him to work on the glass (also 5 rebounds, but in 11 less minutes) and had a few buckets underneath the basket, but Bargs team defense wasn't bad either, which has been a constant even as his offense has struggled to regain form.
Speaking of offense struggling to regain form, I was thoroughly impressed with DeMar DeRozan in this one as well. In his first game back from injury, DeMar's shot wasn't anywhere close to falling on his first few attempts. Instead of forcing the issue, Demar actually recognized this and contributed to the game in other ways. This sounds obvious, but it's been one of the main criticisms against DeRozan this year and last, in that if he's not scoring, he's not helping. He ended up with 5 rebounds and 5 assists, well above his averages, and even though he took 20 shots to reach 17 points, I never felt like he forced his game after the first few minutes. He probably could have shot less, sure, but he at least deserves a nod for working to contribute elsewhere.
I'd like to quickly touch on Ed and Amir here – both had 4 points and 8 rebounds, both missed a couple of easy looks inside, and both continue to play right around half a game each, on average. Amir's numbers are better at 7.3pts-6.6rbs-1.2blk-58%FG (Ed's are 5.8pts-6.3rbs-1.0blk-50%FG) but not significantly, and he's paid much more. He also might be close to his ceiling after stagnating at this level for a couple of seasons, while Ed theoretically has some upside left, still having never gone through an NBA offseason, first due to injury and then the lockout. My point is that in the not-too-distant future the team will likely have to choose between the two, what with Jonas coming over and further complicating the frontcourt rotation. If the Raptors lucked into the #1 pick, one of them would definitely be out the door (or Bargnani…and commenters, GO!). Who would the team keep? I'd prefer Davis, just based on him still having some upside and being less of a contractual burden, plus I just like him better for whatever reason, but I'd like to see where exactly the split lies for the fanbase (50/50, 75/25, etc). My gut is that the commenters will prefer Amir, but let's find out.
Moving on…
In the end, the Raptors beat a superior Nuggets team in impressive and exciting fashion. The win might hurt in the long run, pushing them "behind" the Nets in the Tank Standings (aka the Power Tankings) into 5th last, dropping their lottery odds temporarily to 8.8% from 11.9%, and dropping their "expected draft position" to 4.7 from 4.0. All that said, it was a really fun game, and I feel the fanbase needs these victories on occasion to keep the light at the end of the tunnel shining, not to mention the positive reinforcement this can have for the team, playing shorthanded and all (welcome, Ben Uzoh).
A show my girlfriend watches, Once Upon a Time, says that every curse can be broken by true love's kiss. For the first time ever, the Raptors have won back-to-back games I covered, improving their record all the way to 3-18. The curse appears to be at it's end, and I can only assume "true love's kiss" in this case was me truly loving that we kissed Rasual Butler's Corpse goodbye. The curse is over, but with one month left for Tank Nation, it couldn't have ended at a worse time.