Unedited Reaction Podcast – Quick Reaction – Box – Raptors 100, Nets 95, Series Tied 1-1
Through the first seven playoff quarters of his career, DeMar DeRozan was struggling, to put it lightly.
After a 3-for-13 performance in Game 1 against Brooklyn in which DeRozan had 14 points, two rebounds, one assists and three turnovers, the team had a clear edict in the first and third quarters of Game 2: Establish DeRozan. Whatever it took, the Raptors were going to get their All-Star going. After a poor first half, DeRozan was engaged in action number one on eight of the team's first 10 plays to start the second half.
But it wasn't working out, with a 5-for-16 performance making it seem as if DeRozan's late-season shooting woes – alleviated by his elite ability to get to the free-throw line – weren't working themselves out in time. He would later pick up his fifth foul, leading to him sitting outside of a team huddle (and this, after he had visibly chewed out teammates for a lack of help defense in the third quarter), an image that could have been a lasting one from this series if not for what happened next.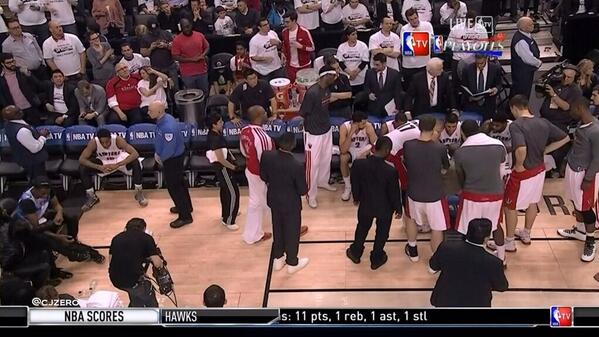 "I was a little frustrated I couldn't be out there with my team," DeRozan said after the game. "I was just keeping myself together, not being so frustrated."
Through seven quarters, DeRozan had played 67 minutes, shooting 8-of-29 for 27 points with just four rebounds and two assists, along with six turnovers. The frustration was understandable. He had been getting picked apart on defense by Joe Johnson, too, not just in Game 1 but again for most of Game 2. The Raptors also trailed 66-64 and had played poorly, squandering opportunities in the first half with turnovers and, despite a huge rebounding edge, untimely miscues boxing out.
If there were ever a "make or break" time for a player and a team – not to mention a crowd, which was once again excellent on Tuesday – it was now, in the fourth quarter, looking down the barrel of a 2-0 series deficit.


When DeRozan received that pass from Greivis Vasquez, he could have taken the open three. He could have passed inside to Jonas Valanciunas, who had an open look but a likely double-team awaiting him. Instead, DeRozan saw five Nets looking at him, none in a position to provide timely defense on a drive. Despite the struggles, despite the shooting woes, despite the body language, DeRozan had the confidence to take this one himself. He threw the left-handed hammer down and then unveiled a stink face to end all stink faces, one that will surely join the Chris Bosh chin-out and the Vince Carter I-can't-hear-you as iconic Raptors stills.
One play does not a game make, but from there, DeRozan took over. He shot 4-of-5 in the fourth quarter and 9-of-11 at the line, including six icy-cool free throws in the game's final 21 seconds as the Nets fouled to lengthen the game. He still wasn't perfect, turning the ball over three times in the fourth, including one where he lost the handle on a drive and the air was completely sucked out of the Air Canada Centre. But he hit shots, some of them with a high degree of difficulty, and he seemed to embrace the moment, in so much as that can be a thing that people have the ability to do. Whether it was the confidence he provided his teammates, the emotional lift of his turnaround, or simply the team continuing their unbelievable fourth quarter ways ("We said early in the year we want to be the Freddy Krueger of the NBA," Dwane Casey said after the game), the game seemed to change after that jam. The team shot 12-of-16, grabbed four offensive rebounds and, yes, turned the ball over four times but forced five from Brooklyn.
For the second game in a row, it wasn't their best performance – and you can say the same for Brooklyn – but this time it was enough. The Raptors have tied the series with a 100-95 win, and it now becomes a five-game affair, with the Raptors having only lost home-court advantage. This game also continues what has become a pretty incredible on-court rivalry, if not really a two-way emotional rivalry yet:
| Date | Location | Win | Lose | Score |
| --- | --- | --- | --- | --- |
| Nov. 26 | ACC | Brooklyn | Toronto | 102-100 |
| Jan. 11 | ACC | Toronto | Brooklyn | 96-80 |
| Jan. 27 | Barclays | Toronto | Brooklyn | 104-103 |
| Mar. 10 | Barclays | Brooklyn | Toronto | 101-97 |
| Apr. 19 | ACC | Brooklyn | Toronto | 94-87 |
| Apr. 22 | ACC | Toronto | Brooklyn | 100-95 |
After the game, Kyle Lowry told a thin group of reporters who stuck around (most had gone to the podium area to check out Amir Johnson and DeRozan) that he honestly believed the team's basketball is yet to come. He's certainly correct that the team hasn't played their best – the Raptors have turned the ball over 40 times through two games, negating most of their 30-rebound edge – but the concern is that Brooklyn really hasn't played that well, either.


However, the one edge the Raptors may have is that they've now shaken off the jitters. There's an easy narrative as to why they've struggled in some regards, and the Nets missing so many shots is tougher to explain (though they won't shoot this bad from three for much longer).
"The lights were really bright for some of the guys," Lowry explained about the difference between Game 1 and Game 2. "The lights dimmed a little bit."
Perhaps most importantly for this team, DeRozan has earned his confidence back. He iced a playoff game against a tested veteran team, one with oh-so-much-experience (spare me – and where you at, Paul Pierce?), and he and Lowry are clearly ready – and now proven able – to win playoff basketball games. The team likely didn't need the affirmation, but they've now won a playoff game against a team many think will win this series, and that has to count for a great deal mentally. For all the evolving DeMar DeRozan has done this season, and for all the steps this team has unexpectedly made, they may have done the most growing up on Tuesday night.
Game Notes
*Of course, the same bad start, good finish story could be told about Kyle Lowry in this one, though his defensive intensity carried him through the early quarters while DeRozan struggled in that regard, too. DeRozan is the scorer, Lowry is the engine. That may not be fair, especially when it means DeRozan has the ball down the stretch despite Lowry generally being a better (and safer) creator, but that's the reality, and it's what's worked. For the second game in a row, Lowry produced across the board, scoring 14 points with nine rebounds and six assists and saving eight of those points for the fourth. More importantly for this team in this series, he kept Deron Williams in check with 15 points on 5-of-15 shooting while also limiting him to five assists, crowding him above the 3-point line and not allowing him strong position off the ball.
*And of course, the same bad Game 1, good Game 2 story could be told about Amir Johnson, who shook off a rough initial outing to be the Amir Johnson hardcore hoop-heads have come to know and love. 16 points, nine rebounds, screens that crunched arthritic bones to help free up DeRozan, and the always-solid defense were all present. His biggest moment, though, was a late-game dunk, as he slipped away from the Nets on an inbounds, received a pass and threw down a two-handed jam. Shameful admission: I cheered in the press gondola, which is a no-no, as the look James Herbert shot me quickly reminded me. But if the general manager can say "F— Brooklyn," an occasionally-credentialed blogger can celebrate a late-game dunk. Right?
*Jonas Valanciunas brought it once again as well with 15 points and 14 rebounds, though he now has 11 turnovers through two games. You'll take that, as the inside game is the lone area where the Raptors should be able to consistently carve out an edge in this series. Maybe don't try and spin through double-teams though.
*The layups and PU3ITs of Greivis Vasquez are a thing of beauty. He made some insane shots in this one and added some really good passes. There might not be a more confident basketball player. What's more, Dwane Casey realized that Vasquez can be "hidden" on Shaun Livingston fairly well – the problem with Vasquez' defense is not size or length, it's speed, and Livingston's post-oriented offensive game can't really exploit Vasquez' weaknesses all that well.
*Speaking of adjustments, Casey moved to a much tighter rotation, as had been suggested. Eight guys, all with a clear role, and to a man every player played well except for Terrence Ross, who struggled shooting the ball. The biggest adjustment was inserting Landry Fields into the rotation, and he did a hell of a job defensively (more on this in the afternoon). Giving 18 minutes to a guy who had played just 23 minutes, total, since March 2 was gutsy but necessary, and it paid off in a major way. Fields didn't take a single shot but his impact was obvious – four rebounds, an assist, two steals, a block, post-position denials, fighting through screens – and the Raptors were a +8 when he was out there.
Game 3 goes Friday in Brooklyn.