Raptors make playoff noise with tenacious D | The Star
"Their defensive personnel is so good," Steve Clifford, the Magic coach, said of the Raptors before Game 3. "They have two guys who are defensive players of the year (Leonard and Marc Gasol). They have four guys who have been on the all-NBA defensive team a lot of the time (Leonard, Gasol, Serge Ibaka and Danny Green). They are long, they are great with their hands, and they force turnovers."

Forcing turnovers has been good for Toronto's business, indeed. Gasol, who's spent most of the series brilliantly stymying Orlando's all-star centre Nikola Vucevic, has eight steals in three games. Clifford pointed to a stat that said the Raptors were No. 1 in the NBA on points per possession off turnovers this season. And certainly Leonard, among other Raptors, is at his most effective when he's creating offence through his defence.

"I think (Leonard) had such a high gear he was playing at the defensive end, and I think that translated to the offensive end for him," Nurse said of Toronto's No. 2 in the wake of Game 2, when the Raptors scored 26 points off 17 turnovers. "I think he was really assertive defensively. He was up into people, he was down in his stance, he was sliding his feet, he was rebounding, played great team defence, he was using his length on passes, again, with a lot of pop. At the other end, I think that's the way he played. He came off screens with some force, he took the ball off the glass and drove it down the floor with some speed and force, he vaulted into his jump shots with some force. I think he just went out there knowing he probably needed to give us a lift defensively, first of all. After watching the first game, I didn't think we were good enough defensively. I think he took that more on his shoulders. For him, it translated to his offence."
'We're not going to back down': Magic pledge a better performance in Game 4 – The Athletic
Fournier personifies his team now that it trails Toronto 2-1 in the best-of-seven series. Magic players allowed opportunities to slip away in Game 3. And now, with Game 4 approaching on Sunday night in Orlando, they have to regroup — and fast.

"We'll definitely respond," Magic point guard D.J. Augustin said. "Like I said before, we're not going to back down or give up. We've come too far to get where we are today and to just give up. We're going to fight to the end. They're a great team, but we feel like we're right there with them. We feel like we should have won last night, and we have another chance at home to win a game."

In that sense, Augustin, Fournier and their teammates are not facing anything new. All season long, they recovered from potentially deflating losses and emerged from their struggles stronger than they had been before. On Jan. 31, they started the day 11 games under .500, but they finished the regular season 22-9 and earned a playoff berth.

"Handling disappointment is a huge part of NBA basketball, and it's a bigger part of playoff basketball," coach Steve Clifford said. "You have to be able to feel like you got kicked in the teeth, which we did. We were one long rebound away from having a chance to tie the game. That's the way it is. I mean, if we can't get past that, we don't deserve to win."

The difference now, of course, is the quality of opponent. Gone now are games against the young, inexperienced Atlanta Hawks and the hapless, tanking New York Knicks.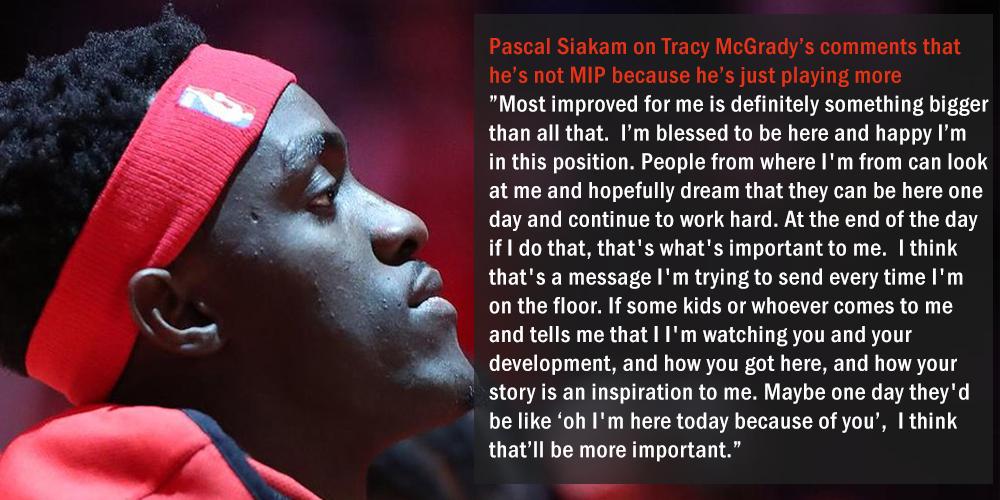 In his first playoffs as head coach, Nick Nurse is learning what to say — and how to say it – The Athletic
To the degree that it matters, the Orlando fans were nonplussed about a few apparent travels that went uncalled on Leonard, including on a dish to Siakam for the game's most important basket. (Raptors supporters would obviously counter that Leonard was fouled before travelling, meaning the referees might have used the two-wrongs-do-make-a-right approach to officiating.) Heading into Saturday's games, the Raptors had the lowest free-throw rate of any playoff team, shooting 0.156 free throws for every field-goal attempt. Orlando was eighth, at 0.267.

On the other hand, this is what the Magic do on defence. During the regular season, their opponents had a free-throw rate of 0.239, fifth-lowest in the league. The Raptors ranked 12th, at 0.249. Still, Leonard and Siakam have the two highest free-throw rates for any of the high-usage options in this series, so you might expect the disparity at the stripe to be negligible, more or less. Instead, Orlando has shot 67 free throws to Toronto's 41. Leonard certainly had some legitimate gripes early on during Game 3, although Jonathan Isaac's shot contests were very solid. Leonard's 13 free throws through three games are tied with Terrence Ross, who you might best remember for avoiding contact with the Raptors, for most in the series.

The Raptors' trouble getting to the line has kept them at 108.1 points per 100 possessions against the Magic, below their season-long offensive rating of 112.5, which was good for fifth in the league. The Magic's defensive reputation is deserved, but the Raptors are doing some of that to themselves. Again, Nurse's communication can potentially rectify that.
Orlando Magic searching for purpose of play to even series with Toronto Raptors
"I think it's more offensively," Evan Fournier said. "We turn the ball over. We were kind of surprised by what they do defensively even though we know what they are about to do. It takes us a little bit of time to adjust, I guess."

Orlando has been playing catch up and easing into the game too much in this series. The Raptors have dictated things to them throughout.

For the second straight game, the Magic spotted the Raptors a double-digit lead, turning the ball over four times in the first four minutes and five times in the five 5:20 of the game. That is a sure way to get the Raptors moving.

In those moments, Orlando again looked a bit rattled from Toronto's pressure. The Raptors again made every pass hard and trapped the team to the point where the Magic could barely operate.

The team again struggled in the third quarter, giving up a 16-0 run after taking a one-point lead. The offense would just disappear for long stretches of the game as the Raptors increased their pressure and the Magic struggled to get shots.

Evan Fournier especially had a rough night, shooting 1 for 12 from the floor. He said he has to do a better job letting go of frustrating plays and missed shots. Fournier criticized his own shot selection at times as his frustration over a poor Game 3 — and even a difficult series — has grown.

Orlando has played without some of their key players on offense contributing in the way the team needs. The whole series has been an uphill climb.

The issue though is not about the team's effort or energy. Not all the time. If anything, coach Steve Clifford was impressed with how the Magic approached Game 3. Their 104.3 defensive rating in this game was a sign of how well they played on that end overall. They were certainly competitive enough to win.

The issue is something much simpler. The team has the will and spirit to compete, but it now comes down to execution. What in coachspeak is often called a "purpose of play."

"Our effort last night and our spirit and our fight were really good," Clifford said. "The problem is late night is the purpose part. It's not enough to play hard against a team like this. You're not going to have a lot of room for error. You have to play hard and play with purpose and we didn't do that."
Nurse: Veteran Lowry leads Raptors both with his voice and by example | CTV News
Nurse said Lowry also gives him a "louder voice" as a coach.

"If you want to come in there and kick some butt in a timeout and say, 'You guys aren't blocking out good enough,' they can't say, 'When are you going to start blocking out,' because (Lowry's) been blocking out the whole game," Nurse said. "He's got a leadership built in. His natural instincts are to play tough and to lead and that's what we need him to do.

"Again, you take the open shot and make a play here and there, but primarily we need him to play tough and lead."

Lowry had a huge play down the stretch of a game that was decided in the final seconds Friday night. Leading by just three points, Kawhi Leonard missed on a shot and Lowry sprinted through three Orlando players to secure the key offensive rebound.

"That was a huge play," Nurse said. "That was a big play, and that was just a hustle, effort and instinct play. That's the way he plays and he makes those."

Is Lowry's leadership more vocal or by example?

"Both. He's very vocal with the team. Even after the game, he's pulling them together in the locker-room and (saying), 'That's a tough-ass road win,' and continuing to coach them and lead them and motivate them."
Lowry vocal leader of Toronto Raptors | Globalnews.ca
The morning after Toronto's 98-93 victory over Orlando in Game 3 of their playoff series, Raptors coach Nick Nurse spoke appreciatively about his team leader.

"As a coach it's always great to have a veteran point guard that can run your team and motivate your team. Kyle does things by example," Nurse said. "He throws his body around. He's continually blocking out guys seemingly twice his size and keeping them off the glass. He's stepping in and taking charges.

"Those are inspiring-type plays, I think, that rub off and are contagious and get your team — the rest of the guys — to do it."

The 32-year-old guard has played 65 post-season games in his career. He took some heat when he didn't score in Game 1, but responded with a vengeance by scoring 22 points in a Game 2 rout. Lowry scored 12 points and had 10 assists in Friday's 98-93 victory.

But Lowry adds so much that can't be measured by a stats sheet. He's a relentless ball of energy. He sacrifices his body for charges like a vintage inflatable clown punching bag.

Nurse said Lowry also gives him a "louder voice" as a coach.

"If you want to come in there and kick some butt in a timeout and say, 'You guys aren't blocking out good enough,' they can't say, 'When are you going to start blocking out,' because (Lowry's) been blocking out the whole game," Nurse said. "He's got a leadership built in. His natural instincts are to play tough and to lead and that's what we need him to do.
Raptors' Siakam sends message to Magic and young Africans | TheSpec.com
"I'm just blessed to be here, happy to be in this position, so people from where I'm from can look at me and hopefully dream that one day they can be here," Siakam said Saturday and he and the Raptors took a day off from their NBA playoff series with the Orlando Magic. "And at the end of the day if I do that, that's what's important to me. That's the message I'm trying to send every night I'm on the floor.

"If some kids, or whoever, can tell me they're watching me and watching my development and how you got here and your story and it's an inspiration — and maybe one day they can be like, 'I'm here because of you' — that's more important."

The context of Siakam's important statement and the look it provides into his character was a quick discussion about ex-Raptor and neophyte broadcaster Tracy McGrady suggesting Siakam should not win the league's most improved player award because — thanks to McGrady's apparent avoidance of a season worth of Raptors highlights — Siakam's improvement only came about because of increased playing time.

"I don't know what's going on, what people say," Siakam said of that idiocy. "I'm focused on this team and trying to come every night and do my best. It's not about what people say."

Votes have already been cast for the regular season award Siakam is almost certain to win, but he's done even more in three playoff games to cement himself as not only the most improved player in the league but one of the best, period.
Siakam starring on big stage for Raptors – TSN.ca
Slowly, certain factions of the basketball community are starting to figure out what others, including Raptors fans, have witnessed firsthand this season: Pascal Siakam isn't just the NBA's most improved player, but he's also a budding star.

The operative word being "slowly".

As Toronto's head coach Nick Nurse spoke to the media in Orlando ahead of Saturday's Game 3 against the Magic, a local reporter asked if Siakam had become the team's third option, implying he was still behind all-stars Kawhi Leonard and Kyle Lowry in the offensive pecking order.

"If he has, he's maybe dropped down one from the second option," Nurse answered, with a good-natured chuckle.

Just last month, analyst and NBA hall of famer Tracy McGrady went on ESPN's The Jump and wondered if Siakam had improved at all, or if he's just getting more minutes.

Well, with the former Raptor and Magic star in attendance for Orlando's first home playoff game in seven years, and with a national television audience watching on ESPN, it was Siakam that stole the show.

The third-year forward scored a game-high and personal postseason-best 30 points to go along with 11 rebounds and four assists as the Raptors defeated the Magic 98-93 and took a 2-1 lead in their first-round playoff series.

"We'll have to move him up from our third option, I think," Nurse joked after the game. "He made a lot of big buckets. He was really patient. Just really mature play from a young player. Again, he just seems to keep getting better week-by-week as we go here, which is good for us."
Rising stardom will present Raptors' Siakam with new challenges – Sportsnet.ca
n other words, for Siakam, things are likely going to get harder from here as he'll get the kind of attention teams reserve for star players such as Leonard – quick double teams designed to make him get rid of the ball as quickly as possible.

"Wow, Kawhi treatment. Oh man," said Siakam when it was suggested to him that he may soon be in for the kind of attention that Leonard has been battling through against the Magic and never more than in Game 3 when Orlando tilted the floor heavily at the Raptors' primary offensive option and were rewarded when he made more turnovers – six – than his five field goals.

It was like him being the focal point of an opponent's game plan had never occurred to Siakam. The idea that another team would look at his blossoming play and never-ending organic growth as a pestilence that needed eradication seemed to catch him by surprise.

But it's been heading that way. Siakam admits he's been able to sense it, even as the series heads into its fourth game.

"It's been really interesting," he said Saturday as the Raptors were getting ready to watch film at the hotel outside of Orlando. "I think every game you learn something new and every game has different things that you take from the game. It's definitely interesting … you've got to watch film and understand what people are doing, and you've got to try to take people out of what they're doing, and at the same time, when people try to take you out of what you're doing you've got to try to find different ways. So I think that part of it is really interesting."
Raptors' Siakam doesn't care about McGrady's comments – Sportsnet.ca
McGrady, who was courtside for Siakam's impressive performance at Amway Center on Friday night, recently dismissed the Raptor as deserving of the league's most improved player award. Siakam is simply playing more this season, McGrady argued on ESPN's "The Jump," adding it was more about opportunity than improvement.

"Y'all trying to start something man," Siakam laughed about McGrady's comments. "I don't know nothin' about that, I don't know what happened, I don't watch what's going on, what people say … it's not about who said what."

But Siakam knows who is watching him. And every chest-flexing, roaring celebration of a big block, every megawatt smile after a three-point shot falls is for them.

"I'm just blessed to be here, happy that I'm in this position, and people from where I'm from can look at me and hopefully dream that they can be here one day … continue to work hard, and at the end of the day if I do that that's what's important to me," Siakam said.

"That's the message I'm trying to send every night I'm on the floor, and if some kids or whoever come and tell me, 'Hey I'm watching you and your development and how you got here, and your story is an inspiration,' and maybe one day they'll be like, 'I'm here today because of you.' I think that will be more important."

On a night Raptors star Kawhi Leonard was feeling under the weather, Siakam had 30 points and 11 rebounds in a 98-93 win that put the Raptors up 2-1 in the series. He's averaging 24.3 points and 10 boards a game in the playoffs.
Three factors in the Orlando Magic's Game 3 loss – Orlando Pinstriped Post
If you thought to yourself that the Magic sure seemed to miss a lot of shots, you're spot on; Orlando sputtered throughout a wretched shooting performance, clanking all manner of attempts on their way to a 98-93 defeat. As a team they shot just 36.3% from the field on the night, including a frigid 29.5% from deep. Compounding the matter was the fact that the Magic were hoisting from long range with frequency, with three-point attempts accounting for 55% of the team's total shot profile. Eight different players pulled the trigger from beyond the arc, with only Khem Birch resisting the urge to test out his form; combined they launched 44, hitting just 13 (including a half-court bank shot from Terrence Ross to close the half). It wasn't pretty.

The Magic were only marginally better inside the arc, where they shot 16 of 36 for the night. This conversion rate of 44.4% is obviously a much healthier figure than their mark from deep, but as a team they still missed an awful lot of attempts around the hoop and in the lane, including a pair by Nikola Vucevic and Aaron Gordon on one sequence in the third quarter when Orlando were threatening to get back in it. They were also less accurate than their Toronto counterparts on two-point field goals, another disadvantage they weren't able to make up elsewhere.

There's a long list of offenders when trying to understand the team's poor shooting performance, but none stand out quite like Evan Fournier. He was more cask wine than champagne on Friday night, missing his first 9 shots from the field and finishing with just 7 points on 1-12 shooting. Some of the early attempts were questionable, forced in a bid to overcome a stalling offense. As the misses racked up he then started to hesitate on even wide open looks, passing off or giving the defense an extra half-beat to recover. The Magic have needed more from him all series, and again tonight he was found lacking.
Game 3 Analysis: Pascal Siakam carries the weight for the Toronto Raptors – Raptors HQ
Speaking of which, Kawhi had a rough game. Now, there is plenty to be said on the officiating playing into this, but leaving that aside, Leonard definitely struggled with his offense. His explosiveness at the rim wasn't there, he missed several of those isolation jumpers he couldn't miss in Game 2, and turned the ball over way too much. Just a rough night overall for him.

But consider this: the offense was still better with Leonard on the court than off. And on the series, even including this game, his effect on the offense has been amazing.

We've touched on how Kyle Lowry has powered the defense thus far. Through three games, his on-court DRTG has been 88 points per 100 possessions, a truly stifling number. While Lowry sits, the team's DRTG has leapt to 120. Yes, the Raptors have been allowing almost 50 percent more points per possession when Lowry sits.

On the offensive end, it's Kawhi making that huge impact. With Kawhi on the floor in the first three games, the Raptors have a 118 ORTG. Without him? 77 points per 100 possessions.
Raptor Recalibration, Game 3: Late-game process, Magic risk-seeking and more – The Athletic
The issue the Magic may be running into is their style of play runs somewhat counter to how an underdog would normally operate. They have half of the equation down, as they do well to slow down games, effectively shortening them. The shorter the game, the smaller the sample and the more room for outlier performances.

The other half dictates some level of risk-seeking, or in the NBA's case, playing a more aggressive style. That can mean a more intense defensive approach designed to force more turnovers. Think of the 2016-17 Milwaukee Bucks, whom I compared these Magic to before the series based on development curve, not style of play — both teams were fairly dogmatic in approach, but the Bucks forced a ton of turnovers to disrupt opponents. Ironically, those Bucks shot too few 3s, which an underdog should also want to do. That high-variance approach raises the ceiling in a fashion that might be necessary. Think the 2018-19 Brooklyn Nets.
2019 NBA Playoffs Game 3 Turning Point: The Raptors put together a 16-0 run to take control – Raptors HQ
So, in response, Toronto ripped off a 16-0 run, reasserted themselves in the game, and never quite looked back.

Now, there's an obvious other turning point in Game 3 — which we'll get to in a minute — but I'm of the opinion that these kinds of runs are what makes Toronto the more dangerous team in the series (if not the East). The Raptors had already stretched their legs quite a bit in this one, jumping out to another good start and a lead that got as large as 11 in the first quarter. But they were unable to close it out like they had in Game 2.

This is in large part due to some extremely ineffective minutes from bench-heavy units featuring all of the usual suspects of late: Norman Powell, Jodie Meeks, Fred VanVleet, and Serge Ibaka. Rhyming off some of these players is the reason why I'm here, because it was actually Ibaka who made a surprising play to keep Toronto's run going.

The Raptors' 16 points in that stretch came from the usual sources: Danny Green had seven opportunistic points (a three and two crafty lay-ins), Kawhi chipped in a pair of free throws (he was labouring), and Pascal Siakam went wild from all over. Despite the most onerous minutes load on the team, it was indeed Siakam who kept up the pressure on both ends, playing smothering defense on the Magic and then leaking out in transition whenever he could.