First off, can I just say, I'm all in on Play-In.
How many years have we sat there yawning through meaningless games as the season wound to a close? Clinching teams resting their stars. Failed teams resting their stars.
A buncha premature Summer League games. Yurk.
Instead, we got action.
We have foolish franchises like Sacramento thinking they still have a shot. Rancorous superstars feeling the burn (and, "coincidentally," chiding it) as the idea of the Play-In looms ever closer. Fanbases, like ourselves, arguing whether their teams should fold or go all-in. Imploding teams like the Indiana Pacers perilously close to plummeting out of the playoffs altogether and meteoric teams – a la the Washington Wizards – inspired to keep pressing.
Twofold effect: 1. The top Conference seeds play a worthier opponent in the first round; and 2. Teams who suffered from early woes (injury, disharmony, or bad luck) are rewarded for late-season resurgences and those experiencing late woes (like the Celtics now, sadly, with Jaylen Brown done for the season), who will ultimately be less competitive, are discarded.
Re: Jaylen Brown: NBA players that suffer scapholunate tears inevitably undergo surgery. Celtics fans will recall this is the same injury that sidelined Romeo Langford last season and into this year. The recovery is often measured in months, not weeks.

— Jeff Stotts (@InStreetClothes) May 10, 2021
For the love of God, Mr. Silver, please, pleaseeee, dissolve the conferences and turn this into a full 1-16 Royal Rumble.
Imagine the fun of a Celtics, Warriors, Hornets, Grizzlies Play-In right now. Mannnnn.
Okay, I'm done.
The Skinny
What's it all matter now? YOU WIN, OK!?
All you cynical tankers. Ya, you know who you are. You win.
Fine! Hope you're happy.
I held on to the bitter end. I ignored the obvious: the "injuries", the extended Stanley Johnson minutes, the piling losses.
I remained hopeful.
T'was a dying flame burning low in the closing seconds of overtime only to be snuffed out by Robin Lopez dominance.
How unsavoury. Yet, an apropos way to meet one's demise nonetheless.
The Memphis game the concession speech.
As of last night, with the Indiana Pacers' win, it's over. It's finally over.
The Raptors have officially been eliminated from play-in contention.

— Blake Murphy (@BlakeMurphyODC) May 11, 2021
Summer's upon us. Leaving only one thing left.
Tryouts.
That's fine. It's fun. For us hardcore types, anyway. We get to watch our favourite benchers strut their stuff at higher rates and higher volumes.
They all deserve it too. I am perfectly happy for those guys to get a couple of games of self-discovery.
It's been a tumultuous year to be a Raptors roleplayer. They've seen it all: DNP's, starting lineups, garbage time, intermittent appearances, sudden yanks, critical closing minutes. That's a wildly inconsistent experience for a bunch of guys who are just getting their toes wet in the NBA.
Now, for a few meaningless games, they get to cannonball in (there's only eight confirmed guys tonight so far).
Rodney Hood (hand) is also out.

— Blake Murphy (@BlakeMurphyODC) May 10, 2021
And we get to overanalyze, criticize, and jump to way-too-early conclusions along the way.
Ahhh to be a fan.
There is one other silver lining – for those of you who enjoy winning basketball games, at least. We get to play spoiler.
The Los Angeles Clippers have had a rocky last little while. They're 4-4 in their last 8. An unideal lead-up for a team running the full Indiana Jones gauntlet – another stumble in the Playoffs and the Clippers could get crushed by a Kawhi-boulder rolling it's way out of LA. More imminently concerning, they're losing while relatively healthy (only Serge Ibaka remains out; he's now missed 28 games and counting).
The Clippers say Serge Ibaka and Amir Coffey remain out for tomorrow's game against Toronto.

— Andrew Greif (@AndrewGreif) May 10, 2021
They need these W's for their mental health and self-confidence. But the Clippers also need these wins to shore up third place in the Western Conference.
A very, very important third place.
Dallas is a half game ahead of Portland for 5th. The Lakers are a game and a half behind Portland in 7th. Two and a half games behind them are the Warriors in 8th, the Grizz at 3 games back, and then the Spurs.
What's that mean?
This is prone to change a thousand times between now and the end of the season, but bear with me. If the season ended today, this would be the bracket:
Obviously, the NBA Illuminati have plugged the Warriors and Lakers in without even highlighting the nuance of the Play-In – I, conspiratorially, digress.
For the Clips, it's about the third spot. Keep it and they get Blazers → the winner of the Suns and X.
Drop to fourth, and they go [💀 VENGEANCE SERIES💀] Mavs → the winner of the Jazz and Y.
It's a pick your poison, DameTime or LukaLightsOut. But with the residue of last year's collapse, still grimily upon their hands, my guess is they'd loveeeee to give Portland a try.
Problem is: the Lakers are going to win the Play-In, won't they?
LeBron's gonna be back like: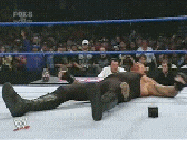 That's a second round doozy LAC v LAL, assuming the Suns are devoured by the AD/LEBRON walking dead.
At fourth, that's Jazz/Warriors – I am assuming, again – an incrementally more digestible opponent in the second round.
The Clippers play Toronto, Charlotte, Houston, and Oklahoma City. A likely set of romps.
Denver plays Charlotte, Minnesota, Detroit, and Portland. A doable sweep too.
Status quo gives the Clips that third spot.
Of course, this means absolutely nothing if the Lakers and/or Warriors shit the bed in the Play-In.
Isn't this darned-diggity dramatic!?
It's total chaos and unpredictability. Top to bottom.
Which is what it's all about. Everything coming down to the final games of the season.
Top-seeded teams can't plan or purposely lose to fix matchups. They observe nearby watching the carnage below in wait.
Bottom seeders battling until the Last Post.
Need I say more about the Play-In?
Game Info
Tip-Off: 7:30 pm EDT | TV: SN1; BSSC | Radio: TSN 1050
Raptors Lineup
OG Anunoby (calf/rest), Kyle Lowry (rest), Pascal Siakam (shoulder), Fred VanVleet (hip/rest), Paul Watson (knee), and Rodney Hood (hand) are out. Chris Boucher (knee) is questionable.
Thinnnn, thin, thin, thin (to the beat of the Thong Song).
PG: Malachi Flynn, De'Andre Bembry
SG: Gary Trent Jr., Jalen Harris
SF: Stanley Johnson
PF: Yuta Watanabe
C: Khem Birch, Freddie Gillespie, Aron Baynes
Clippers Lineup
Serge Ibaka (back) and Amir Coffey (COVID-19 protocols) are out.
PG: Reggie Jackson, Pat Beverley, Rajon Rondo, Yogi Ferrell
SG: Paul George, Terrence Mann, Luke Kennard, Jay Scrubb
SF: Kawhi Leonard, Nicolas Batum
PF: Marcus Morris Sr., Patrick Patterson
C: Ivica Zubac, DeMarcus Cousins, Daniel Oturu
The Line
Clippers are favoured to win by 11.5. Clips need this; Raptors don't and likely couldn't even if they did. Question is less if they win and more by what margin do they lose.
Over/Under is 217.5. Not sure where the scorings coming from on Toronto's side. If it's a blow-out early, could see scrubs (Jay included) on both sides.
Bet wisely, friends.