In Irish playwright Samuel Beckett's two-act, tragicomic masterpiece, Waiting for Godot, our ragged and witty protagonists, Estragon and Valdimir, are waiting. They spend all of their time in the same place, a space occupied only by a large rock and a decrepit tree, complaining and joking with one another about the monotony and suffocating senselessness of life. Each day, a small boy approaches them, and each day the men ask him if Godot, the someone or something they are waiting for, is going to come. Predictably, the boy tells them that, yes, Godot will come, and so Estragon and Vladimir never leave their sad space, confined by the hope that perhaps this time, unlike all of the others, the boy is finally telling the truth.
Of course, Godot never comes.
Such a sensation, the near-maddening desire to have a seemingly unobtainable goal ultimately come to fruition, to reach a particular endgame, may prove hauntingly familiar to Toronto Raptors fans when discussing Norman Powell and his play over the past few seasons.
Ever since he flashed the early signs of what could be against the Milwaukee Bucks back in the 2017 playoffs, there has been a hunger, a desperate yearning for Powell to build on that timely snippet and blossom into the optimal version of his basketball self. He even received a four-year, $42 million contract extension from management last October founded upon that same yearning, and hope that, sooner or later, it would prove to be worth it.
And yet, here we are, now well over a year removed from that playoff stint without so much as a whiff of Premier Powell, whatever that might be. But much like in Waiting for Godot, what's as important, if not more so, than the actual arrival of the endgame is what happens while awaiting it. Unfortunately for Powell's true believers, the journey thus far hasn't yielded the finest of results, and three games into the 2018–19 season, those results aren't getting any prettier.
With Delon Wright having sat out the young season with a left adductor strain, Powell has been gifted more minutes than he was expected to receive, each game an audition for the next, a vital opportunity to prove that he deserves to be in the regular rotation for the long haul. But these chances won't last forever, and with guys like C.J. Miles fighting for the same spot, the onus is on Powell to not only perform, but perform now.
True to the nature of the team's offensive system last season, the vast majority of Powell's shots (77.5 per cent) came either right at the rim or from beyond the arc. Known primarily as an explosive slasher, he had no issue driving when the ball was in his hands (4.1 drives per game in 2017–18, fifth-highest on the team), but finishing was another matter. Per Cleaning the Glass, Powell shot 56 per cent from within 0–4 feet of the hoop, placing him in the 27th percentile amongst small forwards.
Not much has changed this season, with Powell currently sitting on an at-the-rim percentage of just 33 per cent.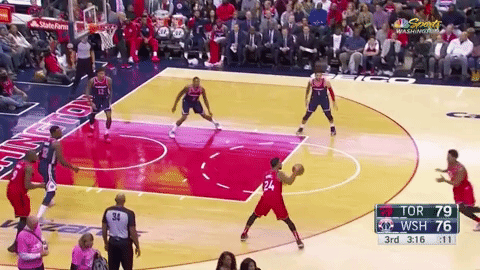 Even in transition, Powell found it difficult to get going last season. Despite being so athletic, with good burst in the open floor, he managed to create a mere 0.86 points per possession, ranking him in the 12th percentile even as he got into fast breaks at a 25.8 per cent frequency, higher than any other Raptor.
When he wasn't trying to score at the rim, Powell was taking three-pointers, perhaps the area of his game that demands the most improvement. Out of his 5.3 field goal attempts per game last season, 2.7 of them were threes, and out of those threes, 2.4 of them were either open or wide-open looks. Powell shot a collective 29.1 per cent on those attempts, and while many of them were good looks generated by the offense, opponents also paid Powell less respect at the arc than they did other Raptors wings, often sagging off of him and waiting to see if he could make them pay.
This season, Powell is making around the same amount of threes, though he's taking less of them per game thus far, increasing his percentage. His shooting will be something to keep an eye on, though there haven't been any particular signs of improvement besides simply abdicating the three-point line for more drives to the basket.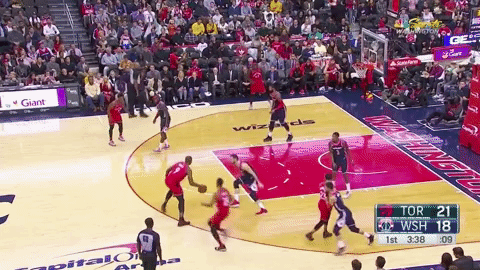 Defensively, Powell has always been a bit of a roller coaster. On any given possession he can look like a quality defender, staying in front of his man until they are forced to pass the ball off, or even showcasing his athleticism and rising for sudden, ferocious blocks.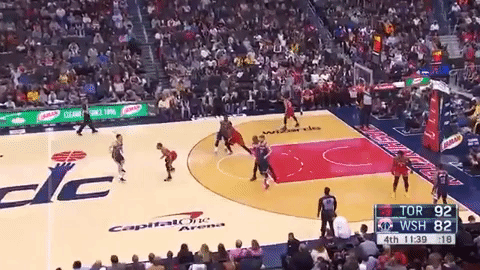 But for the most part, Powell still has a proclivity to get lost at times when switching, get stuck to screens like a fly in honey, and allow more than his fair share of blow-bys. He ranked 59th out of 74 small forwards in defensive real plus-mins last season, and had an individual defensive rating of 105.9, worse than every Raptor playing significant minutes aside from DeMar DeRozan (another poor defender who was playing more minutes) and Jonas Valanciunas (the team's primary rim protector).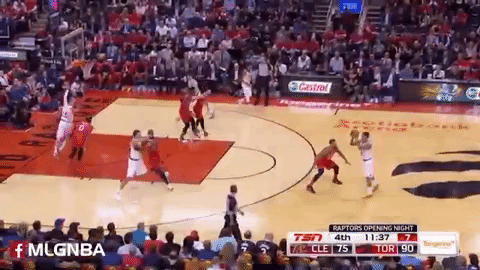 Overall, Powell was the only Raptor who played significant minutes last season and finished with a negative net rating (-1.8). This season hasn't been so different, though the small sample size means that the game against the Washington Wizards, in which Powell was a plus-20 largely because he spent the majority of his time on the floor with the starting unit, has frosted over his first two games. Prior to that contest, Powell had a -8.2 net rating and looked for all the world like a player who simply shouldn't have been on the floor logging minutes for such a deep team.
And therein lies the rub. The Raptors are so stacked that allotting Powell ample time to carve out a role for himself, to get comfortable and find a rhythm, is unrealistic. Once Wright returns, Toronto will be forced into playing Powell less minutes, at the very least, and even more likely, relegating him to the bench for a player like Miles, whose game is a known quantity. While the potential of Powell is always intriguing, the risk of playing him as opposed to a player who meshed well with the bench group (and who is a much more potent three-point threat) last season is a substantial one.
Indeed, it seems that Toronto, now a legitimate contender to break out of the East, is just the wrong spot for a guy trying to find himself again. This, then, leads to the inevitable question: What about a trade?
It will be somewhat difficult for the Raptors to move off of Powell as things stand. His contract indicates he should be a solid role-player, though of course he hasn't been as he's popped in and out of the rotation over the last year. As such, his market value is probably the lowest it's ever been, and it would be impractical for Toronto to expect anything more than a second-round pick in a deal to dump his salary and gain some tax relief.
Still, there are always teams looking to take a chance on fairly young players with potential. That's something that Powell still has, and if a suitor comes out of the dark who can offer him a space to resurrect his career and, ultimately, become the best version of himself by giving him a larger, more consistent role, then the Raptors should jump on it.
On another team, in a new milieu, perhaps Powell can end the monotony, end the humdrum of constant waiting that has plagued both him and Raptors fans. Perhaps he can finally erupt, and no longer be defined by the ghost of a single playoff series.
Perhaps Godot will come.
But until then, glued to the Raptors, Premier Powell will remain an elusive enigma, a tiny speck of light just off-stage whose beckoning grows less enticing with each passing day. And much like Estragon and Vladimir, both the team and fans alike will be stuck waiting, waiting, waiting.
Always waiting.