Four days feels like an eternity.
One whole night without an injection of OG or Barnes thrill and I'm plugging in the SNES to play some NBA Jam just to get my fix.
I don't know what it is with those two. It's like I just bought a Miata to assuage my mid-life crisis. They make me FEEL ALIVE.
Their juvenility coursed my veins as I defended unsuspecting lads full-court in a pick-up game last night.
Honestly, it might be as simple as their muscle tone. They're literally Raptors: ferocious, wiry, rangy, voracious. Julius Randle felt a whole lot like Chris Pratt the other night.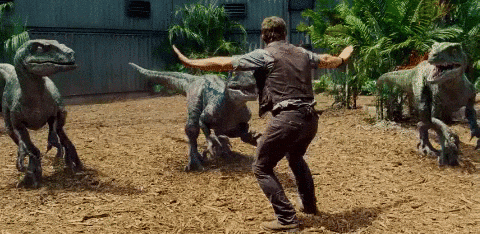 I believe so much in both. I'm drinking from the Foutain of Youth watching Barnes take one-huge-step-for-Raptorkind and tomahawk it:
Barnes COAST TO COAST pic.twitter.com/n8PJXS1yEJ

— Raptors Republic (@raptorsrepublic) October 29, 2021
Or OG slow-roasting dudes like braised cabbage.
ISO OG pic.twitter.com/Df12w3LFuo

— Raptors Republic (@raptorsrepublic) November 2, 2021
There's a lot to be frustrated about watching the team as a whole. I wrote about that yesterday, in fact. Whatever, give me my fix of the Raptors running the fastbreak like the Knights of Rohan and I'll be good.
The Skinny
The Raps are in their first official slump: 2 Ls.
Both games felt off. Against Cleveland, Raps got a bit cocky, took the boot off their throat and got sand thrown in their eyes by a defiant group of Cavaliers. Against Brooklyn, they played a vivacious first half. They let up, and that's all it took. 3rd quarter, KD slapped. In the 4th, it was Harden.
Those happen. A young team outrun by frisky competitors or bespoilt by two All-NBA-History players.
Twas lovely having Pascal back in a jersey. He played well considering. Post-game, he admitted to being tired like three minutes in. No surprise. As he gets his conditioning back and as he comes to build chemistry with Scottie and the new-and-improved OG, this team's offence will, hopefully, rectify those doldrum moments we saw in the 4th of the Cavs (22 pts) and 3rd of the Nets (17 pts) games.
Boston's a bit of a chemistry problem itself. They started the season 2-5. Marcus Smart threw shade in the post-game, ironically, calling for shared rock despite shooting like he was rolling Skee-balls. The Celtics looked to be at the brink of implosion.
They mitigated disaster by holding both the Orlando Magic and Miami Heat to sub-80 pts (Duncan Robinson went 5-17 from three) and then blowing it at the buzzer to The Great Luka.
Still not over it.

Luka freaking Magic 🔮 pic.twitter.com/r4aT30y7iH

— Dallas Mavericks (@dallasmavs) November 7, 2021
Boston's offence has languished. Their guard rotation: Dennis Schröder (38%), Marcus Smart (31%), Josh Richardson (44%), Aaron Nesmith (21%), and Peyton Pritchard (30%) have shot like there's a cataracts contagion. Timelord and Al Horford defend the rim extremely well, and chip in where they can.
This team comes down to the scoring of All-Stars, Jayson Tatum and Jaylen Brown. Combined, they average nearly half of Boston's points. It's not enough. If they don't learn to playmake for others – they average 5.8 assists between the two of them despite a combined usage rate of 60%(!) – this team's destined for mediocrity.
The Raptors SMASHED the Celtics earlier this season. OG trapped Brown's soul in a scarf. Tatum was efficient but quiet. The rest were *Yawn*.
Tonight, Brown is out.
Celtics All-Star Jaylen Brown will likely miss 1-to-2 weeks with right hamstring strain, team says.

— Shams Charania (@ShamsCharania) November 8, 2021
This is Tatum's show. The question is who will step up to be the 2nd and 3rd fiddles in this little Travellin' Celtic Band.
Game Info
Tip-off: 7:30pm EDT | TV: NBCS-BOS, Sportsnet | Radio: The Fan 590
Raptors Lineup
Yuta Watanabe (calf) and Khem Birch (knee) out. Isaac Bonga and David Johnson are off to the 905. According to Blake Murphy of Sportsnet, Champagnie's with the Raps until Friday, at least.
PG: Fred VanVleet, Dalano Banton, Malachi Flynn
SG: Gary Trent Jr., Svi Mykhailiuk, [the Ghost of] Goran Dragić
SF: OG Anunoby, Justin Champagnie
PF: Scottie Barnes, Chris Boucher
C: Pascal Siakam, Precious Achiuwa
Celtics Lineup
Jaylen Brown (hamstring) and Brodric Thomas (shoulder) out.
PG: Marcus Smart, Dennis Schröder, Payton Prichard
SG: Jaylen Brown,  Josh Richardson, Romeo Langford
SF: Jayson Tatum, Aaron Nesmith, Sam Hauser
PF: Grant Williams, Juancho Hernangomez, Jabari Parker
C: TimeLord, Enes Kanter, Bruno Fernando
The Line
Spread: Boston -2.
Moneyline: Raptors +130; Celtics -110
Over/Under: 209
Adon's Wisdom: No Jaylen spells T-R-O-U-B-L-E for an already impotent Celtics. Both teams are about .500 against the spread and on the over/under. These two didn't break 200 the last time they met, but I feel like the Raps rolllllll.
Conclusion: Raptors +2/Raptors/Over
The Lineup