As I'm sure we can all agree through 21 games, this iteration of the Toronto Raptors is really, really fun.
The Raptors are an NBA-best 17-4, boast a top-10 offence and defence — again — and are only beginning to scratch the surface of what they will be.
The team's collective success could warrant its own column entirely, but instead, I'd like to focus on two individuals — excluding the team's All-NBA caliber duo of Kyle Lowry and Kawhi Leonard — that have caught my eye early on as key ingredients in what the Raptors have accomplished.
Pascal Siakam
It would be criminal to not credit Siakam as the Raptor who's single-handedly taken the biggest step forward in 2018-19. The Cameroonian's confidence is already the highest it's ever been and is only growing as we get deeper into the season.
Could you have ever imagined Siakam taking a three-point shot with absolutely no hesitation prior to this season?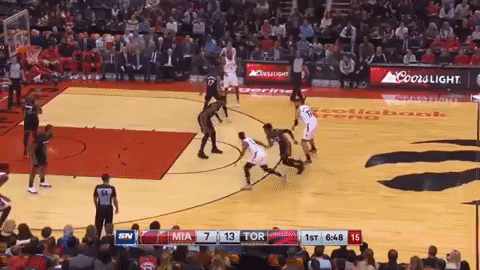 The simple answer: no way. He even holds his follow-through after the shot, knowing full well that ball is going right through the mesh. For a player who shot just 14 per cent as a rookie and 22 per cent as a sophomore from deep, showing this much improvement this quickly feels unheard of.
While his long-range shot has noticeably improved, it's Siakam's transition game, improved handle and lethal spin move that has opponents shaking their heads in disbelief.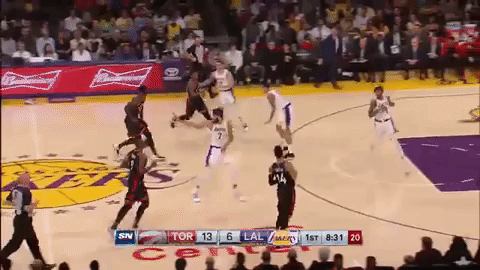 It would be one thing if Pascal was unleashing this sort of explosiveness every few games or so, but the fact he's doing it every time out there speaks to how far he's come and the confidence he has in his game.
I mean, really, how are you supposed to guard a power forward with the ability to run a fastbreak like this: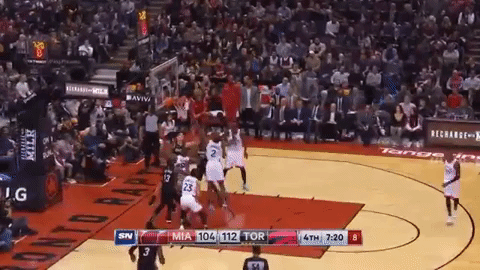 Or penetrate an interior difference with this much ease:
Sure, Miami's defence wasn't exactly set in the above instance off an offensive rebound, but Siakam is still able to swiftly get into the paint and convert an easy layup off glass.
Siakam's doubled his scoring from a season ago (14.5 points per game, up from 7.2), largely a result of his tremendous efficiency (63 per cent, up 13 percentage points from 2017-18).
He's already won Eastern Conference Player of the Week honours, has more 20-point this year than he had in his first two seasons combined, and is playing starter minutes on a team proving itself as the clear-cut favourite to emerge out of the Eastern Conference.
If this man doesn't take home the Most Improved Player award, let's protest (peacefully).
Serge Ibaka
Entering this season some viewed Ibaka as a grossly overpaid burden, given his declining production and his no-show in the Raptors' forgettable series meltdown against the Cleveland Cavaliers. Playing most of his minutes at the four alongside Jonas Valanciunas left Ibaka far less room to operate and clogged the Raptors' front-court, forcing the latter out to the perimeter as a floor spacer far too often. Getting consistent defensive efforts when those two manned the front-court together was a rarity.
Based on his 2018-19 production, people are surely wishing they could take back their criticism of him.
Since head coach Nick Nurse made Ibaka a full-time centre and stopped playing him alongside Valanciunas this season, the 10-year veteran has been reborn, with his numbers soaring across the board. (It's worth noting Valanciunas has benefitted from the move, too, registering a career-high 13 points per game in the fewest minutes of his career no less.)
The Congolese-native is averaging the most points per game (16.7) he has since entering the league, benefitting immensely from playing closer to the basket and having more room to operate in the paint. It also helps he has the luxury of operating the pick-and-roll with the NBA's current assist leader in Lowry, who regularly frees Ibaka up for easy midrange looks.
His efficiency numbers are the highest they've been since back in 2013-14, as are high rebounding totals, putting Ibaka in the conversation alongside Siakam as the team's most improved contributor thus far.
Both Siakam and Ibaka are early contenders for the NBA's Most Improved Player award. No other team in the league employs two players who can make that case aside from the Raptors.
—
The Raptors aren't in the position they find themselves without their dynamic Leonard/Lowry duo, of course, but having versatile complementary pieces goes a long way in helping that cause.
One group I'm itching to see Nurse try out as the season progresses is an ultra-versatile lineup of Lowry/OG Anunoby/Leonard/Siakam/Ibaka, which feels like the only five-man combination the Raptors' new bench boss hasn't yet experimented with. Although you lose some shooting by replacing Danny Green with Anunoby, the defensive potential and length of this lineup would swallow up opposing offences. I feel like it's only a matter of time before they roll this out.
Quick reminder: support RR by becoming a Patron and receive an ad-free experience – learn more.