On the heels of losing Leandro Barbosa for the duration of this trip (four games remaining) and potentially a little longer with a sore right hamstring, the Raps got a bit of a surprise just before game time when Jerryd Bayless, who has been playing through a sore left ankle, determined he could not play.

Bayless has been trying to play through the injury but was not able to push off on the injured foot on Friday. A night later it was worse.

That left Triano asking Calderon, who is dealing with his own foot injuries, to play extended minutes and newly acquired Sundiata Gaines — he just signed a 10-day contract on Thursday — to back him up.

It was similar to the short-handed situation Triano and the Raptors were in for that upset of Dallas just after Christmas.

The Raptors did catch one break on Saturday when Calderon woke up in Washington with his foot feeling as good as it has the day after a game as it has in some time.

"I was little bit surprised," Calderon said referring to his foot. "Every time it's the next day that's the worst, but this morning it was pretty good."

His 21 points tied his season-high mark, the 15 assists were two off his season's best and the nine rebounds matched his career high set back in 2005 in this very city.

But Calderon was just the most obvious of standout performances on the evening. In fact, Triano didn't really have a complaint afterwards.

"I can't ask for much more from our guys," he said. "In a back-to-back with so many guys hurt, our margin of error isn't very big, but I don't know if Amir (Johnson) can play much better than he is playing right now with the injured (back). Jose had probably one of his best games ever as a Raptor, one away from a triple double and a career high in rebounds, Ed Davis was very solid and Sundiata did exactly what we wanted him to do. I'm just proud of our guys."

Not even Young's 29 points, built primarily on an 18-point third quarter that saw him miss just one of his eight attempts from the field, could get a rise out of Triano.

"I honestly don't know how much I can fault our guys," Triano said. "I don't think that (Young) had many open looks. There were guys right there and he made some tough shots. In the first half we had him going to his right (and contained) and in the second half he just got it going."
The loss stings, but the team's effort was not to be diminished.

"I'm proud of the way our guys fought in this game," said coach Jay Triano. "I can't ask for much more from our guys in a back-to-back when we have so many guys hurt.

"You're right, our margin of error isn't very good but I don't know if Amir (Johnson) can play much better than he's playing right now with the injury he has.

"Jose had one of his best games ever as a Raptor, one away from a triple-double, career high in rebounds," the coach continued.

The absences of Barbosa and Bayless were crucial. The Raptors got good games from their players — Andrea Bargnani had 25 points and seven rebounds, Ed Davis had 15 and 8, Amir Johnson added 12 and 10 — but the limited backcourt got them.

And when Washington's Nick Young went off for an 18-point third quarter, it gave the Wizards just enough of a cushion.

And the Raptors really can't beat themselves up too much about that, either, as Young hit a series of contested jumpers in the quarter.

"Honestly, I don't know how much I can fault our guys," said Triano. "He didn't have many open looks, there were guys right there and he made some tough shots.

"I thought in the first half we did a tremendous job of keeping him going to his right and he just got it going a bit."
Everything about Wall's game tonight could worry the casual observer. I'm going to ignore the issue of the jumpshot, because that will come with time and many great PGs take a while to add that particular weapon to their repertoire. I will say that while the fact that Wall doesn't have a jumpshot isn't much of a concern, I would rather he shoot it like someone with all the confidence in the world, rather than a guy hoping and begging for it to go in the basket.

What concerned me tonight were the other things. Wall's defensive stance was terrible all game as he was standing up on Jose Calderon all night. Wall was torched so completely by Calderon (who was one rebound short of a triple-double) that he was pulled for the last two defensive possessions of the game. Flip stated that Wall was removed from the game because the team needed Nick Young to shoot the FTs and "Kirk (Hinrich) is one of the best on ball defenders in the NBA," but the fact remains that the Wizards pulled their #1 pick because he was being lit up all night by a middling PG.
Perhaps the best part about the win for the Wizards was the ability to close the game out. A lot of times this season they have had fourth-quarter leads and handled it like a four-year old who is overly fond of a puppy — clutch it so tight that it ends up running away. That is what happened against Minnesota the other night as Washington got blown away after having a late lead. On Saturday the Wizards executed toward the end of the night, got the ball into Young's hands in the last few minutes for the clinching free throws and were overall composed. Saunders did substitue Wall for Kirk Hinrich in the last minute which helped, the coach said that Hinrich is one of the better ball-on-ball defenders in the league.

Part of the substitution may have also had something to do with the Raptors' point guard. Jose Calderon roasted the Wizards all night and it was another example of an opposing point guard coming up with big numbers after going against Wall and the Washington guards. Calderon finished with 21 points, 15 rebounds and nine assists against one turnover. In comparison, Wall had eight points, nine assists, three rebounds and five turnovers.
When Andrea Bargnani (25 points) hit a pair of three-pointers to cut Washington's lead to 77-75, Yi intercepted Sundiata Gaines's errant pass in the lane, but didn't see an outlet. Deciding to run the break himself, the 7-footer put the ball on the floor, went the length of the court, and finished strong with a slam dunk. He said it was the first time he'd ever done so in his four-year NBA career.

"I never seen that," said Wizards guard John Wall. "When he got it, I wondered what he was going to do. I wondered if he was going to Euro-step or take a charge. It seemed like he went coast to coast and showed flashes of JaVale [McGee]."

"It felt great," said Yi, who had his best game since returning from a recent knee injury, with ten points on a perfect 5 for 5 shooting night from the field.
Hoffa Breaks A Backboard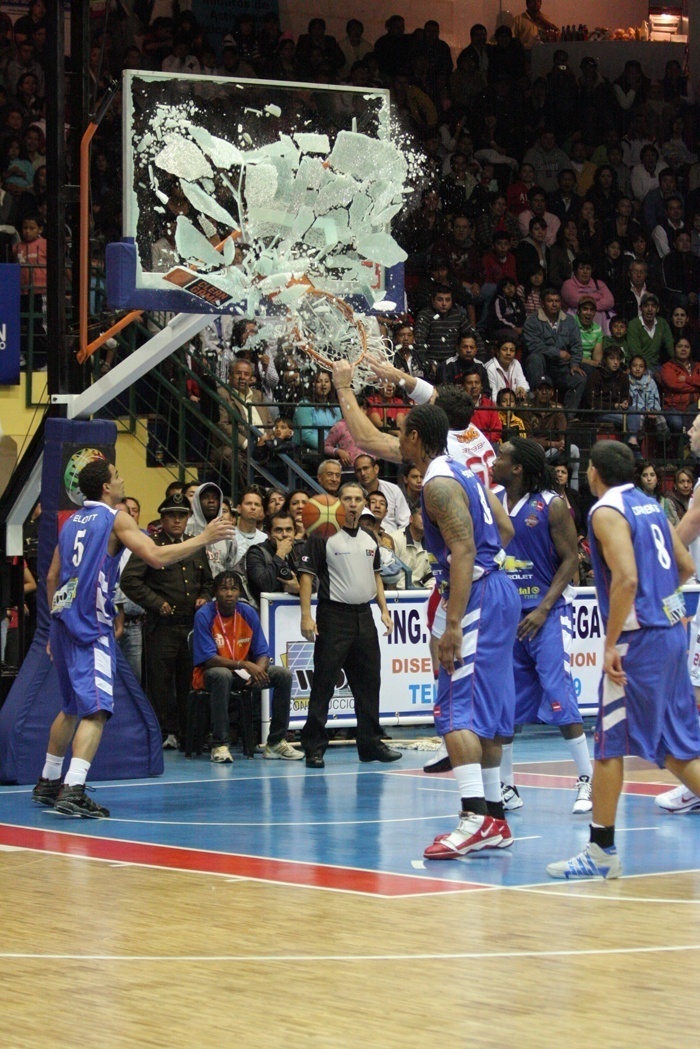 The Wizards were able to overcome the Raptors with Andray Blatche returning from his sprained right shoulder to grab 17 points and 13 rebounds on the night that fans received his bobblehead doll. But there were also some subtle contributions that were instrumental. Rashard Lewis was extremely clutch in the second half, when he made all three of his three-pointers, including a long-range jumper that extended a one-point lead to 86-82 midway in the fourth.

Al Thornton provided a lift off the bench in the first half, as he scored all nine of his points and was 4 for 4. He had a beautiful bounce pass, through four Raptors defenders, to Blatche for a layup, and came soaring down the lane to rebound a Lewis miss for a two-hand dunk that gave them a 47-42 lead at the break.

"It feels good when you can come out there and be a part of the team, to help the team to the win. It feels good," said Thornton, who will likely be looked upon to do more with Josh Howard expected to miss at least another week with his sore left knee.

Saunders said, "I thought our bench, in particular, Yi and Al were exceptional."
Looking ahead, the next few games look to be extremely difficult.  With games against New Orleans, San Antonio, Orlando, and Miami, it's extremely doubtful we'll see the Raptors play the part of "spoiler".  All of the teams are contenders for their division titles and are looking to secure their places in the playoffs.

In fact, it wouldn't surprise me to see our boys get blown out in all four games.

With that in mind, it's now getting to be the point in the season where I'm starting to look beyond just the wins and loses column.  Continued development of players like DeMar DeRozan will determine if this year was simply a wash or if the Raptors team will learn from their mistakes and find a place in the playoffs in the foreseeable future.  While I'm not a fan of this year's draft, the Raptors have to continue to reinforce those statements they so boldly and famously made back in training camp.  The Raptors may not win that many games in the rest of the season, but it's important for this team to work hard with an eye towards being a fighter.

Right now the Raptors have lost that fight.