You can keep up with all of our player previews here.
In an increasingly position-less league, employing a true Swiss Army knife player (a guy who can legitimately dip his toes into every aspect of the game) is a luxury few teams enjoy. There is Draymond Green in Golden State, for example, the paragon of potpourri play and small ball excellence whom head coach Steve Kerr can use as a skeleton key in nearly any lineup to unlock various ways to attack and defend teams that most others can only dream about.
And yet, while it is true that Green-esque players are few and far between, the Toronto Raptors have discovered their own budding version in Pascal Siakam, now in his third season with the franchise and ready, many believe, to take the next step in his development as a jack of all trades.
That next step will come not only through his own personal improvements, but also through the opportunities provided by new head coach Nick Nurse. Such opportunities, as were made evident last Saturday in Toronto's first preseason game, will include a particular focus on Siakam acting as the primary playmaker in both transition and semi-transition whenever he's on the floor, a method that will make use of his fast-twitch speed, noticeably tighter ball handling, and ever-improving vision.
Here, Siakam rockets down the floor in semi-transition, pushing the pace with three Portland Trail Blazer backs turned to him. By the time CJ McCollum faces up, Siakam already has a full head of steam and forces his way directly into the paint, causing the defense to scramble and leaving a trailing Jonas Valanciunas open at the elbow. Siakam makes a swift read and kicks it to his center, who then makes an intelligent play of his own, firing an impressive one-handed dime to Kyle Lowry in the corner for three.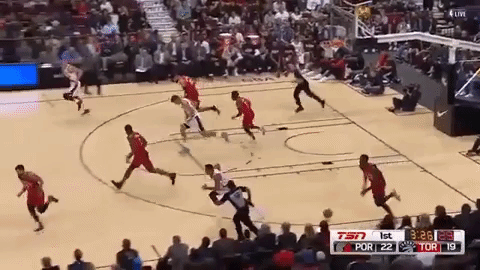 Make certain to take away any hope Siakam has of getting into the lane by blockading his path with multiple defenders, as the Blazers do here with McCollum and Nik Stauskas, and teams risk him finding open teammates, already present or trailing, at the arc for easy looks.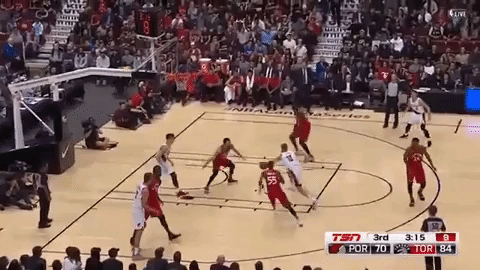 With the ball in Siakam's hands more often (he boasted a usage percentage of 24 against Portland; his usage percentage last season overall was 15.7) and a glut of three-point threats surrounding him, it would not be surprising to see an uptick in his assist numbers this season. Siakam will clearly be looking to find his teammates if Saturday's opener was any indication—he recorded a 23.1 assist percentage, significantly higher than his 13.5 mark during the 2017–18 campaign.
That said, leave the door open for Siakam to score and he won't hesitate to take advantage. It will prove an arduous task to defend him in space one-on-one, especially with his improved handle, when he's already spent the last second or so revving up his engine as he flies down the hardwood. Here, as the rest of the Blazers watch helplessly, he leads Zach Collins to the left before hitting him with a powerful spin and finishing prettily with his right.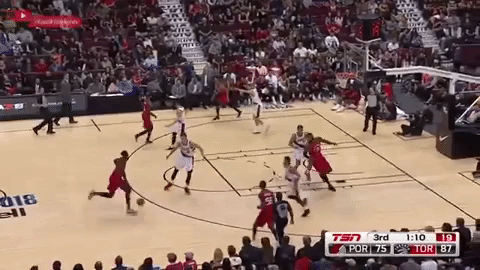 One of the things Nurse has talked about since his hiring has been the notion of finding ways to have the team get out and run more often—particularly the bench unit. With Siakam leading the charge, the Raptors may find it easier than ever before to push the pace and get into a lethal transition attack. Last season, the team averaged 13.3 fast break points per game (10th-best in the league) playing at a mid-tier pace of 97.4. In Saturday's exhibition, they accumulated 24 fast break points (as opposed to their opponent's two), and played at a relentless pace of 106.3.
It is, of course, important to remember in all of this that stats from one game (a preseason one, no less) mean very little—it is the ideas Nurse has for Siakam that matter, and for one game, at least, they were not only distinctly defined, but also worked wonders.
Unlike the offensive side of Siakam's game, which is still molding itself into a fully-formed construct, the forward's defensive skill is already largely established and was the initial appeal that had people touting him as a Swiss Army knife player.
The Raptors were better defensively with him on the floor last season (102 defensive rating when on versus 104.3 when off), and the Bench Mob, filled to the brim with stalwart defenders, possessed a sweltering 99.1 defensive rating, 11th-best in the league amongst all lineups that played at least 200 minutes.
Siakam is as versatile as they come on the defensive end, able to switch from guarding plodding power forwards down low to sticking with zippy wings on the perimeter. With such adaptability at his disposal, Nurse can employ a switch-heavy defense if he so desires, or one where players switch very little and keep with their singular assignments.
In this example from the preseason opener, Siakam switches onto McCollum as the latter sheds Fred VanVleet on a Meyers Leonard screen. Much to McCollum's dismay, however, Siakam easily stays in step with him as he probes down into the paint, forcing him to withdraw to the top of the key where he makes an ill-advised pass that Valanciunas taps away and into the hands of VanVleet. 
Last season, Siakam often found himself out at the three-point line defending a lot of smaller players and stretch-bigs while the lineup's center hung back beneath the rim. As of now, there's not much indication that his tasks will change, and as such it makes sense to believe that, from a defensive standpoint, we will be seeing a lot of the same things from him, including his sometimes guarding an opposing team's best player.
While it is so often a cliché come training camp, Siakam also appears to have legitimately gotten stronger, and it showed against the Blazers with his splendid rebounding performance. He racked up 13 boards (six of them offensive), using his newly acquired muscle and trademark energy to fight for position and overwhelm unsuspecting opponents.
For a guy who has never been a particularly adept rebounder, consistent outings like these could prove to be vital for him. Last season he fielded a mere 12.1 rebounding percentage, and recorded only 4.5 boards per game. Playing him without a center beside him was always a non-starter, and even with Jakob Poeltl in the game the Bench Mob often struggled with finishing defensive stands by snagging the rebound, more often than not creating turnovers to get going instead.
A continued rebounding display such as this would be good no matter what, although it might give Nurse the confidence to try out short stints of Siakam at the five, depending on the opposing lineup. This, of course, is probably still not a desirable look, even if Siakam continues his dominance on the glass, and not even in the contest against the Blazers did Siakam play without a center beside him. Even so, this is a (pre)season of experimentation, and Siakam becoming a consistent glass eater would be a mighty welcome addition to it.
While Siakam truly is growing into potentially the NBA's next great polyhedral player, he's not without his flaws and his game not without questions. As aforementioned, it's still not a good idea to play him without a center there to back him up, not only because of rebounding but also due to Siakam's lack of rim protection. He's not a potent screen setter, either, and it is yet to be seen if his three-point shot (22 per cent last season) can demand some much-needed respect. Even as a playmaker, Siakam hasn't quite worked his way up to initiating things in the half-court on a consistent basis yet.
These are all things to keep an eye on as the season wears on, but for the most part, there are plenty of reasons to be optimistic about Siakam's chances of having a breakout year and taking his game to the next level (let the Most Improved Player buzz begin!).
As he's already shown, Siakam is constantly whetting his tools, one moment gliding through the paint before whipping the ball out to the corner, the next locking down a fleet-footed guard on the perimeter. He may not be the equivalent of a Draymond Green yet, but he's certainly evolving into a multifaceted weapon in his own right, just waiting to be brought off the bench and inserted into the game wherever he may be needed—the Raptors' very own Swiss Army knife.