Kawhi wasn't seriously considering the Raptors.
Kawhi Leonard gave Toronto everything — and now he's going home
Reports say George and Kawhi met earlier this week, and George told the Thunder he wanted out a few days ago, one year after George re-signed in Oklahoma City on a four-year, $137-million deal. Sources say Kawhi's camp asked the Raptors earlier this week about the possibility of acquiring George or Washington's Bradley Beal. Team president Masai Ujiri considered the request.

But as the Kawhi camp also made escalating demands, the Raptors began to feel that Kawhi and his people were focused on Los Angeles. Kawhi was in Toronto from Wednesday to Friday, and was indeed on the company plane as it flew back to San Diego on Friday morning. No short-term contract was discussed. The Raptors could offer a five-year, $190-million deal: one more year and more guaranteed money than anybody else.

The showdown concluded Friday night, with the league's balance of power at stake. The Raptors engaged with Oklahoma City in trade talks, though not at the highest levels. Oklahoma City's Russell Westbrook was believed to be interested in playing with Kawhi, but sources say he was never discussed in talks with the Raptors. And even then, the ask for George was astronomical: Pascal Siakam, Fred VanVleet and four unprotected first-round picks, before they even started matching up salaries to account for George's higher number. Perhaps that would have been where Westbrook came in, but not likely.

It was a gargantuan demand. The Raptors never got the sense that OKC was truly serious about making a deal; they felt that it was more likely they were being used as leverage. For the last two to three days, sources say the Raptors did not believe Kawhi was truly serious about returning to Toronto. In the end, the Clippers were willing to surrender more.
Raptors fall to Warriors in Las Vegas opener
Chris Boucher: It was very much a Slimm Duck game today as he kicked things off with the aforementioned highlight reel players followed by some ill-advised pull-up jumpers early in the shot clock and a few clanky threes. Still, Boucher was one of the few bright lights in the second half and his sheer talent alone proved to right the ship after a rocky start. He showed a little bit 0f hi-lo chemistry in the twin tower lineups Goodwillie rolled out. Your Summer League fact of the day: Boucher is now tied as the all-time blocks leader in Raptors Summer League history.

Malcolm Miller: It looked early as if Miller was going to rightly prove that he was a class above this competition with a smooth three to open the game, but his Summer League woes continued with two horrible misses from the corner on wide open looks. There was a fun little defensive matchup with Miller picking up Jordan Poole as the two went back and forth. Miller continues to do all the right things, unfortunately he just didn't deliver. As a shooter it can often be a results-oriented business and Miller needs to knock a few down as the guarantee date of his contract fast approaches.
Report: Raptors sign Stanley Johnson
If the enticement of a return to the Finals doesn't drive Johnson, his mother sure will. Karen Taylor was a basketball star in her own right, playing for Jackson State University, and eventually being inducted into their Hall of Fame. She spent five years playing professionally in Europe before coaching her son Stanley from ages 5 through 14 with the So Cal Tigers AAU Club, a league she created.

The Pelicans did not extend a Qualifying Offer to Johnson on June 27th, making him a free agent. According to his agent (via Shams Charania), the deal is for two years, with a player option for the 2020-2021 season, and worth $7.5 million. To put it into perspective, Johnson's two year contract is $2.5 million dollars less than the Toronto Raptors paid Danny Green for his singular season with them.

Stanley Johnson was signed using the Bi-Annual Exception, meaning Toronto was able to sign him for up to two years, with a salary starting at $3.29 million. Acquiring Johnson at such a low price brings the Raptors' total player salaries to $124 million, leaving them $9 million dollars below the tax line with an 11-man roster, and room to sign another player starting at $8.4 million dollars annually.
Kawhi Leaving is an End and a Beginning
What comes next is complicated for the Raptors. Do they move the veterans on large expiring contracts for additional assets for the rebuild? The temptation will certainly be there, and coming off a championship run and with the league looking wide open with a lot of teams considering themselves contenders, there should be a trade market there for the trio of Kyle Lowry, Serge Ibaka and Marc Gasol, and each of them may be interested in taking another run at competing elsewhere with Kawhi no longer on the roster in Toronto. Taking on some bad salary to get back younger, interesting players and draft picks certainly doesn't look like a bad option at this point in time for the Raptors, and Masai may choose that path as the summer goes on. The team could also go the route of running it back, remaining a solid playoff team to showcase to future free agents that they are committed to competing, and leaving the door open for trading for another star in a trade like the Leonard one, to help bring them back to the upper echelons of the NBA. The Raptors have almost certainly been considering these options for if Kawhi would choose to leave this summer, and probably already have some contingencies in place, and it'll be interesting to watch this front office figure out the next steps.
The Raptors had treated Leonard the way he wished the Spurs had. He was publicly thankful for what the franchise had done to give him the platform to go from being labelled a suspect character who quit on his team, to the best player in the NBA. That too in a contract year. Unfortunately for the Raptors, that dedication and care yielded little in the free agent market. And they shouldn't be surprised because loyalty is a deflating currency and there's an element of what goes around must come around.

Of course the circumstances are different than DeRozan. Leonard's decision was likely equal parts location and title contention, and loyalty did little to sway him. Those of us who thought that load management might have made a tangible difference in free agency were misguided. In the end this came down to what a man wants in the moment and for the Raptors, past favors meant as much as future promises: very little.
What's Masai Ujiri's strategy now that Kawhi Leonard's gone?
The strategy decisions that Ujiri has on his hands now are something like this:

Challenge for next season
– Challenge by just adding fringe players via trade/free-agency
– Challenge by trading some our key assets like Lowry, Ibaka or Gasol

Have next year or two be a developing year
– Perhaps target Anthony Davis in 2020 or Giannis Antetokounmpo in 2021
– Organically build with Siakam as your key star
Raptors' Nurse on Kawhi: 'You can't blame a guy for wanting to go home' – Sportsnet.ca
"Obviously he's one of the greatest players in the world and talent in this league is hard to come by at that level," Nurse said in an interview on ESPN during the Raptors' Summer League game against the Golden State Warriors. "We'll put our heads down and get to work and attack the season like we would. We're going to get up every day with the goal of trying to win the championship, get up every day and go to work and expect to win."

Leonard will reportedly be joining the Los Angeles Clippers in free agency, only weeks after leading the Raptors to the first NBA championship in franchise history.

Nurse said he found out the news moments before the reports came out late Friday night and added that he texted with Leonard a bit on Saturday.

"You can't blame a guy for wanting to go home," Nurse said during a separate media scrum Saturday night. "He was unbelievably fun to coach… now we got to go kick his ass."

Nurse's comments came in the first interviews by a member of the Raptors after the Leonard news came out. Earlier on Saturday, team president Masai Ujiri a statement thanking Leonard and Danny Green (who joined the Lakers Saturday) for their service.

"We are very thankful for the year that Kawhi and Danny played with us here in Toronto, and I know the city and the entire country of Canada are grateful for everything they did to help us to win our first NBA championship," the statement said. "On behalf of the Raptors, I say a very heartfelt thank you to Kawhi and to Danny, and we send them and their families nothing but good wishes.

"As an organization, the Raptors will focus on the future and continue our pursuit of a second championship."
So Much for the Afterglow in Toronto – The Ringer
Leonard's decision, through the prism of the past decade of NBA star agency, makes complete sense. The Clippers offered an intoxicating combination of rock-solid ownership, a forward-thinking front-office, assets galore, and the opportunity for Leonard to put his fingerprints on the team-building process instead of being a cog in some other machine. But the ways in which the NBA's power structures have changed since LeBron James's Decision also highlight just how much of an anomaly Kawhi is. Considering the dogged history of the Clippers, Leonard just made one of the most unorthodox decisions an NBA player can make. But, then again, he won a championship with the Raptors in his first and only season with the team. He's earned the right to make these types of decisions, just as the city has earned the right to bask in their season's glory for the rest of the year.

Unfortunately for Toronto, now comes the waiting game. The Raptors are bound to take a few steps back in the upcoming season. A core of Gasol, Pascal Siakam, Kyle Lowry, and Fred VanVleet is good enough to make the playoffs, but not necessarily an imposing foursome. The team is capped out, even with Leonard's departure, and any progress we see from the Raptors won't be seen in the standings, but in the margins. Toronto saw Siakam at his best and worst in the playoffs; they'd envisioned him being the second star to stand alongside Kawhi for the long term. His name was tossed out as the centerpiece of trades for players like Anthony Davis and Paul George. The Raptors will soon find out just how much the 25-year-old Cameroonian has left to grow, and how much weight he can bear on his shoulders as a true centerpiece. They'll see if the magic is still left to be mined from VanVleet's unconscionable postseason hot streak. They'll find themselves with a fully healthy and fully engaged OG Anunoby, a wild card who could create unforeseen avenues of success much like Siakam did last season. Less than 12 hours after Kawhi's decision was announced, the team reached an agreement with Stanley Johnson on a two-year deal in hopes of salvaging whatever is left of the once highly touted 2015 lottery pick. The Raptors, in essence, will go back to their roots by developing young talents into well-rounded supporting cast members. But the road back to championship contention is murky for a team forced to run it all back without their game-changing catalyst.
Masai Ujiri had no miracle move to retain Kawhi Leonard; now he will need to maintain patience – The Athletic
Ujiri might have a bit more leeway to make a significant deal now, although it still looks unlikely from here. The most logical path after losing your superstar, and championship contention with him, is to get rid of the pieces that will not be a part of the next contender that you envision. Without Leonard and Lakers-bound Danny Green, the Raptors project as a frisky playoff team clearly behind the Bucks and 76ers, and maybe the Celtics, Nets and Pacers. It is life in short-term purgatory, or on the treadmill, or whatever other pained metaphor you want to choose.

However, the Raptors could try to trade their trio of veterans on expiring contracts — Lowry, 33, owed nearly $35 million, Marc Gasol, 34, owed $25.6 million and Ibaka, 30 before the season starts, at $23.3 million. Ujiri would not be doing his due diligence if he did not explore the markets for all of those players.

A quick glance at the landscape right now does not reveal a lot of obvious suitors. All three players do not produce more value than their contracts are worth during the course of the regular season. The Raptors surely would not want to take on contracts that go beyond 2021 in return for any of them, and no team has the space to simply take those contracts on board without clearing space of their own.
How Kawhi has warped the league and the NBA title chase
The Raptors, meanwhile, understood what they were getting into when they traded for Leonard. They knew he had wanted Los Angeles, and that he might leave in free agency regardless of how the season played out. They knew Leonard bolting would leave them without a franchise tentpole, and with almost all of their key veterans — Kyle Lowry, Ibaka, eventually Marc Gasol — in the final year of their contracts. The only alternative might be rebuilding around Siakam, OG Anunoby, Fred VanVleet, and the collective draft acumen of an elite front office.

They were fine with all of that. A trade — even one as big as Toronto's swing for Leonard — is not a gamble if the team executing it sees no downside. The DeMar DeRozan version of the Raptors had run its course. LeBron — Toronto's Voldemort — leaving the conference did not change that.

Losing DeRozan, Jakob Poeltl and a low first-round pick meant little to the Raptors beyond nostalgia. Every other Leonard suitor had something real to lose, something that would at least make you think — Jaylen Brown, Brandon Ingram, whatever. Toronto was tethered to nothing.

The Raptors had been ready to rebuild for years anyway. They would take one shot at glory in the meantime. It worked. They won a title. That is the entire point of this enterprise. Winning even one is hard. They got one. They win the Kawhi Leonard trade forever. And now they move on.

They will surely investigate trades for Lowry, Ibaka and Gasol. It's unclear whether those guys on expiring deals will net meaningful assets. Masai Ujiri will try. He does not like losing players for nothing. He doesn't have to rush. The Raptors excelled when Leonard rested last season. They still have a good, tough, savvy team — a strong playoff team. There is nothing wrong with taking a feel-good one-season victory lap.
Kawhi Leonard Made the Clippers Accept All the Risk to Earn Their Superteam – The Ringer
It's a huge risk, even though both Kawhi (who turned 28 in June) and George (who turned 29 in May) are still in their primes. Kawhi was clearly hobbled by the end of last season's playoffs, and George may miss the start of next season after undergoing shoulder surgery this summer. In the darkest timeline, the Clippers have given up a future All-Star in SGA as well as multiple top-five picks over the next decade to create a team built around an injury-plagued star that never makes it out of the second round.

None of that matters to Kawhi. What happens to the Clippers in 2026 doesn't have any bearing on his chances to win a championship in 2020. His window could close at any moment. He played in only nine games two seasons ago in San Antonio while recovering from a mysterious quad injury, and played in 60 games last regular season as Toronto did everything it could to save him for the playoffs. Kawhi admitted that he wouldn't have made it to the NBA Finals without that type of load management. He has no way of knowing just how long he will be able to play at the all-time great level that he reached in last season's playoffs.
Various betting sponsors will be tracking the odds of the Raptors title chances now that Kawhi Leonard is gone. It'll be interesting to see how the odds shift over the next few weeks as Masai Ujiri makes his moves over the next two weeks.
DraftExpress – Stanley Johnson DraftExpress Profile: Stats, Comparisons, and Outlook
Johnson, the 8th overall selection in last years' draft was featured heavily for the Pistons in Orlando. Johnson, who just recently turned 20 years old, is a physical specimen with his chiseled frame, especially for someone his age. At 6'7, 242 Johnson thrives on the defensive end while his offensive game remains a work in progress. Detroit made him the focal point of the offensive game plan in Orlando, putting him in ball screen actions and spotting him up off the ball. Although Johnson made some plays with the ball in his hands and shot well from inside the 3-point line (11-20 on jumpers inside the arc) his outside shot still needs work. In 73 games with the Pistons last year Johnson shot 30% from deep on 205 attempts and followed that up with an 8-30 performance in Orlando. Johnson's jump shot is sound mechanically and he will continue to develop the rest of his offensive game, making him one of the bright prospects in the League. The fact that he was able to be highly productive as a 20-year old in this setting, despite not being efficient offensively, is a testament to the versatility he possesses.
BREAKING: pic.twitter.com/oIPUwiFLmI

— Inside The Green Room (@GreenRoomInside) July 6, 2019
Goodbye Fun Guy: Kawhi Leonard's top five moments with the Toronto Raptors | The Star
Remember the simpler times when the Raptors reached the Eastern Conference Finals? To get there, they needed what is widely known as the greatest shot in team history, when Leonard bounced in a buzzer-beater at home in Game 7 and sent the city — and anyone watching across the world — into a frenzy.
Key details from Bruce here: Kawhi was indeed in Toronto from Wed-Friday and on the MLSE plane back to San Diego Friday morning. But "For the last two to three days, sources say the Raptors did not believe Kawhi was truly serious about returning to Toronto." https://t.co/Mx6rdUR3i4

— Ramona Shelburne (@ramonashelburne) July 6, 2019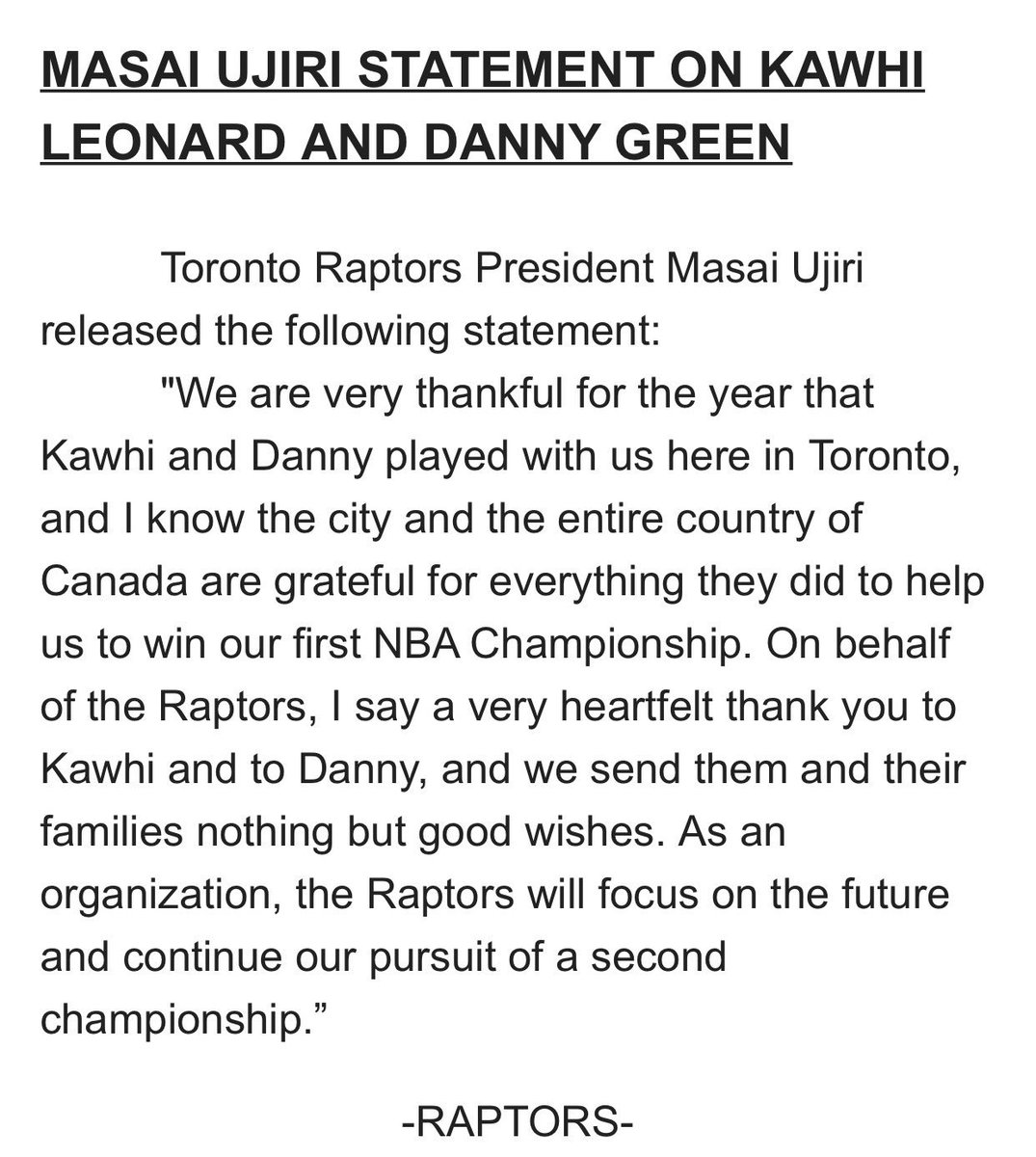 Free agent Stanley Johnson has agreed to a two-year, $7.5M deal with the Toronto Raptors, with a player option in the second season, agent Nima Namakian of BDA Sports tells @TheAthleticNBA @Stadium.

— Shams Charania (@ShamsCharania) July 6, 2019
How Kawhi pulled Paul George away from OKC
The first sign that Kawhi Leonard has a whole lot more to say than anyone ever imagined came a few days before NBA free agency officially opened.

Leonard's ambition in trying to recruit Durant to the Clippers suggested he was serious about joining LA in free agency. But it also suggested that they needed to get him another star.

After the Clippers met with Leonard for approximately three hours at head coach Doc Rivers' house in Malibu on Monday night, both sides went to work to make that happen. At the same time he was meeting with the Los Angeles Lakers and Toronto Raptors this week, Leonard was meeting, calling and texting with George, trying to convince him to find a way out of Oklahoma City.
Kevin Durant was getting ready to commit to the Brooklyn Nets, along with his good friends Kyrie Irving and DeAndre Jordan. They'd all grown close in 2016 with the United States Olympic Team and had talked often about playing with one another someday. All that remained was for free agency to officially open on the evening of June 30.

Then Durant got a call from Kawhi Leonard, asking if he'd consider teaming up with him and signing with the LA Clippers. They'd be great complements to each other, Leonard told Durant. He'd always admired him and had tremendous respect for him as a competitor.

Durant was flattered and more than a little stunned, according to sources close to the situation. He didn't know Leonard that well, so getting a recruiting call like that made a real impression.

And while Durant followed through on his plan to play with Irving and Jordan in Brooklyn a few days later, the seeds of Friday's blockbuster night had been sown — which saw the Clippers secure a commitment from Leonard and trade for Oklahoma City forward Paul George.
Lewenberg on Kawhi to the Clippers, where the Raptors go from here – Video – TSN
After much speculation, Kawhi Leonard is off to Los Angeles to join the Clippers. TSN Raptors reporter Josh Lewenberg joins SportsCentre to talk about Leonard leaving the Raptors, how this affects the NBA landscape and what this means for Toronto moving forward.
Kawhi Leonard's unforgettable year with the Toronto Raptors
He brought salvation to a cursed franchise that was doomed to second class status. When Leonard arrived, it was LeBronto. And before that, it was the franchise that couldn't get out of the first round. Stretch back two decades, and it was just the comical Barney club that played in a baseball stadium full of excitable fans who didn't know how to cheer. Fast forward to the night of June 14, and nobody had to be taught how to celebrate as downtown Toronto threw an impromptu block party until the sun shined golden in the morning like the Larry O'Brien trophy.

He made the Raptors relevant at last, put Toronto in the spotlight, and galvanized an entire nation like never before. It's been said before but it bears repeating: Nearly half of all Canadians tuned in for the Finals, and one tenth of the country spilled into the streets of Toronto to partake in the celebrations. A country singularly focused on hockey finally embraced basketball, and that shift will have a lasting impact that will reverberate for decades. There was the Vince Carter effect, and Leonard's legacy will live on in future generations in the same way.

Leonard brought validation for a team full of greats that had almost achieved greatness. Kyle Lowry, the most unfairly scrutinized playoff performer in recent memory, wore two dumfounded grins in the span of a month. First, after the Raptors closed out the Milwaukee Bucks in Game 6, when the otherwise stoic Lowry melted into a smile as Scotiabank Arena chanted his name. Second, when it was all over in Game 6, where Lowry tucked the game ball under one arm and Leonard in the other, and wore the face of a child on Christmas morning. That gold ball, as Lowry called it, cemented his legacy as the greatest Raptor of all time.

He ushered in the culture change the Raptors so badly needed. If Ujiri were a preacher, then Leonard was God, and belief was their faith. Toronto, a world class city by every measure, needed to get over its inferiority complex, to shake this shadow that doom was always around the corner, and it took a perfect confluence of personalities to rid that for good. Ujiri was true to his word that the Raptors would win, and only a player as aloof as Leonard could resist the negativity of this city. It was always about more than winning for Ujiri — it was about changing the mindset of this fanbase into that of winners, and that feeling should never be surrendered regardless of what comes next.
Kawhi Leonard, Paul George to Clippers: Massive win for NBA | SI.com
In the days to come there will be plenty of time to sort through what just happened and how it affects everyone involved, but for now, let's just start here: Friday night's Kawhi decision was the best possible outcome for the NBA. Partnering with Paul George in L.A. is better than Leonard returning to Toronto for a Raptors team that was unlikely to recapture the magic of the run we just watched, and it's better than joining LeBron James and Anthony Davis on a superteam that nobody needed.

On the Raptors side of that spectrum: It was assumed by many that Kawhi returning to Toronto would make them the best team in the East. Are we sure about that? It took out-of-body performances from Fred VanVleet to survive the Bucks, and they needed one of the greatest buzzer-beaters in playoff history to beat the 76ers, a team that was playing with 60% of Joel Embiid this spring, and a team that just added Al Horford and Josh Richardson this summer. I would have enjoyed seeing Kawhi return to Toronto, and much of what's exciting about this new Clippers era would also have been true if the Raptors had also been his choice. But as perfectly as Toronto played its hand this year, the supporting cast is getting older, and has been for a while now. Those obstacles are part of what made this spring's run so satisfying, but it also makes the future harder to trust. If winning is the goal for Kawhi and entertainment is the goal for basketball fans, teaming up with Paul George, Lou Williams and Montrezl Harrell is a safer bet than the idea of running it back in Toronto with Pascal Siakam and Kyle Lowry.

As for the Lakers side of this: I spent most of the past week arguing with myself about whether Kawhi on the Lakers would be a good thing. All along, it was the audacity of that particular possibility—that the most dominant player in the playoffs could win a title and immediately leave that title team to join forces with LeBron James and Anthony Davis—that kept Kawhi's free agency at the center of sports news every single hour for the past 96 hours. Whatever he decided was always going to be a big story, but if Kawhi had been choosing between the Raptors and Clippers all along, there would have been roughly half the drama, and half the interest. It was that nuclear Lakers option that forced the entire world to pay attention and wonder about the possibilities.
The Clippers Got Kawhi and Paul George, and Changed the NBA – The Ringer
Kawhi led the San Antonio Spurs to an NBA Finals victory over the Miami Heat in 2014, ruining a three-peat bid by LeBron James, Dwyane Wade, and Chris Bosh. Then he did the same with the Toronto Raptors this past season, defeating the Golden State Warriors. He is the superteam slayer, and now he has one of his own.

He is also, apparently, a hell of a backroom dealer. Kawhi kept his circle close over the past couple of weeks. Nothing leaked unless they wanted it to. And the whole time, while we were speculating and prognosticating, he was making moves, or at least making it be known that he wanted moves made. He didn't do the conventional thing and try to run it back with the Raptors, who legitimately could have won another championship. He didn't join the superteam that the Los Angeles Lakers offered with LeBron, the best player of this generation, and Anthony Davis, the best big man of this decade. No, Kawhi chose the Clippers, the little-brother franchise in Los Angeles, a team that only a few years ago was run by a racist owner who was forced to sell the team. Now, they are a model franchise with two superstars. They built a home for Kawhi, and he immediately made it his own.
Kawhi told his Raptors teammates by text that he was leaving just as the news was of the move was breaking, I'm told.

— Michael Grange (@michaelgrange) July 6, 2019
Toronto Raptors still in a strong position despite Kawhi Leonard's departure
The usual reaction to losing a star such as Kawhi is to tear down the roster and start a rebuild. The Raptors may yet choose to do this. However, most of their key players are still under contract for another year and they will struggle to move large veteran contracts now that most teams have used up their cap space on free agent signings. With Marc Gasol, Kyle Lowry and Serge Ibaka becoming free agents at the end of 2019-20. The Raptors will be in transition during the 2019-20 season.

The departure of Kawhi means that certain players will have a greater role next year. The Raptors have had one of the deepest rosters in the NBA over the last couple of years, and many of the bench players are ready to develop futher, much like Pascal Siakam did last year. Fred Vanvleet leads this group and will probably see an increase in minutes following his postseason heroics. OG Anunoby will likely have a more prominent role also, giving him an opportunity to breakthrough and develop into an every day player.

Perhaps the biggest question for the Raptors is whether Siakam is ready for a more ball dominant role and whether he can become their number one scoring option long term. After last season, it is clear that Siakam is prepared to work hard and learn in order to improve. During the 2018-19 season Siakam transformed from a hard working role player to an all-around star with an ability to score consistently. Nobody expects Siakam to be a replacement for Kawhi but if he can continue this development and increase his scoring even further, the Raptors will be in a very strong position going forward.
Scott Stinson: The remarkable success of Kawhi Leonard and the Raptors comes to an end | National Post
Kawhi Leonard's tenure in Toronto ended after just under a year when he informed the Raptors late Friday night that he would leave to play in his Los Angeles hometown with the Clippers. It turned out that the complete silence about his intentions over the past week had a purpose: he recruited Paul George to join him, and Oklahoma City's All-Star guard forced the Thunder to trade him to Los Angeles for a huge package of draft picks and players.

Leonard was determined enough to play for the Clippers that he effectively wrested a fellow superstar from a competing team to join him, and will sign a four-year contract in the neighbourhood of US$140-millon, a year shorter and US$50-million less than the Raptors could pay him.

In the end, the lure of returning home, the thing that the Toronto Raptors could do absolutely nothing about, won out.

But while it was a brief, forced marriage, the union of Leonard and the Raptors was a remarkable success for all involved. The team that had struggled to break through the second round of the playoffs, even after many seasons of increasing regular-season success, followed Leonard all the way to its first NBA championship, a height that even its most ardent fans hadn't begun to seriously consider until they had almost reached it.

Team president Masai Ujiri had always said his goal was to bring a championship to Toronto, and players like Kyle Lowry never flinched from putting that target out there, but it always sounded at least a little fanciful. The NBA is a league of big guns, and you needed MVP-type cannons, usually more than one of them, to compete for rings. But those guys are not easy to acquire, and while Ujiri had done an admirable job building a very good team without one, the idea of title contention was always proven a mirage, swept away as soon as the Raptors encountered LeBron James, again, in the playoffs.
As Kawhi Leonard goes home, it is on Masai Ujiri to chart a new course for Raptors – The Athletic
Sure, the Raptors believed they could give Leonard a great one-year experience, but until they got into the meat of the season, it seemed like that would be the end of it. However, the Raptors kept winning and winning and winning, and with load management, the Raptors and their medical staff created trust with Leonard and his camp, the type of trust that was irretrievably lost prior to his divorce with San Antonio. A shot at winning and a return to health were Leonard's primary stated goals, and the Raptors went out of their way to make those their priorities, too. Some teams might have treated Leonard like a rental pitcher in baseball, getting everything they could out of his arm in the three months they had it.

At the same time, Leonard saw his star rise significantly, getting a new shoe deal and a bigger platform than ever. He leaves Toronto far more revered after his second title than he was at any point after his first. Even while playing the short game, the Raptors played the long game, and it worked out brilliantly.

That, in a way, is the only way the move can be viewed as a negative. For the last few years, the Raptors had looked like one of the most forward-thinking franchises in the league, directing ample resources into sport science, player development and on-court progress. This year, they married all of that to a talent worthy of the process, and everything played out perfectly. And still, Leonard left for less money and a guarantee of nothing but better weather and a shorter commute to his family's home.
With Kawhi Leonard gone where do the Raptors go from here? – Sportsnet.ca
The East underwent a shakeup over the past week. Kevin Durant and Kyrie Irving are in Brooklyn; Philadelphia essentially swapped out Jimmy Butler for Al Horford and Josh Richardson while in Butler the Heat have a new go-to player; Milwaukee retained key pieces in Khris Middleton and Brook Lopez but lost another, Malcolm Brogdon, to Indiana; Boston is handing the keys to Kemba Walker. Question marks surround virtually every new-look contender in the conference.

But to win you need a superstar — this is not up for debate — and the Raptors just lost theirs.

Can Siakam assume that mantle, or is it still too soon to place those expectations on the fourth-year forward? (I'll have more on this on Monday). The Raps are about to find out, but for the time being, here's the lineup the Raptors are currently heading into next season with:

Starters:
Kyle Lowry
Fred VanVleet
OG Anunoby
Pascal Siakam
Marc Gasol

Bench:
Serge Ibaka
Norman Powell
Matt Thomas (reported signee, but unofficial)
Malcolm Miller*
Chris Boucher*

*non-guaranteed contracts
Our #KawhiWatch has ended. #ThankYouKawhi for the NBA championship that you helped to bring to Toronto with your @Raptors teammates. #ThanksKawhi #WeTheNorth pic.twitter.com/04fVCECnIw

— John Tory (@JohnTory) July 6, 2019
Kawhi Leonard to Clippers: What the star's departure means for Raptors | BASKETBALL News | Stadium Astro
No outrage for Toronto, just disappointment 

After waiting until late Friday night (or the wee hours of Saturday morning for the East Coast), Leonard finally made his free agency decision while the city of Toronto anxiously awaited what was next for the star. Much to the city's disappointment, Leonard decided to move on after just one season with the Raptors. 

Some may question whether this taints his legacy in a city where he made such a significant impact in such a short time as he became an icon throughout the country of Canada, but the overall consensus and initial reaction from Toronto is that it won't. Yes, the Raptors would have loved to have Leonard back. But no, there won't be outrage. 

The Raptors took Leonard in after a drama-filled season with the Spurs amid questions surrounding his health. Toronto did what it could to manage and maintain his health. And as TSN notes: "They did everything they were supposed to do and more. They did everything right but it still wasn't enough."

It'll be a hard goodbye, but there shouldn't be hard feelings.
Toronto's next move will be interesting. Raptors can still field a competitive team, but with several players in the final year of deals — Lowry, Ibaka, Gasol — expect Toronto explore trades and a rebuild around Siakam, VanVleet.

— Chris Mannix (@SIChrisMannix) July 6, 2019
Thank you, Raptors fans. This is a run we'll never forget. We can't thank you enough for the love and support we experienced over the last year. You are some of the greatest fans basketball has to offer. Thank you #WeTheNorth

Stay tuned for another episode with more details.

— Inside The Green Room (@GreenRoomInside) July 6, 2019
Danny Green thanks Raptors fans in video announcing move to L.A. Lakers | The Star
Danny Green announced he's following teammate Kawhi Leonard to L.A., but made clear that his Toronto fans and teammates will "always have a great place in my heart."

Green thanked Toronto and Canadian fans Saturday in a video posted to Twitter via his podcast account, announcing a two-year contract with the Los Angeles Lakers, following Leonard's move to the neighbouring Los Angeles Clippers.

"It's been a hell of a run and hell of a year … it's been unfortunate how things turned out for everybody, and the city of Toronto and all of Canada, that we couldn't run it back," he said in the video.

Green said he's been working with a TV series documenting the behind-the-scenes of his free agency process, which, when released, will give more details into what went into his decision.

In the video, Green thanked the Raptors and their fans, saying he'd never forget "the historical run that we had."

He added: "LA, here I come. I'm excited, let's get this show on the road."
'Fun guy' Kawhi leaves Raptors fans with laughs and memories | CBC Sports
During that same opening news conference, Leonard was pressed over and over about whether he wanted to be playing in Toronto at all — the same question was asked too many different ways.

"If you're looking to the future you're going to trip over the present," Leonard finally said.

Fitting, because it's exactly what he was able to do all season long with the Raptors — stay present. And there weren't many missteps along the way because of it.

It was a wild and wicked year for the Raptors and their rabid fan base. In fact, it was almost a year ago to the day that the franchise was mired in more questions than answers after firing coach of the year Dwane Casey and trading away fan favourite DeMar DeRozan.

The team was coming off a franchise-best 59-win regular season. Their long-time nemesis LeBron James left for the L.A. Lakers. The stars seemed to be aligned for the Raptors to finally break through — and they blew everything up.
Last two years Kawhi basically played fuck, marry, kill with the Raptors, Clippers, Spurs.

Toronto had the best sex it's had in 26 years, can't be mad about that.

— Vivek Jacob (@vivekmjacob) July 7, 2019
Sources — Fear of Lakers dynasty drove Clips' deal
George and Leonard wanted to play together, and George and his agent, CAA's Aaron Mintz, approached Thunder general manager Sam Presti in recent days and requested a trade, league sources said. Leonard's message to Clippers owner Steve Ballmer and president of basketball operations Lawrence Frank was essentially this: Get George, and you'll get me.

Before free agency started, the Clippers knew they needed a second star to lure Leonard but had no idea whom he wanted. The Clippers inquired on deals for Washington's Bradley Beal and New Orleans' Jrue Holiday, but those guards weren't available in trades. Eventually, Leonard made his intentions known to the Clippers: Paul George.

To Leonard, the cost was immaterial. He wanted to walk into a championship contender and believed George represented the co-star he needed to combat James and Davis, sources said. Leonard wanted to play for Doc Rivers, a coach with whom he could feel a kinship he felt was similar to his relationship with Toronto Raptors president Masai Ujiri, sources said.

In the end, Presti made the best of an impossible situation: Despite two years left on George's deal, he didn't want a trade demand hanging over his franchise. Still, he'd never have more leverage to trade George than he did late Friday night, when there were no limits to the Clippers' desperation to land George and Leonard in one dramatic swoop.

In a wild night of negotiations, Presti leveraged the Clippers and Raptors off each other, preying on the uncertainties of what the other might be willing to give Oklahoma City for the chance to secure Leonard and George — and perhaps the inside track on a championship.

Clippers leadership — Ballmer, Frank and general manager Michael Winger — harbored fears that Presti was close to striking a deal with Toronto that would have delivered George to the NBA champions, sources said.