THE SITUATION
The NBA trade deadline is tomorrow and the Raptors have lost 9 games in a row, are 9 games below .500 and sitting 11th in the Eastern Conference. The last time the Raptors were in a situation like this, Game of Thrones was still considered groundbreaking and ingenious television, Gangnam Style had just become a favourite at wedding receptions everywhere, and Raptor fans had finally accepted the fact that a 7 foot Italian who was allergic to the paint and playing defence wasn't going to miraculously turn into Dirk Nowitzki in his 7th year. That was the 2012-2013 season. That was also the last time the Raptors missed the playoffs.
Although the odds are the Raptors will still at least make the play-in tournament (they are currently out of running at 11th), like the 2013 team, this year's team is at a crossroads. The recent struggles have convinced even the most optimistic of Raptor fans (most of them, anyway) that this team is no longer a contender. The realists saw this even before the losing streak, however.
Since winning the Championship just a season and a half ago, the Raptors have lost four of their top eight rotation players and have replaced them with Aron Baynes, DeAndre Bembry and Stanley Johnson. Not exactly an upgrade. And for the first time in seven years, Toronto failed to send a player to the All Star game. While there's still plenty of talented players on the roster, thanks to the franchise's excellent player development program, the team has dropped behind Brooklyn, Philadelphia, Milwaukee, Miami and even the underperforming Boston in terms of overall talent, not to mention in the standings. And you could also argue the same for Indiana, Charlotte, Atlanta, Chicago and the formerly perennially dismal Knicks.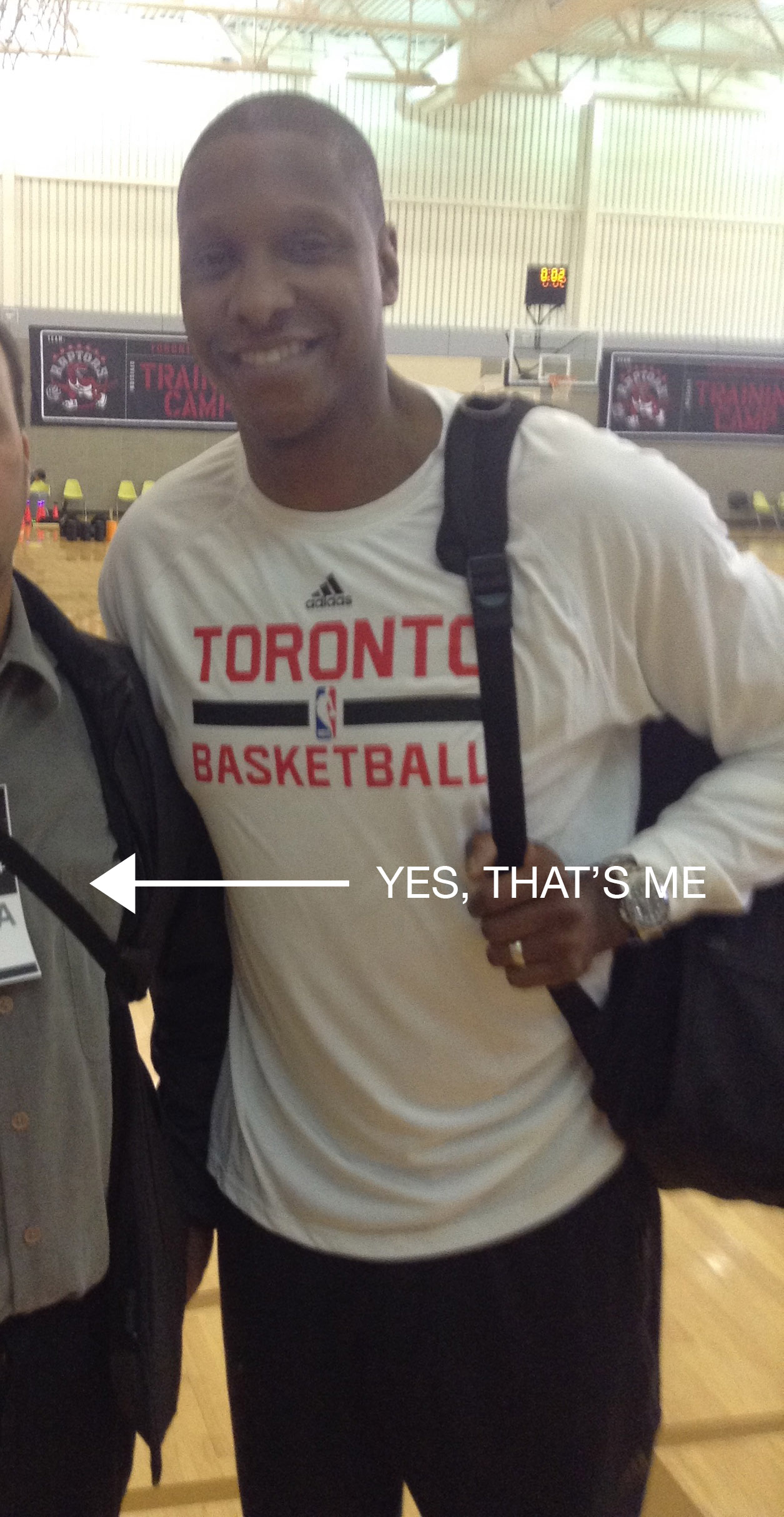 Ironically, that 2013 season ended with then-general manager Bryan Colangelo being replaced by Masai Ujiri, which is kind of like going from the 1970's Battlestar Galactica to the 2004 version.
Ujiri has shown, both in Denver and during his time guiding the Raptors, to be a very patient team builder. But he's also shown himself to be pragmatic and motivated when he needs to be. And that time has come.
There are some good, young players on the Raptors' roster (Lowry and Baynes are the only players over the age of 28), and with the young core of Fred VanVleet (27), Pascal Siakam (26) and O.G. Anunoby (23) all on long term contracts, it might seem like a good reason for patience. While there's certainly talent on the roster, there are some problems lurking that need to be addressed sooner rather than later.
Before their losing streak, it wasn't expected the Raptors would be heard from much at the trade deadline, but things have changed in the last few weeks. They have a few players on the roster that they should be considering moving, for various reasons. And they are:
KYLE LOWRY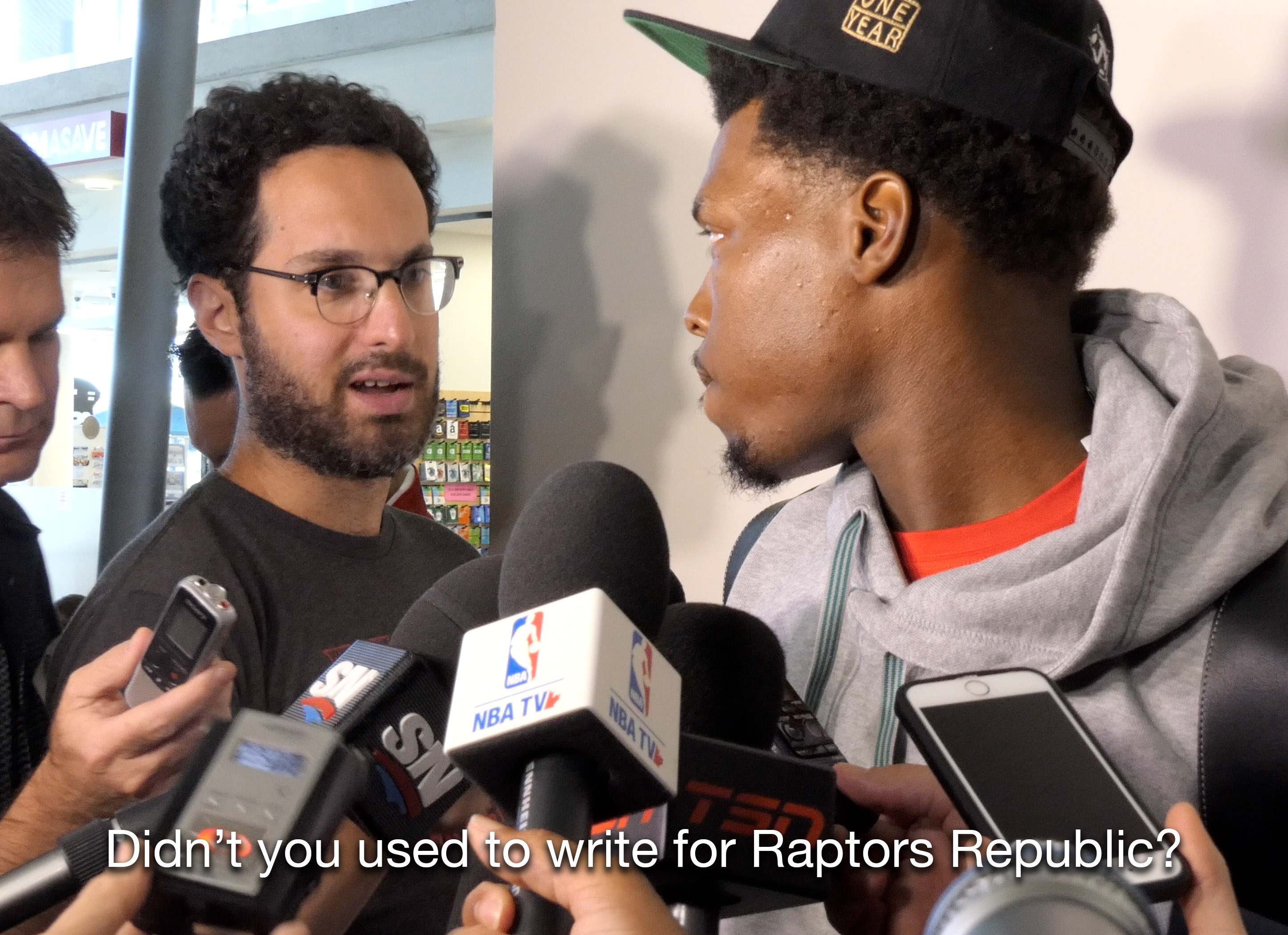 The undisputed leader of the team, and longest tenured Raptor, Lowry, turns 35 in a net week and has a $31 million expiring contract. Right now, he's still playing at near peak level, but the number of players who didn't start to see a precipitous decline after turning 35 is an extremely small one. More men have walked on the moon. That small.
While there is certainly reason for optimism with the Raptors' current roster, it's difficult to argue the team is not at least 2 or 3 years away from contending again, especially with the way the East not being the cakewalk it used to be. That's not a timeline that works with a 35 year old point guard.
The Raptors certainly could re-sign Lowry and keep him for the rest of his career, but doing so would hurt the flexibility of the team financially – it's hard to see Lowry getting less than $20 million a year on a 2 to 3 year contract – and his mere presence would take minutes away from the younger players on the roster.
And while Lowry has declared his undying loyalty to the Raptors, there are many things that could happen this summer, and only one of them is him agreeing to re-sign with the Raptors. With guys like Giannis Antetokounmpo and Anthony Davis off the market this summer, Lowry is officially the biggest free agent prize. Miami, Dallas, Chicago and New York should all more than enough cap room and a need for a player like Lowry to get to the next level. Lowry could get an offer from a contender that could change his mind on returning to Toronto. We could ask Serge Ibaka about that.
Just in the last day, however, there was this…
"Kyle Lowry's free agency is happening right now. The expectation is that Kyle Lowry is going to have a new contract by the end of this week. It's either going to be to stay in Toronto . . . it's going to be Miami or it's going to be Philadelphia."

– Brian Windhorst pic.twitter.com/SCjfgSfxkY

— NBA Central (@TheNBACentral) March 23, 2021
If this is true, that would make Lowry far more valuable on the trade market, with an extension guaranteeing he would be with the new team for the next two or three years. It would also mean a team like Miami can't just wait and sign him this summer. There are rumours that the Heat are reluctant to include Tyler Herro in a trade if they can just sign Lowry after the season. This would obviously change that. So Lowry's attitude on this could bring back far more him for the Raptors. It would be a nice parting gift from him.
At this point, the only reasons not to trade Lowry would be either that there's simply not a good enough return on the trade market (and that's obviously up to Masai), or for sentimental reasons. Sentimentality doesn't lead to success in the NBA and it's certainly not something Ujiri is known for.
The team that currently seems to be the favourite in the Lowry sweepstakes is Miami, who desperately wants to get back to the Finals, and are on a tier below Brooklyn, Philadelphia and Milwaukee talent-wise, in the East. Adding Lowry would put them up into that first tier. Philadelphia is still a possibility, but their interest has apparently cooled. The Clippers are in most dire need of him, but simply don't have the assets to get a deal done without bringing in a third team. Whoever it is, the Raptors are going to give Lowry the final say, so it's going to be a contender he's comfortable with.
NORM POWELL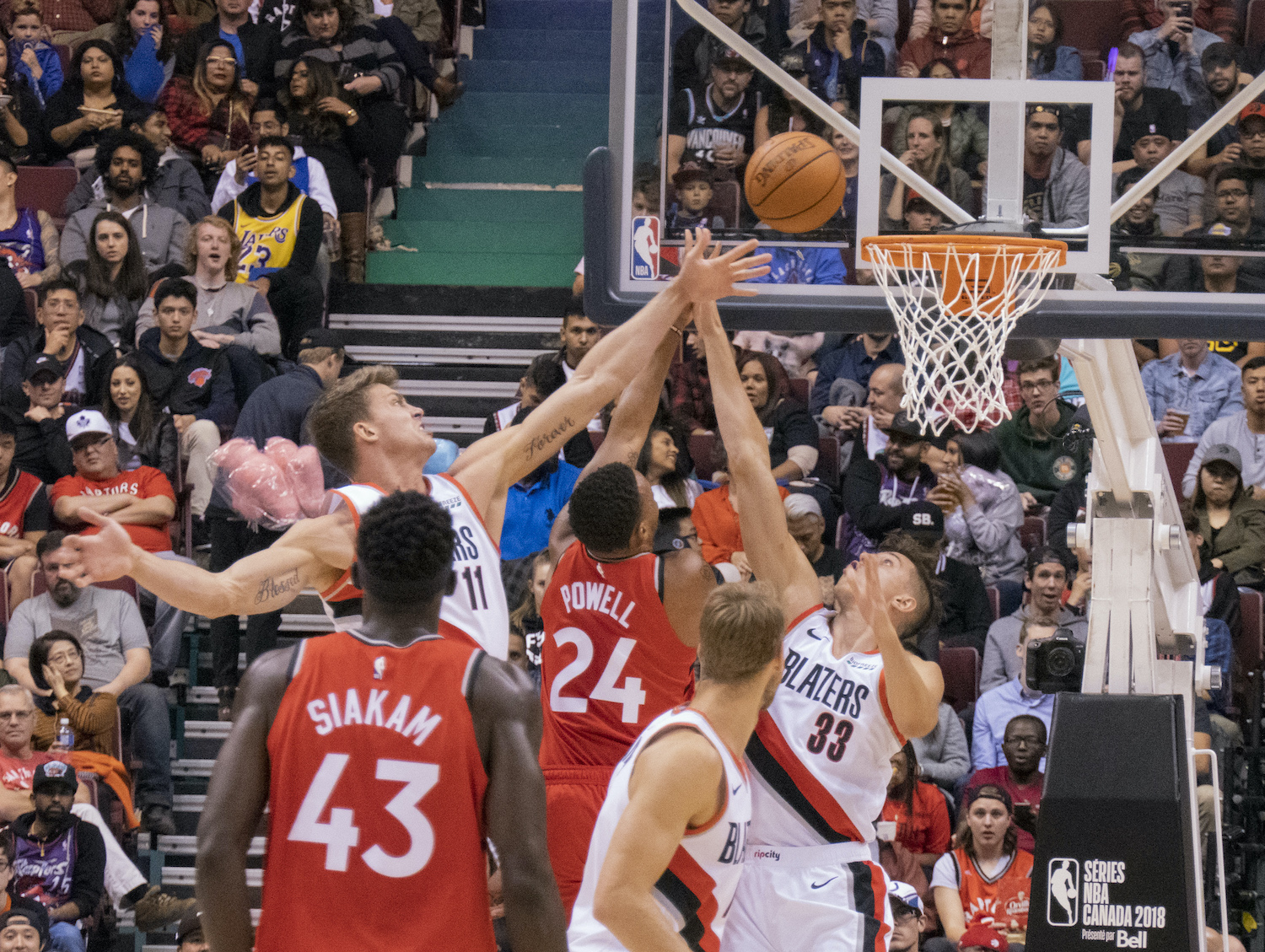 Powell is the answer to the trivia question, "what would Morris Peterson have looked like had he fulfilled his potential and become a consistent player?". After struggling to get into a groove for the first month of the season (which was the case with 3/4 of the league, with a shortened offseason, a protracted training camp and a late start to the season), Powell has been startling consistent. In the last 27 games, Powell, who averages 19.5 mpg for the season, has scored at least 17 points all but 5 games, and scored in double digits in every single one of those games. All while shooting nearly 50% from the field and 43% from three, and being able to defend multiple positions.
Most of the league would love to have a player like that on their roster. For comparison, Tim Hardaway Jr., who is Dallas' 3rd leading scorer and plays the same position as Powell, has scored  17 or more points in less than half of the games in that same span. His inconsistency, as well as his defence, is why he was moved to the bench halfway through the season.
Dallas will have plenty of cap room this summer, as will Atlanta, Cleveland, New Orleans and Memphis, all of whom need an upgrade at the shooting guard position.
Powell has a player option on his $11 million contract next season. And if he remains healthy and continues to play anywhere close to the level he's playing right now, it's pretty much guaranteed he'll opt out and get at least $20 million a season on the free agent market. And it certainly isn't out of the realm of possibility a bidding war could drive it up to $30 million a season – I mean, D'Angelo Russell got $117 million over four years in 2019, and the only thing he's done in Minnesota is make Karl-Anthony Towns look like a good defensive player by comparison.
Let's say, for the sake of argument, the Raptors are able to re-sign Powell for $20 million a season. That means they would be paying their top four players around $87 million next season. And that doesn't include Lowry, who would no doubt bring it up to the NBA salary cap of $109 million this summer, for just five players, not one of whom made the All Star team this year. That's certainly not an obscene amount – there isn't a player on the team who has a horrible contract – but the more big contracts a team has, the less flexibility they have.
Powell is at peak trade value right now. He's 28 years old and playing the best basketball of his career (and possibly on the entire team). The only thing working against him is his ability to become a free agent this summer, but whoever trades for him will retain his Bird rights, so that makes things a bit easier.
According to ESPN's Adrian Wojnarowski, it's now not "about whether he'll be moved,  but which among a dozen or so suitors will acquire him." Truth be told, when I originally wrote this article a week ago, no one was even talking about Powell and it was simply conjecture on my part that he might be traded because of his contract. Things have changed quickly for the Raptors and Powell.
The teams that supposedly have expressed interest in Powell include Philadelphia, Miami, New York, Dallas and Denver. It's hard not to notice that Philly and Miami also are the main suitors for Lowry. While Philly doesn't have the assets to trade for both players, Miami certainly does. As mentioned when discussing Lowry, Miami is balking at sending Tyler Herro back in a Lowry trade, but combining Lowry and Powell could give both teams what they need…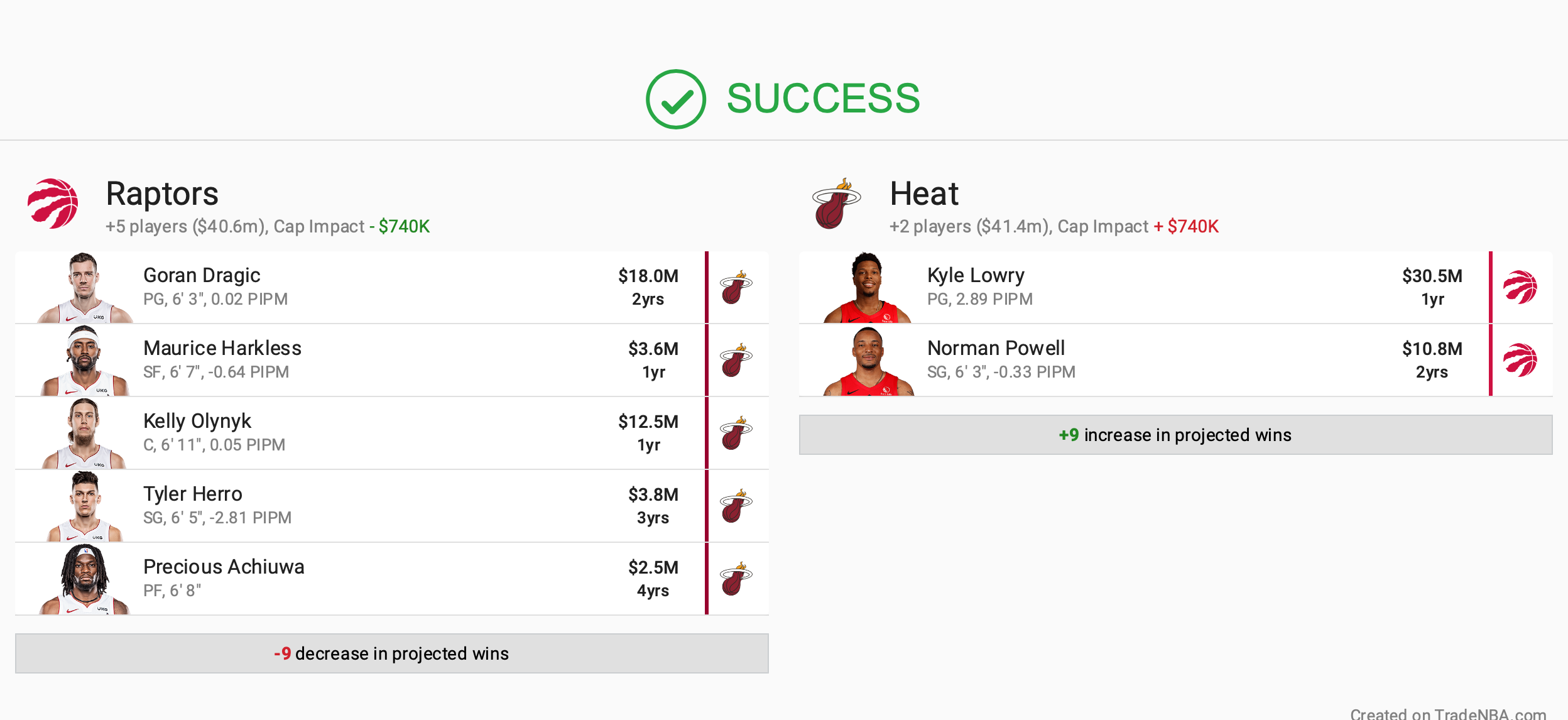 Obviously the above is an example, and the Raptors would have to move other players in order to make roster space (and they could move Dragic to a team in need of a veteran PG), but this would give the Raptors a lot of what they need – some young talent and even a (slightly) better option at centre than Baynes. The point is that there are options out there for the Raptors.
CHRIS BOUCHER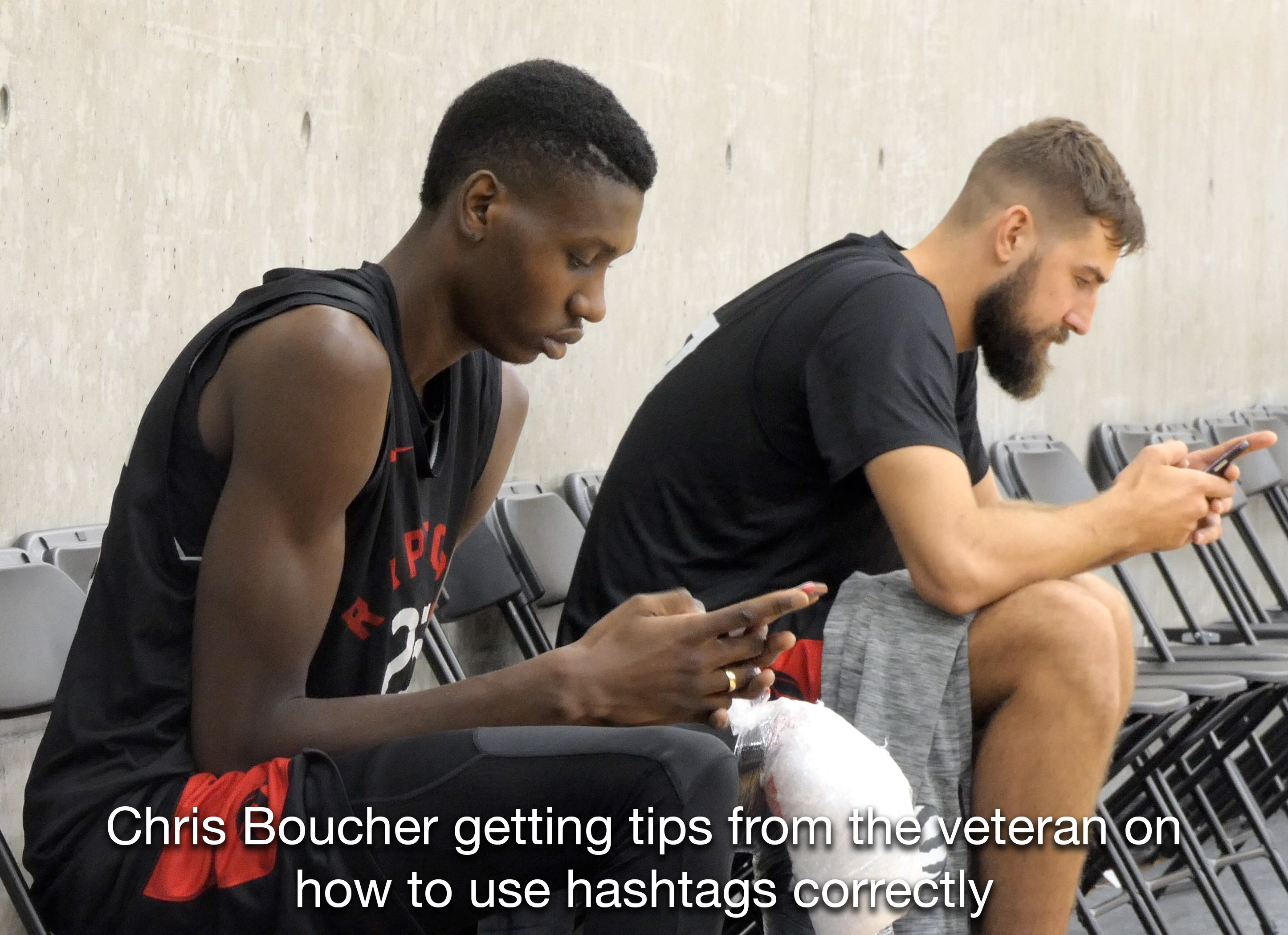 Boucher is finally becoming the player the Raptor organization hoped when he was dominating the G-League. Considering he's just starting to coming into his own, it's hard to believe he's 28 years old, but he entered the league late and has only been a pro for less than four years. He's not quite as consistent as Powell is and his slight build means he's not always able to be used in every situation.
He's still got one more year on his extremely team friendly contract, so his inclusion in this list may seem out of place. But there are a good reason why the Raptors may want to gauge his trade value.
Boucher is having career year, and is a legitimate candidate for 6th man of the year. He's also a bit of a luxury on a team without much hope of contending in the next few years, and it's difficult to imagine him taking another big step, due to his age and inability to get much bigger. His ceiling seems to be a 20 and 10 power forward who can hit the three with good accuracy. That's very good, but the Raptors already have a younger PF on the team with a higher ceiling. With his team-friendly contract, high production and ability to stretch the defence (at a time when three point shooting PFs are highly valued), his value should be at an all-time high. While there's probably not much point in trading him by himself, including him in a larger package COULD conceivably net the Raptors a young star.
Again, the scenario below is simply an example…


YOUNG WING BENCH PLAYERS
Terence Davis, DeAndre' Bembry, Stanley Johnson, Matt Thomas and Paul Watson are all 26 or under, talented with different strengths, and all play the wing position, which means it's hard to find enough minutes for all of them. Davis and Johnson both have expiring contracts and it's hard to imagine both of them will be back.
Davis, especially, has shown glimpses that make you think he could be a much better player. He's taken a bit of a step back after an impressive rookie season where he went underrated but played well enough to it make the All Rookie 2nd Team. And he's just 22 years old. He's strong, athletic, can shoot with range and can play good defence (although he needs more consistency on that end). His biggest weakness might be his penchant for trying to do too much, at times, but that stems from his supreme confidence, which isn't necessarily a bad thing. He's got the tools to become a starter in the league, but on the Raptors, he's caught in a crunch for minutes.
Matt Thomas is another player who would probably play a lot more on another team, because of his shooting ability in a league that values the three point shot. He's still got one more year on his contract, but could be added in a trade package if the Raptors feel they don't have the minutes for him.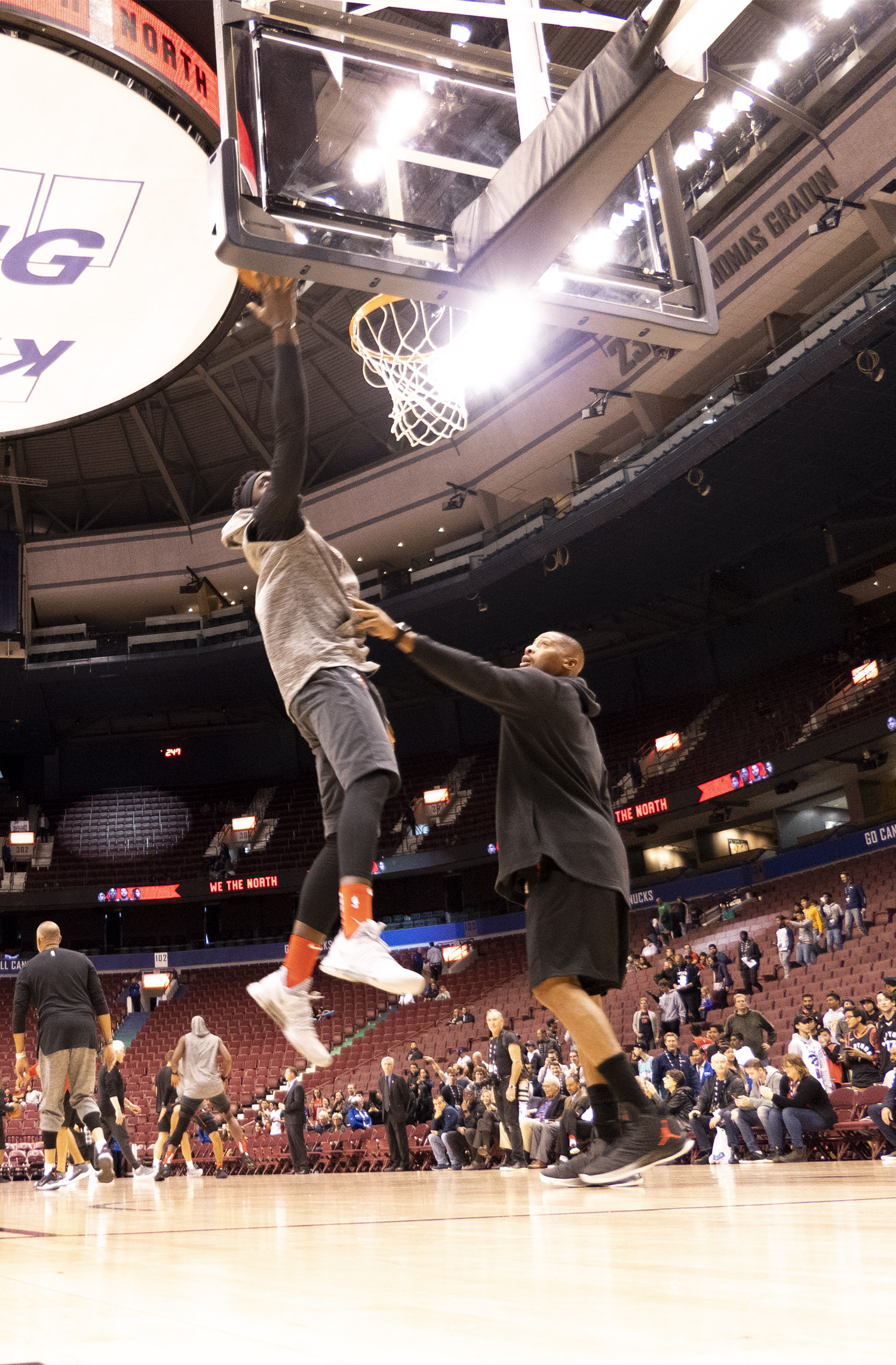 Bembry, Johnson and Watson all are young with some potential (Johnson was an 8th pick just five years ago- making him the highest drafted player on the Raptors), but apart from Bembry whose consistent defence and high IQ has seen him become part of the regular rotation, until recently, there just aren't enough minutes to go around.
By themselves, none of them would fetch much on the trade market, but if the Raptors do make a deal involving Lowry or Powell (or both), adding one or two of these guys makes sense.
THE WILDCARD
Now, the chance of the Raptors trading Pascal Siakam is slim to none, but perhaps there's a reason they may want to consider it. He was recently fined $50K for an outburst towards Coach Nick Nurse, but he's by all accounts a coachable player who sometimes wears his emotions on his sleeve.
He's also had a bit of a disappointing year after becoming an All Star last year. His scoring is down this season, in large part because he's regressed shooting from long range. After two season of shooting a respectable 36% from beyond the arc, he's down below 30% for the season and (thankfully) shooting less from out there as a result. He also had a horrible playoffs, last season, and there is a fear that teams have figured him out, offensively. While he's probably best suited to a 2nd or 3rd offensive option, on the Raptors he's too often asked to do more than he should, especially at the end of games. And the results have not been pretty
He's still an excellent player, but one not suited to the role he currently has. The Raptors may want to quietly find out what value Siakam has and see if they can get a lottery pick or young potential star in return. It's highly doubtful a deal would make sense, but considering where the Raptors are at the moment, it may not be out of the realm of possibility.
SUMMARY
The Raptors are not a bad team (despite their current record), but they're also no longer a great team. One of their biggest strengths is their balanced roster and lack of one indispensable player, which allows them to withstand missing a player or two better than most teams. It's made them, for the most part, a good regular season team (at least it did last season). Unfortunately, the lack of an indispensable player on the team highlights their biggest weakness, which is that there simply isn't anyone on the team good enough to be indispensable.
The last time the Raptors had an MVP-calibre player, they won a Championship. That isn't a coincidence. Had Antetokounmpo not signed an extension and become a free agent this summer, giving Toronto a clear shot at signing him, then this would be an entirely different conversation. They have one of the best supporting casts in the entire NBA without anyone to support.
A balanced roster works fine in the regular season, when teams go through far more defensive lapses and players can take turns scoring. In the playoffs, however, you only go as far as your best player can carry you. When defences tighten, players like Siakam, Lowry, VanVleet and Powell find it more difficult to get open shots without a player like Kawhi Leonard attracting the defences attention. During their Championship run, even though Lowry, VanVleet and Siakam all came up big, scoring-wise, at various times, it was Kawhi that was the constant and kept the team afloat offensively when things got tough. One look at the graphic below highlights that.

Beyond actually scoring, a player like Kawhi acts like a magnet for the defences, attracting defenders and giving space to the other players to get their shot off. This is especially important in the playoffs. The reason so many players struggle in the playoffs is because the room they have to shoot in the regular season is suddenly gone.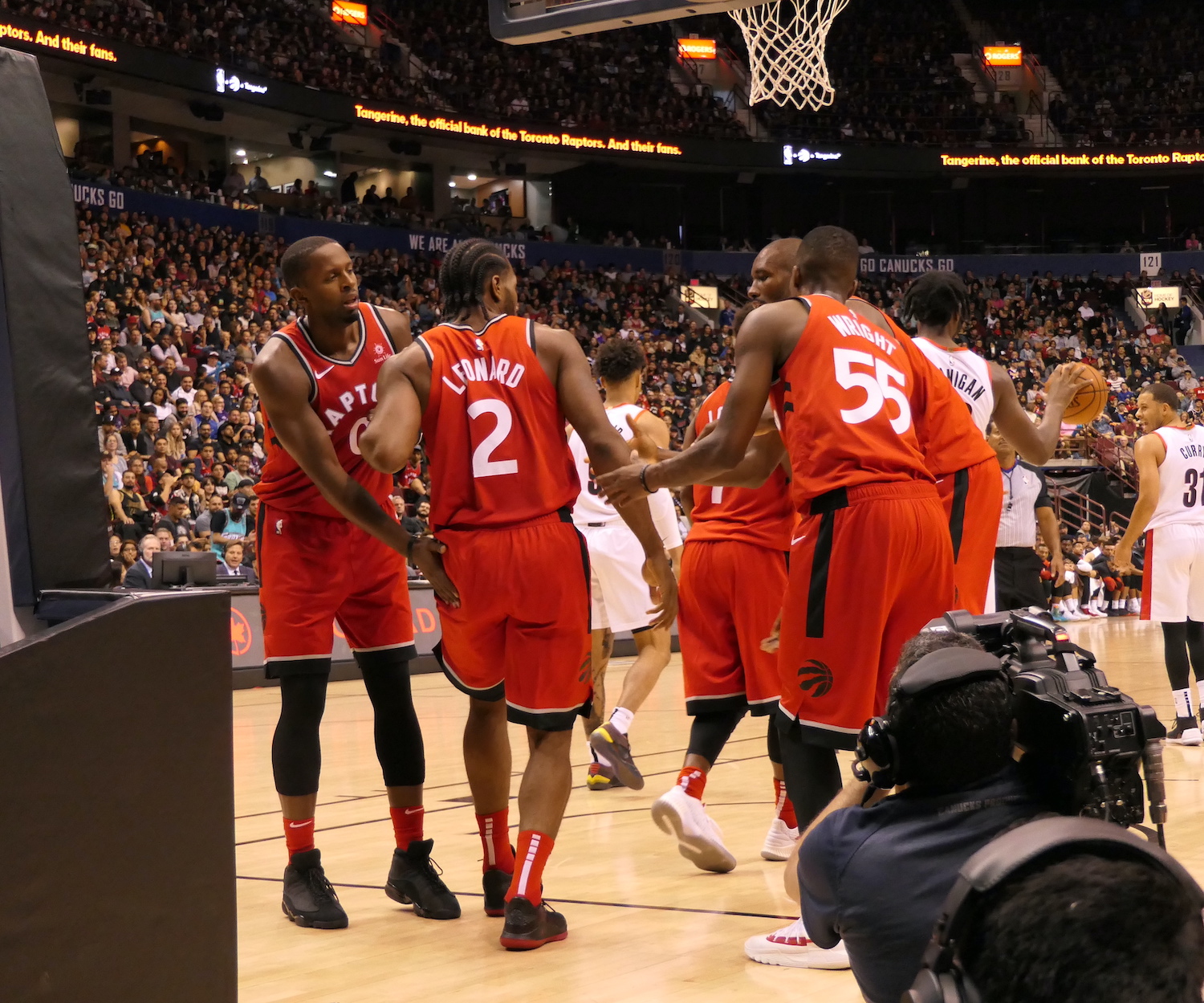 Siakam, Lowry, VanVleet, Powell and Anunoby all struggle when asked to score against set defences late in games, which highlights their need for an elite level player. As a team, Toronto is one of the worst in the league at the end of close games. They not only shoot poorly and have trouble scoring, they are one of the worst in the league defensively at the end of close games. Not surprisingly, they have one of the worst records in the league in close games.
This current 9 game losing streak might end up being a blessing in disguise. While they were just at .500 before the streak (which certainly isn't anything to be proud of), it placed them firmly in the playoffs. And a playoff team is a difficult thing to break up.
Of course, they have too much talent (and most signed to long term contracts) to completely blow things up and the team is, for the most part, under 30. But they aren't an especially young team, either. The Raptors are in the upper third, in terms of average age. While Anunoby is still a baby, in NBA terms, at 23, Powell turns 28 in two months, VanVleet is 27 and Siakam almost 27. Age-wise, this team is in its prime and should be contending, but they're not. Without an elite-level player joining the Raptors anytime soon, the Raptors seriously need to think about getting younger and extending their window. At the very least, this will give the Raptors assets that will increase in value for a future trade.
If the Raptors can package a combination that includes some of Lowry, Powell, Boucher and Davis/Thomas to an underperforming team or one that wants to separate itself from the pack, and that has a young star or potential star, then they really need to consider it before they get locked into a middle-aged roster on a middle of the pack team.
FOOTNOTES
One argument I've heard used against doing anything is that the Raptors are better than their record and that there are many factors working against them this year, especially playing all those games missing three starters. While this is true, it's also true for most every team in the league. Numerous teams have had to play multiple games without two or more starters due to health protocols. And even if you take away the last nine games (their current losing streak) for the Raptors, that still puts them at .500. They aren't as bad as their record, but they're also not nearly as good as their record last season. There's no centre available that can replace the superb passing and defensive genius of Marc Gasol and the shot blocking and shooting of Serge Ibaka. And even if those players hadn't left, they were likely not going to overachieve again this year.
There has been a lot of discussion among Raptor fans about getting a player like Andre Drummond, who on the surface may seem like a good idea (he would bring defence and rebounding). He would cause as many, or more, problems than he would solve. The biggest issue is his lack of range on offence. The Raptors have not played a big man who can't at least be a threat to shoot from three point range since Valanciunas added that shot to his arsenal. It is a big part of the Raptors' offence for every player to be able to space the floor. It's also a big part of the Raptors' defence that everyone be able to switch on defence. It was why Gasol and Ibaka were so valuable on defence. They could defend inside and out. Baynes isn't either of them, but he's competent defending on the perimeter. Drummond is not.
There are only two players on the Raptors I would really hesitate to trade, at this point. VanVleet and Anunoby. Outside of Lowry, it's VanVleet that really epitomizes the Raptors' culture. He is tough, plays hard all the time and doesn't give an inch on defence (see Manny Rao's excellent article on VanVleet's defence here). If Lowry were to leave, VanVleet needs to be there to set the example of what the Raptors are and how they play. Anunoby doesn't have the grit that VanVleet has, but his age, his ability to defend any position and his potential on the offensive and defensive end still make him too much of an intriguing prospect to get enough back in return for him.
*All photos copyright Tim W.