After one of the most difficult seasons for the Raptors' franchise in a decade, Raptor fans were rewarded for their pain and suffering with the team moving up in the draft lottery to get the number-four pick. While the top pick was the ideal scenario, with Cade Cunningham being the consensus number-one, this draft is considered by most draft experts to be a four man draft, so getting the fourth pick puts the Raptors in a very good position for the future.
Cunningham is projected almost unanimously to go first in the draft. Evan Mobley, if he's not picked first, will almost definitely be gone by the time the Raptors are on the board. That means Masai and company will most likely get to choose one of the two Jalens (Green and Suggs) at number four. Both bring different strengths and skills, and both have the potential to alter the future for the franchise.
Of course, the move up to the fourth pick puts the team at a crossroads, a place they haven't been since Masai took over the helm of the franchise. Masai might have given a hint of the direction he wants to take the team at the trade deadline when he traded away Norm Powell for a younger Gary Trent Jr. and was rumoured to be considering deals for Kyle Lowry. What happens on draft day will likely reveal what path Masai intends to take (should he stay with the team, which most expect him to do). Let's take a look at his options.
KEEP THE PICK
WHY THEY SHOULD: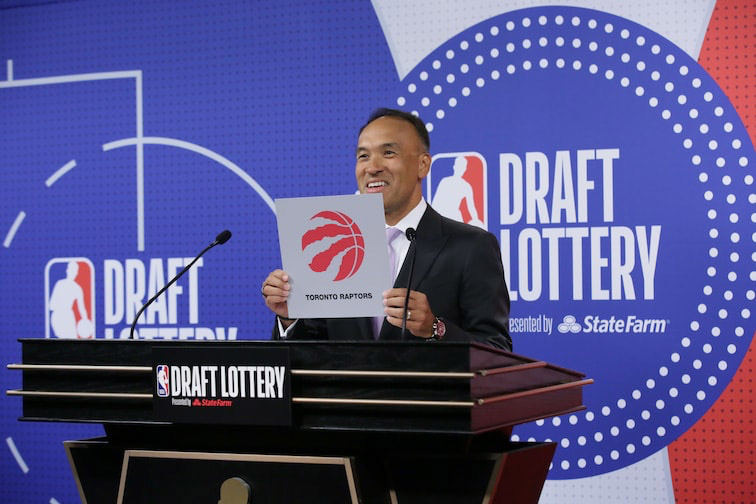 The Raptors lucked out and got the fourth pick. The two other times they had the fourth pick, they drafted Hall of Fame players (Chris Bosh and Vince Carter, whom they swapped Antawn Jamison for), and considering how strong the top of this draft is expected to be, it's a strong argument why the Raptors should simply keep the pick and take the best player available.
There is ample evidence that the higher you draft, the more likely you'll end up with a star player, and while the Raptors have quite a bit of talent on the roster, there's no franchise-level player they need to really contend. What they have is a bunch of very good supporting players with no one to support. And this past season we saw the problems when these players are asked to hit above their weight.
Pascal Siakam struggled when asked to carry the team, especially in crunch time, because he's simply not a number-one guy but is being asked to be (Chris Bosh can relate). Fred VanVleet saw his already questionable shooting percentage drop with an increased role on offence, and he, OG Anunoby and Lowry all struggled at the end of games because they were asked to do too much. Without a go-to star on offence, the Raptors were one of the worst teams in the league at the end of close games, which obviously didn't help their win total.
Both Green and Suggs have a very good chance to become All Stars, with Green probably having a higher ceiling due to his explosiveness and scoring ability. Green would be the ideal pick, because he might eventually grow to fill the Raptors' desperate need for a go-to scorer, perhaps even becoming their most electrifying scorer since Carter put Toronto on the NBA map. Green's stock seems to be rising, however, so chances are it will be Suggs who will be available when it's the Raptors' turn to draft.
While Suggs doesn't have Green's explosiveness or scoring ability, he's a prototypical Raptor player that would fit in perfectly, and fans would absolutely love him. He's a high-IQ player, hard-nosed on both ends of the court, makes those around him better, and, while he isn't the explosive athlete Green is, he's incredibly fast and athletic. His biggest weakness is his inconsistent shot, but has good mechanics and should have no problem becoming a good shooter if he puts the work in.
WHY THEY SHOULDN'T: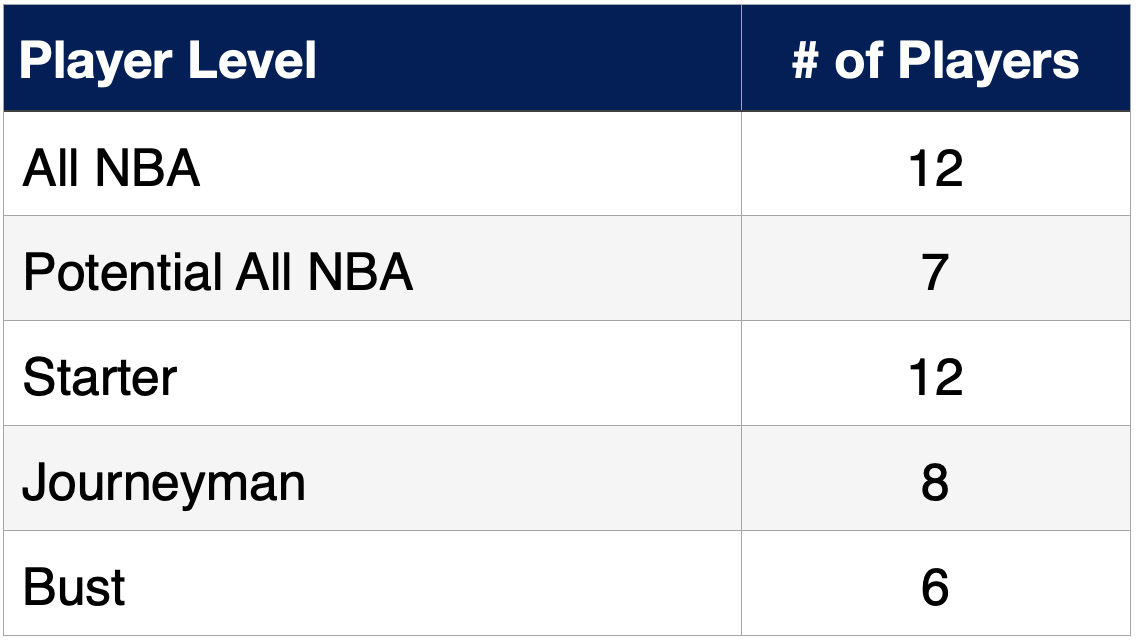 While the easiest way for the Raptors to acquire a star at this point is to draft him, the draft, even at the top, can be a crapshoot. Yes, you're far more likely to draft an All NBA level player in the top five than below that, but as the chart shows, you're slightly more likely to draft a journeyman or bust level player than an All NBA level player.
And while Suggs has the type of game that fits in perfectly with the Raptors, he's not the go-to scorer they need. In fact, he doesn't really bring anything they don't already have.
The Raptors arguably have enough talent to make it back into the playoffs with their current roster, so packaging the pick in a trade to get a player that will help the team immediately may not only be the safer route, it's also the fastest way back to the playoffs.
TRADE DOWN
WHY THEY SHOULD: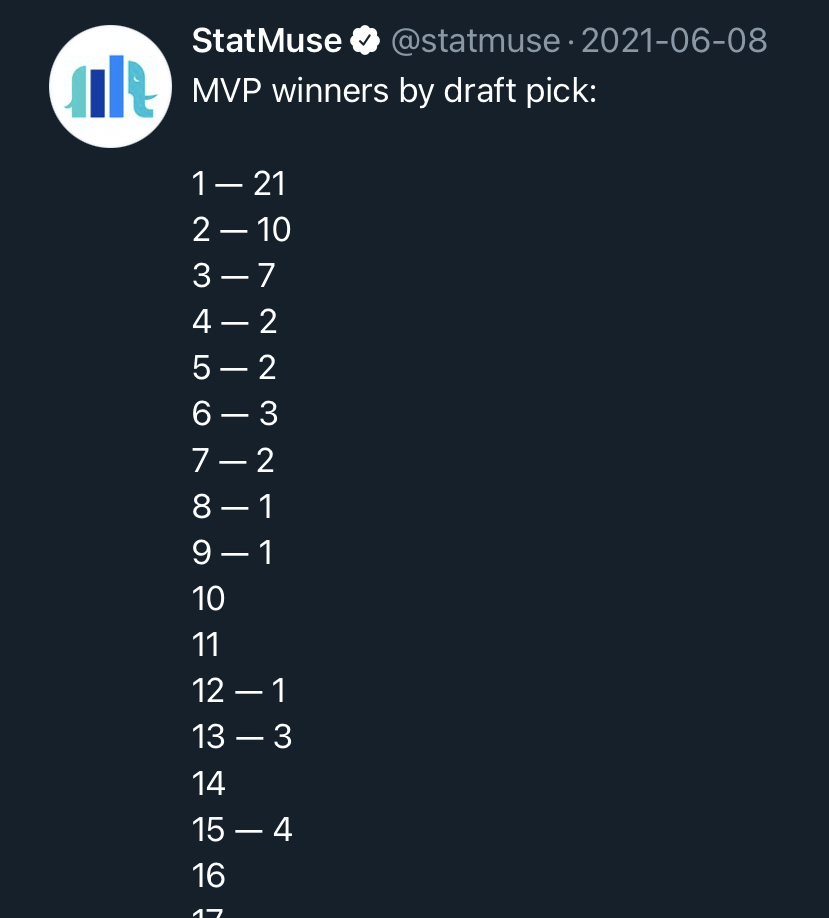 A popular choice for many Raptor fans is to try and trade down (perhaps with Orlando or Oklahoma City, both of whom have two top-16 picks) and this tweet by StatMuse seems to support that argument, as does Atlanta's recent playoff success. While the top three picks in the draft are ripe with MVPs, the fourth spot doesn't seem to be any better a place to pick than fifth, sixth or seventh, and there are clearly franchise players to be found anywhere in the top half of the draft. Trading the fourth pick for, say, Oklahoma City's sixth and 16th pick gives the Raptors two shots at the target.
There are certainly good prospects that are projected to be available at six and 16 (for example). Scottie Barnes, who scouts compare to Draymond Green, and James Bouknight, a pure scoring guard, are possible targets and would fill two needs for the Raptors. One or both have the potential to be very good players.
The Raptors could also try and acquire a young NBA player by moving down, like Oklahoma City's Luguentz Dort to go along with their sixth pick for the Raptors' fourth pick.
If Masai and the Raptors have targeted someone who they think has been underrated, trading down and picking up another piece could make the Raptors draft-day winners. Back in 1998, the Raptors traded down one spot and grabbed Carter, who ended up having a far better career than the player they originally drafted (Antawn Jamison). More recently, Boston traded down from the first pick to the third, in 2017, and picked the best player from that draft in Jayson Tatum.
WHY THEY SHOULDN'T: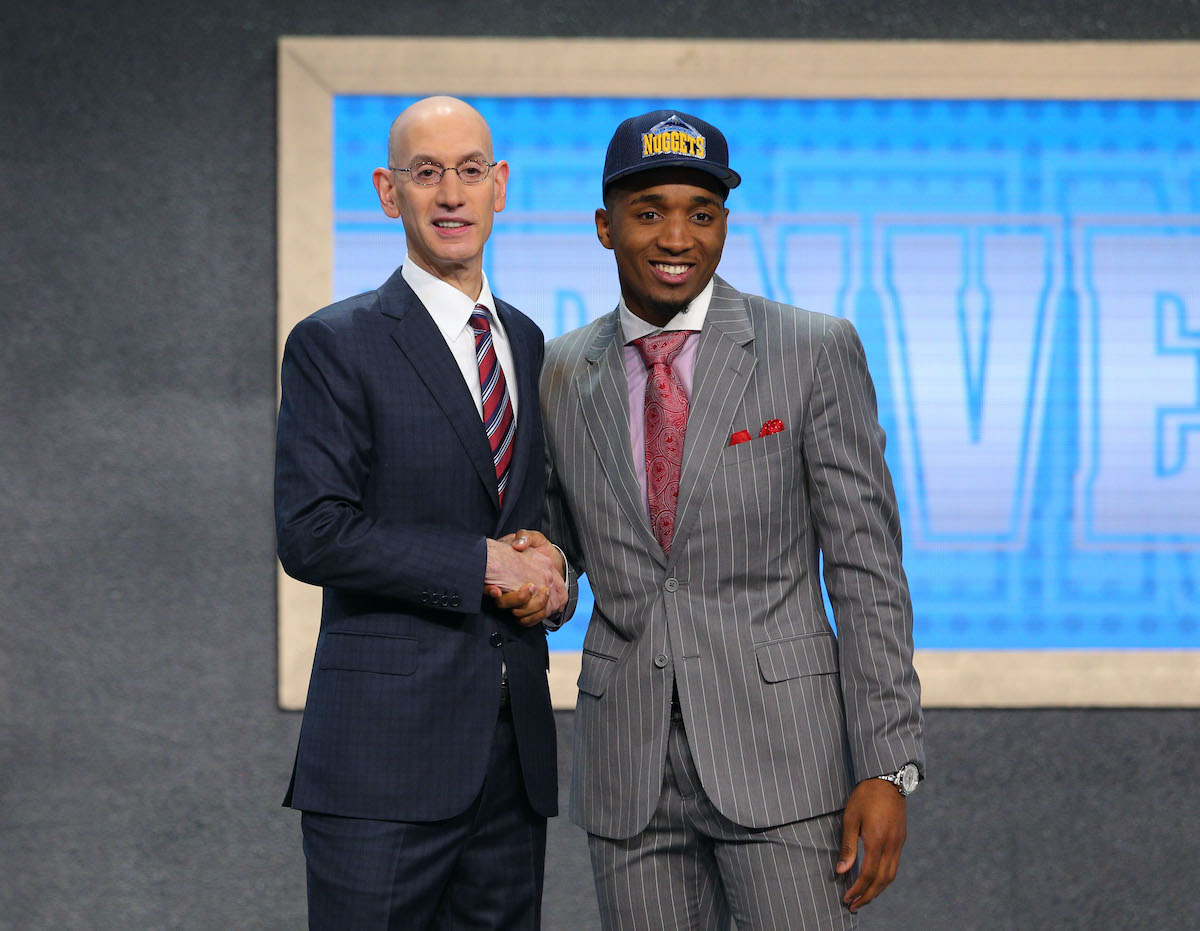 While there certainly have been cases where trading down has worked (Atlanta, for instance), those cases tend to involve moving down just a spot or two, with the team trading down believing they were getting a better player than the one they traded away. And there are a whole lot more cases of teams trading down and regretting it.
In 2018, Charlotte traded down a spot with the Clippers to grab Miles Bridges, who certainly isn't a bad player. But he's not Shai Gilgeous-Alexander, who looks like a future All Star and was the player Charlotte traded away. In the same draft, Philadelphia traded the tenth pick for the sixteenth pick and a future first rounder, giving up Mikal Bridges (currently starting on Phoenix) for Zaire Smith (currently out of the league).
In 2017, Denver traded the thirteenth pick (Donovan Mitchell) for the twenty fourth pick (Tyler something-or-other) and Trey Lyles. That didn't go well for them. Those are just a few examples, but there are many more.
Right now, this draft is considered top heavy (which isn't always the case) with a drop-off after the fourth pick, so the Raptors should simply count their blessings and be thankful they lucked into that top tier of players. While it's certainly possible that Masai might rank Jonathan Kuminga or Barnes ahead of Suggs or Green, that would be counter to most other experts' views. And if he believes that Suggs or Green ARE the best players available at four, then that's who he should take.
TRADE FOR A STAR
WHY THEY SHOULD: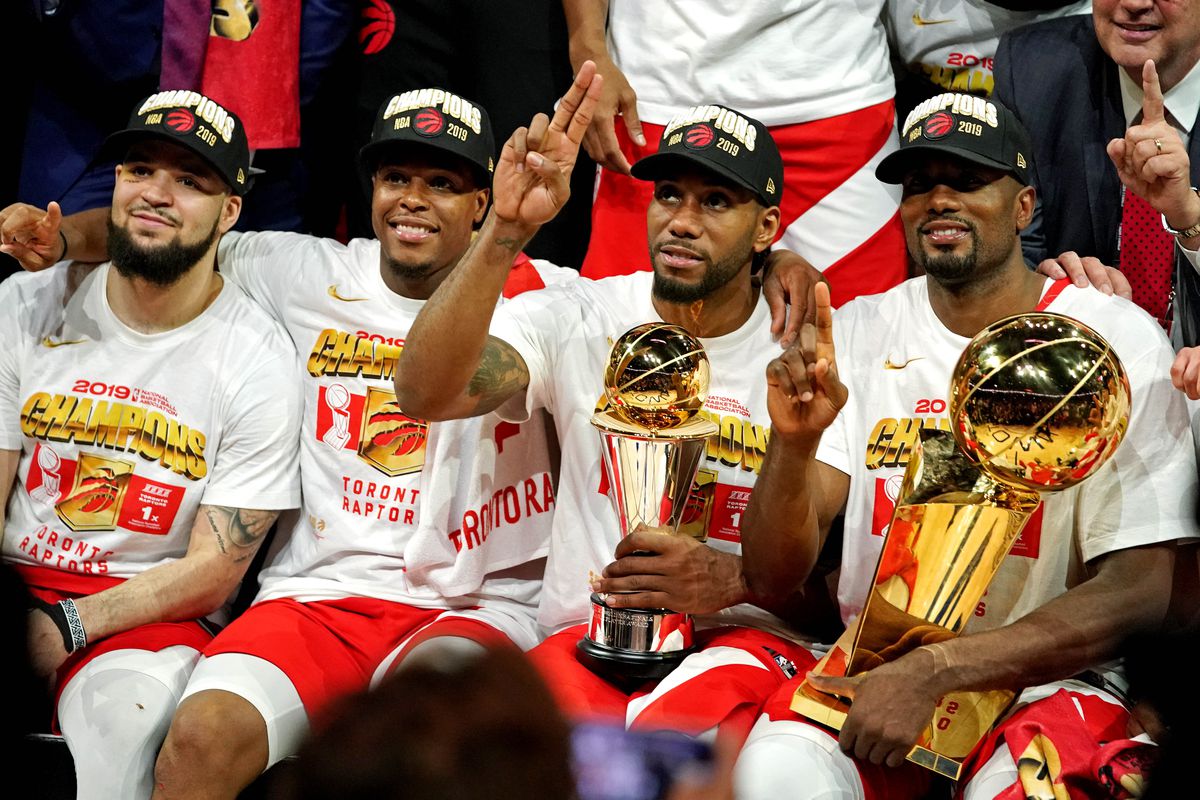 This season, the Raptors had more talent than nearly every other lottery team not named the Warriors and would have probably made the playoffs had they remained healthy and covid-free. For that reason, a lot of fans would love to see them try and jump back into contention by trying to acquire a star player. The memories of Kawhi Leonard leading the Raptors to the Championship is still fresh in the minds of many, so why can't it happen again?
As discussed earlier, the Raptors' most glaring hole is a go-to scorer who can manufacture points, especially at the end of games. This is where a star player coming in would help.
There are a few star players who are certainly available, and include Ben Simmons, CJ McCollum and Kemba Walker (as well as Kristaps Porziņģis, if you want to wade into that mess). None of those are really the answer for the Raptors, however. Simmons is neither the scorer or interior defensive presence the Raptors need, McCollum gives them scoring, but, like Siakam, he's best as a second or third option, and, even healthy and in his prime (which is not the case), it's doubtful whether Walker is even an upgrade over Lowry.
There is another group of players that MIGHT be available for the right price (and depending on what direction their team's management decides to go). They include Damian Lillard (who may end up becoming available sooner than expected), Jamal Murray or Michael Porter Jr. (I'm convinced Denver will realize how difficult winning a title is without one of their main players being great defensively), Zach LaVine and Brandon Ingram. There are also lower tiered guys who the Raptors could acquire like Myles Turner, but he wouldn't solve the Raptors' biggest problem, which is an alpha scorer and franchise player.
Trading for Lillard or even Ingram would immediately give the Raptors that alpha scorer they have so sorely lacked since Kawhi left town, and might be enough for the Raptors to make another deep playoff run.
WHY THEY SHOULDN'T:
The problem with trying to acquire a star with the draft pick is that it would also require the Raptors to part with one or more of Pascal, OG or Fred in the trade to get it done. Losing even one of them would take away the one advantage they currently have, and that's their supporting cast. Back when Toronto traded for Kawhi, they had a solid starting five as well as depth at every position. They also had the good fortune of Pascal, Fred and Norm Powell all making massive strides over the previous season.
Despite some talent on their roster, the Raptors are not asset rich at this point. Since their Championship season, they've seen four of their top seven players walk away for nothing, are likely to see Lowry leave, and the guy they got for Powell is a restricted free agent. They have just four above average players under contract right now and the number-four pick. They could get assets back if Lowry agrees to a sign and trade, but that wouldn't be until after the draft, and there's no guarantee they'll even get anything back (he can sign outright with Miami, New York and Dallas).
If Lillard suddenly became available, for example, the Raptors would need to send out so much to acquire him, the trade would put him in basically the same situation he was in Portland. A superstar without enough talent around him to content. The Raptors would have to pair the fourth pick with AT LEAST either Pascal or OG and VanVleet, as well as another draft pick or two, in order to acquire him.
This is an example of the kind of package that would have to be put together to acquire someone of Lillard's stature, although more draft picks or players would probably need to be added:


Even if the Raptors keep VanVleet, that's still a very thin roster and not remotely talented enough to compete with the top teams in the East.
Masai positioned the Raptors to be able to sign a big free agent, like Giannis, this summer not only by having cap room but by having a core roster that would be able to compliment and support a superstar. They simply don't have enough assets to be able to trade for one and still have enough talent to contend.
There's also the real danger that the draft pick you give up could end up having more of a positive impact on the team they're traded to than the star you're trading for. In 2000, the Raptors traded away, among other assets, the seventeenth pick in the draft for former All Star Jermaine O'Neal. O'Neal ended up playing half a disappointing season for the Raptors before being traded away for half a disappointing season of Shawn Marion. Meanwhile, the seventeenth pick became Roy Hibbert, who played eight seasons for Indiana, becoming a two time All Star and landing on the All Defensive team.
Another thing to remember is that in the entire twenty six year existence of the Raptors franchise, they have been able to trade for even an All NBA level player once. The next best player the Raptors traded for was Antonio Davis, who made just one All Star team. The problem is when you're trying to trade for a superstar, you're competing with every other team in the league.
TRADE UP
WHY THEY SHOULD:
If moving up can increase their chances of drafting a superstar, it makes sense to try. Both Cleveland and Houston are rumoured to be open to trading their pick, but what they're supposedly looking for is a veteran in return. And the consensus seems to there really isn't very much difference between the second and fourth spot, so it's hard to see much of a reason to give up anything unless Masai and company are targeting a specific player (Mobley or Green) who will be gone before they draft at four; this is where trusting one's scouting department comes into play.
If the Raptors really want to change their fortunes, they could try and move up to the number-one pick to select Cunningham. While it's doubtful Detroit would give up the opportunity to draft a player of Cunningham's caliber, it's certainly worth the Raptors making an offer.
Below is probably the type of trade package that would be the start of a conversation about swapping the first and fourth picks:



The Raptors would have to give up the farm, but it would be worth it to be able to draft a player who would most certainly be the best prospect in the history of the franchise. Someone they can actually build around for the next decade.
This is certainly a lot to give up for someone who hasn't played a minute in the NBA, and it's likely a team Iike the Thunder (with their 47 draft picks) would be able to come up with a better offer.
WHY THEY SHOULDN'T:
Cade Cunningham is definitely the best prospect in this draft, but he's not the sure-fire superstar that LeBron James, Anthony Davis or even Zion Williamson were when they were drafted. Is it really worth giving up the best players on your roster AND the fourth pick to acquire a player who might not even end up better than the player picked at four? Beyond that, the odds that the Raptors would be able to pull off such a move are minimal.
TRADE FOR ANOTHER TOP-FIVE PICK
WHY THEY SHOULD:
One option not really being discussed is for the Raptors to go all in on youth and try to acquire another top-five pick. This would require they trade one of their veterans but would double their chances of finding and building around a superstar without repeated trips to the lottery. If either Houston or Cleveland really are open to trading their pick for a veteran, then the Raptors should consider it.
Here's an example of what this type of trade might involve (although more players or draft picks may need to be included, as usual):



Cleveland doesn't need another guard, which is who would most likely be available to them at three, so trading the pick away actually makes sense for them, especially when you consider how much they want to return to the playoffs as soon as possible. Giving them an All-Star level veteran with championship experience, while also taking Kevin Love and his awful contract might be enough to grab not just the third pick, but other assets like future draft picks.
While this type of trade might not get them back into the playoffs as quickly, it would give them the potential for a much higher ceiling for a much longer period.
*Note: Recent reports suggest Cleveland is looking at trading Collin Sexton instead of spending the money to extend him (something that should thrill Cavs fans), so they may be less amenable to trading away their pick than previously thought.
WHY THEY SHOULDN'T:
Trading away an All Star, or even a starter, for a prospect who hasn't played a minute of professional ball is always a big gamble. And you don't even have to look outside the franchise to see that. In 1999, the Raptors traded away their fifth pick in the draft for Antonio Davis. The fifth pick was Jonathan Bender, who played few than 300 games over eight seasons, failed to average double figures in points once and was a major disappointment. Until a player actually plays in the league, there's no guarantee what they will become.
CONCLUSION
Masai's philosophy has always been to prioritize winning and develop players in a winning culture. And it's worked out well so far, but he's also never had a draft pick higher than nine (where he selected Jakob Poeltl over Domantas Sabonis, by the way). He's also shown he's willing to take a step back if he thinks it will help him reach his goal. He did so when he allowed Marc Gasol to leave for the Lakers and refused to give Serge Ibaka a deal that would hinder the team's desire to sign Giannis the next summer. He also did it when he traded Powell for the young, less developed Trent Jr.
Trading the pick for an older star, like Lillard, would raise the team's floor, but not necessarily the ceiling, and would give them a smaller window to compete for a championship (sorry for the house metaphors – I'm in the middle of renovating). While I trust Masai's drafting ability far more than I trusted Bryan Colangelo's, I'm not sure of the point of trading down if it's going to mean getting a worse player. Quality wins in the NBA over quantity.
If the Raptors are going to build around their draft pick, then it makes sense for that draft pick to be as good as possible. If the Raptors can possibly trade up to draft Cade Cunningham, then there's no reason they shouldn't try, even if it means sacrificing one of their veterans. Either way, the Raptors need to reevaluate their timeline and possibly get some value for some of their veterans.
Despite having what some considered an off year and the fact that he may miss the beginning of next season recovering from shoulder surgery, Siakam probably has the most value of anyone on the team not named OG (who is almost 24, still has loads of potential and works with a longer timeline). At 27, Siakam is in his prime so would be perfect for a team looking for front court scoring (like Golden State, for example). His recent surgery probably would have little impact on his trade value- it's not his shooting arm and there's not expected to be any long term issues).
There does seem to be a lot of misunderstanding about why Siakam could be traded. It's not an indictment of Siakam, but an indictment of the current Raptors' roster and the fact that the team is simply no longer the contender they once were. And without the assets or ability to drastically upgrade their roster enough to make them contenders again, trading Siakam is their best chance to reboot the roster quickly.
If the Raptors can turn Siakam into a lottery pick or two and maybe a young player, they'll be ahead of the game.
And if all the Raptors do is draft Jalen Suggs, they'll still have had a good draft.
ADENDUM
There have been rumours that Golden State would be interested in trading for Siakam (for a package that would include James Wiseman, Andrew Wiggins and their 7th pick), which has caused a lot of discussion from fans of both teams. It seems that many Warrior fans feel Wiseman has too much potential to trade for Siakam, yet many Raptor fans think Siakam is far too valuable to trade for a prospect who might end up being a bust and an overpriced disappointment. In actual fact, a deal like this is exactly what the Raptors need to do, and considering fans of neither team seem happy about the prospect of a trade, it's probably an indication that it's probably pretty close to being fair. That's not to say that Masai shouldn't be asking for more than what Golden State is rumoured to be offering, but it's a good start to a conversation.
Trading Siakam isn't the only way the Raptors might be able to acquire a young player like Wiseman and a lottery pick or two.
While Ben Simmons may not be a great fit for the Raptors, they may be able to leverage Philadelphia's desire for Lowry to help facilitate a trade with another team. If the Raptors are trying to get younger, they could do a sign and trade with Lowry and take any draft picks or young prospects that would be of little use to the 76ers' run at a title in a trade like this:



Or this:



Wishful thinking? Possibly. But it doesn't hurt to ask.